It's early morning at Oakwood Escape Luxury Camping and Farm in Dunnville, Ontario and the canvas prospector's tent I'm sleeping in is ablaze with the golden colour of the sun.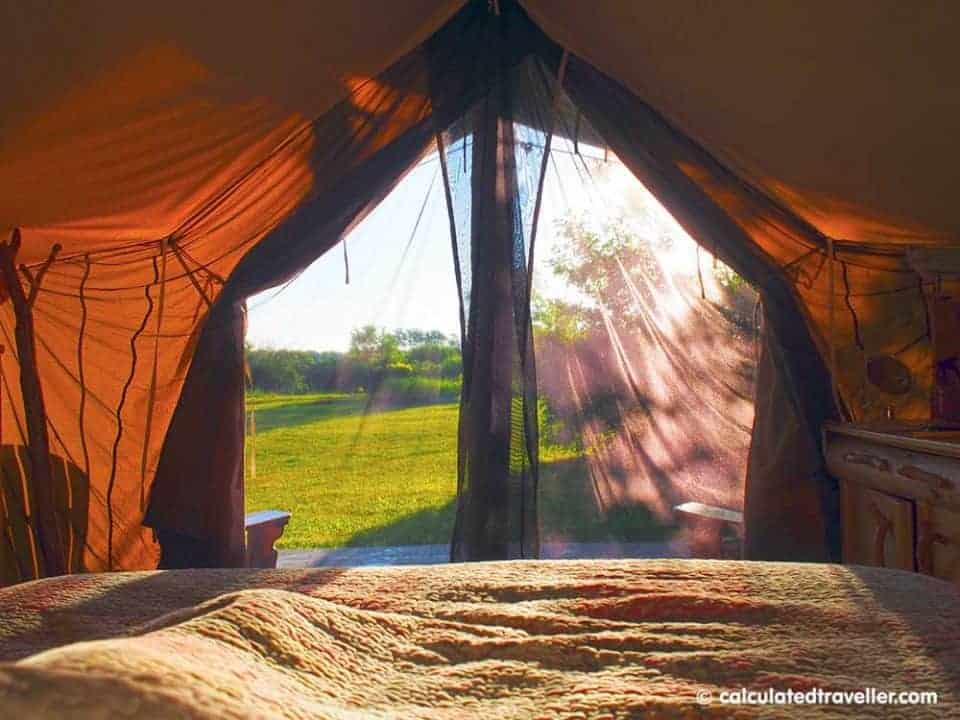 The unheated tent is cold this morning – it's too early for this sleepy head of mine. I bury myself into the fluffy pillows and snuggle under the warm duvet and quilts, sinking deeper and deeper into the comfortable queen size bed hoping to block out the light of the sun.
My attempt to retreat to my dreams is futile. It quiet, tranquil, and I listen to the birds gossiping in the distance. I'm awake now, and I might as well enjoy this golden moment because it won't last forever.
Dunville Camping at Oakwood Escape and the Dancing Angel
I lay there in bed marvelling at the glowing tent; it's a kaleidoscope of colour as the golden yellow of the sun mixes with the colours of the patchwork quilt on the bed. My tent, 1 of 5 on the property are each named by someone in the family that runs Oakwood Escape, is named "Dancing Angel" and at this moment, the name seems fitting.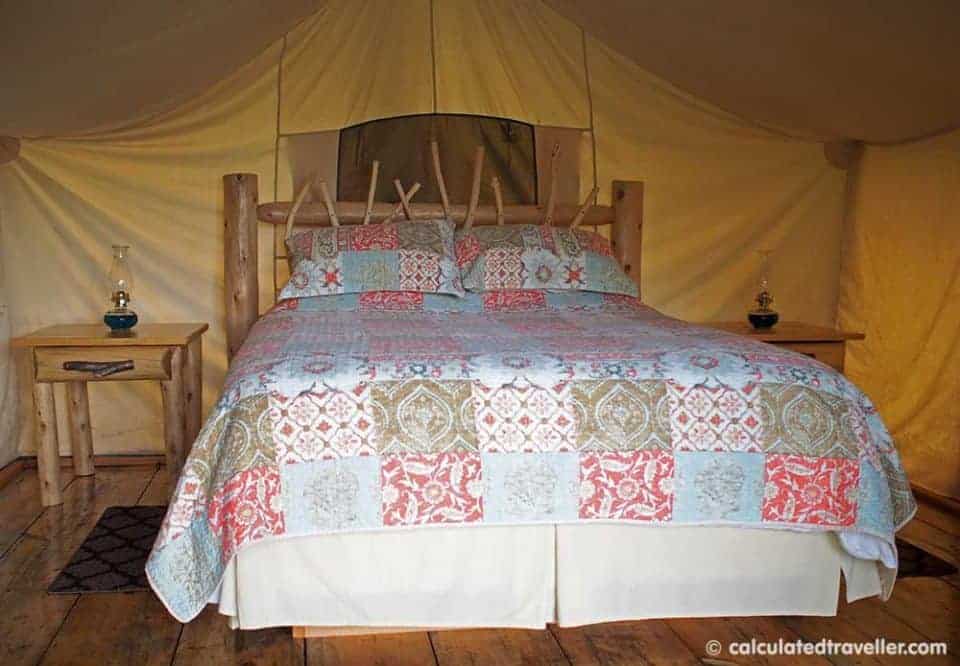 After a while, I muster up the courage to leave my laziness behind on the bed and place my feet on the smooth, polished, wooden floors. I grab my jacket from the coat rack, my toiletries, and one of the fluffy towels from the shelf in the corner and leave my 12-foot x 14-foot tent to wash up at the shared bathroom/shower station.
Once back to my tent I ponder if I should make myself a cup of tea. Included in the amenities of our stay are all utensils and cooking equipment all stored neatly in the cupboard of my tent. I remembered to pack my favourite tea, all I have to do is fire up the propane tank on the barbeque.
Perhaps, I'll go to the chicken coop and collect some eggs. Oakwood Escape has left me a basket for this exact purpose, and I've never had farm fresh just laid eggs before…
No, I'm feeling lazy today and pass the time instead sitting on my deck staring at the landscape before me and daydream.
Perhaps my travelling friend Sharon is making breakfast over in her tent?
Sharon is Ethel to my Lucy, Thelma to my Louise, Tweedledee to my Tweedledum in this girl's road trip adventure through Ontario's Southwest.
Oakwood Escape and Brian's Cove
I decide to walk over to Sharon's tent; she's staying in "Brian's Cove" directly in front of the pond, and I spy her sitting on her deck reading a book.
Sharon's up early even though we stayed up late into the night talking. Our host at Oakwood Escape happily built us "city girls" a bonfire last night so that we could roast marshmallows; they also treated us to a sweet dessert of apple rhubarb crumble. Our hosts are lovely and go above and beyond to make us feel welcome.
Sharon doesn't see or hear me as I approach, so I take her picture in this candid moment.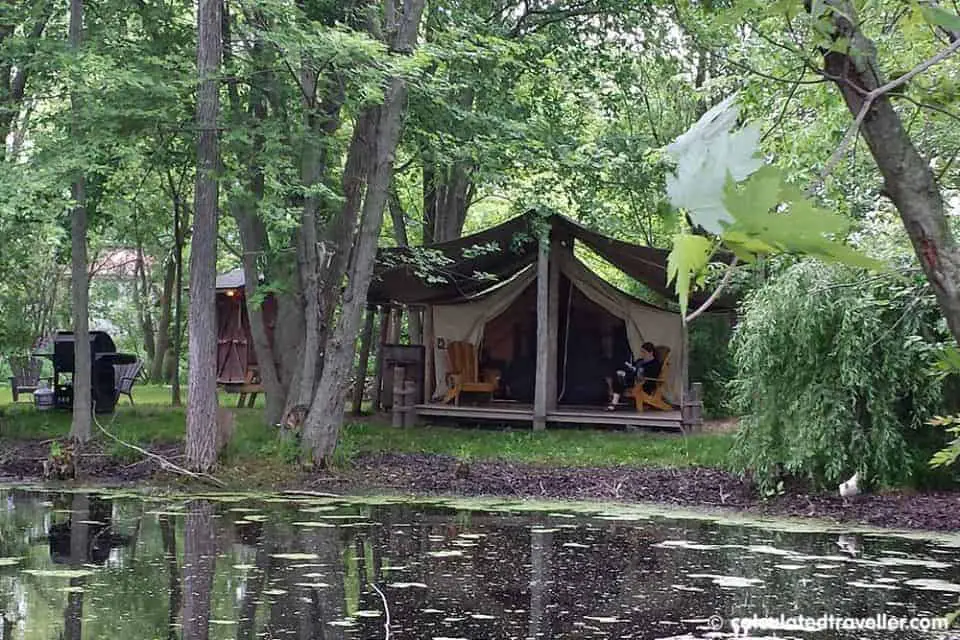 "Hmm, you were too lazy to make coffee too, eh?"
I sit with Sharon on her deck and we debate the topic of who's making breakfast or whether we should try and find a drive-thru. As if reading our minds, our hosts appear to ask how our evening was and hospitable as ever they offer to bring us a morning beverage.
We accept without pause.
We end our stay at Oakwood Escape with both of us sitting in front of Brian's Cove with beverages in hand, watching the wind rustle the leaves on the oak trees that surround the pond, the wind sending ripples along the water.
The two of us sit in silence as we both try to etch this moment into our memory, the moment we had our Oakwood Escape in Dunnville, Ontario.
Oakwood Escape Luxury Camping and Farm
There are five tents scattered throughout the property. Each tent is very private.
12 x 14 foot canvas prospector style tents.
Raised wooden floor/deck.
Mosquito fly interior door.
Rear screen window with storm flap.
Handcrafted wooden furniture throughout.
Comfortable queen size bed with hotel linen, pillows, duvet and towels.
No electricity, heat or Wi-Fi.
2 oil lamps light tents.
Kitchen equipment including cutlery and dishes are provided.
Barbecue with side gas burner, fire pit and picnic table.
Shared toilet, shower, sink, mirror station.
Shared bar fridge by the sink area.
There is an electrical outlet at the shared sink area.
Complimentary farm fresh eggs daily as well as herbs from the garden.
The area is relatively quiet but you can hear big trucks on the nearby road at night.
Perfect weekend getaway for couples, friends, and families with children.
Tip: Bring food and drink, bug spray, flashlight and bottled water.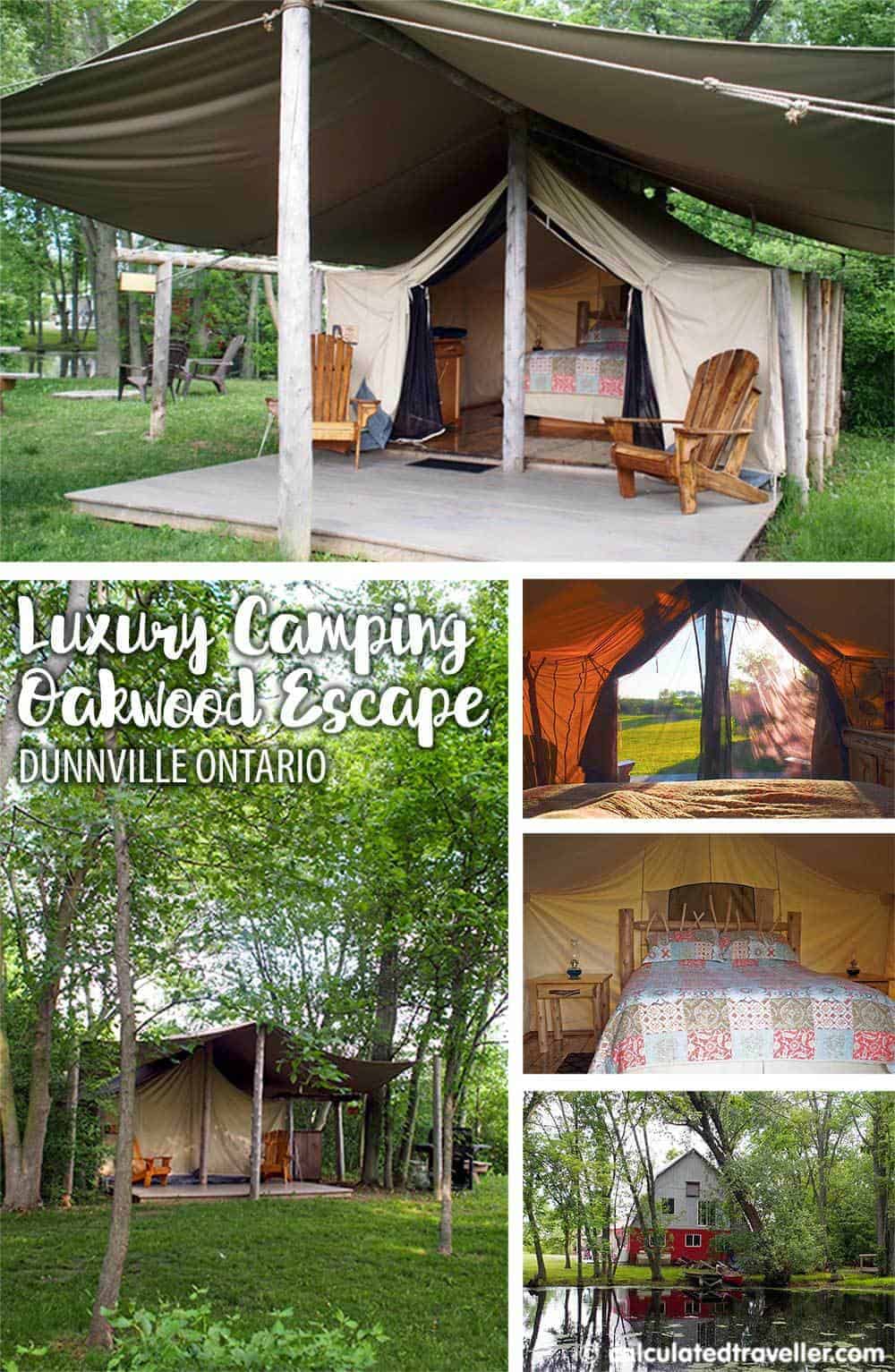 Travel Assistance provided by Haldimand County Tourism and Ontario's Southwest. All opinions are my own.
While you are in the area, check out Discovering Flyers and History in Dunnville Ontario