"A waterproof backpack for keeping your gear dry"
It's been a challenging summer for my usual outdoor adventures because of a sports injury, but I finally got the opportunity to test out the Mountain Hardwear Scrambler RT 35L Outdry Backpack.
Due to its one-piece construction, waterproof lining and sealed seams; Mountain Hardwear state that the backpack was "Designed for any journey where you could use roll-top, waterproof construction to keep your gear extra safe and dry".
The 35-litre capacity seems ideally suited for day-long all-weather journeys such as hiking, cross-country skiing and kayaking/canoeing. For my purposes, it will also work well during a short weekend camping trip too.
Mountain Hardwear Backpack was delivered in plastic wrap and appeared to be a medium-sized nylon pack with a front storage compartment and two water bottle sleeves. Unpacking revealed some of its unique features and durable waterproof construction.
Described as a stylish "Thunder Grey" colour along with bright red accent straps. My impression is that the grey colour should keep it from showing stains while the colourful straps will help you to identify or locate the backpack in many situations. However, there doesn't appear to be any light reflective features for visibility in dark or emergency situations.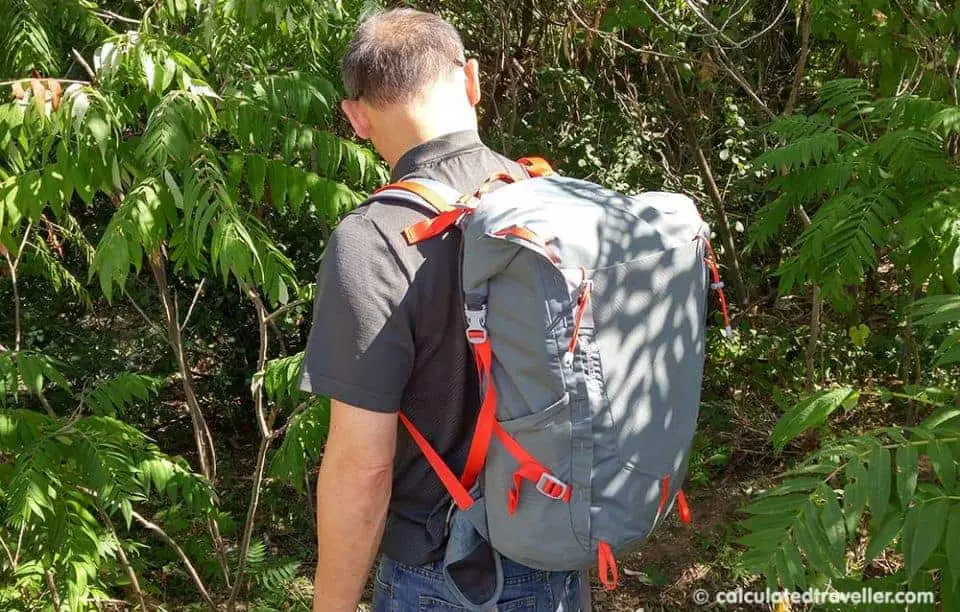 The unique nylon fabric uses a one-piece construction process that creates a waterproof-breathable shield which is heat-bonded directly to an outer fabric. This barrier ensures that no water can get in. The "roll-top" waterproof closure is similar to a kayak rucksack where water protection is required.
Just had my daily moment of duh. The Mountain Hardwear Scrambler 35 L Outdry Backpack where the RT stands for "Roll-Top".
The Mountain Hardwear Scrambler RT 35L Outdry Backpack appears to be well constructed and lightweight. I expect it to hold up well with usual wear and tear and keep my gear dry.
Another unique feature is the lack of zippers; there are only two located on the small pockets sewn into the waist straps. The only way to store your gear is thru the top loading "roll-top" opening into the single large compartment. There is also a small mesh storage compartment on the front for additional storage of small items.
A few other intelligent features include a soft suspension frame for added comfort and a hydration sleeve pocket to conveniently hold a water bladder for drinking water. There are also two side mesh pockets to hold water bottles or other gear.

Fabric Accent: Air Mesh
Fabric Body: 400D HD Nylon
Apparel Fit: Backpack Equipment
Pack Weight Regular: 1 lb 16 oz / 0.90 kg
Pack Capacity Regular: 2111 cu in / 35-liter
Pack Dim. Regular: 23 in x 12 in x 10 in / 58 cm x 29 cm x 25 cm
Pack Torso Regular: 16 in – 22 in / 41 cm – 56 cm
Guaranteed watertight OutDry construction, rain room tested for 24 hours
I sampled this pack during a recent daytime hike along the Niagara escarpment. Unfortunately, rain was not in the forecast, but it was hot and humid so comfort and function were most important. The 35L compartment easily held my normal food supplies and hiking gear while the side pockets held a 750ml water bottle in each pocket. My guess is that I was carrying about six kgs (13 pounds). For a single compartment pack, it's best to stabilise your gear with the side straps to keep items from shifting while also using the waist straps keep the pack from moving around too.
For comfort, the curved soft suspension back support fit my back well, however, in hot weather, there isn't enough of an opening for useful cooling airflow. Further, I would have preferred thicker padding on the shoulder and waist straps for increased comfort during long hikes.
Ideally, I plan on using the Mountain Hardwear Scrambler RT 35L Outdry Backpack for my kayaking trips along backcountry portaging routes. The combination of being a waterproof rucksack along with traditional backpack features makes this ideally suited for all-weather water sports while conveniently carrying your gear. I don't mind the one compartment storage because I usually travel with packing cubes to organise my belongings.
I had to be creative to properly test out the waterproof claim due to the gorgeous sunshine, hot temperatures and little rainfall this past summer.
The backpack, filled with clothing and gear, was placed into a tub of water and sprayed with water from the shower head to mimic rainfall. Though my methods are improvised, I can confidently state that it is indeed "Waterproof" because all of the items inside remained completely dry. It should perform just as well in the real world setting.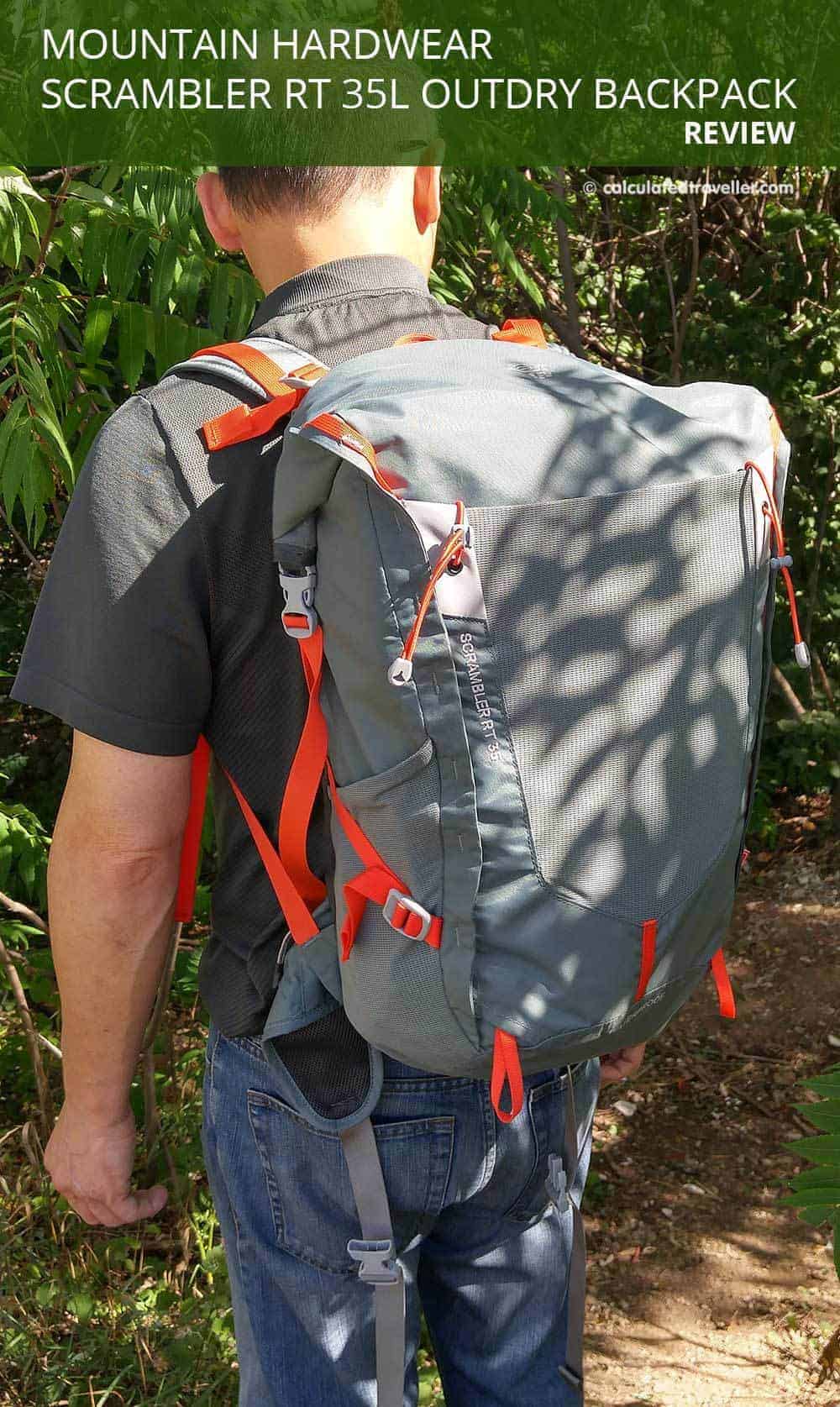 Mountain Hardwear Scrambler RT 35L Outdry Backpack Pros
100% Waterproof
Bladder pack sleeve for drinking water
One compartment storage
Light- weight and well constructed
Mountain Hardwear Scrambler RT 35L Outdry Backpack Cons
Lack of reflective features
Thinly padded shoulder and waist straps
Products from Amazon.com
‹
›
The Mountain Hardwear Scrambler RT 35L Outdry Backpack is competitively priced. The waterproof ability is one of the key features to keep your gear dry for your comfort and safety. It will be my main pack next to my kayak, hiking shoes and sleeping bag.
I hope you enjoyed this Mountain Hardwear Scrambler 35 review.
Speaking of sleeping bags; don't leave without checking out my review of the Mountain Hardwear HyperLamina Spark 35 Sleeping Bag.
I received the Mountain Hardwear Scrambler RT 35 Outdry Backpack for review purposes. I was not financially compensated for this review. All opinions are entirely my own.
Looking for more outdoor gear reviews?:
– Leatherman Tread Review for Travel
– Pocket-friendly Sun Tripper Cap and Eclipse Cap by Sunday Afternoons