Located in the Tysons Corner suburb of Fairfax Virginia the Sheraton Tysons Hotel provided a very comfortable stay in an upscale environment. With easy access to local tourist attractions, it proved to be a great home base for my visit to Virginia.
About Tysons Corner
Due in part to the government planning committee's progressive 40-year vision for Tyson's corner; the city is developing at a very rapid rate. Known as "America's Next Great City " and the urban centre of Fairfax County, many Fortune 500 Companies, have their corporate headquarters in Tysons Corner as the city offers visitors, both business and pleasure, to the area with a multitude of upscale shopping, dining, and touring opportunities.
There are four DC metro stops within Tysons Corner available to whisk you away to downtown Washington DC in a mere 35 minutes. In fact, the Sheraton Tysons Hotel is about a 7-minute walk to the Spring Hill Metro Station on the Silver Line Stop.
Sheraton Tysons Hotel
The hotel itself is 30 years old but doesn't look it. Back in the day, the hotel was the "IT" spot to go for a party with a disco on the property and fireplaces in the rooms.
Through the years and after multiple reservations focused on the changing trends and the growing local community, the disco is now an elegant ballroom; a 10,000 square feet ballroom and 45,000 square feet of meeting space! The largest Starwood hotel in the DC area with 449 guest suites, the Sheraton Tysons Hotel is now the "IT" place for conferences, events, and government meetings due to its proximity to DC Central, and access to DC Metro — all while avoiding DC traffic jams.
Sheraton Tysons Hotel is less than 13 miles away from Washington Dulles International Airport.
I stayed in Suite 2307, a club level king bed suite with approximately 320 square feet. Large, spacious and decorated in neutral grey, brown, and muted purple tones, this was my home for two nights. An awesome stay with a comfortable bed — the octagonal design of the tower provided the room with a unique shape and view.
My only complaints were the lack of a small refrigerator, USB charging data ports, a dimming night-light, upgraded coffee maker/clock radio and a towel bar near the sink in the bathroom.
I'm always surprised when a hotel has an environmental policy that requests that guests reuse towels, yet they don't provide towel bars or hooks for you to dry your towel.
Note: You can hear a slight rumble of the nearby metro station, but this didn't bother me at all.
Sheraton Tyson Hotel amenities include
Bathrobes
Full length mirror and lighted makeup mirror
In room Safe
Large indoor pool with adjoining fitness facility
Lobby Bar and restaurant
Starbucks Café on site — transforms into a sushi bar in the evening
A breakfast buffet (extra charge) is available daily in the Brix and Ale Restaurant next to the lobby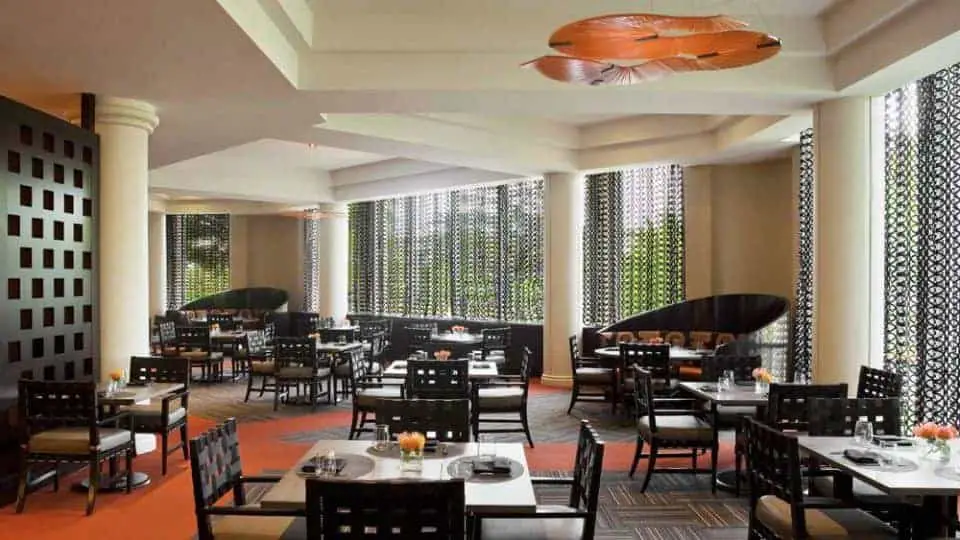 As I was staying in a club level suite of the hotel, I had the luxury of upgraded access to the Exclusive Club Lounge located on the 24th floor and complimentary WiFi.
Open 24-hours a day accessed via your hotel key; the Club Lounge has a business centre, large screen TV, and comfortable seating.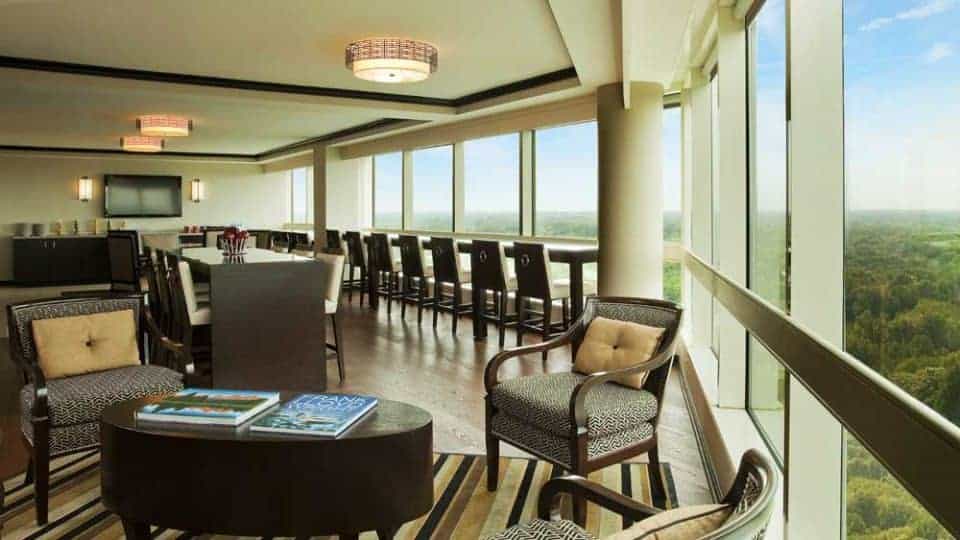 With gorgeous panoramic views of the Northern Virginia skyline I was able to help myself to bottled water, soft drinks, hot beverages including tea, coffee, cappuccino, hot chocolate, fresh fruit and snacks whenever I desired. They also provide hors d'oeuvres in the evening, and a continental breakfast in the morning.
With nearby amenities including restaurants and shopping all within walking distance, Sheraton Tysons Hotel is an excellent upscale luxury stay with fast and easy access to Washington DC without high Washington DC prices.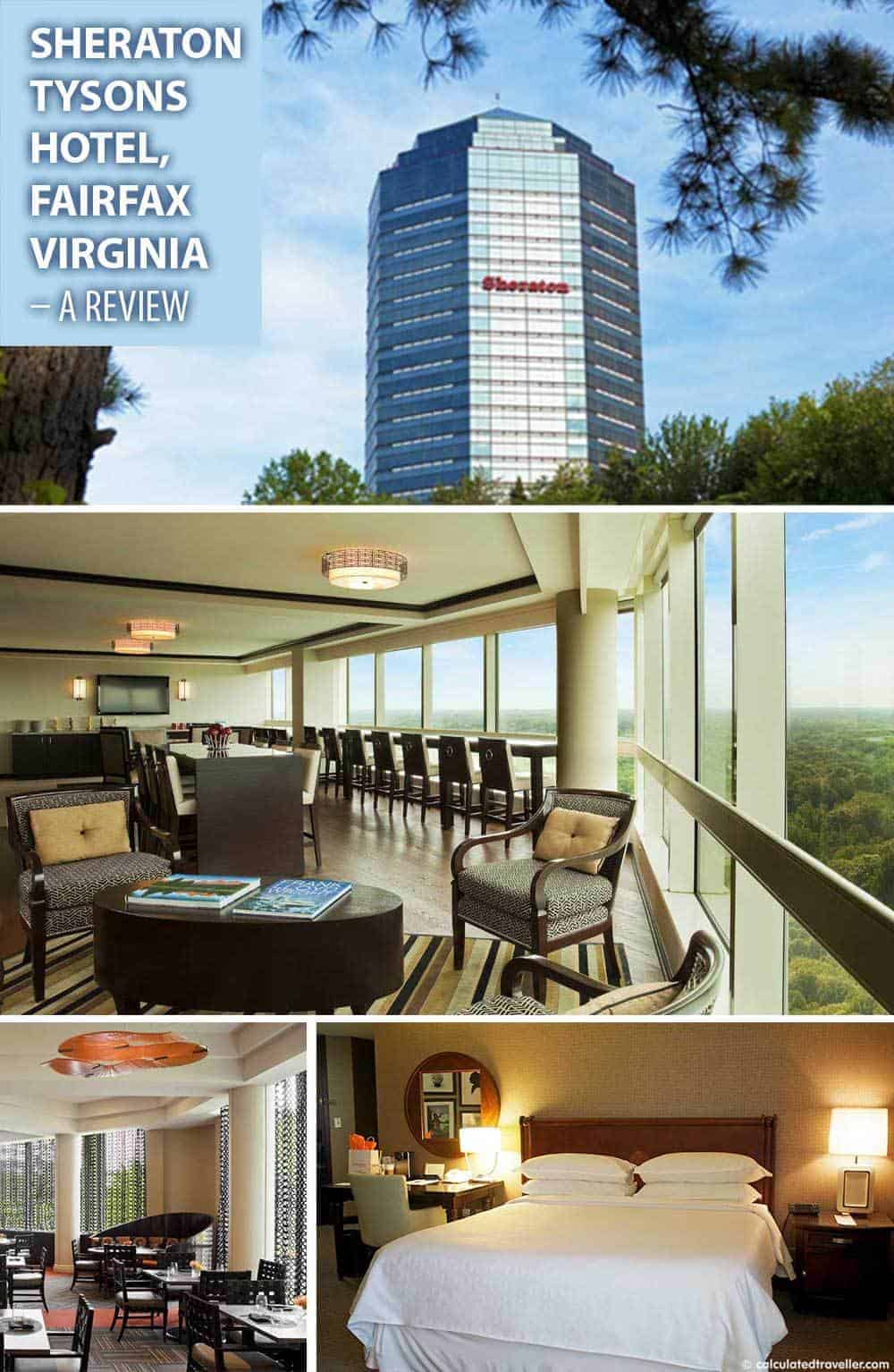 Read more reviews of the Sheraton Tysons Hotel on Tripadvisor.
Sheraton Tysons Hotel
8661 Leesburg Pike, Tysons, VA 22182, United States
Looking for a place to eat?
Brunch, Bikes, and Brews at Caboose Brewing Co. Vienna Virginia
Travel Assistance provided by Visit Fairfax and Visit Virginia. All opinions are entirely my own.
For more adventures in the Washington area, read:
– Spies Like Us at the International Spy Museum, Washington, DC
– It's Low, Slow and Good at Famous Dave's Barbecue – Review
– Fish Markets Around the World – Photo Essay