I've never seen pigs actually fly but at Bluffton BBQ in South Carolina they seem to — and fly they do…right out of the smoker and into your waiting belly!
Located in downtown Bluffton on State of Mind Street in South Carolina the evening we visited the area was quiet and perfect for an evening stroll…
You can spot Bluffton BBQ right away by the bold sign on the wall and their cozy patio. The place is casual and quaint with self-serve water and iced tea. Decorated like a shrine to pigs we enjoyed just looking around at all the details in the room while we waited for our food.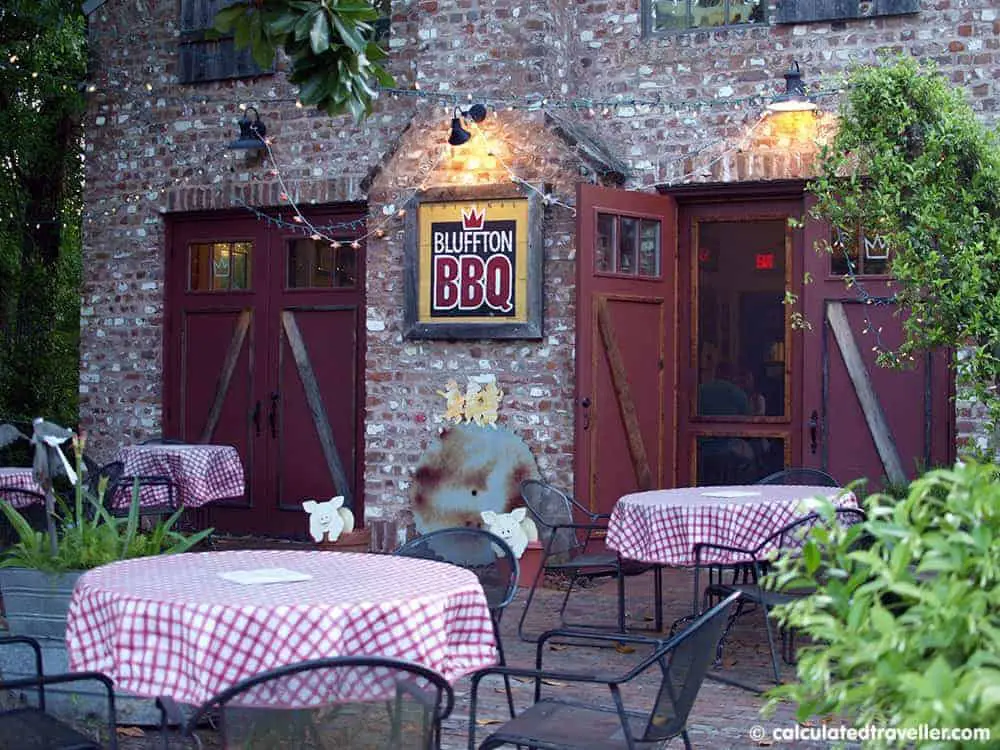 This place has personality. Visit the website and you'll hear blues music playing on the page, cute slogans like "girls in bikinis eat free; their boyfriends pay double", more pigs and a welcome page that states "Don't be scared, you are paying for the BBQ not the service… mediocrity is not on our menu."
I spy with my little eyes barbecue awards and Tyler Florence
Seeing a large photo and autograph by a celebrity chef on the wall, awards a plenty on the mantle and paper towels on the table is a good indicator that the potential for good saucy eats are soon to arrive.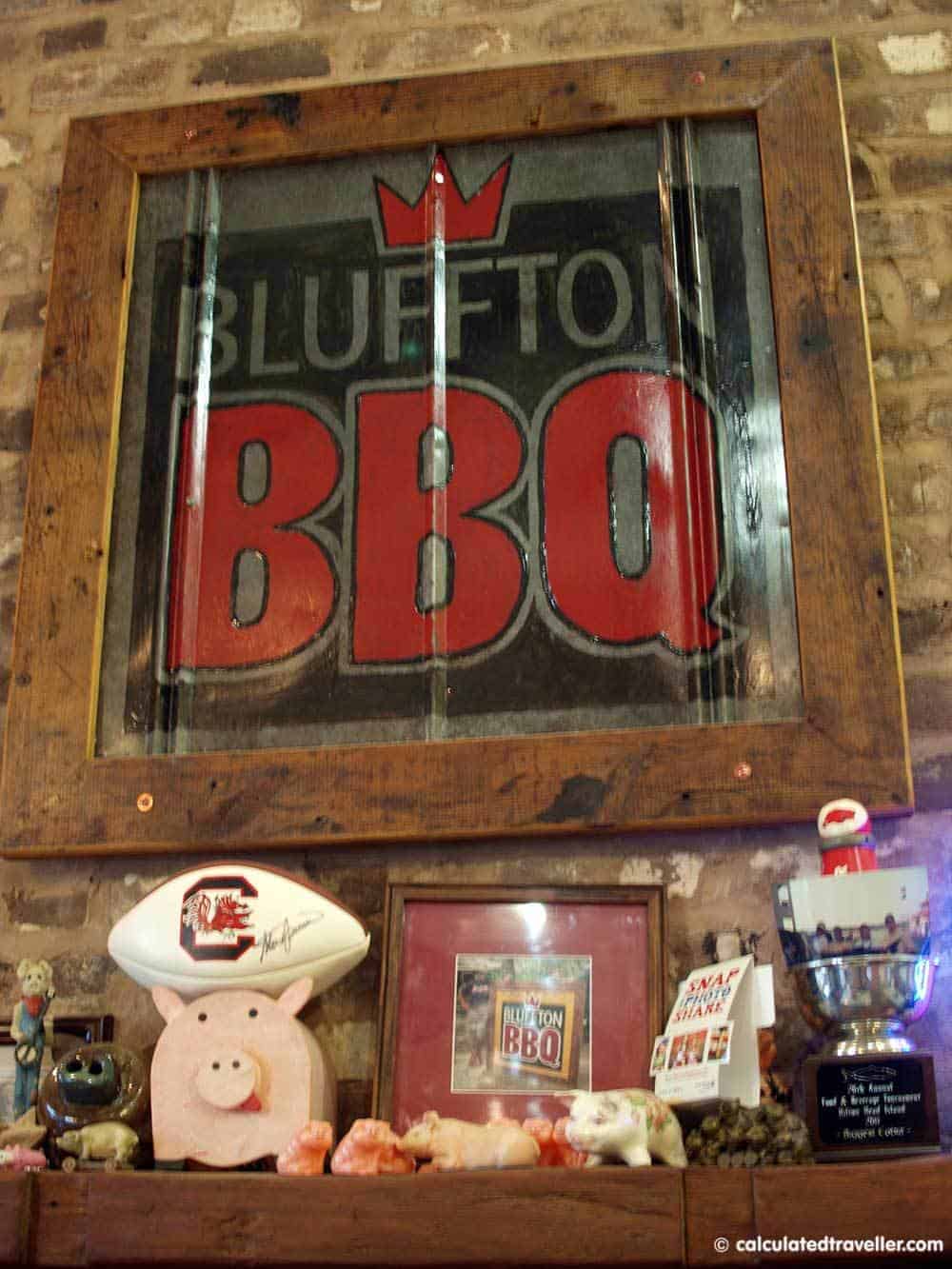 Bluffton BBQ – Smokey, saucy and satisfying
Portion size was right on for us and we ate it all. What was nice was when the pit master himself came by to see how we were doing. A friendly man, we spoke for a while and he presented me with his business card which stated clearly that he was the "Mayor Pro Tempore" – Latin meaning "Temporary Mayor" – at the time we visited the official Mayor was a woman. I'm not sure how old the card is…but again, it doesn't really matter – this is a food review after all!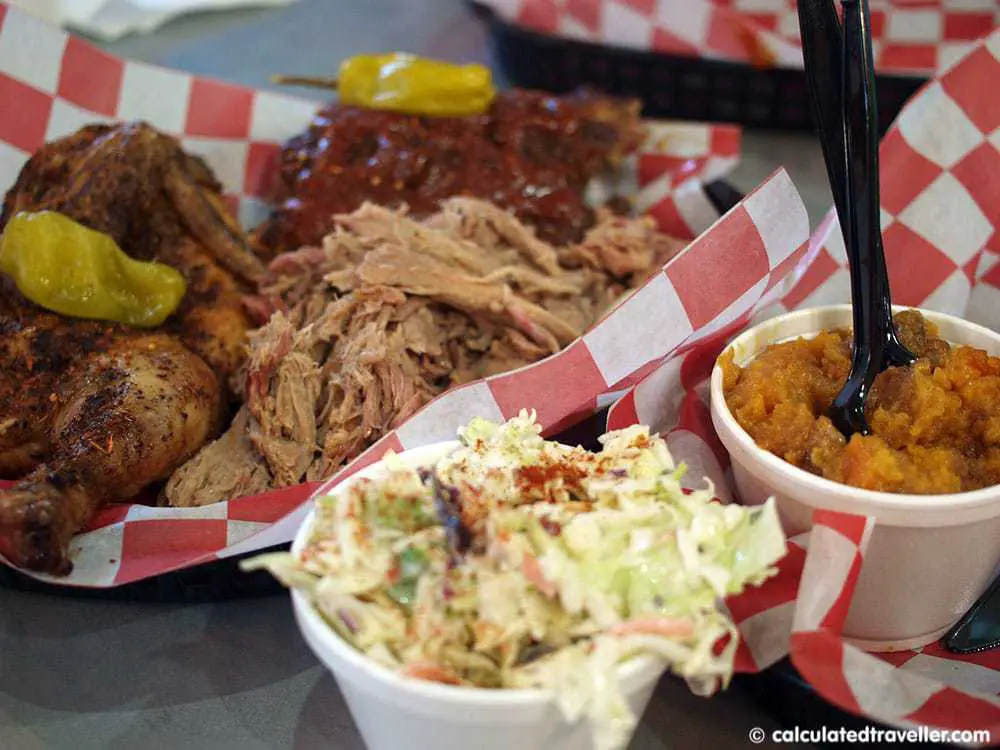 For dinner, hubby and I shared the "Fat Bastard Plate" $25 US
– Half pound of pulled pork, 3 ribs and half-chicken with 2 sides (our choices were cole slaw and sweet potato casserole). It wasn't overly smokey, the meat was moist and flavourful.
The BBQ wasn't extraordinary but it was very good. It's the friendliness, small town charm of the restaurant and meeting the pit master that make the trip really worth the visit!
Next time you are in Bluffton, South Carolina drop in for some friendly conversation with "The Mayor Pro Tempore of Bluffton" and have some barbecue – you won't be disappointed.
Bluffton BBQ
11 State Of Mind St, Bluffton, SC 29910
Open Wednesday to Saturday only.
Check out the trip advisor page to read more reviews of this restaurant.