Travel hacking, frequent flier points, hotel rewards, loyalty rewards — they go by many different names, but they all mean the same thing — Free Travel.
Travel Hack Definition – Noun
A way of travelling by attaining flights, hotels, and other amenities at little or no cost by using rewards, shortcuts, tricks, travel points, or a gimmick to avoid the cost.
A productivity trick, shortcut, skill, or novelty method to increase productivity and make travelling easier, lighter, or more efficient by solving everyday travelling problems in clever or non-obvious ways.
I admit that this is a form of travel that I haven't mastered yet. Sure, I collect points at the drugstore for free makeup, get free groceries as a frequent shopper, and I have a credit card that gives me cash back. I've taken advantage of free flights and upgrades to better cruise ship cabins for being loyal to the same airline and cruise lines. With no plan of action to better accumulate and use my points, all these upgrades and freebies were gained purely by chance.
Being a true Jedi master at the art of travel hacking is much more than one free flight every couple of years, it's a science to be studied and learned.
For Canadians, there are very few online resources available for you to learn the game of travel hacking.
If you want to be a real master in a short period, you have to get schooled by the pros!
Canadian Points University. The only Canadian Points and Miles Conference
Canadian Points University, founded by Jason Binstock and Boris Reme was created to bring travel hacking to the masses with educational conferences across Canada.
Inspired by one single experience using points for an upgraded business class seat on a plane, Jason, went on a mission to optimise point hacking for another trip, only to discover that there was surprisingly little information available based on the Canadian perspective utilising Canadian tools and loyalty programs.
According to Jason, "There are many other types of these events that happen around the world but nothing that I have been able to find of substance in Canada. Canadian Points University aims to empower and educate Canadian travel enthusiasts to get excited and make the most of the accumulation and redemption of their points and miles."
The first event in January 2016, #PointsUYVR, took place in Vancouver with approximately 130 participants in attendance and was met with excellent online reviews.
Intrigued, I thought I'd check the conference out when it came to Toronto in October 2016.
With a full day agenda that included sessions such as "Points Programs For The Non-Travel Hacker", "Credit Cards & Credit Scores – Everything You Need To Know", "US Credit Cards For Canadians", and "Extreme Travel Redemptions – Hotel And Air". A welcome reception at the Fairmont Royal York Hotel the night before and an after party hosted by SPG at the Sheraton Centre provide great networking opportunities and a light breakfast, lunch, refreshments round out the event.
Plus there were some great prizes that include hotel stays, Air Canada gift cards, and of course reward points from Aeroplan, Starpoints, and Marriott.
With notebook and pen in hand, I set out to learn from the who's who of travel hacking masters.
Here's what we learned at #PointsUYYZ October 2016
A few concepts prevailed throughout all the presentations:
Diversify your mileage portfolio so that you have lots of redemption possibilities.
Flexibility. Be flexible in your travel dates and locations.
Monitor. There is no use collecting points and miles if they end up expiring so ensure you are actively monitoring your miles portfolio.
Be careful of your credit score as you apply for multiple credit cards and ensure that you pay off your credit cards in full. Paying interest to get travel points makes them worthless.
Don't waste your rewards on products. Gift cards and merchandise rewards are easily attainable, but their point redemption value is low when compared to travel rewards.
Take advantage of stopovers to maximise your travel routes.
Pay attention to taxes and fees. Taxes and fees on reward travel vary by airline so; just changing carriers could save you hundreds of dollars.
Ask an expert. Use the call centre for information then book it yourself. If you can't or don't have the time to figure out how to maximise your rewards there are experts who you can pay to do the work for you.
For a beginner Canadian travel hacker the concept (and process) of obtaining a US Credit Card and extreme travel redemptions was overwhelming, but for the advanced users, these topics were well received. These presentations, although advanced, do serve as a something to strive towards should you wish to become a true Jedi master.
One valuable takeaway was that each presenter suggested different online tools and websites including instructions on how to use them. I left the conference armed with a laundry list of resources to continue my studies at home.
Another important takeaway that always puzzled me was the formula (math) to use to calculate the cents per mile (CPM) for efficient use of your rewards.
#PointsUYYZ — Valuable indeed, travel hacking Jedi I will become
I have to say that attending a 1-day event where the who's who of travel hacking nerds have gathered in one room was a little intimidating at first. But everyone was incredibly welcoming and eager to share tips, and I felt safe to ask questions no matter how straightforward and basic they were.
A few of the speakers started off their presentations by asking people not to take photos or to write online about what the information that they were sharing with the group. Others purposely omitted information from their presentation slides instead saying, "speak to me privately, and I'll personally tell you my process". Gaining access to secrets not publicly available is a great reason to attend a Canadian Points University event.
As Boris Reme put it so excellently; "More secret tips are shared in face to face interaction versus online."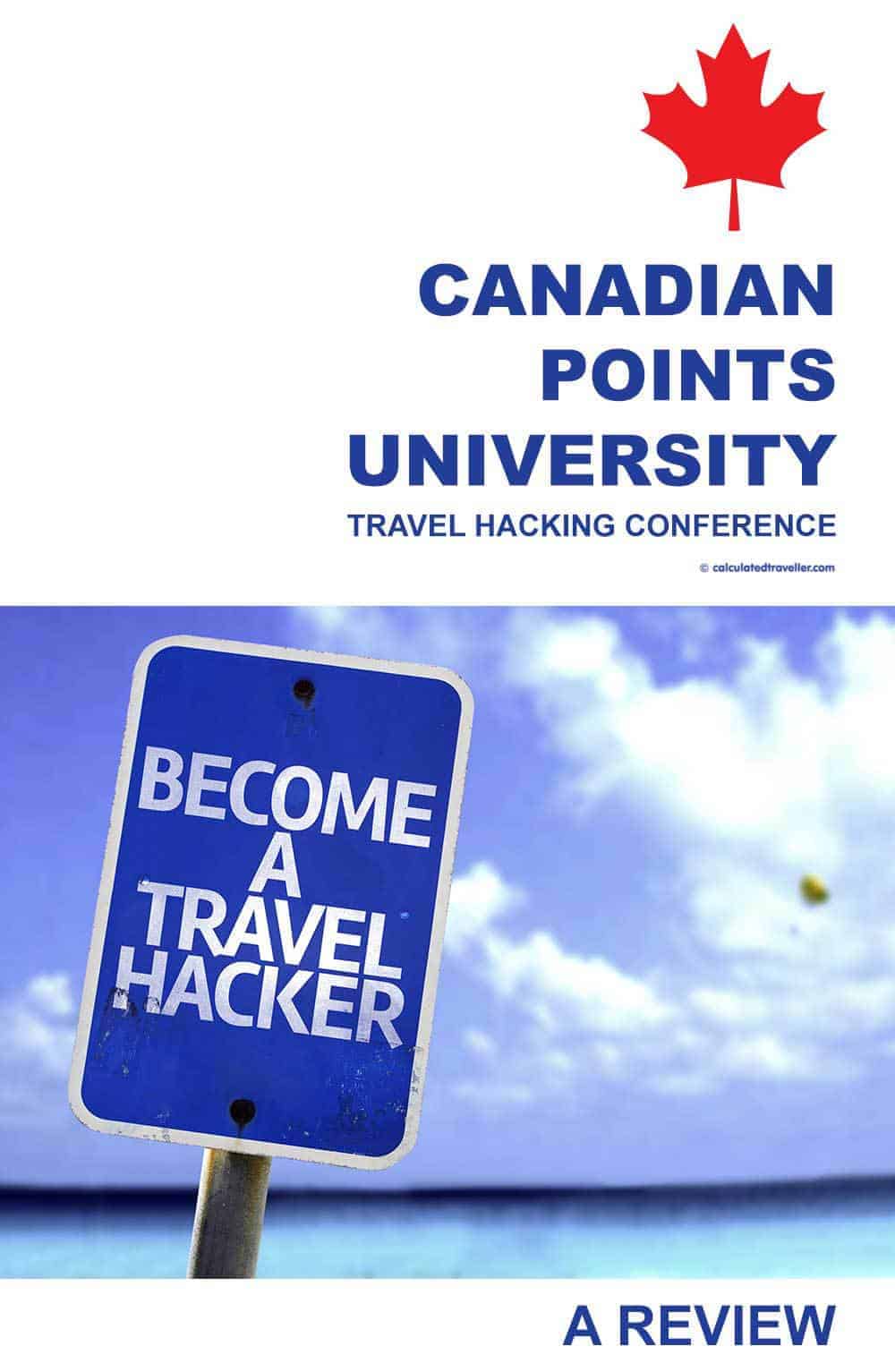 Tips:
Attend the Welcome Reception and After Party. Even if you don't win any of the prizes or don't partake in the excellent food and drinks, you can pick up a lot of tips and tricks from fellow conference attendees and the speakers. It's all included in your ticket after all so, take advantage of this awesome networking opportunity.
Do some research ahead of time and come armed with a list of questions.
Bring a notepad and pen to take notes in some instances photography is not permitted.
Conference photos courtesy of PointsHogger.com
I was a guest of Canadian Points University. I did not receive any financial compensation for this review. All opinions are entirely my own.