Numinous Packs — Anti-Theft Travel Backpacks & Luggage
Anyone researching a trip to Europe, South America or a whole multitude of locations sees the warning "Beware of pickpockets." Sadly it's a part of travelling that we have to be mindful of for our safety.
When you are at home — all your worldly possessions are locked behind your front door.
When you are travelling, they are locked inside your suitcase.
Travel is about exploring, learning, adventure and enjoyment. It shouldn't be about stress, worry, sadness or fear.
There are many products out on the market to help take the worry out of pickpocketing/theft such as pickpocket proof pants, underwear and purses.
A new product that I hadn't heard of before are the backpacks by Numinous Packs.
Available in 4 sizes: 20L, 25L, 40L, 55L, 65L, 80L the backpacks are designed by backpackers and launched via a Kickstarter campaign. These bags are specifically designed to take the worry out of protecting your belongings while you are travelling abroad. "…give you all round peace of mind and keeps travel documents and personal belongings safe at any stage of your journey…"
We were sent a 25L and 55L backpack to test out and here's what we found.
Numinous Packs 25L / 55L DaySac
25L Weighs 1.1 kg
55L Weighs 3.05 kg
Pros
Padded laptop compartment
Kevlar anti-slash fabrics throughout
Padded lumbar support and airflow system so the bag is comfortable on your back
Safety whistle (it's the little things that count)
TSA approved zip locks with cover
Numinous Shield retractable combination locks so you can lock your bag to a secure piece of furniture
Puncture resistant zipper and zipper flap
Mesh side pockets on each side, 2 small ones on the back and one large one on the front
The concealing back panel on the 55L is great to cover up the backpack straps for airport check-in.
You can open the 55L pack completely as the zipper runs the entire length of the bag and there are compression straps inside.
You can attach the 25L to the other 55L/65L bags

Cons
The 25L day pack, is a little large for my needs.
The zippered opening of the 25L main compartment was a bit awkward as it doesn't open all the way around.
In general, I'm not really a fan of the giant 25L/55L text printed directly onto the exterior of the bag. I understand that it's a graphic style choice but I honestly thought that the printing was just for advertising purposes only (DOH!)
The 55L is really large for me as I'm only 5 feet tall and there is no physical way that I could lift this onto my back once packed full.
I could totally see a serious backpacker who is physically taller / larger loving these bags.
Shipping was an amazing experience. I was a little worried because the company is from the UK and I'm in Canada, but Numinous Packs has solved the international shipping problems that could potentially arise by working with a distributor in the USA. I swear that I was sent about four automated emails detailing when and where my package was – one email occurring after I had received my package confirming that it was received! That's communication for you!
Numinous (adj.) – Latin. Describing an experience that makes you fearful yet fascinated, awed yet attracted — the powerful, personal feeling of being overwhelmed and inspired.
Isn't that exactly what travel should be all about?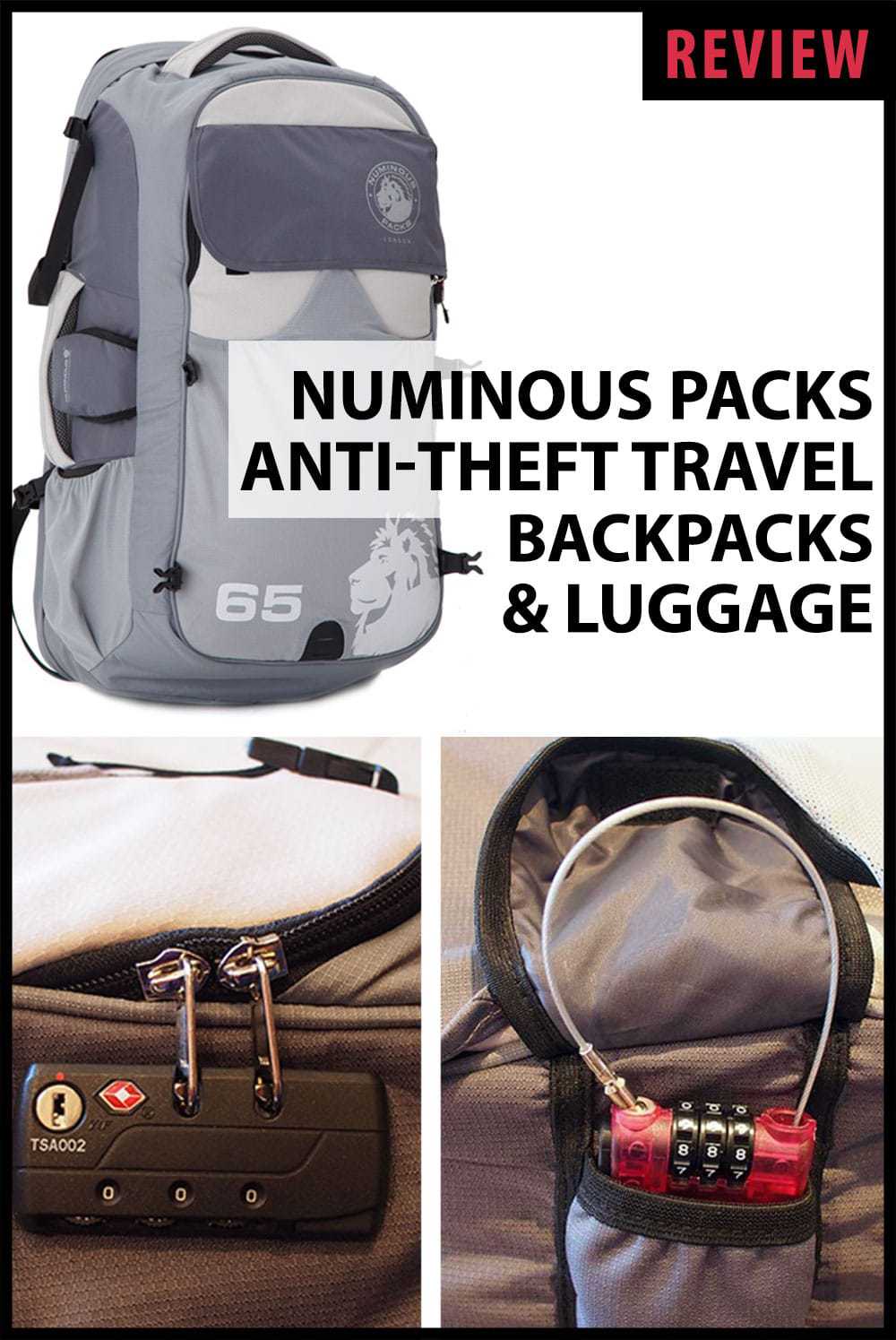 I received the 25L and 55L backpacks from Numinous Packs for review purposes. This had no bearing on my review of this item. As always, all my opinions are my own.
 
What feature do you like the most?
For more anti-theft products read:
– Review: Super Secure Anti-Theft Backpack – Charging at Home and On the Go