Outerboro Clothing is a performance apparel company that started in 2012 in Taipei, Taiwan by "active urban dwellers". Their clothing and designs encompass the following values: protection, comfort, sustainability, and versatility. There are seven retail stores selling Outerboro clothing located in Taipei, Taiwan where the Outerboro headquarters and products are manufactured. Shopping online was quick and easy on their website with lots of photos, easy to find and understand sizing guide, and a clear FAQ section. Shipping was super fast with free worldwide shipping on orders over US$200.
Recently, we reviewed their line of women's items, so this time we're looking at the men's line of clothing. For review purposes, I was sent a shirt and a pair of pants to try.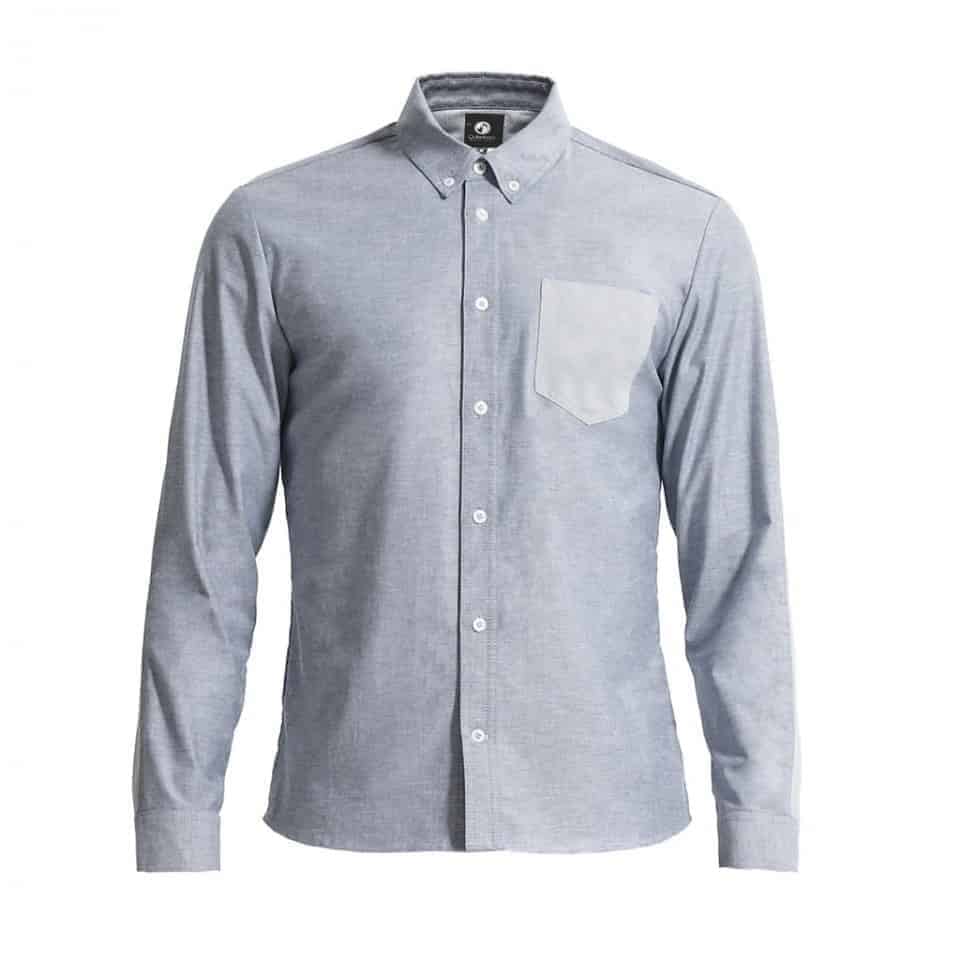 Outerboro Men's Vanguard Shirt
Colours: Indigo, Light Blue
Size: XS, S, M, L, XL
$109
The Vanguard Shirt is the epitome of the urban traveller. On my December trip to Miami, Florida, I gave this shirt a try, wearing it both on the flight and during the day touring around the city. I even wore it to dinner one night. I need to say; I was quite impressed.

Just putting it on, you can simply feel how well it was designed. It's a shirt that I can see myself wearing around the city, and while travelling. As a male in my 20s, it's definitely a style that is on trend with what I normally wear around the city, yet is built with a traveller in mind. It's a relatively slim fitting shirt – which I personally like – but the strategic placement of the secondary fabric on the elbows, which is 94% Nylon, 6% Spandex, is both functional and aesthetic. I wore this on the day of my flight down, and it was definitely comfortable enough while not worrying how much of a "tourist" I looked!

 
The shirt is also very breathable. I was a bit worried that I would overheat in Miami – even in December, where the temperature hovers around 20 degrees – but the ventilation slot on the back worked great and is completely invisible.
My only complaint is the length. Note that the shirt is not really designed to be tucked into pants to allow for it to be more "formal". The shorter cut – which I assume is typical in Taiwan – was a bit tough to get used to for this North American guy.
Pros
Comfortable, breathable.
Quality, durable material! Built to last.
On point with an urban look – definitely designed for that urban traveller.
Feels like a shirt you could wear on a regular basis.
Cons
The cut – is a bit short for what a North American might be used to.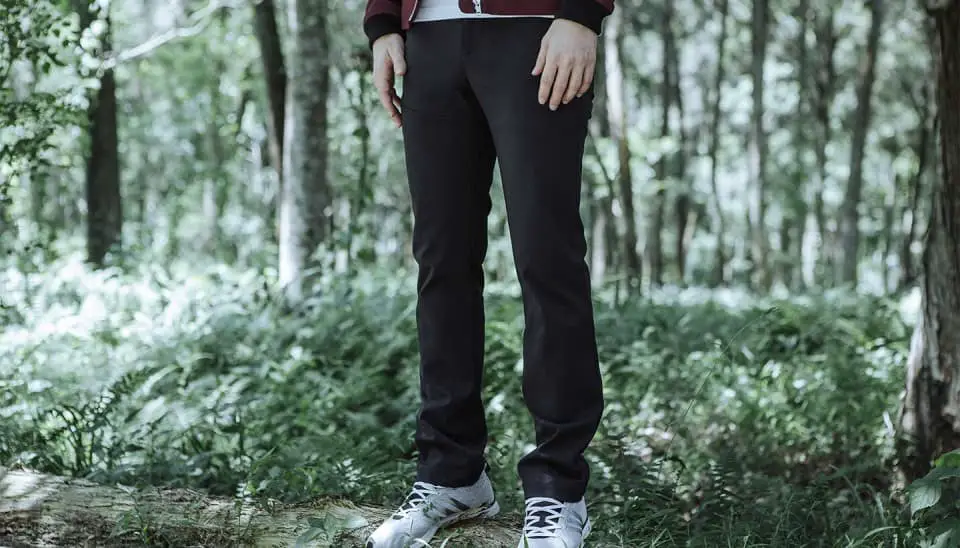 Outerboro Men's Aegis Pants
Colours: Graphite Blue, Forest Green, Black
Size: 30, 32, 34, 36, 38
$186
The Aegis Pants are just like the Vanguard Shirt – there's a focus on an urban aesthetic, while not sacrificing its function for a traveller. From the photos, they look kind of like dress pants over denim or khakis. The fabric has a stretch to them, making them really comfortable for long flights and walking around the city. But again – I didn't need to worry about looking like a "tourist" because they worked really well with a young, urban look. They felt durable and looked great, yet I also felt like I could easily go for a bike ride around the city.
In terms of the fit, they are on the tighter side. I anticipated this and went one size up. I did wear these pants with a collared shirt tucked in for dinner one night, and they looked great for a smart-casual look!
My one complaint would be the "invisible" zippered pocket on the front of your right thigh. I'm sure this was probably designed for a smartphone or a passport. However, it just didn't work for how I travel. It wasn't exactly a hidden pocket for your travel documents because you see the outline of whatever is inside the pocket. It's a bit awkward, but I can see others potentially using it.

 
Pros
Durable, comfortable, breathable!
Stain resistant and fast-drying technical fabric.
The hint of stretch was perfect for travelling.
Tons of hidden pockets – there are hidden zippered pockets inside all pockets on the right hand side.
Great for those days spent at the airport/in transit, as well as touring around the city.
Great colour selections for an urban look.
Shortening/hemming included.
Cons
Front pocket on the right thigh – awkward position for my taste!
Not great for the winter – you would be better off with a pair of jeans. The small walk from the car to the airport in Toronto's mid-December weather was brisk!
Overall, the Outerboro Vanguard shirt and Aegis pants were both awesome and exceeded my expectations. They're well made, well designed, and definitely built with the young urban traveller in mind. I can see myself wearing for travel, work, and daily life in the city!
Check out Outerboro Clothing for quality, stylish, versatile performance apparel for work and play!
 
Outerboro provided product samples for review, however, all opinions are my own.
Looking for more clothing reviews?
– Pocket-friendly Sun Tripper Cap and Eclipse Cap by Sunday Afternoons