Hydro Flask is a premium double walled insulated stainless steel hydration bottle perfect for home, life and travel.
I'm relatively new to the whole vacuum-sealed stainless steel water bottle craze, opting for plastic or collapsible for lighter weight hydration flasks.
I held off on purchasing a stainless steel water bottle for a while because I always thought they had a glass interior and were easy to break like the thermos I had when I was a kid that my mom would fill with chicken noodle soup for my lunch at school.
I recently reviewed one from Contigo, and although I liked it, it was my first double-walled hydration bottle experience, and I wanted more…
Enter the Hydro Flask Hydration Bottle.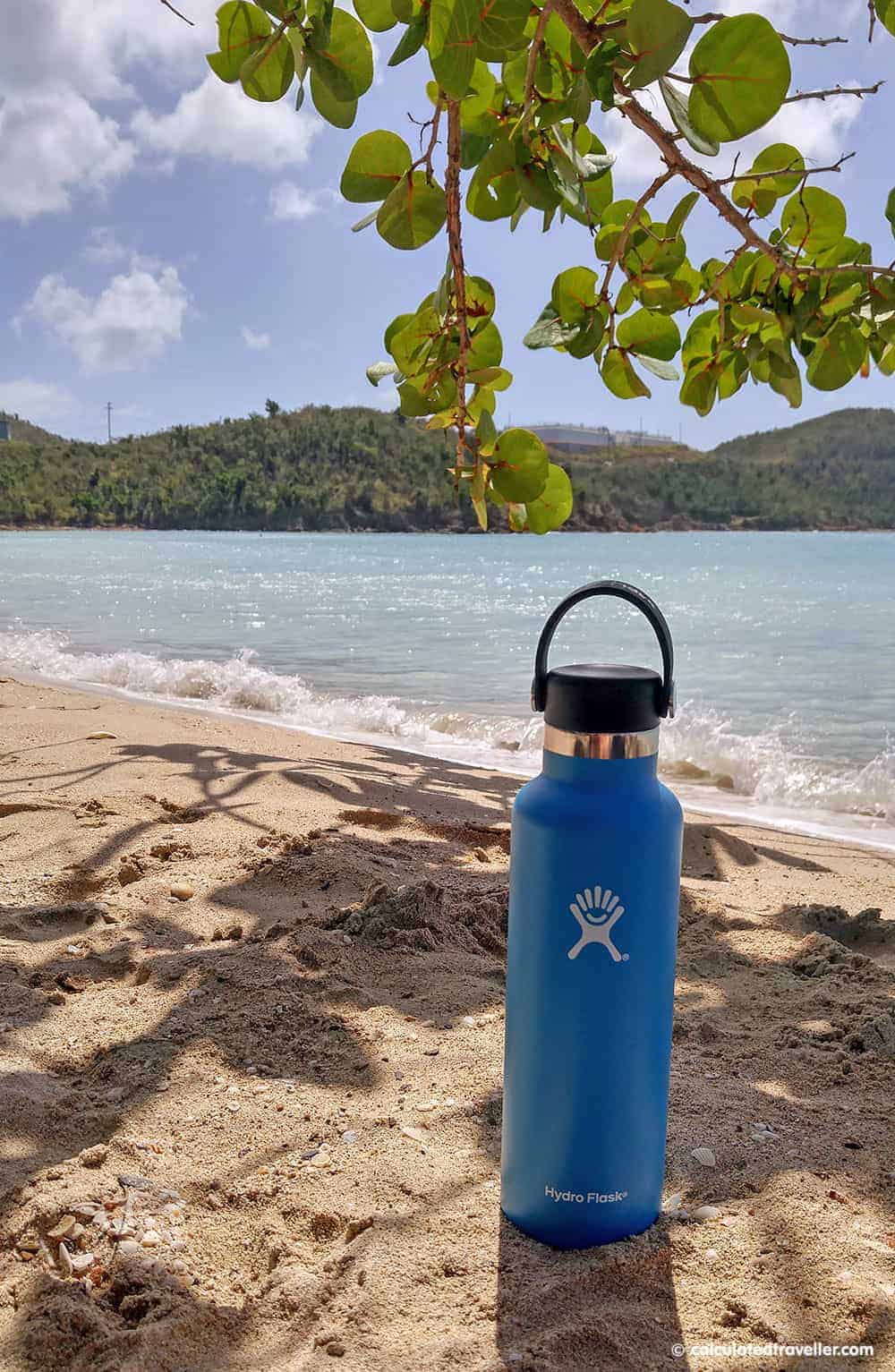 Why is a Hydro Flask bottle different (and better) than all the rest?
In my opinion, it's the ability to customise it!
Variety is the spice of life my friends and Hydro Flask has you covered. With 17 different colours (Black, Blueberry, Cobalt, Flamingo, Graphite, Kiwi, Lava, Lemon, Mango, Mint, Olive, Pacific, Plum, Raspberry, Sage, Stainless, White), 7 different volume capacities (from 12 oz to 64 oz), 2 mouth openings, and interchangeable lid styles to suit your preference. Hydro Flask also makes a sling bag so that you can carry your bottle over your shoulder and go hands-free.
I opted for the carrying handle lid because I like to use a carabiner and hook it to my backpack and I find it to be the most easily accessible lid to clean. But in future, I may decide to buy an extra top such as the one with the opening for a staw and use the same bottle base – switching the lids to suit my needs. Cool eh?
Hydro Flask Hydration Bottle in action
So, here's how I tested it!.
The documentation that comes with the bottle says that it will keep liquids hot up to 8 hours and cold up to 24 hours.
We headed down south on one of our usual road trips to Florida, and since we typically push through and drive 15 to 17 hours our first day out, I filled the Hydro Flask with boiling water and hit the road.
Throughout the drive, hubby Ray and I repeatedly replenished our collapsible mugs with tea. Success!
TIP: Gas station attendants don't mind you refilling your thermos with hot water from the coffee station if you ask after filling your gas tank.
Once in Florida and while in the various Caribbean cruise ports, I tested the Hydroflask with cold water.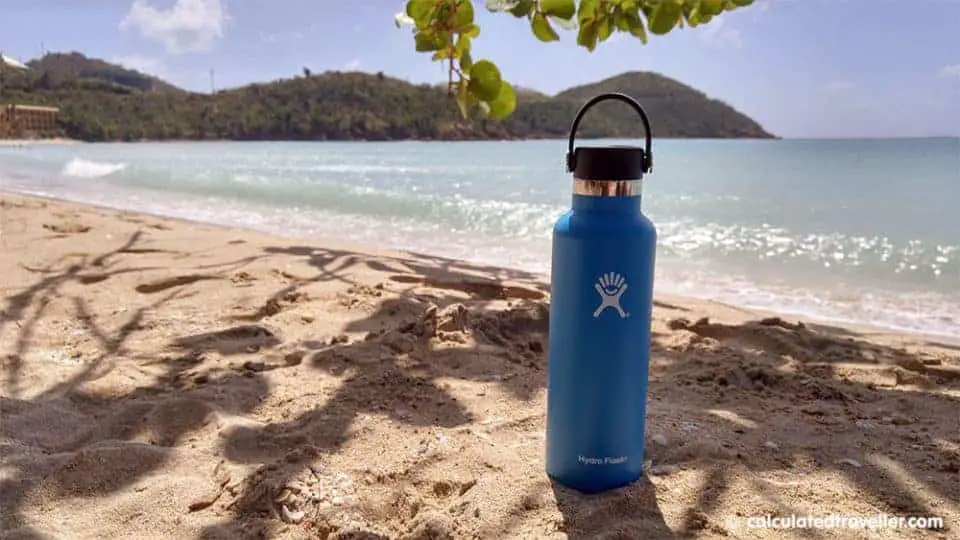 I filled my Hydro Flask with ice cubes and cold water and the occasional NUUN Electrolyte tablet in the morning before heading out to the beach. My water stayed icy cold the entire day.
One day I forgot to empty out my Hydro Flask (lucky mistake) when we returned to our room and the next morning when I went to clean it, the water was still cold with visible chunks of ice still in the bottle.
I'm thoroughly impressed.
TIP: Hand wash only and don't forget to travel with some dish detergent to clean out your bottle between uses.
What I loved about Hydro Flask
The powdercoat finish on the exterior provides a non-slip grip so you don't drop it.
BPA free.
No sweating/condensation on the exterior.
Various lid styles are available – handle, spout, and straw.
Double-walled insulated for 24 hours cold and 8 hours hot.
Comes in lots of fashionable colours.
Various mouth openings available.
Made of professional grade 18/8 stainless steel that won't retain or transfer flavours.
Limited lifetime warranty against manufacturer defects.
What I didn't love about Hydro Flask
I'm incredibly picky here because I have to be, but there is an approximately ½ inch area of stainless steel around the mouth of the bottle that is not double-wall vacuumed or powder-coated. As a result, moisture condenses here, and it sweats but only in this one specific spot.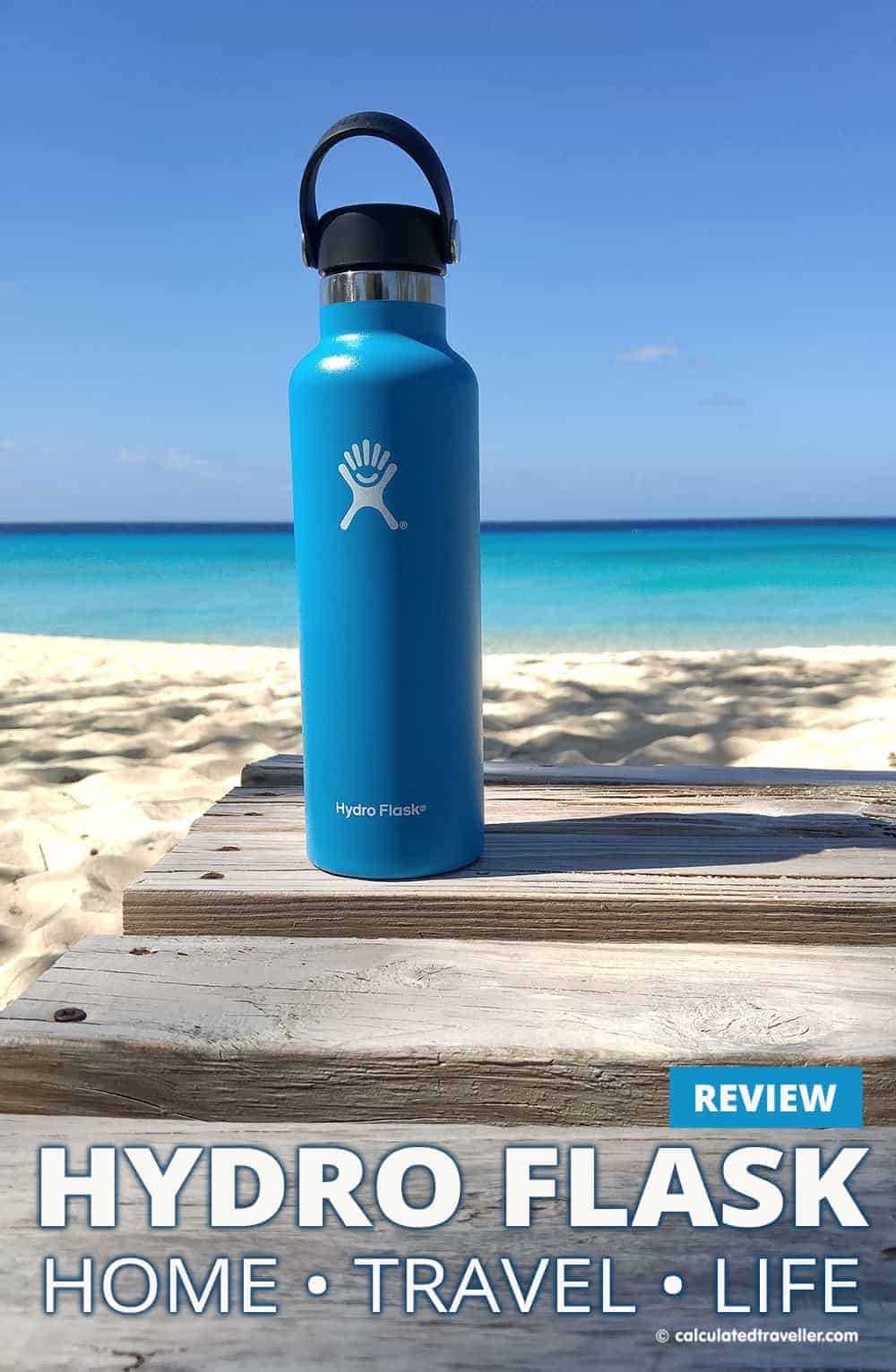 When it comes to premium temperature shielded double-walled insulated stainless steel hydration bottle's Hydro Flask has you covered when it comes to a water bottle with complete customisation perfect for life at home and your travel life abroad.
Hydro Flask sent me their hydration bottle for review purposes. I did not receive any additional financial compensation. All opinions are entirely my own.
What do you look for in a double-walled stainless steel hydration bottle?