Never have I yearned for a piece of technology before now until I saw the Sudio Vasa Bla Bluetooth Earphones online.
Earphones and Earbuds have always been a utilitarian item for me because they were a practical necessity that did a job. I wore them on the plane to watch the in-flight entertainment system and would listen to some soothing travel music so that I could peacefully get some sleep on a red-eye. It never mattered what my earphones looked like because they were always black or white and Plain Jane boring — until now.
Super girly of me I know but I had to have the pretty pink Sudio Vasa Bas ear headphones. Swedish designed with goldtone details and white earplugs they are feminine, elegant and practical.
"Earphones with Elegance and Exquisite Quality"
I feared that they would look a bit childish and "baby pink", but in reality, the rose gold details elevate them to a very upscale, stylish, premium and "grown-up" look.
You can't go wrong with any of the combinations – gold black, gold white, gold pink or gold blue – the earbuds look chic and not subtle in style at all. I anticipate myself getting second looks and side whispers the next time I wear these on a plane. Heck, maybe the flash of high design style will get me a free upgrade to business class! A girl can dream, can't she?
But that's entirely the point to the design; Sudio Sweden says this on the introduction of the owners manual — "Disrupting the industry by transforming people's perception of earphones from being an electronics product to become a wearable accessory with studio-quality sound."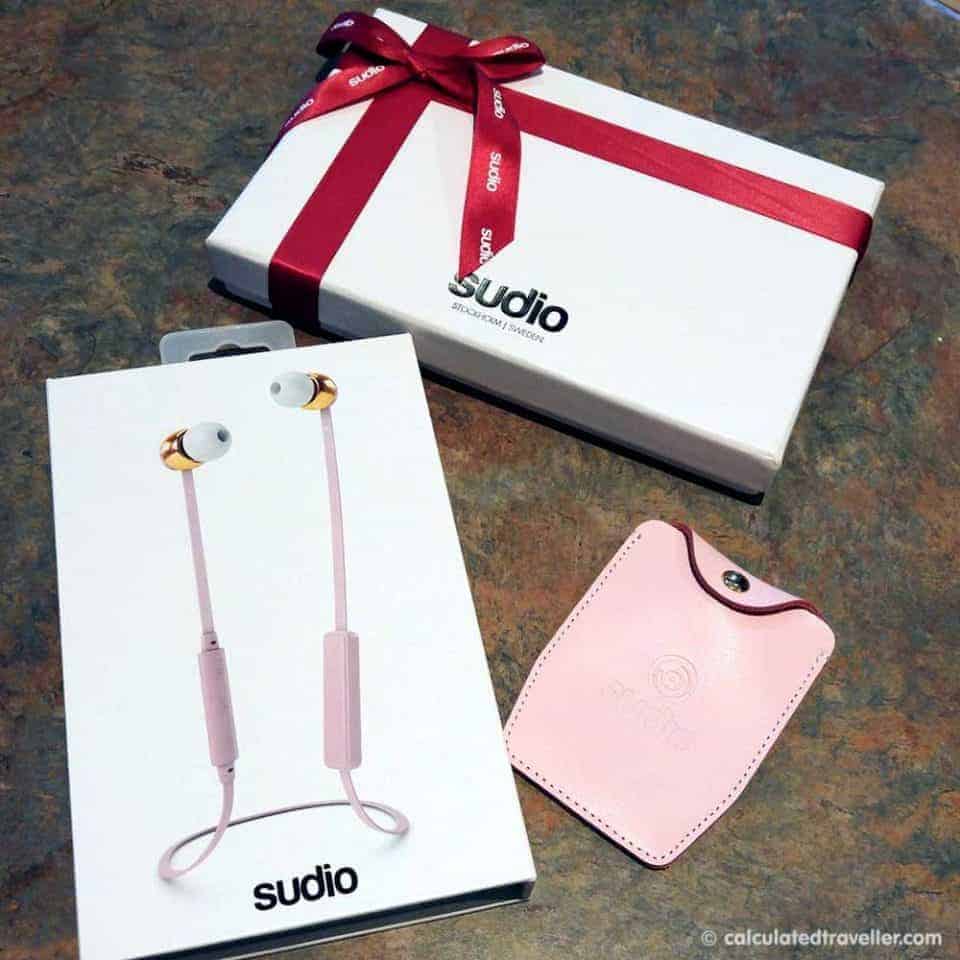 Sudio Vasa Bla
4 colours to choose from: Sudio Vasa Bla white, Black, blue, and pink.
Box comes beautifully gift wrapped with a bow (by request), ready for gift giving
Assorted ear buds in five different sizes
A metal clip to attach the headphones to your clothing
A matching pink leather case to store the wireless Bluetooth headphones with a gold snap closure and a subtle embossed logo on the front
USB charging cable
Documentation includes an owner's manual starter guide and certificate of guaranty
8 hours of listening time
10 days standby time
Quick charge in 10 minutes, full charge in 20 minutes
4.1 Bluetooth with a 10-meter range
Sudio Vasa Blå Bluetooth Earphone "Studio Quality Sound"
Let me start by stating that I don't usually write the technology reviews for Calculated Traveller — I leave this task to the boys on staff.
I don't know the difference between amps, volts, watts, or ohms; it's all a foreign language to me. All I can comment on is whether they sound good or not and how easy they are to use.
Firstly, setting up the Bluetooth and pairing it with my LG G4 cell phone was a piece of cake with zero issues. I would suspect that it would be the same if connecting the Sudio Vasa Bla with an iPhone. The instructions were very clear and concise, and within no time I was happily listening to my Phil Collins jam. Yeah, his song "Sussudio" is the inspiration for the company name, so I just had to test them with that song.
How to charge your Sudio Vasa Bla headphones?
The battery pack is on the left-hand side.
Open the little rubber flap to reveal the micro-USB charge port
Plug in the provided USB cable
The quick charge takes 10 minutes and a full charge takes 20 minutes
The on, off, volume controls, and microphone are on the right.
Other earphones I own hurt my ears after extended use but these were very comfortable especially since it included 5 different sizes of ear buds.
I love the convenience of the earphones being wireless, and I'm thoroughly enjoying the freedom of my first pair of Bluetooth earphones.
I tested the earphones with various types of music (jazz, rock, pop, classical, a cappella) and the music and singing was full and not tinny with good bass.
Regarding noise cancelling, I felt that these worked well to block out a lot of exterior noise.
I also tested the microphone and found it accurate. In fact, I dictate many of my articles versus typing.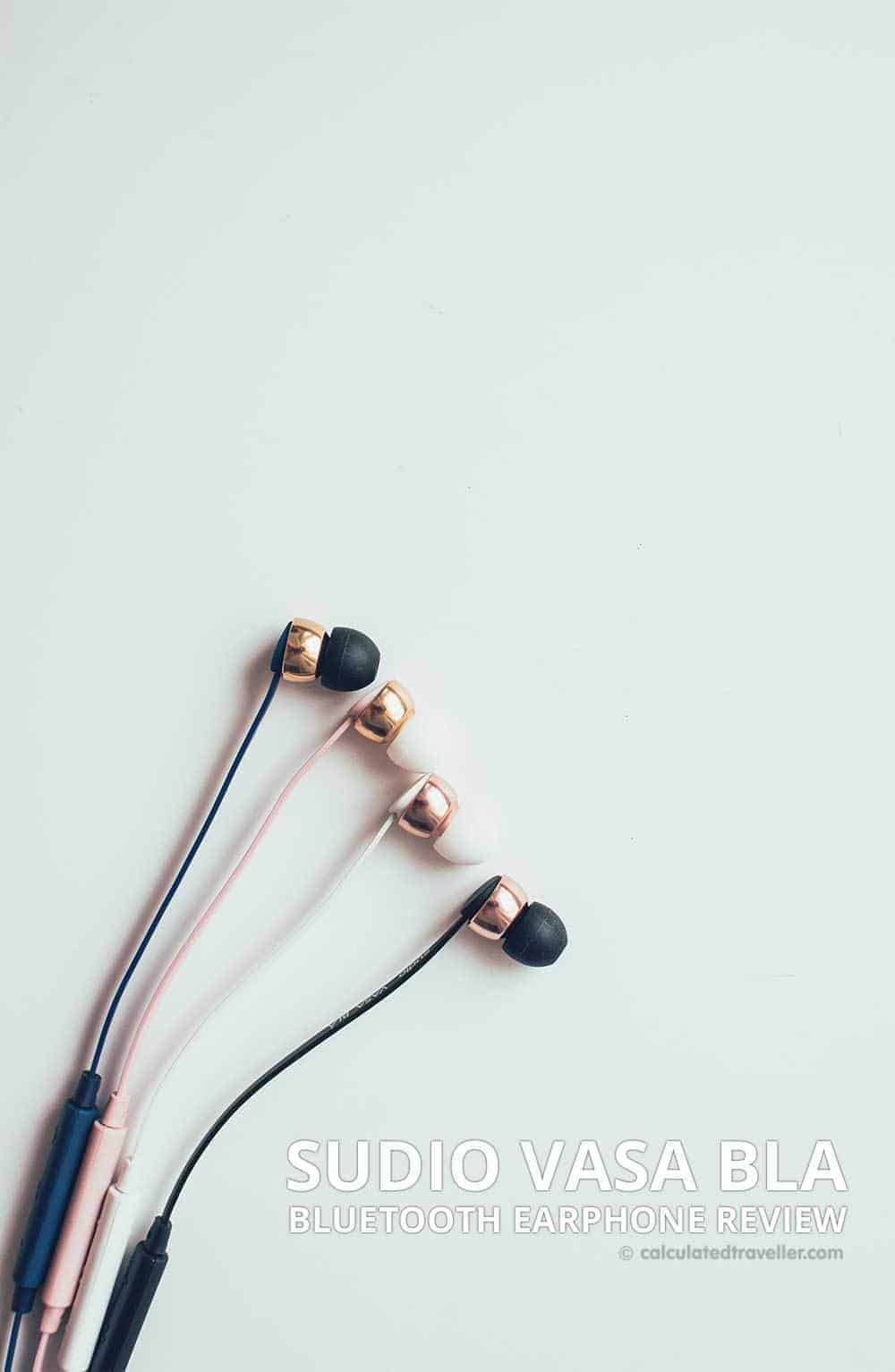 My Precious Pretty in Pink Sudio Vasa Bla Wireless Earphones
I love them. The Sudio Vasa Bas Bluetooth Earphone are premium-quality and ooze of designer-style. The pink is not for everyone, but the colour ensures that they don't go missing inside a cavernous purse and don't get borrowed by the men in my life. They are elegant, stylish, and sound great I think they'd make a fabulous gift for that special stylish woman in your life beit for home, work or travel.

I hope you found this Sudio Vasa Bla review helpful.
I received a sample product for testing purposes from Sudio Sweden. I was not compensated for this review. All opinions are entirely my own.
Looking for more tech articles? Read…
– Twelve Great Tech Gifts for the Traveller on your List