Caye Caulker, a small island off the north-central coast of Belize, has a wonderfully quaint atmosphere with that tiny village vibe. If you're looking for a quiet, laid-back island experience, I highly recommend it as an ideal home base for your next holiday.
Caye Caulker, Belize is also one of my favorite snorkeling destinations. On a recent trip, My husband and I, had the opportunity to try many of the island's eclectic Caye Caulker restaurants. Some were quite memorable and many were great bargains.
When it comes to some of the best restaurants in Caye Caulker, I suggest the following.
Tropical Paradise – Luciano Reyes St.
Despite the cheesy name Tropical Paradise Restaurant was actually quite nice. All the seating is outside (under cover) and just a few yards from the ocean. Because of its open-air design, you could feel the ocean breeze while dining, which added to the island feel. The service was good and the food was excellent. In all we sampled the grilled barracuda steak, whole snapper, lobster kabob and pork chops. (We ate here twice during our week-long stay.) It was an excellent value. See Tropical Paradise on Trip Advisor.
Marin Restaurant – Luciano Reyes St.
Marin Restaurant resides on a covered deck on the upper floor of a building. Both the service and food could stand some improvement. We were the only customers there at the time of our visit, yet we only saw our waiter twice. We had the grilled lobster and fried chicken. Both were considerably overdone but still edible. We did not return after our first visit. See Marin Restaurant on Trip Advisor.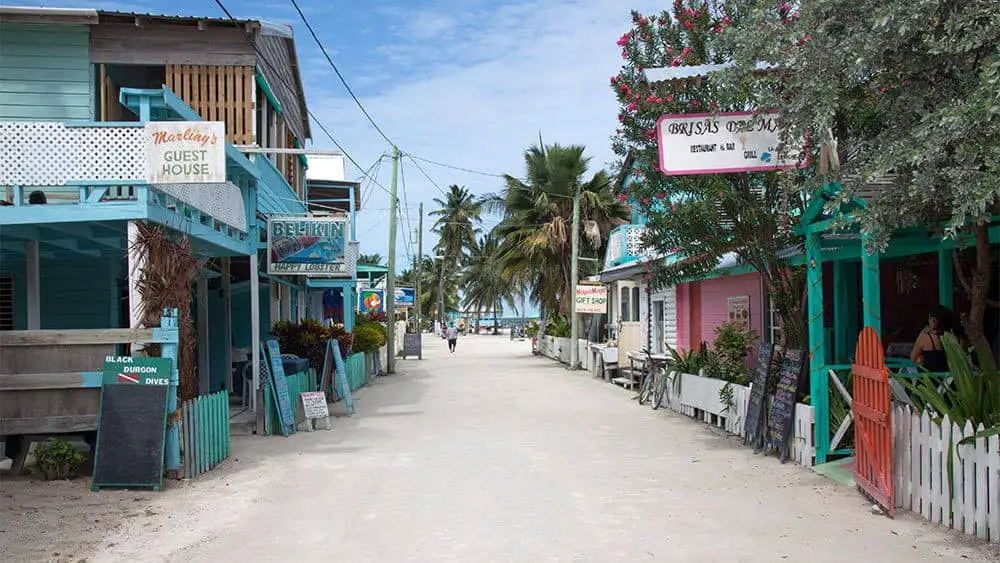 The Little Kitchen – Back Street
This little gem warrants some explanation. You have to walk through a few blocks of the neighbourhood to get there and it sits beside a community of makeshift shelters. There were a few little handmade signs along the route pointing the way.
The first time we visited The Little Kitchen it was dark, and we were truthfully a little uneasy. When we went back in the daylight it was much less stressful.
The restaurant itself is on the second story along the back side of a decrepit building. Part is covered and part is open air. We sat in the open air part and got eaten up by sand flies, so when you go, wear long sleeves and long pants.
Now on the positive side – the food and prices were fantastic! Our first meal there cost $20US. Here's what we got: lobster ceviche, salbutes, jerk chicken, two bottles of water, one beer and one banana colada!
I highly recommend The Little Kitchen, but if you go at night, take a flashlight and at least one companion. It is not a place you want to explore alone at night. The street it sits on evidently does not have a name, so you'll need to ask someone how to get there. See The Little Kitchen on Trip Advisor.
Syd's – Aventurera St.
Syd's serves good food at great prices. They are known for their fried chicken, which is just $4.50US. I sampled the fried shrimp and chicken tostadas ($2.50US), which were both also excellent. My husband loves this place – we ate there twice during the week and got take-out from there twice more. See Syd's on Trip Advisor.
Rainbow Grill & Bar – Front St.
At the Rainbow Grill and Bar we both had burgers, which were only so-so. But to be fair, burgers are never very good when we travel outside the US – they're just not the same. Maybe we should have tried something a little more adventurous. We did not go back a second time. See Rainbow Grill & Bar on Trip Advisor.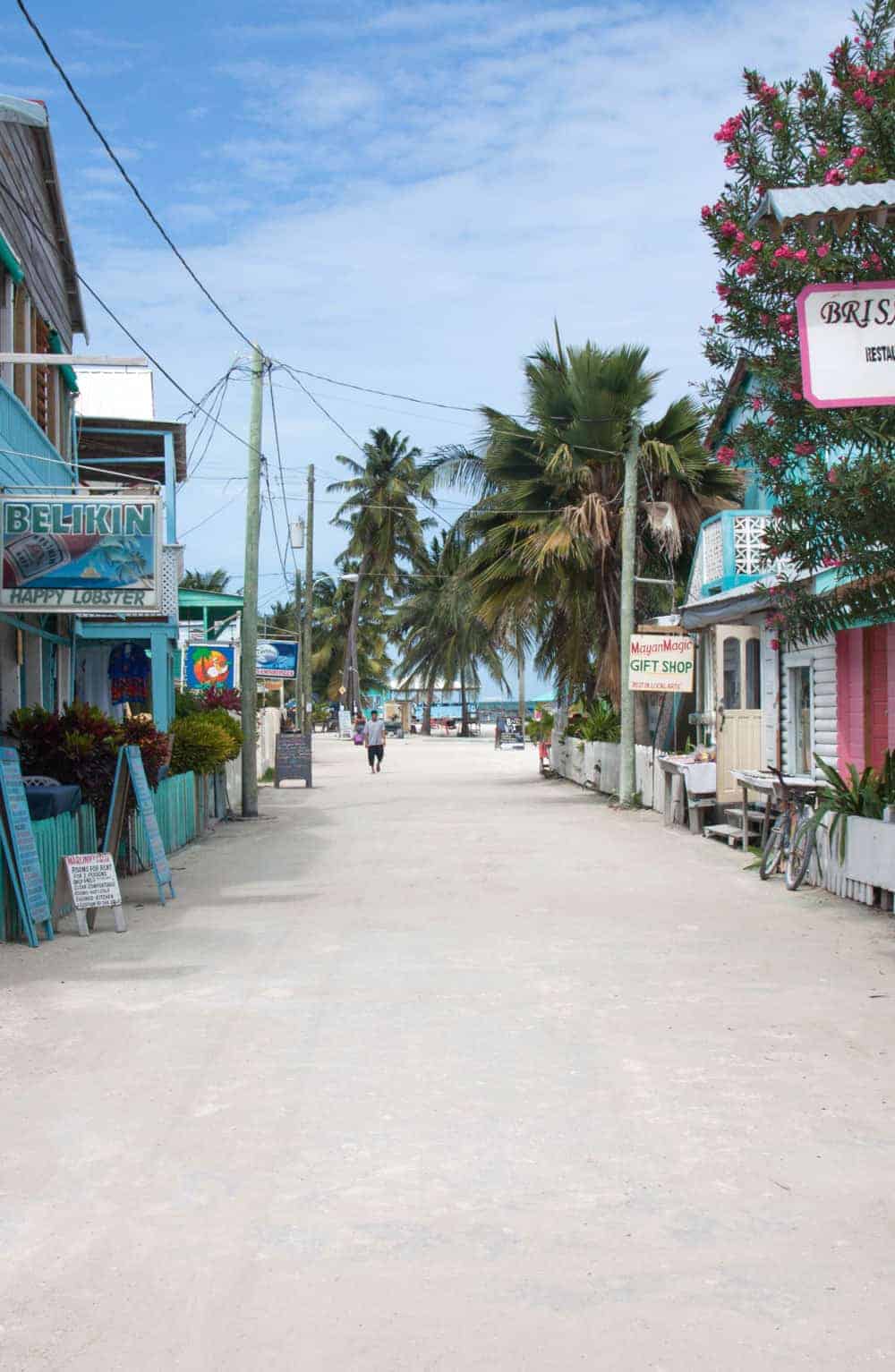 La Cubana – Front St.
We passed La Cubana a few times on our walks along Front St. and it always smelled great. So when we finally decided to eat there we both had the roasted pork. It was very good. We didn't go back a second time, but that's because it was already late in the week when we first tried it. I would recommend it to others. See La Cubana on Trip Advisor.
Bambooze – Front St.
Bambooze has a view of the water and gets a nice breeze. We went there for lunch and the place was almost empty. We had the chicken fajita and fried plantains and both were very good. The thatched roof and proximity to the beach give this place a sort of party feel. I'd definitely give it another try. See Bambooze on Trip Advisor.
Barrier Reef Sports Bar – Front St.
Barrier Reef Sports Bar sits up a bit from the beach. I tried the fish and chips and my husband had a chicken burger. They were both unremarkable, but they did have draft beer there, which was the highlight for me. It would probably be a good place to go watch a game and grab a few beers. See Barrier Reef Sports Bar on Trip Advisor.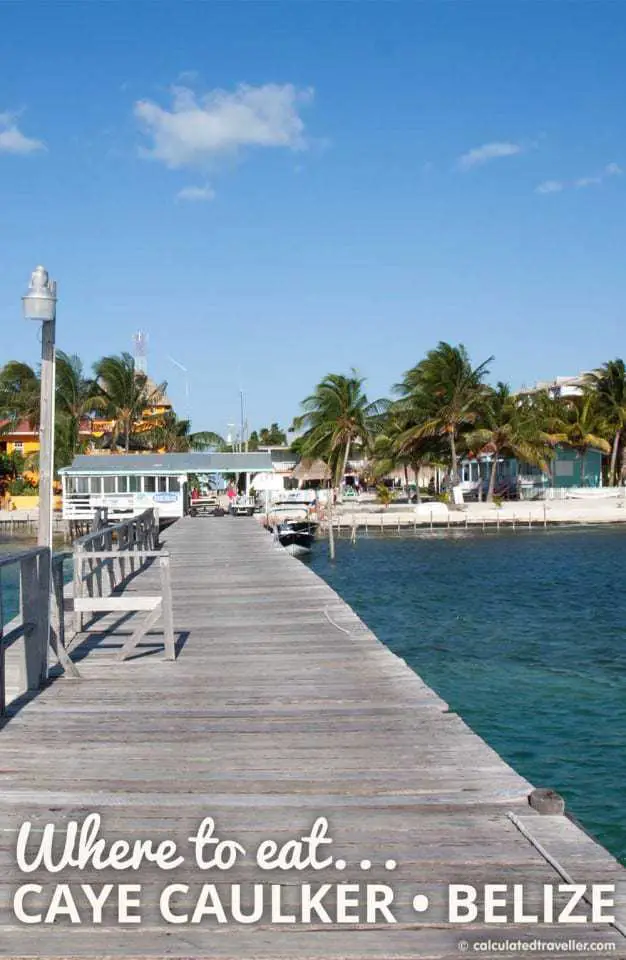 Have you eaten at any of these restaurants on Caye Caulker Belize?
What do you suggest for where to eat in Caye Caulker?
Read more:
– One Relaxing Day Spent Exploring the Belize Cruise Port
– 5 Great Caribbean Snorkeling Beaches