Summer break in our house means a lot of things. It means no more school (of course), but also it's when my son and I shift to our digital nomad lifestyle. We spend quite a few summer weekends camping in our RV and a few weeks on our family's farm in western Pennsylvania, not to mention our cross-country train trip we are planning for August!
Because I can't stop working when I'm on the go, I need to be able to take my work with me and finding a backpack to house my digital office is critical. It needs to be sturdy, lightweight and it has to be able to secure all of my devices, chargers and camera equipment, along with my son's laptop. Finding a backpack that checks all the boxes can be challenging.
If you are looking for the same, here are some things you want to think about when picking out your new backpack.
What to Look for In a Super Secure Anti-Theft Backpack
One of the biggest things is that its simple to use (and of course airline compliant).  I hate locks, so anything that uses them is out!
The second thing that is most important when picking out a secure, anti-theft backpack is lots of pouches and places to store my devices and other things I need. As a busy mom and online entrepreneur, I always have tons of things to store. One of the most valuable pouches you can have though is one on the outside in a hidden place, like on your back or inside of the strap where you can store money so you don't need to open the whole pack to access it (RFID protection for credit cards is a plus)!
Because they are more expensive, you want to ensure that your laptop and tablets are secure. Look for dividing sections with elastic straps keep the devices in place to prevent damage and slipping out of the backpack. The perfect anti-theft backpack would have those sitting against your back and accessed through a hidden zipper so that others around you wouldn't be able to attempt to access while you are wearing it.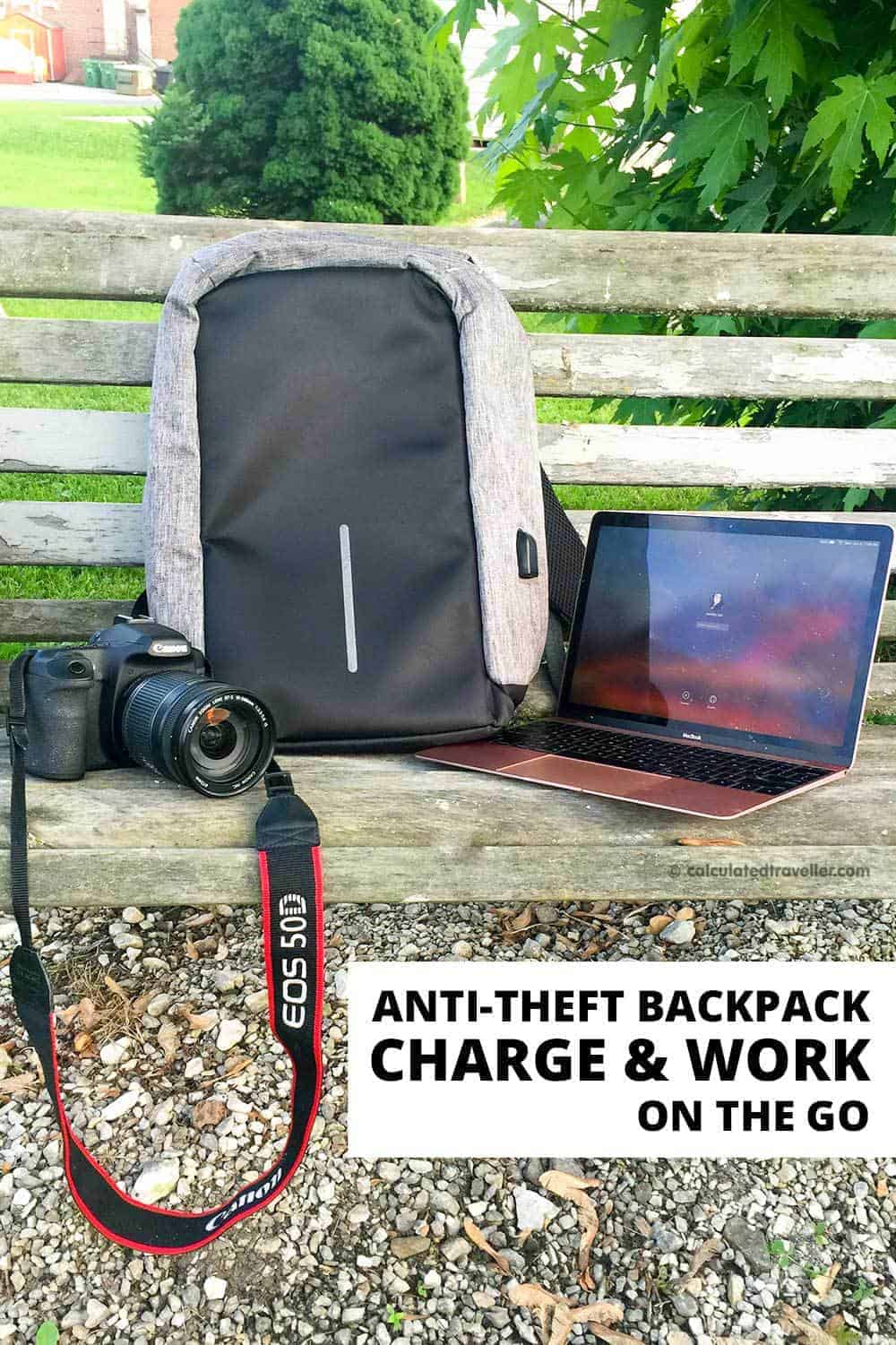 What to Look for in a USB Charging Backpack
When choosing a USB charging backpack, one thing I look for is a charging port on the outside. This is critical because there was is no need to break the seal of the zipper to feed a cord through. I want to be able to access the charger on the go and not have to open it up to show everyone the contents or risk things falling out to do so.
I also look for backpacks that use any battery pack which gives you the option to use your own battery pack and not have to buy a specific kind. Also, this makes sure that your backpack is airline compliant as some batteries may not be able to fly the friendly skies.
And my final criteria for an anti-theft and USB charging backpack? It has to be fashionable! After all, you don't want to travel the world with a frumpy backpack. Since this goes with you wherever you go, choosing one that is streamlined and neutral is key.
Good luck in finding your new anti-theft backpack!
Looking for more backpack reviews?
– Review: Gonex Ultra Lightweight Packable Hiking Daypack
– Review: Mountain Hardwear Scrambler RT 35L Outdry Backpack
– It's Intentional. STM Bags – Impulse Laptop Backpack Review