Summer break in our house means a lot of things. It means no more school (of course), but also it's when my son and I shift to our digital nomad lifestyle. We spend quite a few summer weekends camping in our RV and a few weeks on our family's farm in western Pennsylvania, not to mention our cross-country train trip we are planning for August!
Because I can't stop working when I'm on the go, I need to be able to take my work with me and finding a backpack to house my digital office is critical. It needs to be sturdy, lightweight and it has to be able to secure all of my devices, chargers and camera equipment, along with my son's laptop. Finding a backpack that checks all the boxes can be challenging.
If you are, looking for the same, I'd like to introduce you to this super secure anti-theft backpack that our friends at Traveling Smiles sent me to review.
P.S. they are giving Calculated Traveller readers 10% off their order with this exclusive code CTM10OFF
How to Use the Super Secure Anti-Theft Backpack with USB Charging Port
This backpack is relatively simple to use. You fully charge your battery pack (purchased separately) and then attach it to the inner USB cord. Then plug your device into the outer backpack port through your device's USB cable. The charging cable would work for tablets, phones and other gadgets that charge from USB.
You can store all your valuables in its many pockets and secure devices with the elastic straps. The pockets for laptops and larger devices sit against your back and are locked tight with a hidden zipper which makes access by others extremely difficult.
The bag measures 6″L x 12″W x 18″H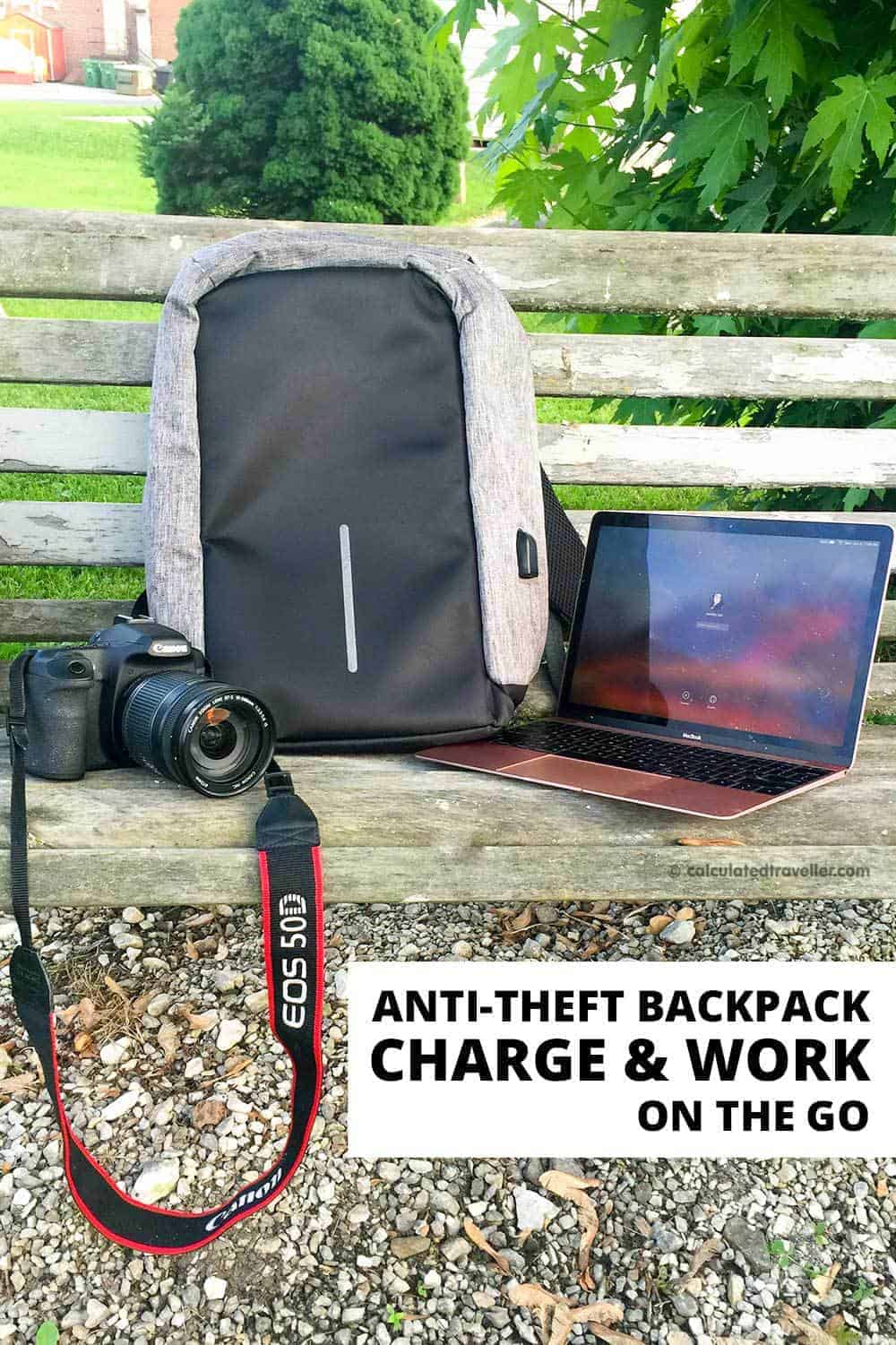 What I liked about the Super Secure Anti-Theft Backpack with USB Charging Port
Personally, I loved the security of the bag. With the charging port on the outside, there was no need to break the seal of the zipper to feed a cord through. I also love the zip pouch that is on the strap in case you need to grab something in a pinch but don't want to have to open the backpack. It fits cash and a small credit card. The main zipper is entirely hidden next to your back so no one can quickly open it.
There are a ton of pouches, which as a mom, traveller and purveyor of lots of gadgets, I can appreciate the extra storage space!
The bag is lightweight and fashionable. The grey and black colour scheme would be appropriate for work or play. It has a reflective strip which comes in handy when you have to travel by bike or by foot. Being made from waterproof Oxford cloth is a massive bonus as you don't need to worry about ruining your gadgets if you get caught in the rain.
What I didn't like about the Super Secure Anti-Theft Backpack with USB Charging Port
Mac and iPad users may find this particularly challenging. My MacBook is too large for the small back secure pouch but way too small for the deeper pocket, which won't allow you to use the straps to keep the laptop in place. This issue with the straps poses a problem when we travel as the backpack does get shifted around and thrown in overhead bins.
I also would love if the smaller pouches would have zippers especially on a backpack that may be rolling around in the back of a car or stored in an overhead bin. If the bag got turned on the side, it would spill the contents. The top zipper pouch which would look to house pens or pencils wasn't wide enough, and I wasn't too sure as to what I would store in there instead, possibly the CF cards for my camera or business cards?
When I received the backpack, it came with no instructions. After fumbling a bit, I was able to figure out how to use the charging cable.
Overall, I have been using this backpack and have been happy with it. It has kept all the devices I need to work at my fingertips whether I am working from my home office, at a coffee shop or sitting in my car waiting for lacrosse practice to end.
Don't forget to check out the full selection of travel gear at Traveling Smiles and use this code CTM10OFF to get 10% off your order.
Product sample was provided for review purposes. All opinions are entirely that of the author.
Looking for more backpack reviews?
– Review: Gonex Ultra Lightweight Packable Hiking Daypack
– STM Prime Backpack for day, play and away
– Review: Mountain Hardwear Scrambler RT 35L Outdry Backpack
– It's Intentional. STM Bags – Impulse Laptop Backpack Review