We at Calculated Traveller are proud to support the following organizations
(Click on the organizations logo for further information)
---
The Heart of a Woman Project
The Heart of a Woman Project (THOAW) is a mobile photography initiative that empowers women impacted by poverty. Founded by Andrea Rees, a professional photographer based in Toronto, Canada. The 2013 project focused on the township of Khayelitsha, in Cape Town South Africa. Andrea returned to eKhaya eKasi in Khayelitsha, South Africa in May 2014 to launch Phase 2 of her project. One hundred percent (100%) of all money raised goes to the project.
The mission:
"To educate unemployed mothers and young women impacted by poverty in photography, mobile technology and social media so they may generate a sustainable income and small business through the sales of photographic art products. Products will be sold in the on-site boutique at the end of the workshop. Distribution will also be through partners in Fair Trade and Tourism in South Africa, online and abroad."
Here's how you can help:
Every donation, whether it is $10, $50 or $250 helps the project make a difference in the lives of women and children.
Consider donating an iPhone that you are no longer using so that THOAW can teach additional participants with the iPhone's camera.
Help spread the word.
---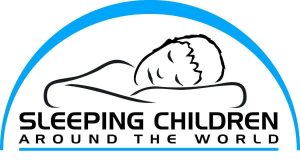 Sleeping Children Around The World
Sleeping Children Around the World (SCAW) donations provide bed kits to children of any race and/or religion who will benefit the most; typically located in underdeveloped and developing countries. No portion of a bed kit donation is spent on administration — 100% reaches a needy child.
Here's how you can help:
Each $35 donation (Canadian funds) provides a bed kit that consists of a mat or mattress, pillow, sheet, blanket, mosquito net (if applicable), clothes, towel and school supplies. Bedkit contents vary from country to country depending upon local needs.