I was given the opportunity to switch from a lightweight 3,000 mAh power bank to a heavyweight IntoCircuit Power Castle 15,0000 mAh Power Bank (2nd Generation).
My mind was spinning as I thought of the Tim Allen "Home Improvement" TV Series where he was always overwhelmed by a super-charged power tool. I also thought about those days in my youth when I would drive my Dad's Buick fitted with the strength of a V8 gas guzzling engine instead of my Mazda 3's environmentally friendly engine.
Could I handle this much power?
Cruising with a "Testosterone" Loaded Power Bank
The power bank was an item that I was anxiously waiting to test-drive on some of my portable devices, and after the weeks of testing, I am impressed with the capacity and efficiency of the power bank.
Surprisingly, the device arrived in a relatively small package considering the stated 15,000 mAh capacity of the portable power bank.
12.5(L) x 7(W) x 2(D) cm
Weighing 400 grams
In the box, the power bank came with a standard micro-USB cable, cloth storage pouch and user manual.
The power bank appears well constructed in a sturdy aluminium housing with an aesthetically pleasing blue sapphire colour. Its dimensions are similar to the dimensions of a Samsung Mini smartphone allowing it to fit easily into a purse, briefcase or coat pocket.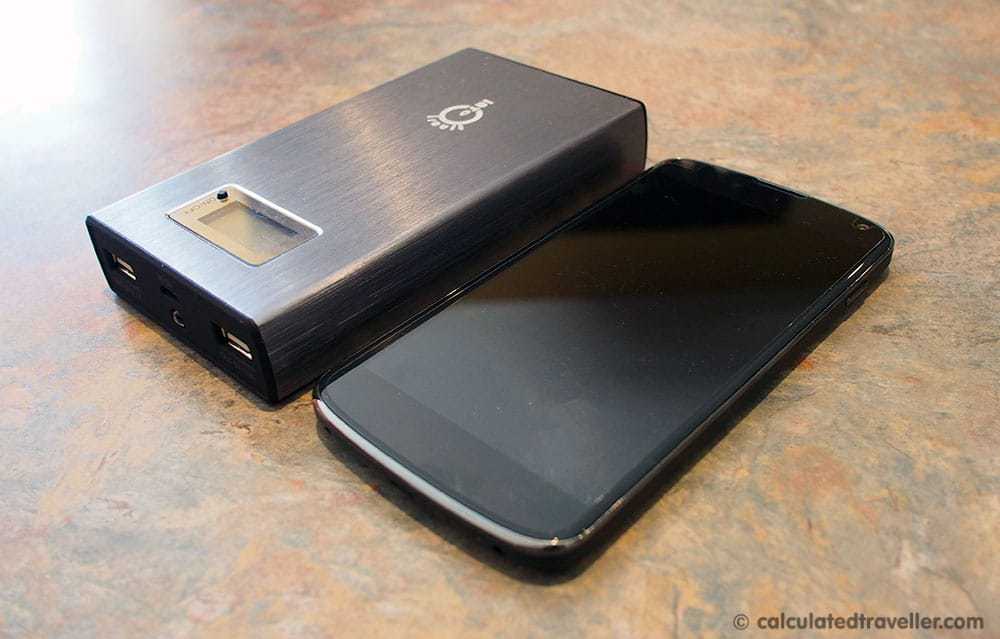 The front of the power bank has a handy numbered % LED display readout showing the amount of power available, and there is an indicator that shows which USB ports are in use.
I found the LED indicating the amount of energy remaining to be very useful in helping me decide when to recharge the power bank since high power drawing devices such as tablets that require more juice for a full charge. Next to the screen is a small button, which turns the display light On/Off.
All of the USB port plugs are on the end cap.
Dual USB (2.1A &1A) output ports where up to 2 devices can be charging at the same time along with micro-USB port functions as an input to recharge the power bank. For convenience, a small light on the cap can be turned on/off with the little button next to the display readout. The unit also has "SmartID" technology to ensure maximum charging efficiency of your devices in the USB output ports. I have no way to confirm this claim however based on the power bank's performance; it recharged all of my devices without any issues.
Over the test period, I recharged a number of devices and tracked its time needed to reach a full charge. Here is my experience with a few devices:
Lenovo S6000 tablet was fully recharged from 10% to 100% in about 4 hours using about 50% of the power bank's capacity.
Blackberry Bold Smartphone needed 1 hr. to recharge and used 15% of power.
Sansa Fuze mp3 player (don't laugh I still use one) needed 20 minutes and 5% power.
My other test observations revealed that when fully charged, the power bank's stored capacity could recharge my tablet 2x's and the Blackberry phone 7x's.
Overall, I was very happy with the IntoCircuit's 15,000 mAh capacity and efficiency; especially when compared to the 3,000 mAh power bank I was previously using.
Conclusion: IntoCircuit Power Castle 15,000 mAh Power Bank (2nd Gen)
In conclusion, the IntoCircuit Power Castle 15,000 mAh Power Castle was simple to use, built solid and very portable for everyday use or a few days of travelling. Now, I can take comfort and not worry about being away from an electrical source or running out of recharge capacity.
The only small issue is that this device is not provided with an AC adapter to recharge the power bank. Your recharge time will depend on the amperage output of the adapter you have available so the lower the amperage, the longer it will take to recharge the power bank.
I used a Blackberry 1.8A 120V AC adapter, which needed 4 hours for a full charge the power bank, in comparison a 1A AC adapter may take up to 8 hours to reach full capacity.
I am planning on bringing the power bank on a 3-day backcountry camping trip and enjoy the luxury of powering up my tablet to watch movies next to the campfire or just chill with my favourite Bob Marley tunes on my mp3 player.
I'll be just as popular as the guy who brings a 24-case of beer at about the same dollar investment.
IRIE!!!
I received the IntoCircuit Power Castle 15,0000 mAh Power Bank for review purposes from HISGADGET Inc.This had no bearing on my review of this item. As always, all my opinions are my own.
Read more Travel Tech Reviews on Calculated Traveller.