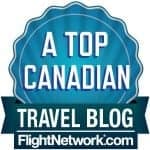 PRESS RELEASE – Top 100 Canadian Travel Bloggers List
Local Blogger Gains National Recognition for Travel Blog
[Toronto, Ontario] — August 19, 2013 — Local travel blogger Mary Chong (Calculated Traveller) has been named by FlightNetwork.com as one of Canada's best online travel writers – a great accomplishment in a competitive and growing online sector that appears to be dominated by Canadians.
On Monday, Canadian online travel agency FlightNetwork.com released the Top 100 Canadian Travel Blogs, a list compiled through crowdsourcing on social media sites. The list can be found online at FlightNetwork.com.
Bloggers were nominated for inclusion in the list by the travel blogging community. Nominees were vetted by Let's Roll editor Matt Gibson and then asked to outline the details of their blogs.
Chong from Toronto, Ontario, who has written about destinations such as Barcelona, Curacao and Hong Kong, was among those named for her blog Calculated Traveller Magazine.
"We are completely thrilled to have been included as one of FlightNetwork.com's Top 100 Travel Blogs! We strive to bring diverse locations and unique experiences to our audience and this certainly helps to elevate our profile.", said Chong.
Using the list, travellers will be able to access recommended blog posts, find links to the blogger's social media pages and, most importantly, search for blogs that write about their upcoming destination.
"Calculated Traveller Magazine is an online magazine offering friendly advice, informative reviews, and inspiration on all things travel. We have a hub of relevant information aimed at helping people discover the extraordinary, whether the journey is local or far flung. With multiple writers on staff, each article is written in their own unique voice and style. Focused throughout on travel budget, planning, preparation, and most importantly – enjoyment!", said Chong
With a reputation for global backpacking, travel-blogging Canadians appear to have reached every corner of the earth.
"There are several reasons why we needed to build this list. First, and most importantly, many Canadians don't realize how many Canadian travel bloggers are out there, exploring the world, and offering a Canadian perspective on their experiences," said Matt Gibson, the list's curator and editor of FlightNetwork.com's travel blog Let's Roll.
"Something about us seems to drive us to explore." Gibson added.
The list is also an opportunity for bloggers like Mary Chong to network amongst themselves and others in the travel industry, such as public relations professionals and marketers.
For more information on this story contact:
MARY CHONG
For more information on the Top 100 Canadian Travel Blogs contact:
Matt Gibson
matt.gibson at flightnetwork.com
-30-
About FightNetwork.com (www.flightnetwork.com)
As one of Canada's leaders in online travel, FlightNetwork.com delivers the lowest airfares from the top airlines by offering consumers access to over 2 million bulk rates on cheap flights negotiated with major airlines. Its proprietary flight booking engine offers last second booking and the exclusive ability to 'mix and match' fares – the only Canadian online travel agency that allows booking on different airlines for departure and return flights to get the lowest fares possible. Backing up Flight Network's award winning online service are over 120 insightful travel specialists in the FlightNetwork.com call centre who ensure that customers successfully book the best travel deals.
FlightNetwork.com's Price Drop Protection plan is a unique, free program, exclusive to FlightNetwork.com customers on all economy flights, vacations and hotels. The Price Drop Deal is now unlimited on all domestic, USA and international flights, as well as vacations and hotel bookings. If you book with FlightNetwork.com, and the price drops after you book, you will get the difference credited back.