Curacao beaches — the sun, surf, sand and the palm trees swaying in the ocean breeze – it's the ultimate in relaxation. No trip to this Southern Caribbean island is complete without a trip to the beach!
This is the second part in a series of articles on Curacao.
– Part 1: Curacao – The Meaning of Dushi.
– Part 3: Curacao – Restaurants with a View
– Part 4: An Itinerary for Touring Curacao in One Day

Curacao has 17 beaches on the island and when I was there recently I had the chance to visit 2 of the most gorgeous beaches that you'll ever see – Cabana Beach and Papagayo Beach Resort. Both part of the same beach system on the east side of the island but with slightly different atmospheres.
(edited to add: There are actually a total of 35 beaches not 17. Not all the beaches are developed, in the sense that you have to pay entrance, some of them are secluded, or small, or they are beaches that you have to park your car at a distance or walk to via stairs or even reach by boat – Thanks Charla for the correction!)
To get to the beach you can take a taxi, but you can also travel via public bus (my preference). The bus terminal is outside the post office in Punda (downtown Willemstad). Take the "Punda/Caracas Baai Bus #6″(Cost is 1.50 Nafl) headed East and ask the driver to let you off at your destination. There are designated well-marked bus stops and signs for your return trip back downtown.
You can't get lost taking the public bus as there are only two routes Otrobanda (West) and Punda (East).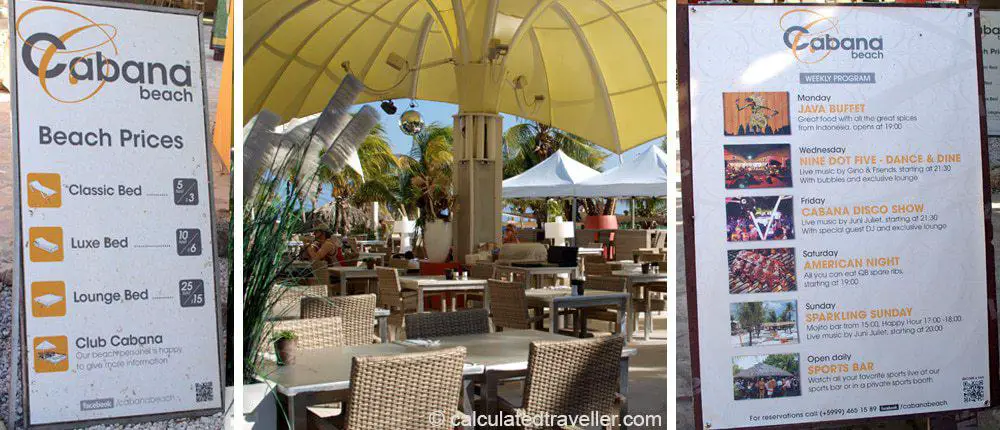 Cabana Beach
Beautiful soft sand under foot, the ocean and shade and I'm totally there.
Wait a minute — SHADE? Yup! You read that correctly. People tease me because I visit the Caribbean often, but I don't like the sun – the heat I like but not the rash that the sun regularly gives me. I've been called the "English Patient" so many times due to all the clothes and the large brimmed hat that I always wear!
Technically Cabana Beach, as well as Mambo Beach which is right next door, is actually ON Seaquarium Beach. But who cares what they call it, it's all the same sand and ocean.
The prices are very reasonable, and there are a lot of choices for loungers with and without shade:
– Classic Bed (which is your standard reclining lounge chair)
– Luxe Bed (single mattress)
– Lounge Bed (double mattress)
– Club Cabana (sitting area plus mattress for 2)
Incidentally, there are multiple signs on the beach stating that there is free Wi-Fi. Hmm, this would be the perfect place for a working holiday! I'm not sure how much work I'd get completed, though.
There is also a store, food/restaurants, a bar and facilities.
At night there is live entertainment and dancing with a different theme happening each day of the week except Thursdays.
The entire atmosphere here is very cosy, carefree and relaxed. A perfect spot to kick back and chill out with a cold beverage.
Directly next to Cabana Beach is the Kontiki Beach Resort with their wooden exterior and thatched roofs — the perfect base station for fast, easy access to total relaxation.
Papagayo Beach Club
Found further east is the Papagayo Beach Resort which is part of Jan Theil Baai and a new upscale resort and residential area of Curacao.
You can tell the difference between Papagayo and Cabana because where Cabana was cosy and carefree Papagayo screams glitz, glamour and luxuriousness. A place where people go to see and to be seen.
There are multiple bars and restaurants with different themes and styles. One that struck me as breathtaking was the area with all white furniture with pops of brilliant colour, lush greenery and bling.
I see myself coming here dressed up for a nice dinner or drinks or for a party. Special of the day sounded delicious – surf and turf of lobster and steak.
I wouldn't come here to lounge beforehand, though. I would just hate to be all sticky and sandy, etc. and then sit down to linen napkins and an excellent meal. But that's just me because during my visit there were a lot of people lounging and quite a few families with children.
Two very different Curacao beach experiences are seen both in 1 very short day.
Hmm…with 17 beaches that would mean I would need at least 17 days to experience them properly…good thing they have Wi-Fi!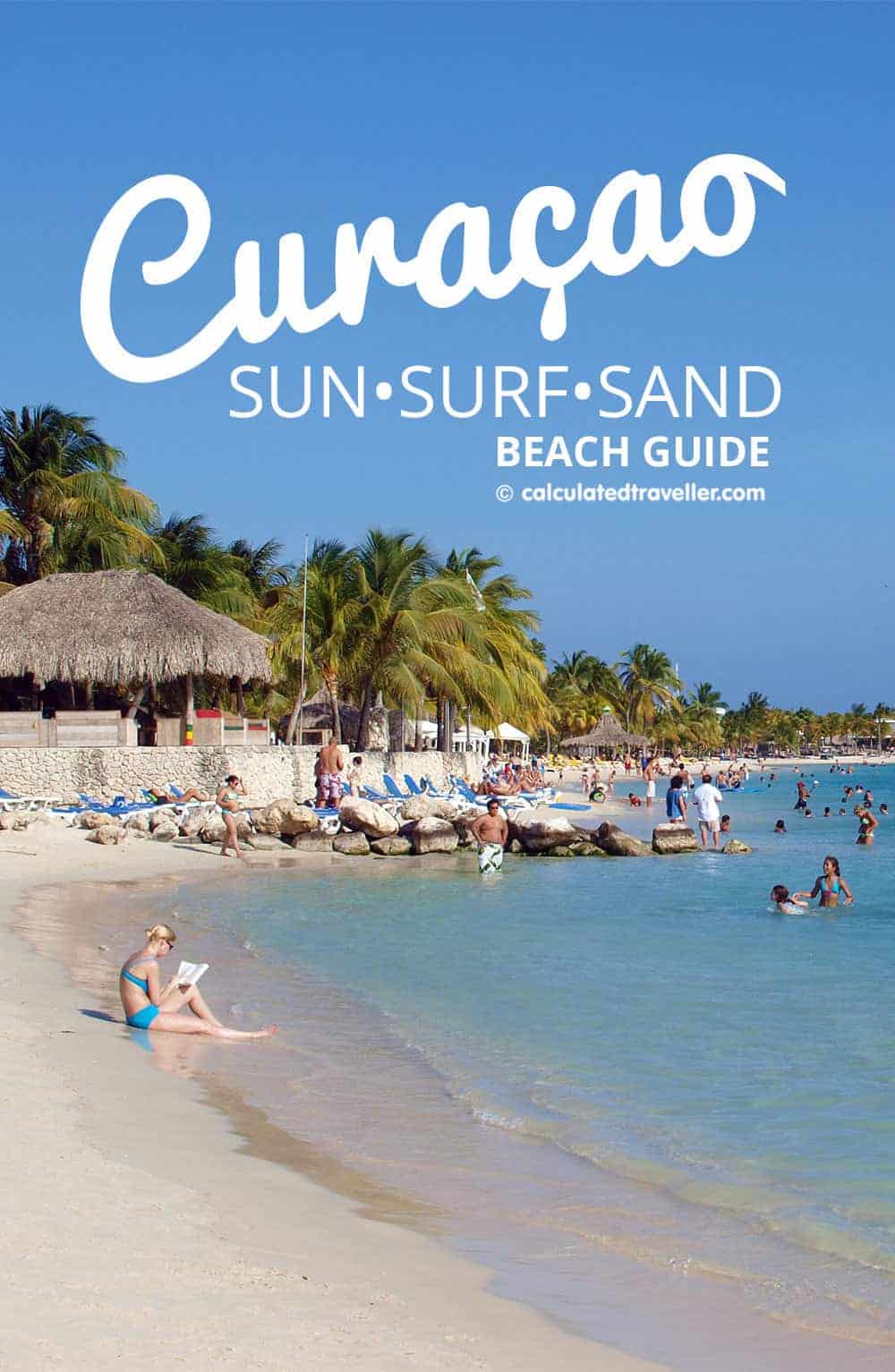 Looking for more Caribbean Beaches to explore? Check out our Caribbean Archives.
My tour of Curacao Beaches was generously provided by Curacao Tourist Board. My opinions are my own.