There was a time, not so long ago, that when you took a photo, you had to wait to be able to share it. It could take hours, even days before you could pass it among your friends and family.
The moment – long since passed – was just a distant memory preserved in a photograph.
Realising that this lag between event and share was just too long a few companies began experimenting with a new digital technology for home use called wi-fi.
In the early days, like the origin of radio, television, and then cable television, not many homes had wi-fi, but a company called Eye-Fi was willing to jump in and help build the base that would see the technology in widespread use today.
The Eye-Fi Mobi Memory Card – Wi-fi without buying a new camera
The advantage to wi-fi over cable or card reader picture transfer is that you can transfer the files to different devices without carrying specialised adapters or cables. There are some cameras available now that include wi-fi capabilities out of the box, or are equipped to support wi-fi adapters. The folks at Eye-Fi have developed an SD memory card system with built-in wi-fi that works in multiple cameras. This means that you can get wi-fi transfer of your photos in your $400, two-year-old camera that you always get wonderful pictures from.
So, what's the catch?

Technically, there is no catch. That being said, you do have to know what to expect from the Eye-Fi technology.
Firstly, the card reviewed here is the Eye-Fi Mobi 8GB Class 10, and it looks like any other SD card. There are no antennas sticking out of it, or odd shapes involved, which is pretty amazing considering what it is capable of. You put the card in your camera and format it the first time, just like you would a conventional memory card.
You then take a series of pictures in a remote location far from any cables or card readers, armed with only your camera and an Android or iOS device (iPhone or iPad).
You install the Eye-Fi app to your phone or tablet ensuring you have data access on a cellular network or wi-fi access. (It all gets a bit confusing and overlaps terminology here, so take notes if necessary, but know that, like riding a bike, once you've done it a couple of times it is surprisingly easy).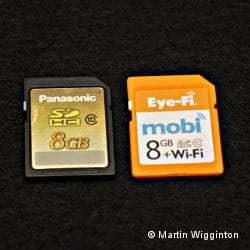 Once you have the Eye-Fi app installed you can launch it and it will ask for an Activation Code, which is printed on the card holder that comes with the card.
After entering the code, you can turn on your camera. You don't need to be in photo review mode on the camera for the card to work – we'll get to a limitation relating to this in a moment.
The card now begins transmitting that there are photos to be transferred and creates a wi-fi signal that the phone and the app will use to transfer your pictures. You will then see your photos appearing on your device in the Eye-Fi app window.
That's it.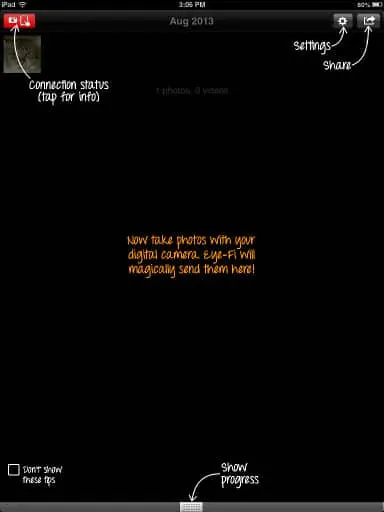 That's it. That's all there is to it. But…
That's it. That's all there is to it. But that's where the limitations come in. So, while you DO get the ability to transfer photos directly from your camera to your phone or tablet, it's what you DON'T get that requires you to adjust your expectations here. First of all, you can't select which pictures or videos to transfer because it transfers them all. Second, you can't transfer them again to another device using the wi-fi method. For some reason, the card is set-up to send once and then reset itself to look for NEW pictures to transfer only. The previously transferred photos are now invisible to the app.
With the more advanced Eye-Fi X2 card there is an Eye-Fi Center application for PCs and Macs that adds the capability of transferring photos to your computer. It also adds the ability to transfer RAW files for those who shoot with a DSLR or camera that supports that format, and you can upload to cloud storage directly, with the option of adding unlimited space for an annual fee.
What about speed?
With respect to the speed of the transfers and the ease of use of the Mobi, both were quite good.
While the download was not lightning quick it was done within a reasonable period (be aware that videos will take a bit of time depending on the length of the recording). Using the iOS or Android version of the app was equally easy to set-up, and once I realized that you needed to have NEW photos ready for transfer I found it did its job well (take the time I spent figuring this out and have fun with your family. You're welcome.)
Conclusion
So, is it worth the investment in a Eye-Fi Mobi Card that allows you to share your experiences as they happen, but has some definite limitations that could result in you not using the wi-fi at all if you just want to share one photo, or you want some photos on your phone and others on your tablet?
For me, yes, but with the understanding that I'm going to use it with my iPad, transfer all of the photos, delete the bad ones (yes, I admit to taking the occasional bad picture) and then share the one photo with my Android phone using an app like BUMP, which is available for both platforms. It's easier than worrying about cables and adapters, and it does what it does well.
Note: This review was done using the review product provided by the company. The opinions expressed are in no way influenced by this and are the sole opinion of the reviewer.
Have any gadgets or gizmos that you can't live without?