As an avid cyclist and a runner, I have a closet full of technical clothing designed to help me regulate my temperature while out training or racing in varying conditions. I have short sleeves, long sleeves, base layers, thermal layers, wind and rain protection layers, and so on. I've tried offerings from all the big names, and I have to say that this Omni Freeze Zero Rules Short Sleeve Shirt from Columbia was a pleasant surprise compared to my usual gear on a hot August afternoon run.
I should mention that Columbia Sportswear did send me this shirt as a tester (thank you, Columbia), but I did not go online to read up on how super-duper this fabric is, or how it could save the world with its incredible technologies before I tried the shirt out for myself.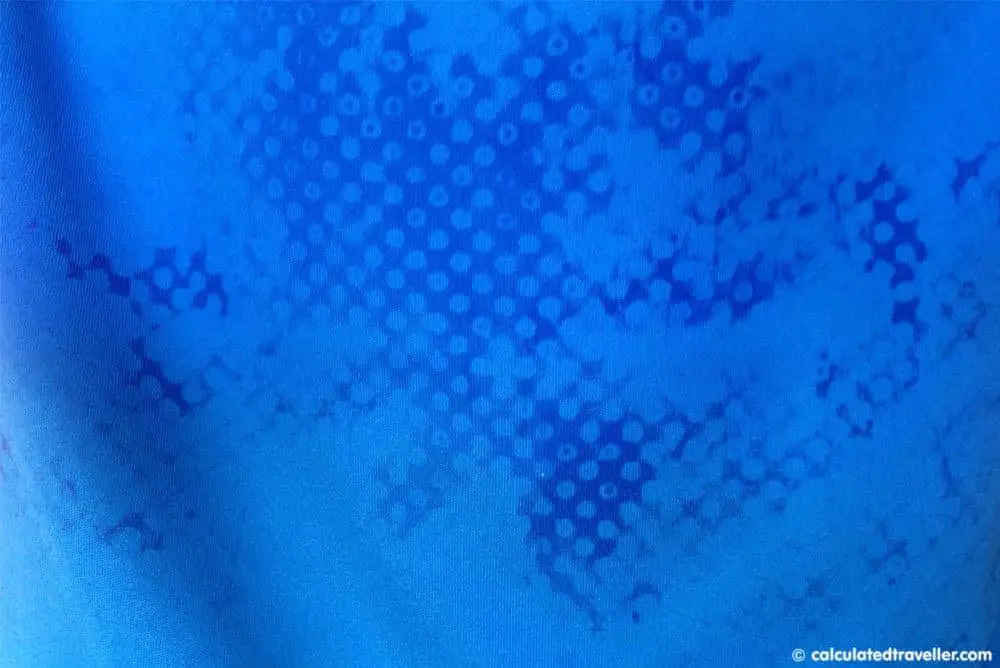 Technical Fabric 101
Most of us can recall exercising in a cotton tee-shirt at one time or another that, once it got sweaty, just stuck to you and made you clammy and uncomfortable—or worse, caused painful chafing. In very basic terms, the way technical fabrics work is by wicking away your sweat allowing it to evaporate, thus helping your body regulate its temperature. Here's the thing, the fabric must touch your skin to pick up the sweat, but when you start to sweat, some fabrics will cling to you in random spots. It's a catch 22. However, a good technical shirt will wick away the sweat without clinging or chafe, and that's exactly what this Omni Freeze fabric does.

On the Trail
Once I got myself out the door and onto the trail, little rings started to appear at my usual contact points. The pleasant surprise was that despite being a performance fit tee-shirt, it didn't stick to me at all as my workout wore on. This is where the Omni Freeze fabric is different from most of the others in my closet. According to Columbia, "… its blue rings react with your sweat to lower the overall temperature of the material, accelerate the wicking process, and provide instant and prolonged cooling." I'm not sure how they did it, but I can tell you that the fabric was very effective at pulling away from the moisture and helping it evaporate. I was nice and cool and didn't look like a fire hose blasted me by the end of my run.
Fit and Finish
The quality of the shirt is first-rate and is available in a variety of colours. The seams are tidy, and did not cause any irritation during regular use. This line is what they call Performance Fit, which is to say it fits close, but not tight. For those looking for a shirt to help keep you cool without being too snug, Columbia also offers other shirt designs with the Omni Freeze fabric, from tank tops to polos and button-ups.
Omni Freeze Zero Rules – The Bottom Line
Even after a 40-minute trail run on a hot day, I was relatively cool and certainly comfortable. With no sticking, chafing, and hardly any wet marks while I was moving, this is a shirt I'll reach for again and again. You're getting a lot of performance for your buck. With its antimicrobial properties, it can even survive a few hotel sink washings between normal laundry days without getting too odoriferous. Easy and light to pack, there's no excuse NOT to bring it with you on your next trip.
Thank you to Columbia Sportswear for providing the Zero Rules Short Sleeve Shirt for review purposes. This had no bearing on my review of this item. As always, my opinion is entirely my own.
Here are the details:
Product Name: Zero Rules Short Sleeve Shirt (1533571)
Available Colours: (431) Hyper Blue, (441) Mountain, (866) Backcountry Orange, (359) Clean Green, (380) Chartreuse, (053) Graphite, (419) India Ink
Fabric: Contains Omni Freeze Zero and is available in short sleeve, tank tops, shorts, long sleeve shirts, travel shirts, polo's and accessories such as neck gaiters and arm sleeves
Looking for the Female point of view? Check out this article here...