This article may contain affiliate links. This means that clicking on or purchasing products we recommend through a link may help us earn a small commission, which helps keep this site running. For more information read our disclaimer. Thank you for your support!
Do you ever buy something online because it's a great deal and it seems like a practical item to have but don't really think much about it?
Well, that's what happened when I purchased my Gonex Ultra Lightweight Packable Hiking Daypack from Amazon.
I had some money to blow from an Amazon gift certificate and I thought I would use it on a few Christmas Gifts.
I thought you can't go wrong with a packable backpack for people who travel or just for around town when you need to carry a few things and wish to stay hands-free.
Ever since I've had it, this lightweight daypack gets thrown in my suitcase on every trip. It's perfect for a guidebook, a sweater, umbrella, water, sunscreen and snacks. I've even used it in a pinch as my extra bag in lieu of a purse when flying carry-on only.
I also keep it out when I'm home because I can pop it in my purse if I plan on going shopping at a mall or for a trip to the library. Since it has a zipper and shoulder straps, I find it more secure and convenient than using a reusable shopping bag especially if I'm taking public transportation.
Gonex Ultra Lightweight Packable Hiking Daypack Pro
Size unfolded: 44 x 30 x 15 cm
Folds into one of it's pockets into a compact size. 16 x 16 cm
Lightweight 185g
2 outside mesh pockets on the sides for water bottle, umbrella etc.
Capacity: 20L
8 colours available
Outside zippered pocket
Zipper tabs to attach a lock or just to grab onto when opening the zipper
Rip-stop nylon
Affordably priced
Gonex Ultra Lightweight Packable Hiking Daypack Con
Doesn't fit a ton of stuff without weighing and pulling down on the shoulders
No padding on the shoulder straps.
Just be warned, it's not super strong and should not be used to carry really heavy items for an extended period of time.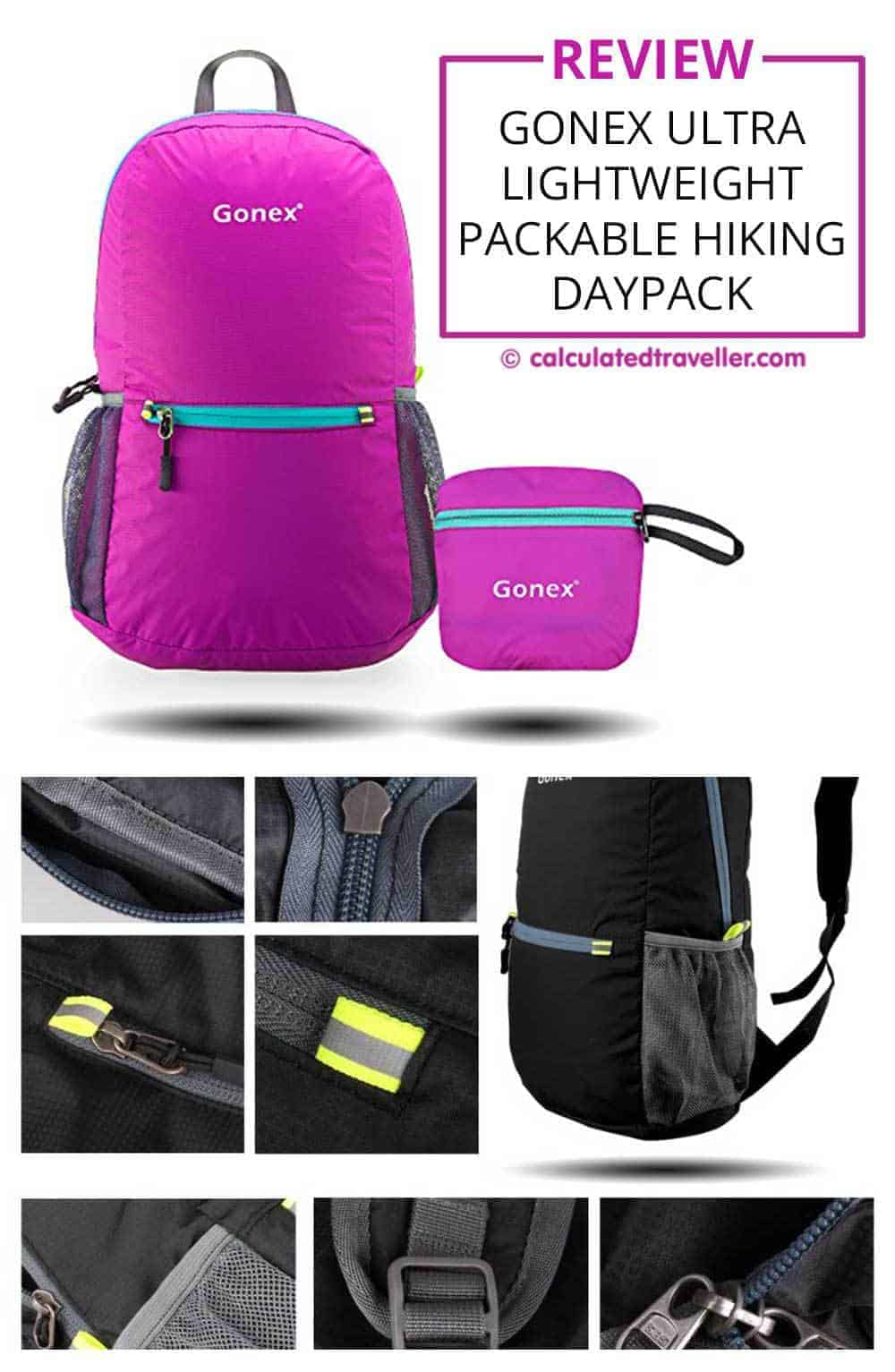 Makes a great gift for anyone on your list and is super affordable – I highly recommend it.