Once winter ends in Toronto, and springtime temperatures arrive, the gang starts planning our annual spring camping trip to Algonquin Park.
With typical cool spring evenings of around 7°C, it was the perfect timing to try the new Mountain Hardwear HyperLamina Spark 35 Sleeping Bag and test out its 3 season rating.
Click here for a great guide to backpacking across Canada.
Click here for a great buying guide for tents
Mountain Hardwear HyperLamina Spark 35 Sleeping Bag
The lightweight HyperLamina Spark sleeping bag incorporates a lot of smart design features, which is no surprise because the Mountain Hardwear Company is known for their innovative designs and quality camping gear.
The sleeping bag has Thermal Q® synthetic insulation welded into the inner and outer layers of the bag. A unique feature is that the seams are also welded to the shell and inner lining to end seam-line cold spots as you get with traditional stitching.
Here's a video that explains the technology behind the bag.
The technology doesn't stop there. The insulation is "Body-Mapped" with more insulation concentrated to your core body and feet, where more heat retention is needed.
The mummy shape and hooded design help to keep your head warm while the synthetic insulation keeps the bag dry during damp conditions.
Mountain Hardwear HyperLamina Spark 35 Sleeping Bag Specifications
Insulation Type: 60 grams Thermal Q® Synthetic Insulation
Comfort Range: 5°C and up, but comfort limit is 0°C
Weight: around 800 grams or 1.5 lbs
Length: 3 metres or 6.5 feet
Size when compressed in provided stuff sac: 17 x 24 cm or 6 x 12 inches
Half length zipper on the front
Footbox so that you can sleep with your feet in a comfortable position
Performance Mummy Cut
Available in 2 lengths Regular and Long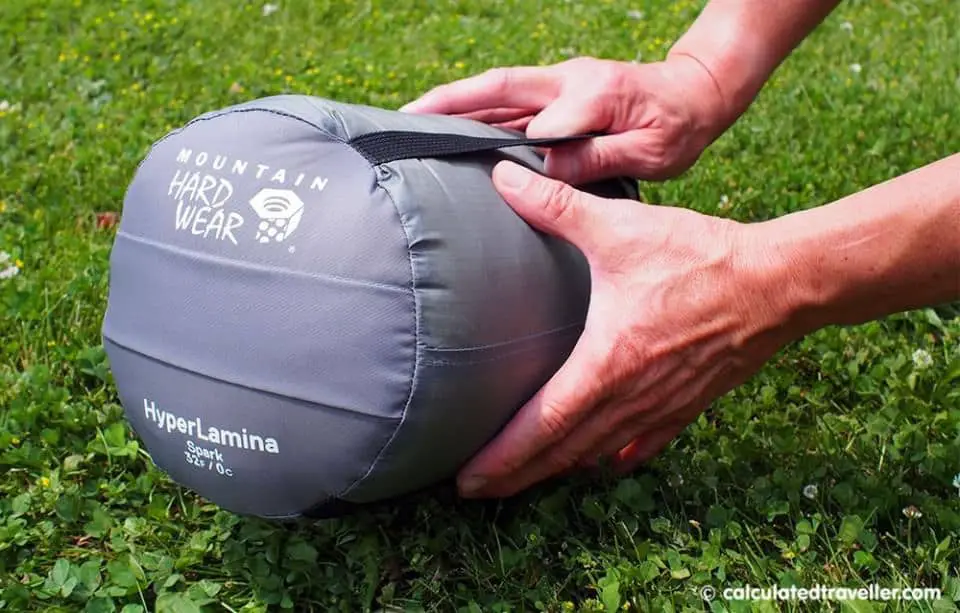 HyperLamina Spark 35 Sleeping Bag Pros
Comparable comfort and weight with down feather sleeping bags
Synthetic Insulation stays dry under damp conditions versus down insulation
Very lightweight, packable and compact size when compressed in storage sac
Shell is lightweight, soft and ultra wind-resistant
Quickly restores to its full loft with just a few shakes
HyperLamina Spark 35 Sleeping Bag Cons
Cost is high making it primarily for an expedition type of user
Difficult to find and use the elastic hood cord because it's hidden under fabric
The "Bright Yellow" colour (this is important so, read on)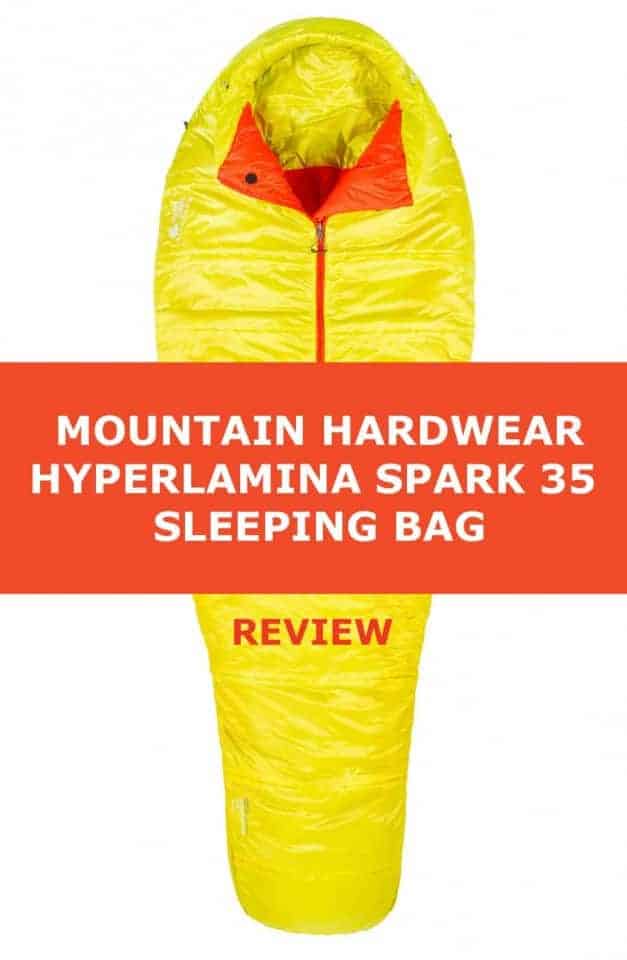 To warmly sleep and perchance to dream of bananas?
The HyperLamina Spark 35 Sleeping Bag incorporates advanced design features to claim that it's the "Highest Performance Synthetic Bag on the market", and it surely delivers on this claim. During my 4-day camping trip, I experienced cool night temperatures from 6 to 8°C and some damp weather, and the bag kept me comfortably warm and dry.
My essential criteria for the success of a sleeping bag are that it is lightweight, warm and compact and the HyperLamina Spark 35 Sleeping Bag easily surpassed my needs and should receive serious consideration for expedition trips.
Finally, the bright yellow colour of the sleeping bag that I mentioned earlier was a continuous source of jokes and entertainment throughout the trip.
Be warned, because of the recent popularity of the "Minions" and their movie my new name around the campfire is now "Minion Ray!"
The only respectable comeback line for me was BAH-NAA-NAH!!!
I received the HyperLamina Spark 35 Sleeping Bag from Mountain Hardwear for review purposes. This had no bearing on my review of this item. As always, all my opinions are my own.
Looking for more adventure gear reviews?
– Leatherman Tread Review for Travel