The iClever 6-Port USB Travel Wall Charger is an excellent power charger to pack in your suitcase when you know there will be limited power outlets to plug in your USB devices.
It's a strange interior design practice, but for those of you familiar with cruise travel, a stateroom normally has 1 or perhaps 2 – 120V outlets.
This creates a cruel problem for passengers who travel with a lot of USB devices such as cellphones, tablets/e-readers, mp3 players, speakers and cameras.
Imagine the WWF smackdown scenario, where two combatants fight it out for a single power outlet to charge their tech gear when they both run out of precious power at the same time.
Oh, the humanity!! Are we not civilised?
Let's look at an even more hellish scenario — the Family Traveller.
Imagine if you will, travelling as a family of 4 in one cruise ship stateroom. You think sharing one bathroom with four people was difficult, imagine sharing one single power outlet and trying to charge all their devices at the same time. Will the whining ever end?
Simply put, modern technology and our attachment to our mobile entertainment devices create a desperate need for access to a power source 24/7.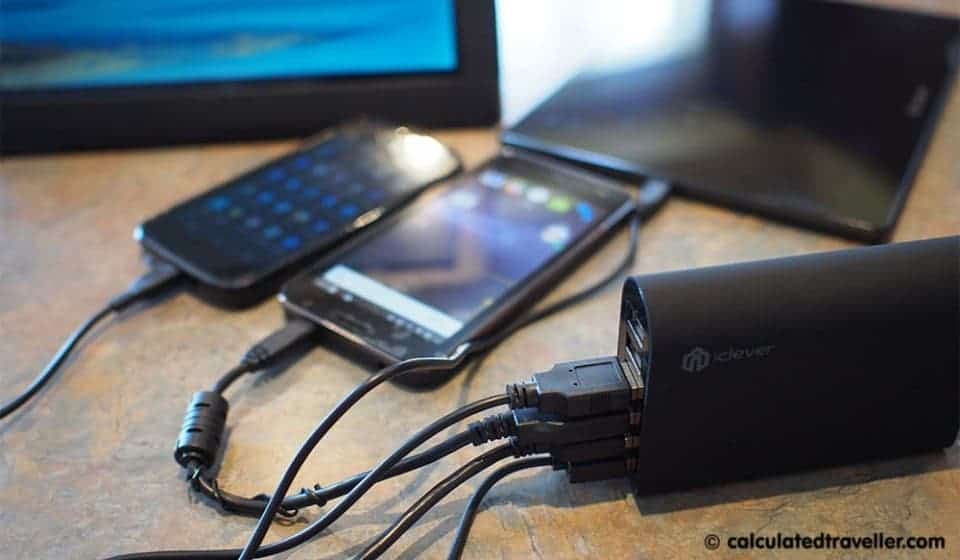 iClever 6-Port USB Travel Wall Charger your digital life boat
While at sea, the iClever 6-Port USB Travel Wall Charger will become your digital lifeboat saving passengers and their many USB devices from the dreaded power warning sign.
A typical factory USB charger only has 1-2 amps and can only charge one device at a time. While the iClever 6-Port USB Travel Wall Charger (as the name states) has 6 USB ports and enough power (maximum rated power output 10 amps) to quickly charge up to 6 USB devices ALL at the same time.
This charger also combines "SmartID" technology to identify and send maximum power to each USB port for each device for efficient charging. In non-techie terms, the charger is smart enough to know how many amps each device needs and only sends that specific amount to charge each device.
For example, I was able to fully charge two 10-inch tablets, two cell phones and a camera at the same time with no noticeable time difference versus using the devices own dedicated factory charger.
The iClever 6-Port USB Travel Wall Charger Specifications
Input AC: 100-240 Volts
Total Maximum Output: 5 Volts/10 Amps
Each Charging USB Port: 5 Volts/2.4 Amps (Max.)
Size is 100(L) x 69(H) x 27(W) mm or 4 x 2.7 x 1 inches
Weight is 180 grams or 7 ounces
The charger itself is very slim and compact, about the size of a small cigarette package.
The charger is well constructed in a sturdy plastic housing coated with a black rubberized surface. It should survive many trips without problems.
The front USB panel contains the 6 USB charging ports, and a green indicator LED light to show usage.
Also included in the box is a detachable 4-foot power cable and a paper manual.
iClever 6-Port USB Travel Wall Charger Pros
Compact and lightweight design
6 USB hub ports to charge your devices at the same time
Only requires a single power outlet plug
Powerful 10 Amps and SmartID technology for quick charging
Excellent value
Dual voltage (100-240V) capability for international use
iClever 6-Port USB Travel Wall Charger Cons
Due to the compact size of the unit and the fact that the USB ports are so close together it's a bit tricky to plug in/unplug the USB connectors with your fingers if all 6 USB ports are being used
Not really a con but a "be aware", you still need to pack enough USB cables for all your devices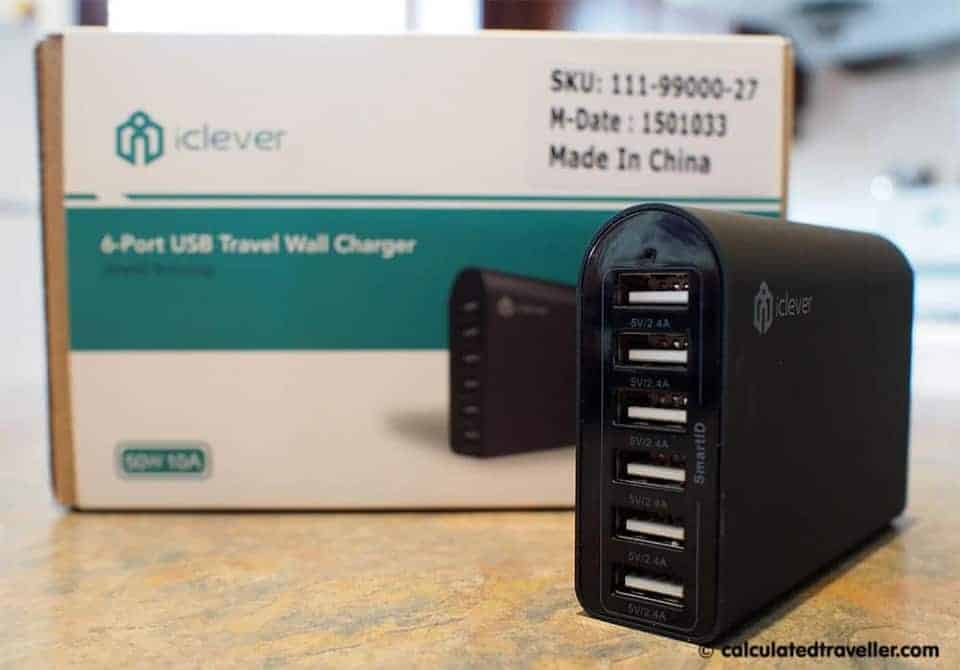 No more fighting over the power outlet with the iClever 6-Port USB Travel Wall Charger
Overall, I was impressed with the iClever 6-Port USB Travel Wall Charger's ability to quickly and conveniently charge all our devices simultaneously.
It will go to the top of our packing list and become our travel power workhorse to charge our mobile devices when we are on the road and best of all no more fighting or whining over who's turn is next with the power outlet.
Even if you aren't cruising, the convenience factor of charging everything at once, not having to carry multiple dedicated chargers and not worrying about forgetting your plug in the wall when you check out, because they are scattered throughout the hotel room, is a great reason to get this product.
Have you ever fought over the power outlet when travelling? Share your story below…
iClever 6-Port USB Travel Wall Charger for review purposes from HISGADGET Inc. This had no bearing on my review of this item. As always, all my opinions are my own.
If you are looking for other charging options, check out this article:
iClever BoostCube and BoostStrip Travel Charger Review