The Leatherman brand is synonymous with high-quality multi-tools for both military and everyday applications. A Leatherman tool is most certainly an item you should take with you on a daily basis. But is the Leatherman Tread, a bracelet multi-tool, the one you should be carrying?
The Tread is the world's first wearable multi tool. It's a tool bracelet that sports 29 tools located in between the customizable links on the Tread. To use them, all you need to do is remove the bracelet from your wrist!
Many would classify the Tread as an everyday carry, or "EDC" item. EDC is a collection of things that you carry on a daily basis – either in your pockets or a bag. I always pack a pocketknife, multi-tool, wallet, cell phone, keys, and a watch on my person, and a mini pry bar/pocket screwdriver, flashlight, first aid kit, and writing utensils in a bag. I'm never without all these different tools and essential items. They help me stay prepared, accomplish menial tasks efficiently, and maximise my performance throughout the day.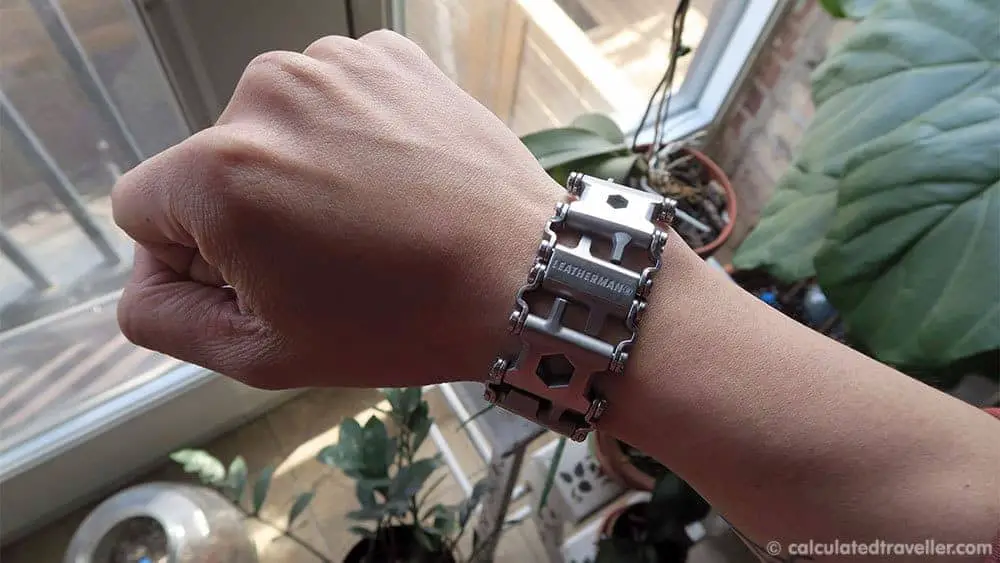 Did the Leatherman Tread LT fit in well with my EDC?
Aside from its unique appearance, this tool might be the best carry-on multi-tool item available when travelling. That's right. It's TSA compliant! As someone who often flies for work, knowing that I can carry multi tools onto a plane without any security problems is pretty comforting.
It also looks pretty cool!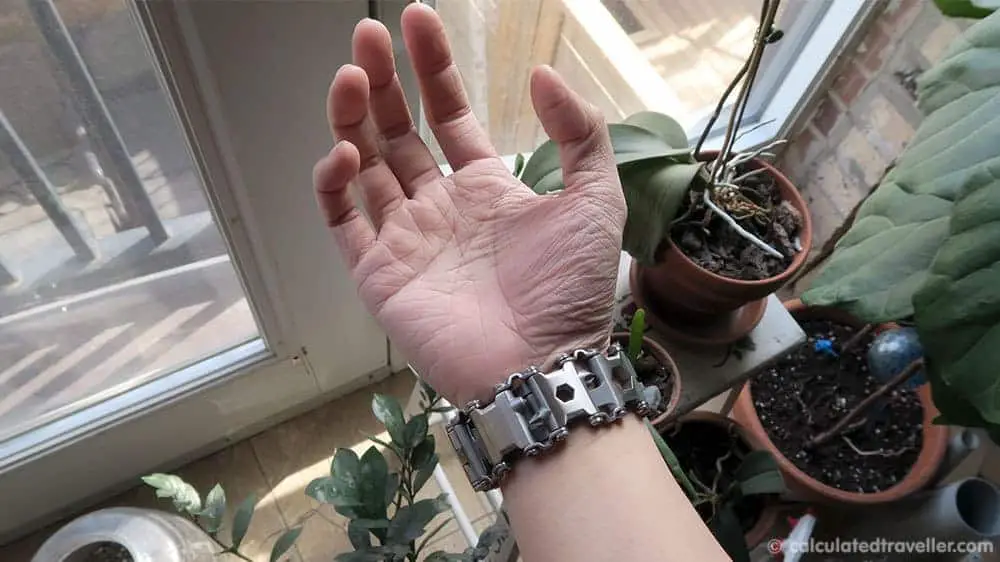 Here are the specs of the Leatherman Tread Bracelet LT
6.5 x 10.1 x 4.4 inches
5.9 ounces
Colours: Black, Stainless steel
One Size Fits All
Adjustable
TSA Compliant
Features box wrenches, flat screwdriver, Phillips head screwdrivers, oxygen tank wrench, carbide glass breaker, SIM card pick, cutting hook, socket drive adapter, bottle opener
Made in the USA
25 Year Limited Warranty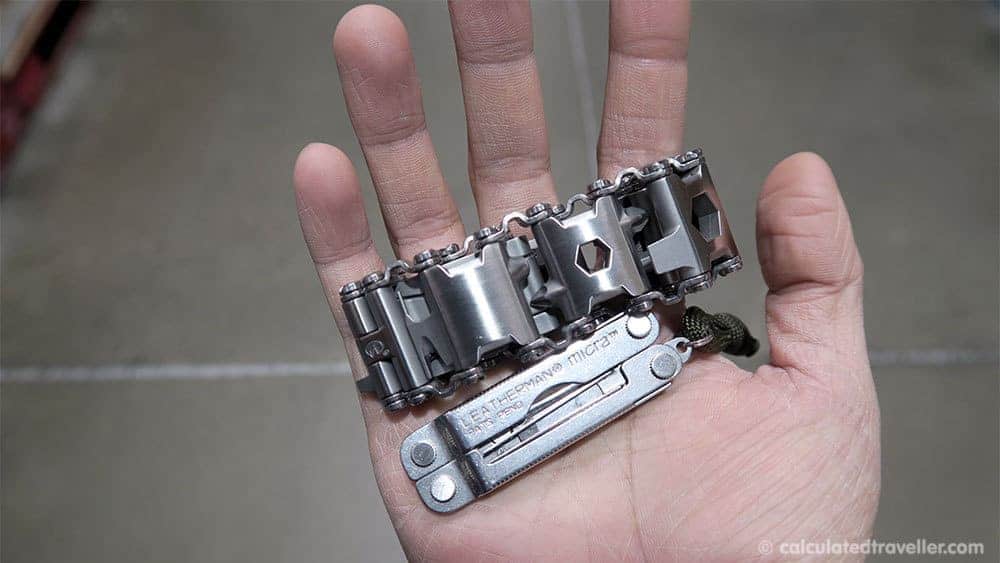 What I didn't love about the Leatherman Survival Bracelet
The Tread is quite the bracelet – but not in the best way.
The band is 1.2 inches (3.05 cm) in width, weighs over 160 g with all the Leatherman Tread links attached, and has a complete circumference of 8.56 inches (21.74 cm). It's heavy, chunky, and won't fit everyone well. My wrists are on the medium-small end, and I had to remove two of the 29 original links to get the bracelet to fit me properly.
I use a bicycle every day during my daily commute, and the Tread proved to be more of a hindrance to my day than a benefit. The urban streets of Toronto are currently full of bumps and potholes, and riding over each one jostled the tool against my wrist and the base of my thumb. At the end of my 7 km bike ride to work, the bottom of my thumb always had a red mark from the links rubbing and bouncing against it.
It's also not that great of a tool. The Tread is missing a lot of the functionality of a traditional multi-tool. For instance, the cutting tool is rather small. But most importantly, the pliers or scissors you'll find on nearly any other multi-tool are absent from the Tread bracelet. That's a pretty big problem for someone who would even consider carrying a multi-tool on a daily basis.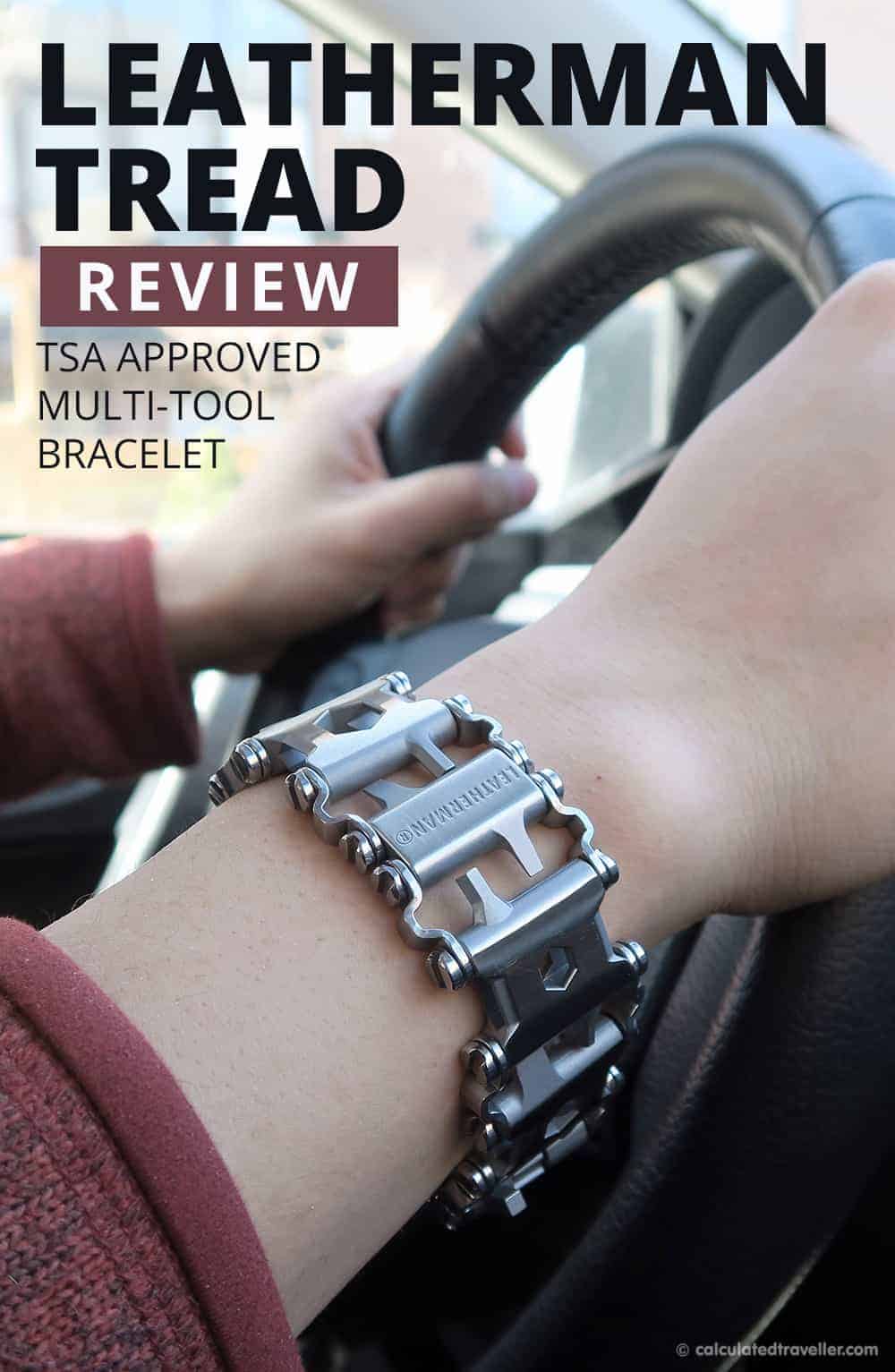 All things considered, the Leatherman Tread is a bit of an expensive bracelet, a unique piece of jewellery that also happens to be capable of fixing stuff. It also comes with extra accessories such as the Leatherman Tread Watch Adapter and the Leatherman Tread Apple Watch.
However, despite the many tools it sports, none of the instruments are as functional when compared to any of the other most popular Leatherman products. If you have the money to spend, and large wrist size, the Tread is a piece of semi-functional EDC jewellery you'll look good wearing. If you want to buy a functional multi-tool that you can carry every day, I suggest you buy a Leatherman Micra at a fraction of the cost.
I hope you enjoyed this Leatherman Tread Tool Review!
What's your favourite Leatherman product?
I was provided the Leatherman Tread for review purposes only. I did not receive any additional compensation. All opinions are entirely my own.