If you are looking for an ultralight camera strap that is safe, secure, affordable, and very functional, for travel and every day carry continue reading our Peak Design Leash Review.
Cameras and camera straps are a very personal choice.
For cameras, there are Olympus fans, those who love Sony, and those who love Canon. It's a considerable debate and not one that I will be getting into in this article.
When it comes to camera straps though, one thing is for sure – it needs to be strong to secure your camera, it has to function well, and maybe a bit of fashion thrown in for good measure.
I'm not going to lie, but I've spent many hours drooling over pretty camera straps and camera bags online. You know the ones. Sometimes they look like a scarf, or perhaps it's got a gorgeous pattern on the webbing.
But I've never purchased one of those pretty fashion camera straps because in the end I always go for function.
As a traveller, I'm always worried about security and safety for myself and my belongings. I prefer to fly under the radar, to blend in with the crowd, and go unnoticed so that I'm not a target for thieves. A flashy camera strap and bag screams "look at me, and my expensive camera". Don't get me started on camera straps with the brand name emblazoned on them. I want a camera strap that is durable, secure, functional, and non-descript with bonus points if it's an ultralight camera strap that doesn't weigh me down when I'm on the move.
The Peak Design Leash Ultralight Camera Strap
I had heard of Peak Design before from a few photography friends, but I have never seen any of their products in action before.
Truth be told when Peak Design reached out to me to ask if I wanted to review some of their products I was overjoyed because I was finally able to see what the hype was all about.
So, stay tuned for a few more Peak Design product reviews soon.
What comes inside the box?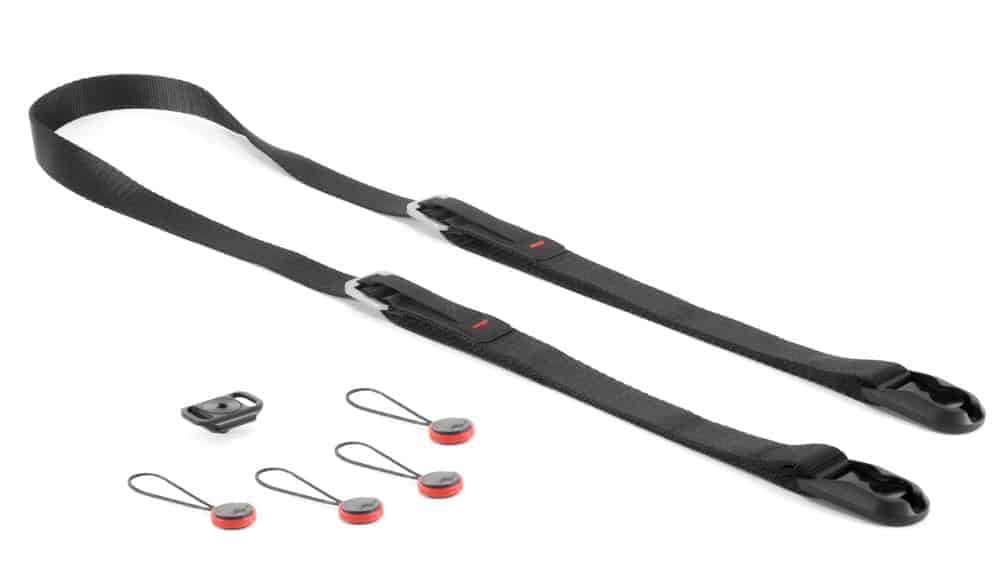 Adjustable camera strap (minimum length of 32 inches to a maximum of 57 inches)
Four anchor links
One anchor mount
Allen key
Drawstring carrying pouch for storage
The ultralight camera strap weighs only three ounces, is slim and sleek, and the perfect size for my mirrorless camera. It comes in two colours – basic black with black detailing, and ash grey with brown detailing.

How to Set up the Peak Design Leash Camera Strap
Loop the cord of the anchor links through your camera's side strap eyelets on each side of your camera
Screw in the bottom anchor mount to the bottom of your camera with the supplied Allen Key and attach another anchor link to the hole opposite your camera grip
Slide the anchor link buttons into the connector on the strap
That's it!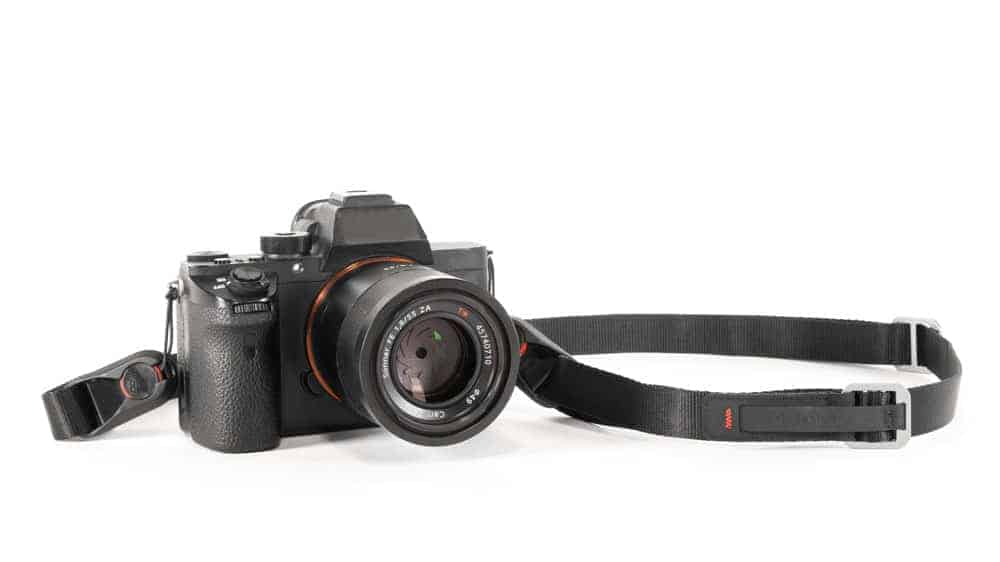 Do you like to wear your camera strap around your neck?  Of course, that's the standard operating procedure, and the webbing material is smooth so that it won't irritate or rub on your neck.
Note: One thing I do need to mention is that the first time I used the strap I was wearing a light pink shirt and some of the black dye did rub off onto my shirt – this was minor, and easily washed off but be warned. It only happened on first wear and it was likely because it was brand new.
What if you want to wear it as a shoulder strap and carry your camera on your side? Sure thing. No need to adjust the straps it will sit safely and securely on your shoulder too.
How about if I prefer a cross-body sling strap? Easy. Unmount one of the anchor link connectors and reattach it to the bottom mount. The camera can comfortably sit around your back, or on your hip and out of the way while you walk alternatively, you can slide your camera towards your chest.
What if I don't want to use the camera strap at all because I have my camera tucked away inside a bag, or I want to put the camera on a tripod? Quick as can be, unmount both links from the connectors of the strap and remove it entirely in seconds. Store the strap in the drawstring bag or tuck it into your pocket – it's that small. << Now that's different!
Along with the ability to configure the straps however I wish at a moment's notice, I also appreciate that there are two adjustment points on the strap, one on the left side and one on the right side. With my thumb, through the loops, I can make the strap longer or shorter, and at the same time, the strap doesn't slip down and loosen by itself.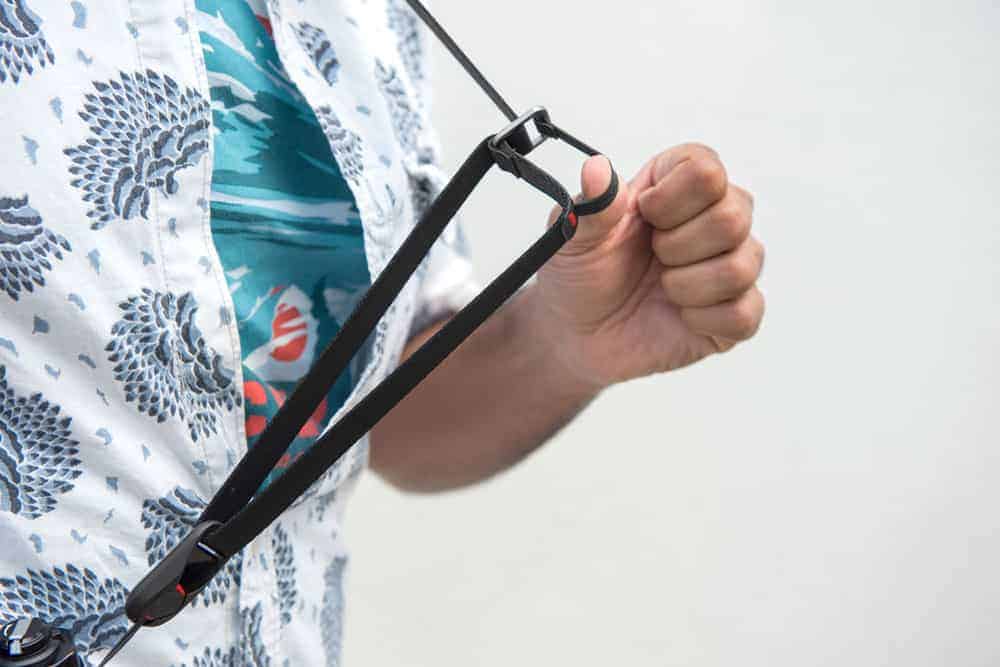 The only thing missing from this camera strap as a traveller is that the webbing isn't cut-resistant. But honestly, my camera isn't that expensive or flashy to worry about it and I'm far more concerned about the weight of the strap since I'm a minimalist traveller.
About the Peak Design Anchor Links
The Peak Design Anchor Links are the key to this product and one of the reasons why I love this camera strap.
Anchor links are fast-on / fast-off quick release connectors so that you can put the strap on or off the camera or move the strap from the side to the bottom. All you have to do is push the low-profile button down with your thumb and slide it off. Insert the button back into the slot and slide the button down until it locks securely. Easy peasy!
Made of a lightweight thermoplastic, anchor links are smaller than a penny and will not scratch your camera body. They are also sturdy and can hold over 200 pounds – enough for any size camera and lens.
TIP: The black exterior "cording" is abrasion resistant, but there was a warning card in the package and check your gear periodically. Not to worry; however, Peak Design products are guaranteed for life.

The fact that the anchor links can hold over 200 lbs is a bit overkill with my camera equipment, but you never know what adventures I discover!
Already have a favourite camera strap but love the idea of the Peak Design Anchor Links?
Yes, and lucky for us you can purchase the anchor links separately in a pack of four links and two connectors that can be placed on the end of any standard neck strap. Now you can use anchor links on other items such as binoculars, range finders, and other tools.
They also have a Peak Design Cuff Camera Wrist Strap if you want something even more compact.
TIP: The Peak Design Anchor Links system is interchangeable and works with their other straps, pouches and key tethers.
Read our Peak Design Tech Pouch Review here and see how you can attach the Leash to it for use as a sling bag.
Check out this product video that demonstrates how the anchor links and the anchor mount plate works with the Leash.
I'm pretty much over the moon about my new camera buddy. The phrase "ultralight camera strap that is strong, secure, and functional" seemed like something out of a fairy tale until I started using the Peak Design Leash.  
What can I say, dreams do come true!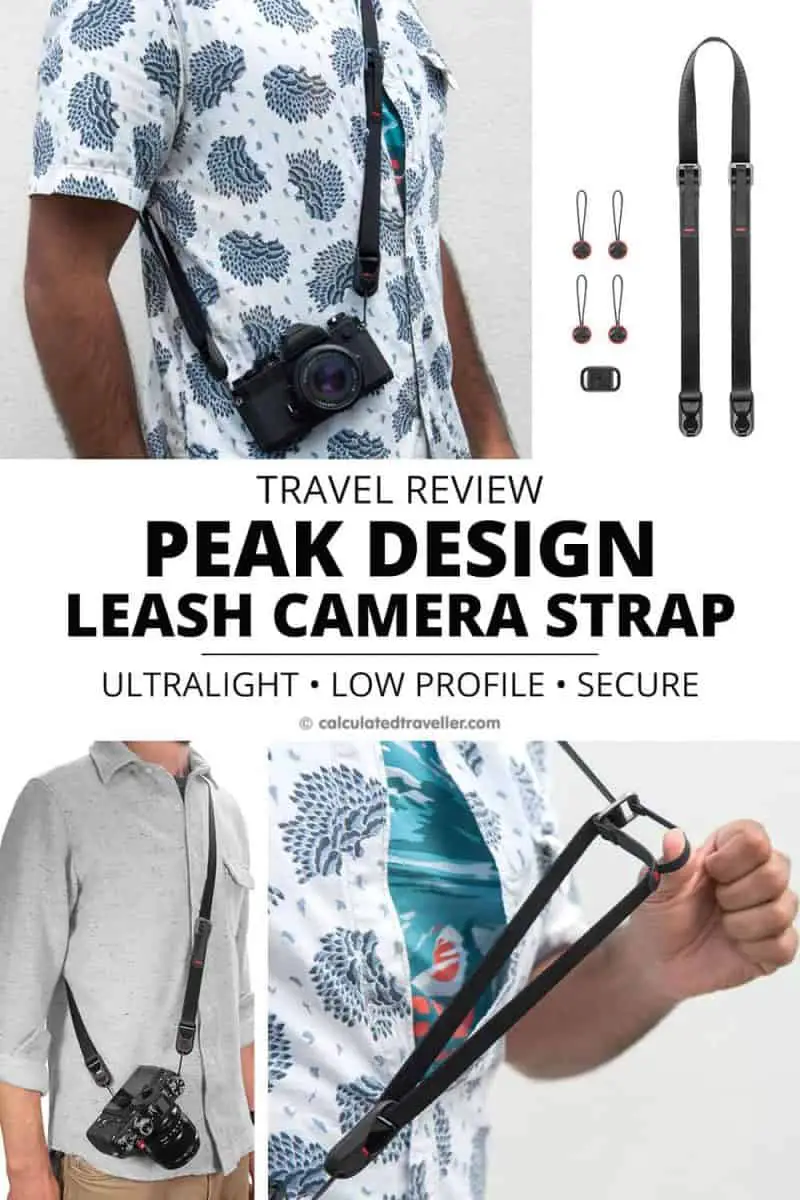 We hope you found this Peak Design Leash Review helpful. We'd love to hear about your experience. Let us know in the comments below.
I was provided with a Peak Design Leash for review purposes. I did not receive financial compensation for this review. Calculated Traveller maintains full editorial control of all content published on this site.