Keeping your gear organized is essential when you travel, whether on a journey to the other side of the world or a short trip to work at the coffee shop down the street. In this article, we review the Peak Design Tech Pouch.
With a name like Calculated Traveller, you've got to know that I'm crazy compulsive about planning and organizing to get results. I need order in my life!
Also, as a graphic designer and travel writer, I pack a lot of tech gear on my daily journeys as well as on trips. When I say a lot – I mean A LOT. There's my laptop, an external hard-drive, e-reader, mp3 player, headphones, DSLR camera, memory card reader, cell phone, power bank, GPS and of course all the chargers, cables, memory cards that go along with all the technology. Whew!
Technology – How do you keep an electronics bag for travel organized?
I've been down four roads in the quest to keep my technology gear organized.
The first low budget method consisted of zip lock bags as a travel tech bag.
This system worked for a while, but even though I used heavy-duty bags, they would eventually puncture before the trip was over and I would have to replace the bag. Another issue I had was that everything was all jumbled inside the bag, and I had to rummage through it or dump out the contents onto the closest available surface to find the right cable for each item.
I tried separating my belongings into multiple bags by their type, i.e., camera gear, laptop gear, etc. The idea being that having smaller packages would make it easier to keep cables together, it would be more organized and help the plastic bags last longer. This method just made me stress over where the multiple pouches were, and I was forever scared that I had left one of them behind in the hotel.
The second method I tried to keep my tech gear organized was to use a small rectangular ­­thermal lunch bag.
It was sturdier and added more protection over zip lock bags since it has some padding. The problem with the thermal lunch bag is that it is one big cube, and there was quite a bit of wasted space. Also, it didn't solve my jumbled mess situation unless I used smaller zip lock bags inside the bigger bag to separate the individual items.
The third method I tried was the rolled-up "burrito" style tech kit bundle method.
With pockets, and elastic straps of varying sizes you weave and tuck your various cables and chargers where they fit. Once everything is neatly separated and organized, you roll the entire thing up and secure the exterior straps. This method works well when it is laid open and flat provided you have a large surface in front of you, but if all you have to work on is the tiny tray table on a plane then you'll find this task incredibly awkward. Also, what I found was when rolled up, the bundle of goods was lumpy, and unwieldy when packing into your bag.
The fourth method I tried on the gear organizing quest was the flat rectangular board style of electronics organizer with crisscrossed elastic webbing.
Everything stayed neat, organized and secure when packed away, but if you go to use it in a public space, all your belongings are exposed, and you become a target for thieves.
Peak Design Tech Pouch – Your Easy Access Gear Organizer
My quest to have organized gear is complete now with my introduction to the Peak Design Tech Pouch.
Like a Frankenstein version of all four methods mentioned above combined into one, now all my "stuff" gets inserted into its own little individual compartment inside the larger padded tech pouch.
It's environmental because I'm not wasting plastic bags anymore.
It zips up closed, and the exterior is padded with EVA foam, as well as water-resistant.
It looks more "grown-up" and is stylish when I'm working remotely. An added benefit is that no one asks me what's for lunch anymore (wink).
The inside has multiple organizational pockets, dividers and elastic holders for easy accessibility.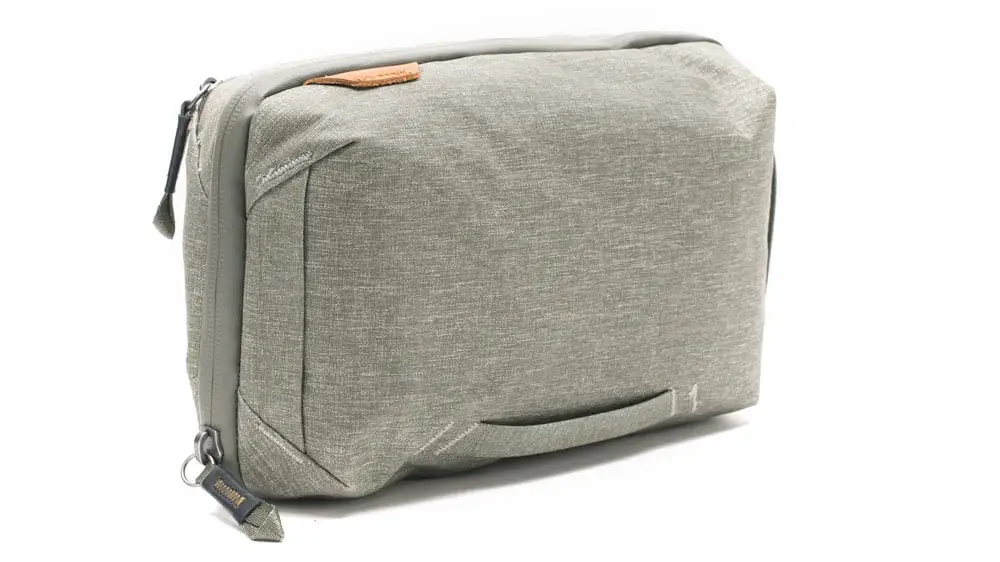 Features of the Peak Design Tech Pouch
The exterior is made of weatherproof 200D nylon recycled water-resistant canvas
Waterproof zipper
Four pen holder slots
Internal dividers
Internal zippered pocket with SD card pockets
Easy access external pocket
Handles on both sides, back, and front
Stands upright and keeps its clamshell shape
Cable pass-through
Two anchor attachment points on the back
Weighs 10.2 ounces
Guaranteed for life
Available in 2 colours: black and sage (grey/green)
Available in 3 sizes:
2 litre tech pouch = 24 cm x 10 cm x 15 cm
2.5 litre wash pouch = 26 cm x 11 cm x 15 cm
9 litre shoe pouch = 32 cm x 17 cm x 17 cm

Don't get carried away now. You do need to be careful when filling your Peak Design Tech Pouch because it can get bulky depending on what and how much stuff you put inside.

Also, it's best to keep the weight of the contents evenly balanced. It's designed not to topple over, but it's still going to if you put all your heavy items on one side.
Another convenient feature of this tech travel pouch is that the outer pocket has a pass-through slot for easy charging with a power bank.
If you wish to amp your organization skills up one notch further, you could use your trusty label maker and label each zone so that when an item gets removed from a pocket, you know precisely where to return it.
The beauty about the exterior anchor attachments is that you could potentially attach a set of Peak Design links and a strap – such as the Leash Ultralight Camera Strap that I reviewed here—thereby turning your Tech Pouch into a sling-style bag.

The only issue with ANY tech bag of this type is keeping everything in one bundle can be dangerous. If you lose it, you lose everything.
If you are concerned about theft or losing the tech pouch, you could use the same exterior anchor attachments and tie your tech pouch to your backpack.
Check the video to see the Peak Design Tech Pouch in action:
We hope you found this tech pouch review helpful.
Keeping your gear organized is key to staying stress-free when you travel, whether on a journey to the other side of the world or a short trip to work at the coffee shop down the street.
Have you got any tips for keeping tech items such as cables and accessories organized? Which tech travel organizer do you use?  Join the discussion
I was provided with a Peak Design Tech Pouch for review purposes. I did not receive financial compensation for this review. Calculated Traveller maintains full editorial control of all content published on this site.
For related articles, check out: