Go2 Travel Towel is a "Micro-fiber cross-functional towel ideal for sports, bath, travel and camping."
I go to the Caribbean a lot — at least 2 times a year, travelling via cruise ship because it's a quick escape to warm weather from the cold Canadian winters of home.
Whenever I speak with friends and family who are about to embark on their first Caribbean cruise I get asked this question…
Q: "Do I need to bring my own beach towel for the trip?"
A: My answer is "No" AND "Yes"
No, because technically you don't need to bring your own beach towel because all the cruise lines offer a clean one for your use daily. But YES, I always travel with my own beach towel and feel that you should too.
Here's the thing about the ship towels (striped version on the right):

It's a full-size bath sheet and it's bulky to carry around forcing you to carry a large beach bag to hold it.
It's super fluffy and absorbent, but it gets really heavy when wet.
It's emblazoned with the cruise logo/colour/stripes marking you as being a tourist.
Lose that towel ashore and you'll be charged for it later!
Travel as a family of 4 and that's 4 heavy towels and bulk to carry around all day.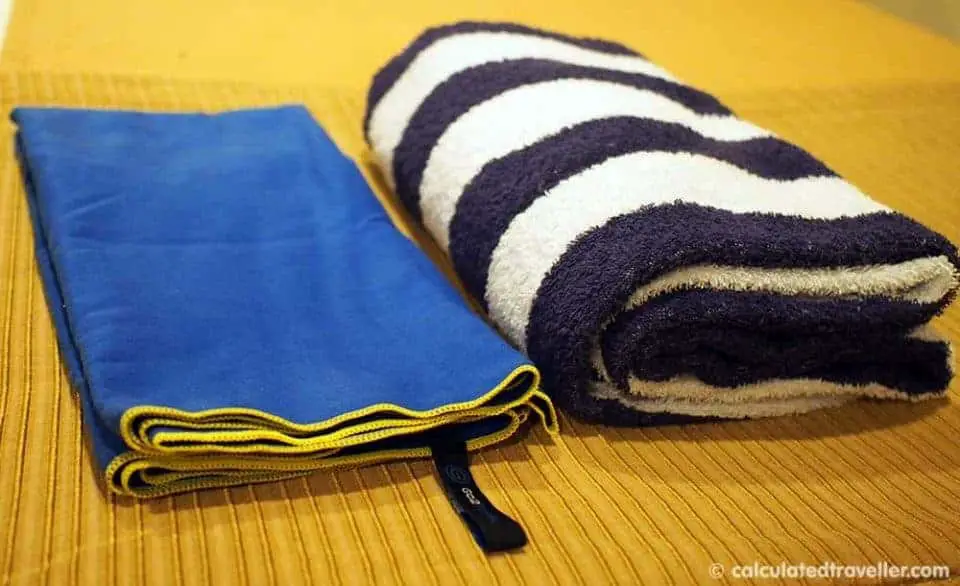 My travel towel of choice is lightweight, compact, mildew resistant, easy–care, fast dry and absorbent (blue towel on the left).
I had been using a micro fibre towel that my sister picked up for me years ago and although I loved it — it's smaller, heavier, doesn't have a loop so I can easily hang to dry, nor does it have its own carrying bag. It was brand new technology at the time and cost me about $40 CDN.
On my last trip to the Caribbean I brought with me a new towel by Go2 Travel Towel and much prefer it to my earlier towel mainly because it comes with its own handy carrying bag and it's also very affordably priced.
Go2 Travel Towel Pros
Large Size – 30"x60"
Compact
Lightweight
Fast Dry – mine dries over night
Super absorbent
Anti-bacterial
Loop tag so that you can hang to dry on a hook
Comes with a mesh carrying bag
100% money back guarantee
Comes in various colours (mine is blue with yellow stitching)
Go2 Travel Towel Cons
Esthetically the yellow stitching on the edging is a bit bright and high contrast for my taste but that's just my opinion.
Care instructions
Wash separately in cold / warm water
Avoid fabric softener / bleach
Hang to dry – avoid using the dryer and iron
 
I prefer to carry as little as possible when I'm planning a trip to the beach. I don't want to be THAT person with the huge beach bag filled with bulky, heavy towels.
Check out Go2 Travel Towel or other similar styled microfiber travel towels the next time you are shopping for travel gear.
Go2 Travel Towel provided a towel for review purposes. I was not financially compensated for this review. Opinions expressed are as always, my own.