Paradise Beach Cozumel or Playa Paradise Cozumel is located just a few miles from the Cozumel cruise port and has three areas; Ocean Club, San Francisco Beach Club, and Carlos 'n' Charlie's Beach Club.
Cozumel, Mexico in the Mexican state of Quintana Roo is a very popular cruise port stop for many Western Caribbean itineraries. I've visited the island many times and have done many excursions such as Xcaret Park, Chankanaab Park and Tulum Mayan Ruins.
Sometimes, however, you just want to go to a nice beach, and you don't need anything fancy — all your are looking for are basic things like sand, an umbrella and a restroom.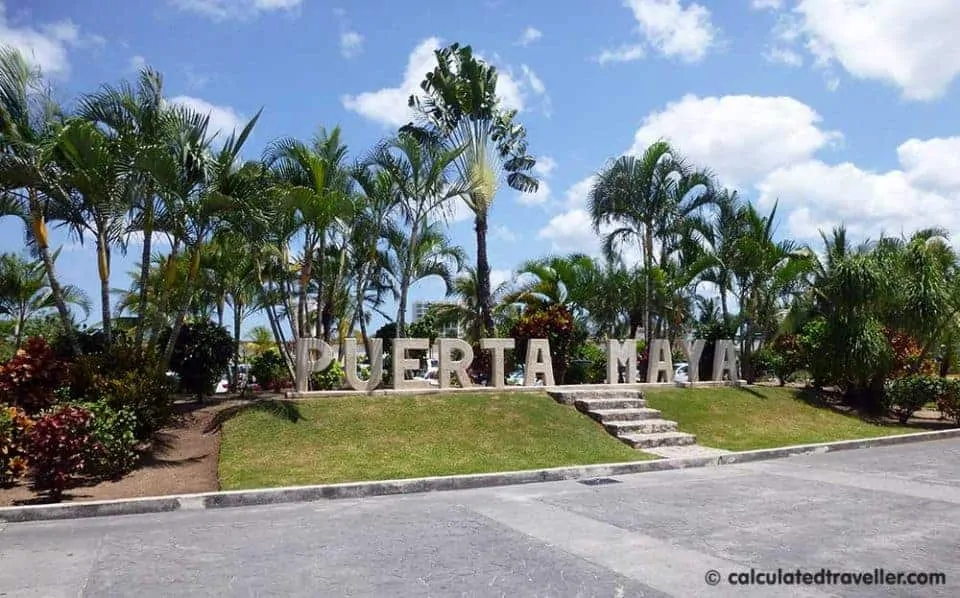 There is a wide selection of beaches or "playas" as they say on the island of Cozumel. All vary in terms of facilities and the taxi cost from the pier — in this case, our Princess Cruises ship, the Caribbean Princess, was docked at the Puerto Maya cruise ship terminal.
After you get off the ship, simply walk through the cruise ship terminal towards the end of the shops to the taxi stands (Don't worry, you can stop tour the area later and shop after the beach).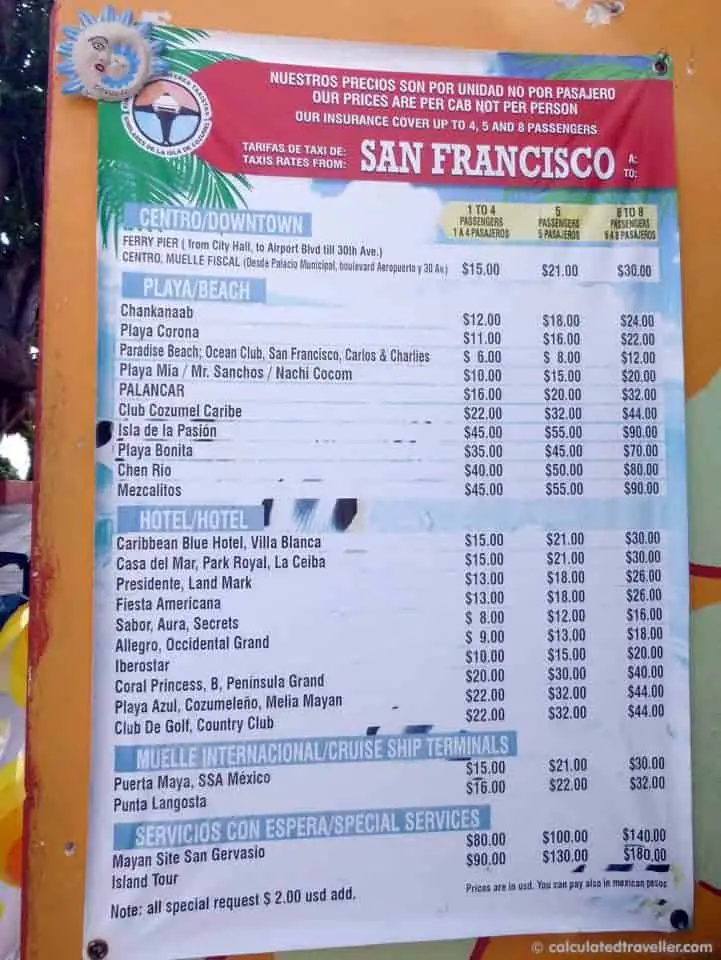 Taxis in Cozumel do not have meters and prices are per vehicle NOT per person. The cost to Playa Paradise and our destination, the San Francisco Beach Club (also known as Playa San Francisco Cozumel) is $15US. If you are a party of 2 and want to save some money, try and pair up with another couple waiting for a taxi – there should be plenty of people milling about trying to do the same thing you are.
San Francisco Beach Club Cozumel on Playa Paradise Beach Cozumel
Once your taxi arrives at San Francisco Beach Cozumel you have 2 options:
$20US / person includes a lounge chair, umbrella, Wi-Fi, restroom, shower, saltwater pool, unlimited watersports, floats, water inflatables, $8 credit for food and beverage.
$10US / person includes a lounge chair, umbrella, Wi-Fi, restroom, shower, saltwater pool, $8 credit for food and beverage.
Once you pay, you'll get a colour coded wristband and your choice of a lounge chair.
The only difference in the pricing is the water inflatables — my suggestion is to splurge for the $20 package for the kids so that they don't get bored (or envious). Feel free to try your hand at negotiating the rates and remember pay to have US Cash on hand!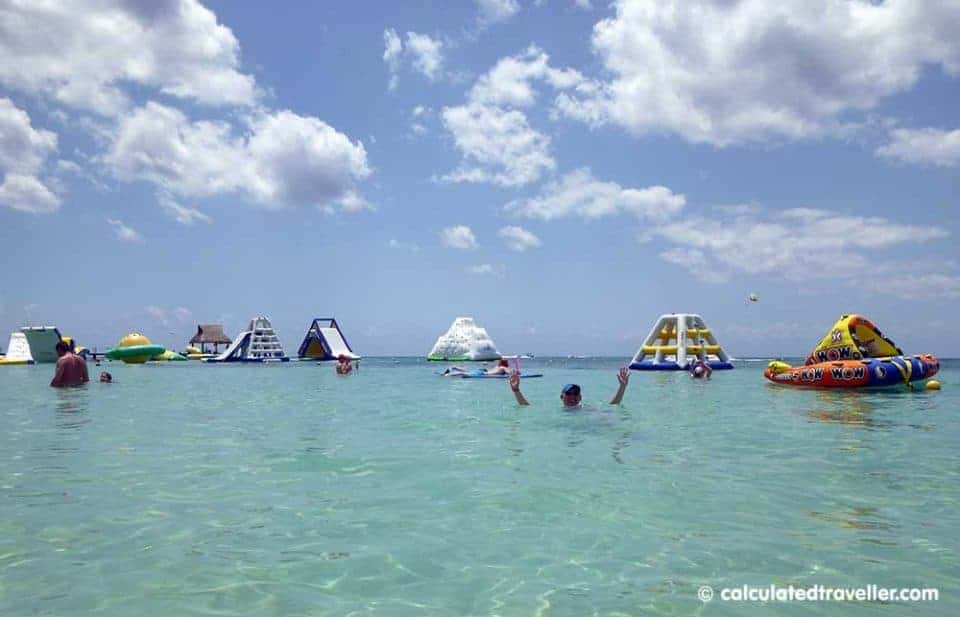 Also available on the beach are jet-ski rentals, parasailing, etc.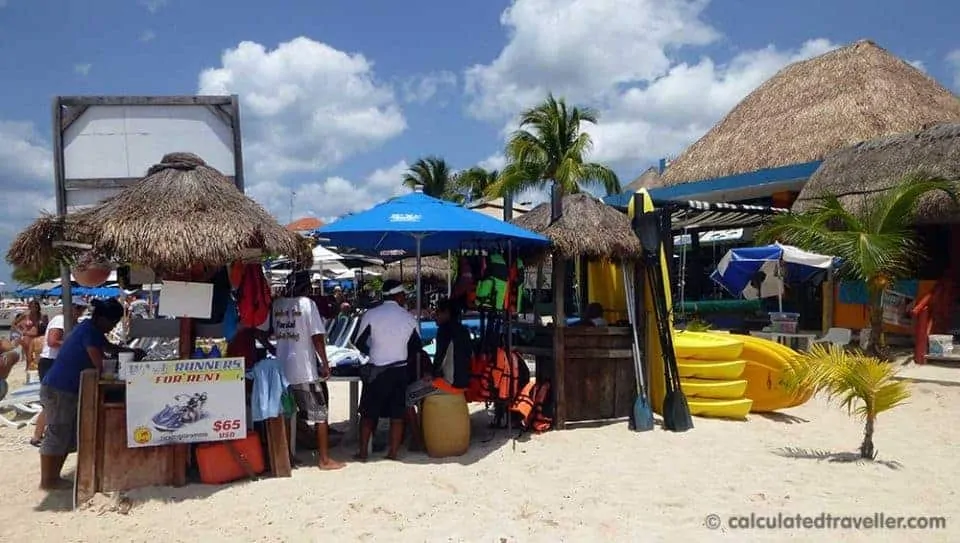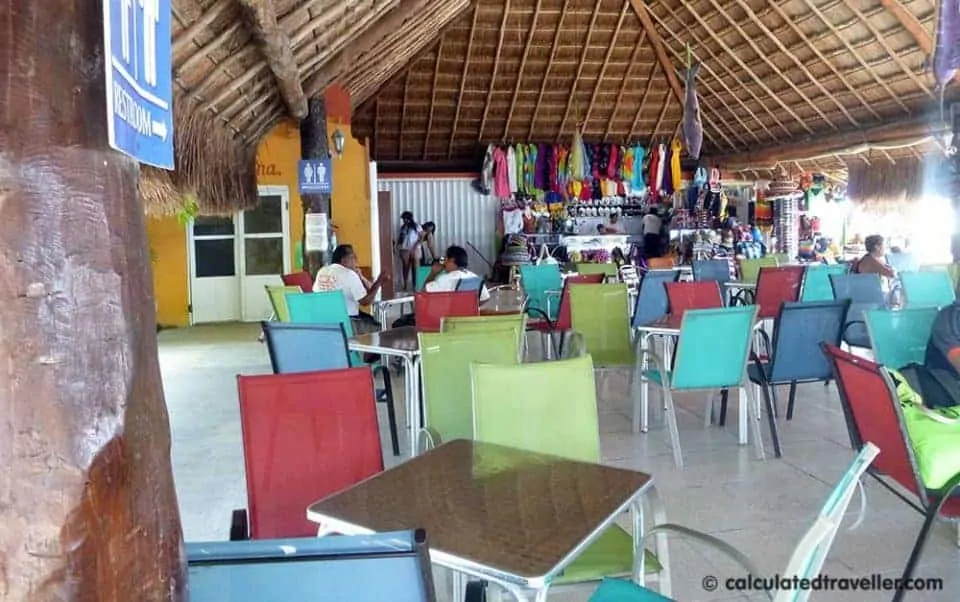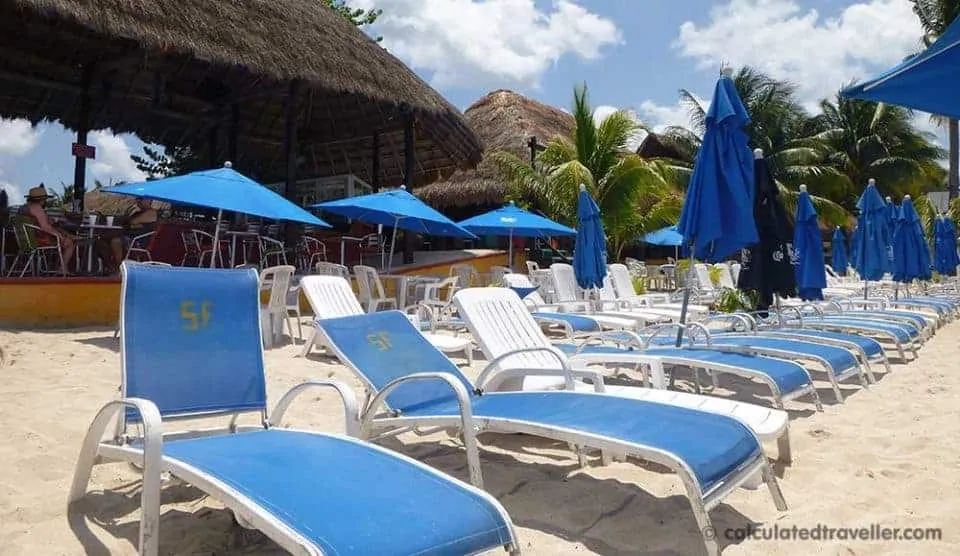 Just because you paid at San Francisco Beach Club doesn't mean you have to stay there. The beach is open and you can freely walk to the other clubs to check them out the only difference is the driveway your taxi drove down from the main road and where you paid your admission.
If you are looking for quiet – this is not the spot for you – with Carlos 'n' Charlie's Beach Club next door, the music is loud, and there is lots of activity.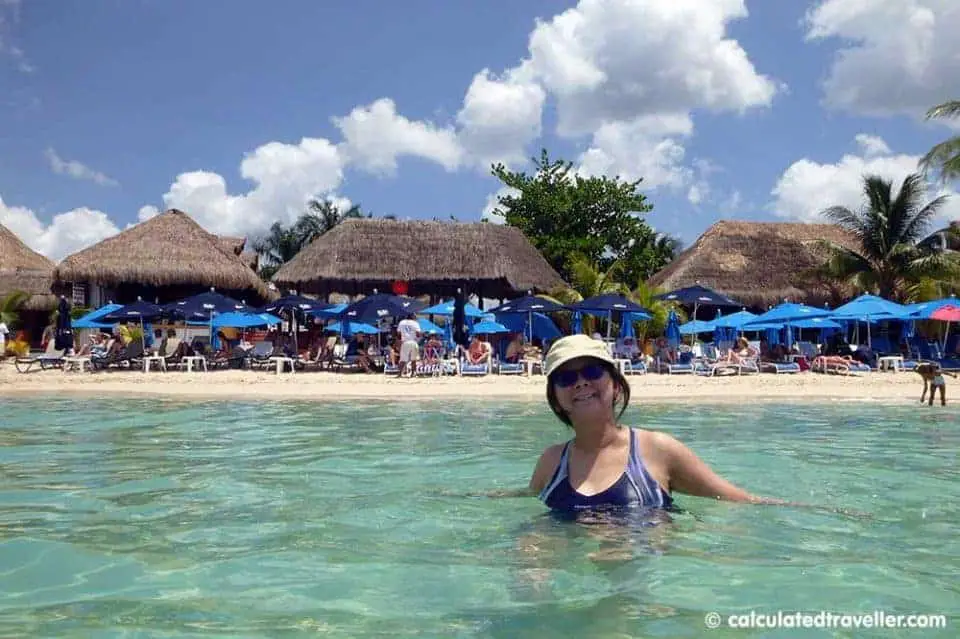 There also is very little snorkelling but the water is warm, calm and relatively shallow. The water inflatables keep the kids occupied, restrooms are clean, the Wi-Fi is strong, the vendors who approach you to sell sunglasses and cigars are not overly aggressive, and your belongings are reasonably safe and secure.
Our $16 credit doesn't buy a lot, but it did get us tortilla chips with salsa, French fries, a pop and a beer.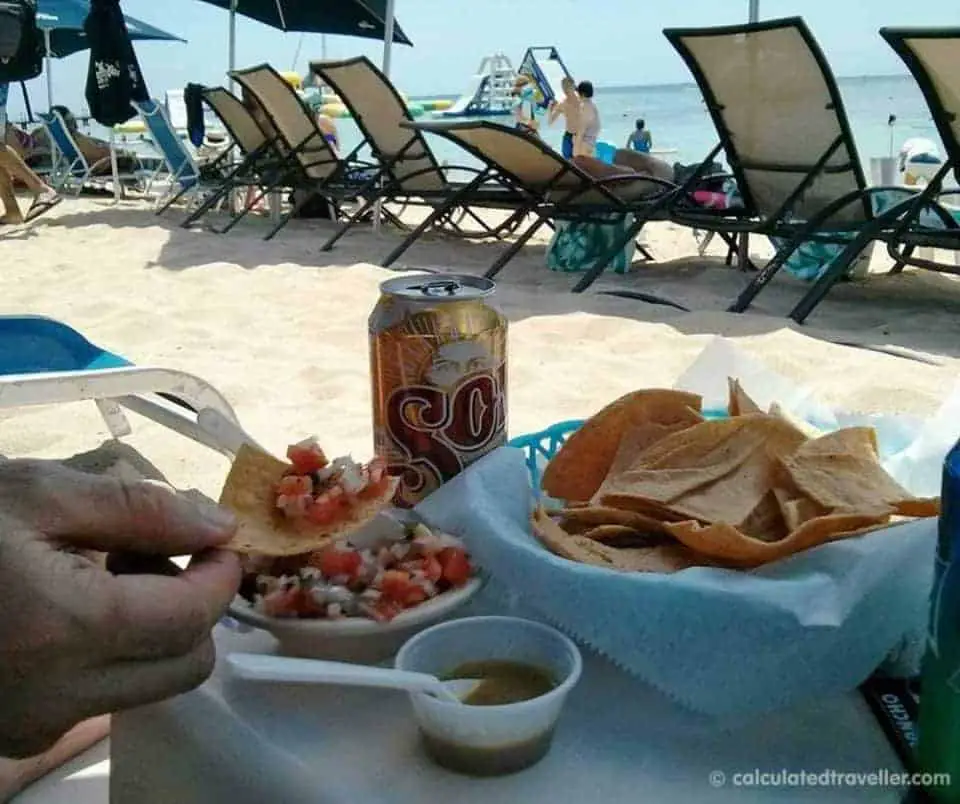 Once you've had your fill of the sun and sand, find the couple you travelled to the beach with and split a cab again for your return trip to the cruise port.
Do a bit of shopping at the cruise terminal and end your day in Cozumel.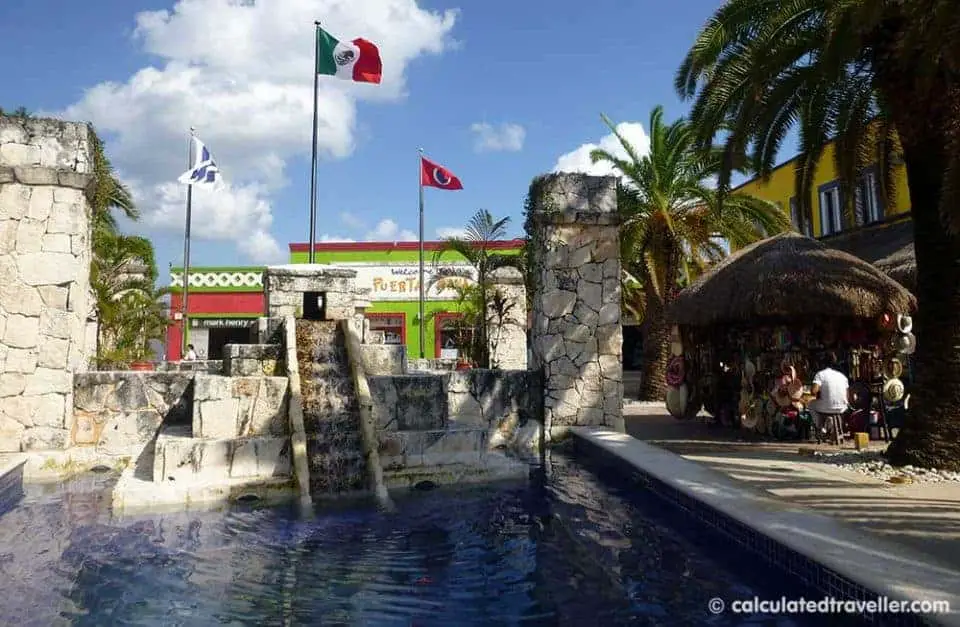 Paradise Beach Cozumel Cost for 2 = $35US Total
$15 Taxi ($7.50 each way)
$20 Entrance Fee ($10 each)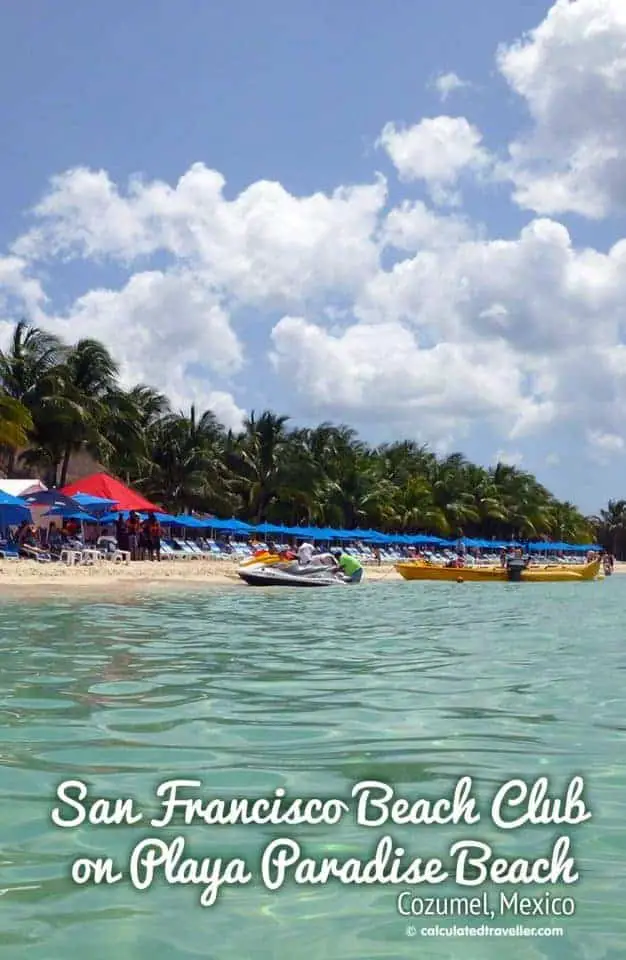 Do you have a favourite beach in Cozumel?
 To read about our experience onboard the cruise ship, check out:
– Princess Cruises — A Caribbean Princess Review
– 5 Days 5 Dinners — Caribbean Princess Dining Review
– A Cruise Guide to Mahogany Bay Roatan Honduras
– 3 very different adventures in Mahahual, Costa Maya, Mexico
For excursion suggestions: