mifold Grab-and-Go Booster Seat – The Travelling Kid's Perspective
I'm not the first to say this nor will I be the last, but travelling with kids isn't easy. But thankfully my children are past the baby stages that include bottles, diapers, carriers, and portable playpens. My husband and I have two boys, a 4-year-old and a 7-year-old. While travelling with them has gotten easier and lighter, we still have some challenges. Their safety is always a top priority when we travel but when you're in the middle of the Caribbean or on the West Coast of Canada without your familiar car and car seats/boosters, what do you do? Often the answer is you improvise – borrowing a friend's old booster, or using the regular seatbelt in a local taxi is usually the only option.
So when I got the opportunity to review the mifold Grab-and-Go Booster Seat, I was immediately intrigued and excited. Finally, something that may be able to resolve our travel woes. The mifold booster is an innovative idea that has the potential to revolutionise travelling with children. I liked the idea of it right from the start but would it hold up to all of its claims. Only one way to find out. I had two perfect testers to try this on, and I couldn't wait to start. One busy Sunday afternoon, we ran all of our errands with the mifold booster in use. We let the 7-year-old try it first and then the 4-year-old to see how they both felt about it. But before we get to their thoughts let's find out more about the mifold.
mifold Grab-and-Go Booster Seat – Features and Details
The mifold booster is a compact, portable booster seat. It claims to be 10x smaller than your average booster, and that's no lie. It also claims to be just as safe as a regular booster. Transport Canada has approved the mifold booster in Canada. It has undergone thorough safety testing and has passed Canadian guidelines and regulations. Unlike your traditional booster that raises the child in position with an adult seat belt, the mifold "adapts the belt to the child". It achieves this through the use of belt guides and clips that secure the seatbelt in the correct position on the hips, and shoulder bones of the child. The seat itself is adjustable to fit your child's bottom. It's key features are:
Size – smaller than your laptop. Can easily fit into your purse, backpack or glove box.
Portability – Can be taken everywhere.
Compactibility – Folds up neatly into its' carrying size of 10 in x 5 in.
Designed for children ages 4-12 age years of age weighing 40 lbs to 100 lbs.
Available in 6 eye-catching colours.
Available at Canadian Tire or online in Canada/US at mifold.com as well as on amazon.com.
Here's a video
Pros
The mifold booster is a definite must have for travel. Save yourself the hassle of packing and checking in cumbersome boosters at the airport. Or agonising over not having a booster at all. If you travel and you have kids, the mifold is a great investment and a small price to pay for peace of mind.
Essential for carpooling, ride sharing, or family visits. Give it to the grandparents or babysitter so they can always be prepared when/if they need to take your child out. Better yet, if your child is old enough to fasten themselves in, then, by all means, pack it in their backpack, so they're always safe no matter the car they travel in.
Easy to install. Quick installation videos are available online if needed, however, reading the instructions will give you everything you need to get the job done.
Compact and lightweight. Compared to traditional high back boosters, the mifold cannot be beaten in terms of size and weight.
Easy to clean. Durable materials make mifold easy to clean. A spot clean or simple wipe down with soap and water is all that is required.
Cons
Can't replace your regular booster. Make no mistake about it the mifold is a great invention, but it's not designed to replace your regular booster. It does not provide side impact protection. Use it for impromptu local travel, out of town travel or carpooling.
Smaller kids may not like being so low down in a vehicle. Because the child is not raised up to the seatbelt they sit, as we do, in the seat of the car. Not being able to see out the window may cause some younger children to feel frustrated.
Installation requires training. While it was easy to install for an adult, there was no way my 7-year-old or 4-year-old would be able to do it themselves. A lack of independence was a source of frustration for my kids. A definite time commitment is necessary to train someone or your child on proper use and installation.
mifold Grab-and-Go: Kid Testing
My oldest son didn't like that he was so low down in the seat that he couldn't see out of the car. This may have tainted his overall impression of the mifold, as he wasn't the biggest fan. He did, however, report that the seat was "comfortable and cushy" but he preferred his regular high back booster where he could easily see outside, control the window, and relax in the surrounding padding.
My youngest son, on the other hand, really enjoyed his ride on the mifold. He reported that it was "comfy and great" and that it wasn't tight. He did also mention that he couldn't see out of the window, but it didn't seem to bother him too much. He did, however, prefer his regular booster but would recommend the mifold to a friend. Both of the boys said that they would be okay to use it on a trip or in someone else's car if needed.
Some Quick Tips
Tip 1: As children's sizes vary, make sure to test the mifold booster at home on your child to ensure the fit is correct, and they are comfortable before you embark on a long road trip.
Tip 2: Store the installation instructions with the seat as a reminder to friends/family if they use it infrequently.
Tip 3: Make sure the car that the mifold will be used in has a shoulder seat belt, not a lap belt. The mifold is designed to only work with a shoulder seat belt system.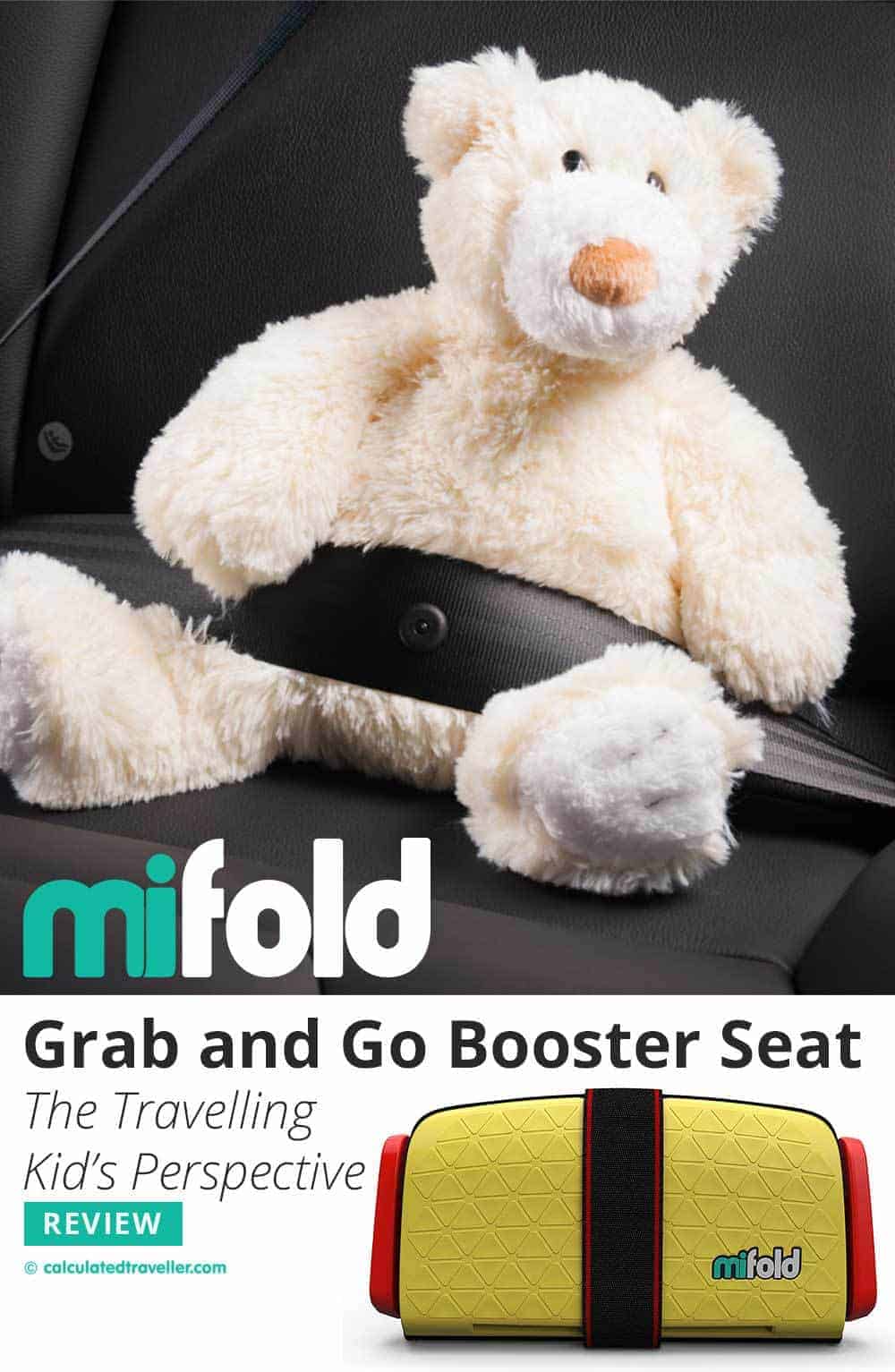 Final thoughts
The mifold Grab-and-Go Booster Seat is a great addition for any family that travels or whose children may need to get rides from friends and family. It will unmistakably become one of our travelling essentials.
Looking for more Family Travel Advice?
Top 10 Tips for Flying With a Toddler
All Aboard for a Day Out With Thomas the Train
I was provided samples for review purposes and did not receive financial compensation for this review. All opinions are entirely my own.
---
Author Sophia Murphy is a freelance writer/copy editor based in Toronto, Canada. She is a busy mother of two boys and enjoys travelling with her family.