My lovely Calculated Traveller Editor Mary (AKA my better half) asked me to share some of our tips that we use to save money for our annual travel budget plan and I'm happy to oblige.
A means to an end…These tips have served as a successful roadmap for us, but like all maps you need to decide which route best guides your travel budget.
To those who have ever asked, "It must be nice to have the money to travel?" the answer may be found in some of these suggestions.
"It must be nice to have the money to travel?"
Try to be realistic with your budget and be mindful that there will be some sacrifices and lifestyle changes in all types of financial decisions. "NO PAIN NO GAIN"… It all depends on what's important to you and what you are trying to accomplish. Try to create an achievable plan, figure out a budget, and stay inspired, motivated and committed to the goal.
I can still vividly remember the frigid response from my better half when I suggested that we cut back on the annual expensive birthday dinner celebrations. Her answer was "No Way" and something about not loving her anymore. Really? Really? Of course, I said this in silence and instead tried to approach this suggestion with wisdom and courage.
My response was to highlight that with all of the money we saved, imagine celebrating our birthdays on a week-long sunny Caribbean Cruise! Well, after 25+ cruises, all I hear from our lovely editor now is how she is looking forward to eating her favourite lamb dishes for seven days. Can you picture a petite Asian woman salivating (actually it's more like a Walking Dead zombie) over grilled lamb chops, braised lamb shank, saucy lamb curry, lamb kabob and mostly anything with lamb? At the end of the cruise, she can be heard happily singing "Mary Had a Little Lamb"! Hee, Hee.
Enough about us. Just picture yourself learning about the various cultures in Asia or Europe, spoiling yourself on a cruise liner on one of the many oceans or just chilling with Bob Marley on a white sandy beach. The escape to a warm destination may be calling loudly due to the early winter weather this year.
10 Tips to Save Money & Realize your Travel Goal
Start with a Plan
Set the Goal
If this is your first time budgeting to save money, don't set out to save enough for a trip around the world! Set a small goal; make it something tangible like an airline ticket and you'll find it easier to achieve.
Create a Separate Travel Fund
Either open a separate savings account or get a jar/container and keep your travel fund separate from your regular account. You need to be able to add to it and see it grow but not be able to touch any of it.
Stay Inspired
Find photos of your destination and post them around the house. Create a screen saver for your computer and cell phone. Most importantly, put a small photo in your wallet so that each time you open it to pay for something – it will make you think twice whether you truly need the item.
Tip 1 – Keep a Change Jar
Sometimes, it's easier to save money when you don't realise you are saving. I routinely, empty my pockets of change after each day into a huge jar. Sure, it's only a dollar or two, but it will quickly add up to hundreds of dollars by the end of the year. This only works if you DON'T dip into the jar at a later time.
Tip 2 – Pack Lunch
I know some people who buy lunch every day! Even a cheap slice of pizza and drink will set you back about $5. But, after one week those meals will add up to $25 and after one year that will add up to $1,300. Now, be honest, I'm sure you are spending more than $5/lunch, so really the savings here would add up even faster if you religiously dedicate yourself to brown bagging your lunch.

Read our article here with tips on what to pack and how to eat/drink while on the road.

Bonus Pro Travel Tip: Bringing a homemade lunch is healthier too!
Tip 3 – Use a Water bottle
This one is easy, and healthier for you and the environment. Cut out the extra sodas and coffees throughout the day and drink water out of your refillable water bottle!
If you really must buy your water, buy a case of 24 and keep some at the office or in your car versus buying the bottles individually. 1 case of 24 bottles of water costs about $4 compared to 1 bottle of water at $1.50.
Tip 4 – Avoid Fancy Coffees/Drinks
Coffee shops appear on every corner of the street, and they taste so good, but the cost of those fancy frappuccinos and mochaccinos can quickly add up. Cut them out of your weekly repertoire and you will be saving about $5, as well as the calories. If you really must have that special coffee skip your usual biscotti (save $3) and take advantage of the free whip cream and chocolate sprinkles instead. Each time you have a craving – imagine yourself sitting at a café in Venice having a real cappuccino instead.
Tip 5 – Skip Movie Night
I love the movies. Whenever a new film comes out, I have to rush out to see it. But one adult movie ticket will run you about $13. I'm not suggesting you become a hermit, but there are a few options to help you save.
Save the splurge for movies with special effects and wait for the DVD to come out for movies that don't need to be seen on the big screen.
Belong to CAA/AAA or other membership clubs or know someone who does? CAA members can purchase adult movie tickets for $8.50 each. These are good for any movie at any time.
Check to see if there are discounts for matinees or specific days of the week.
Don't buy popcorn, pop, and candy from the concession stand. It's only 3 hours – I think you can survive the lack of snacks if the savings add up to a beach vacation instead.
Here are a few of my favourite food and travel shows that inspire me.
Tip 6 – Celebration Dinners
I know couples that think nothing about spending $250 for a romantic dinner out for their anniversary or birthday. It's a special occasion, right? Add that up and 2 birthdays + 1 anniversary later = $750. Then, of course, there are the gifts and flowers on top of that!
I'm not saying that you shouldn't celebrate. Sometimes a single red rose given during a modest picnic, walk in a garden, or moonlight stroll says more than a dozen red roses and expensive dinner. Especially if you know that the real gift of a 1-week cruise in the Caribbean is the ultimate gift to come.
Tip 7 – Cancel Newspapers and Magazines Subscriptions
I subscribe to a few magazines and the daily newspaper…I like to read but when you think that almost everything is available on the Internet these days. Cancel your printed subscriptions. If you love to read print, visit your local library, the chances are high that the magazine will be there.
Tip 8 – Cell Phone/Data
This tactic may be difficult to change if you are in a locked-in plan. But you may be paying for more data than you require when Wi-Fi is easily available for free. Also, it could be refreshing to take a break from social media and decrease the use of your cell phone.
Tip 9 – Shop Wisely
Every weekend we check the grocery flyers to see which store has the most items that we need for our basic food list then we plan our weekly meals based on what's on sale. We also regularly use coupons and price match.
When it comes to clothing, we buy quality items in classic styles only when they are on sale. No expensive spur of the moment purchases!
Tip 10 – Cut Back on Your Alcohol
I saved this one for the end because some of you may be angry but drinking alcohol at a restaurant or bar adds up fairly quickly. The markup on drink purchases is enormous, and there are significant savings if you just drink at home instead or limit the number of alcoholic drinks you order when out.
Bonus Pro Travel Tip: There is no risk of drinking and driving because you are already at home.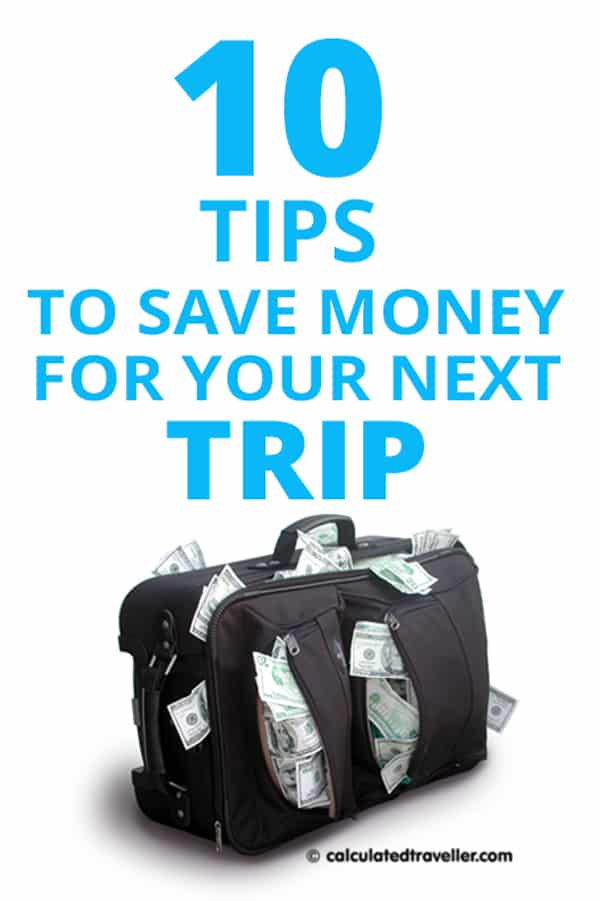 It takes baby steps, and you will soon realise how easy it is to save money year after year for travel. We have been fortunate with our travel budgets and grateful for our memorable travel adventures and wish the same for your travel plans in the New Year.
My final thought to share with you is to say this phrase again – "It must be nice to have the money to travel!" – But this time you can make this statement with an exclamation mark and not a question mark!
Have you got any great tips to save money?