When I'm travelling I love discovering new foods and new restaurants but sometimes my bank account and wallet has other ideas! As a result, I have to budget and spend wisely.
Being mindful of your budget isn't a bad thing! We just love eating al fresco in front of a beautiful view or even just dining in our hotel room after a long day's adventure touring. Plus, grocery stores around the world are awesome for trying out new foods.
Here are 5 things that I'm packing in my suitcase these days to make eating and drinking on the road more sanitary, budget-friendly and less wasteful.
1. Leak proof, Silicone, Collapsible Containers with Lock Lids
For sale by the folks over at Roaming Cooking, these collapsible containers are a great versatile product for home or travel.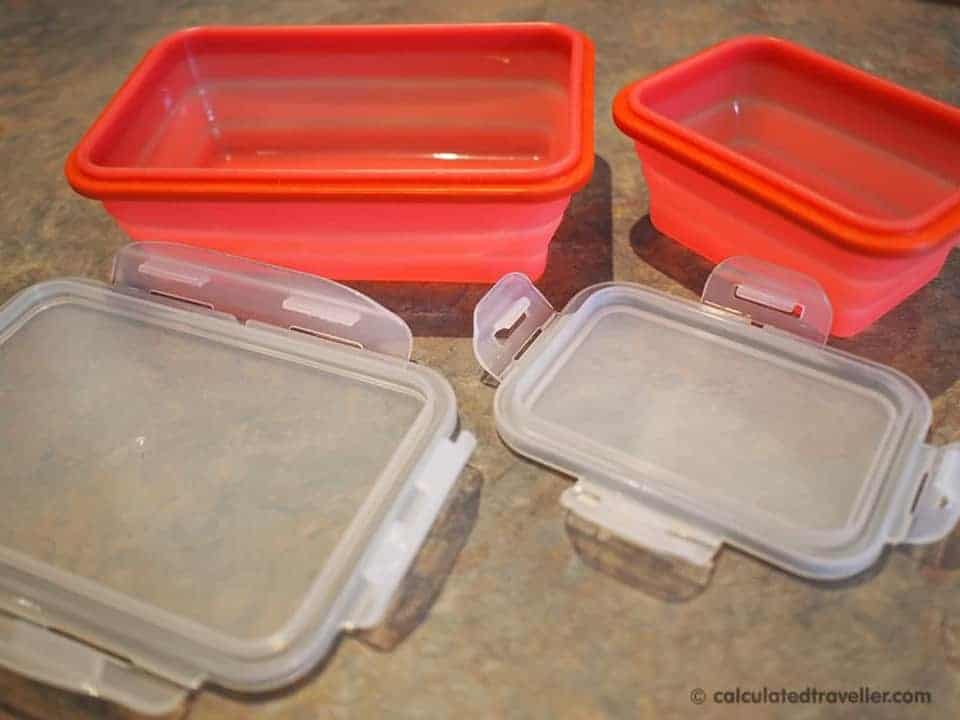 I like to pack reusable microwavable containers in my suitcase for storing leftovers in the hotel fridge and much prefer containers such as these to the styrofoam ones that the restaurant normally gives you.
Pros:
You can even put them in the oven (350 degrees max)
You can pour boiling water in them for use with packages of oatmeal, or even ramen noodles
The lids are really tight-fitting and are airtight
You can remove the rubber gasket seal in the lid to thoroughly clean should you get something saucy stuck in there
Non stick, non stain
Small size makes them easy to wash in the hotel sink with dish detergent
I used them in the microwave and although the sides of the container were hot to the touch the top rim was still cool, making it easy to hold onto
Love that they collapse down flat and that the smaller one fits inside the larger one. Making it really compact in your suitcase/backpack
They are totally odourless. Cheaper silicone products I've used in the past have had a plastic smell to them even after multiple washes
What I didn't really like:
If you are a true light packer you might feel these are a bit heavy
You do need to be careful when putting the lids on so that the sides don't collapse down on you while you are closing the latches

2. Contigo Autoseal Thermal Travel Mug
(AKA the evolution of my love for Contigo Thermal Travel Mugs)
I first discovered Contigo in a 2 pack display at my local Costco. They were stainless steel (photo left) and we loved them but there were issues. They were almost too good for their own good! The lid was totally leak proof which was awesome but the lid was really difficult to clean. The thermal mug was so thermal that my tea would stay hot for a very long time. So scalding hot that I couldn't take my first sip until a few hours later.
That being said, cold drinks stayed cold for a really long time too but we still had trouble thoroughly cleaning the lid.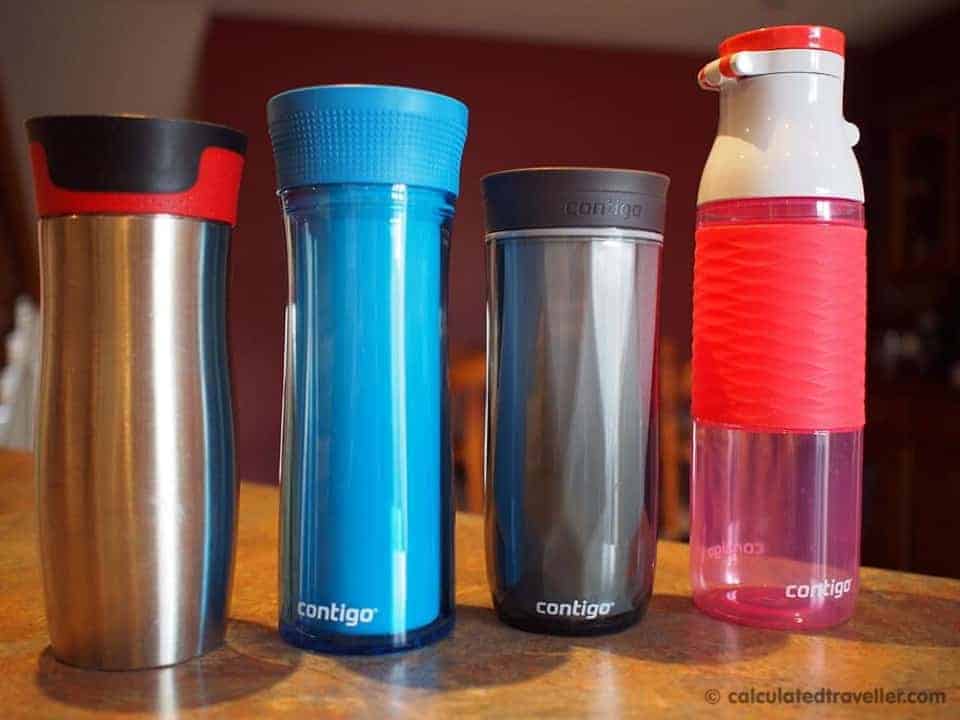 Loving the product, we tried out a plastic version because it's lighter (see the blue Contigo) but honestly, we had the same issue cleaning the lid plus the thermal seal broke and water got in between the 2 layers. We complained to Contigo Customer Service and we were sent with this new improved model (see the grey Contigo).
In the grey Contigo – the lid is easy to clean, it's leak-proof and thermal enough to keep my drinks hot/cold for an extended period of time. Not as long as the stainless steel model but at least I don't need to wait for hours before I can take my first sip of tea in the morning.
My latest purchase is the Contigo Jackson water bottle (see far right). The main reason for the purchase is that the lid locks down tight but can open for easy access with a push of a button and it has a handy carrying handle on the top.
3. Reusable Cutlery
There are many versions of reusable cutlery as you can see. The main point is that whatever you bring to eat on the road that it be easy to wash and include a spoon, fork, and knife all in one package.
In the past, I've taken extra plastic utensils from whatever fast food restaurant we happened to eat at on our first meal while on the road and then tossed it after but now I'm trying to be more mindful about waste.
These choices are pretty inexpensive and very environmental.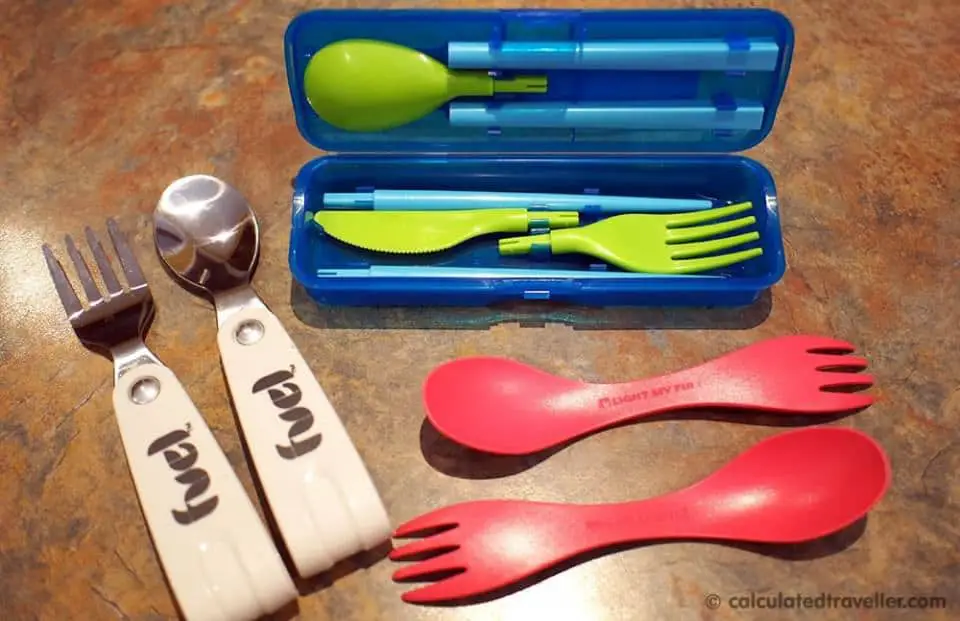 Collapsible Chopsticks
When I saw these cute little boxes containing chopsticks in the store (see above) I had to buy them partly because I'm of Chinese heritage but also because I know that I'll be going to Asia eventually and a Calculated Traveller is always prepared (wink)!
My plan is to bring them on my next trip to Asia because when I was there a few years ago, I fully expected to see disposable wooden chopsticks everywhere such as you see here in North America. But I was wrong, instead, most places I ate at had plastic reusable chopsticks and I was forever worried that they weren't fully sanitized.
There are varying price points and styles ranging from stainless steel to plastic so shop around. If you are buying metal ones, make sure that they will be allowed to fly with you on the plane because I know that knitting needles are not allowed!
Roaming Cooking also sells lightweight stainless steel cutlery sets that include fork, knife, spoon and chopsticks all in 1 neoprene case on Amazon (see above).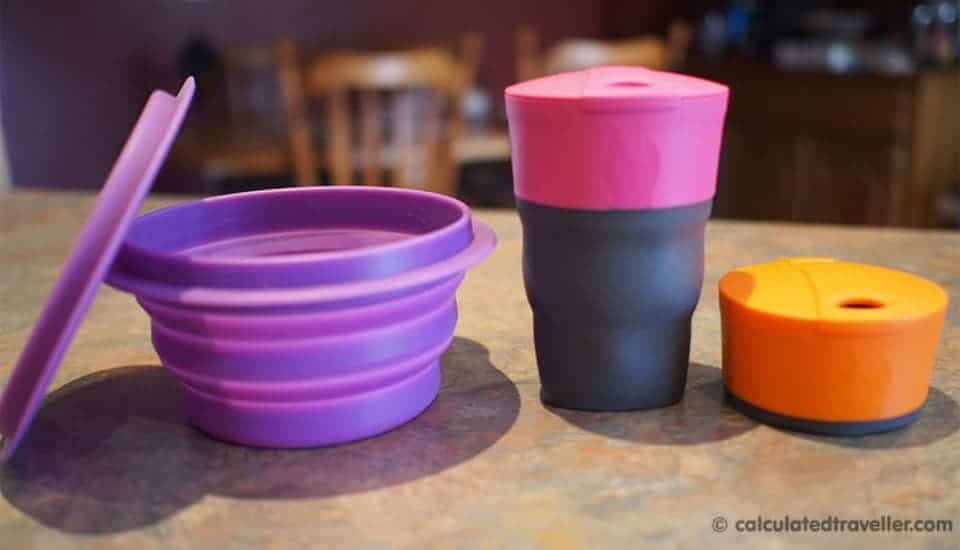 4. Collapsible containers
Sometimes you need a bowl to eat cereal out of or you want to bring your tea out of the hotel and you don't want to carry a large thermal mug. These collapse down into a smaller compact size.
5. Dish Detergent / Baby Wipes
If you are eating and drinking on the road you are going to need to deal with the cleaning of your dishes and utensils. My solution is to bring a little bottle of dish detergent with me.
To read more about how I clean up while travelling read our articles:
Travel Tip – Reusable Water Bottle – Would you like some germs with your water?
10 Uses for Baby Wipes When Travelling
Also check out the article Travel Supplies – 5 Items That Go From Kitchen Drawer to Suitcase for more tips. As well as Five Tips for Eating at the Hotel Breakfast Buffet
 

 
Packing to eat and drink while travelling goes far beyond bringing along a few zip lock baggies for leftovers and a water bottle. I hope you found these tips and ideas helpful in your quest to be environmental and save money.
 
Do you have any tips for eating and drinking on the road? Let us know in the comments below.