In the classic '50's musical Brigadoon, a bridge in Scotland leads to a magical place that only appears every 100 years. When two travellers stumble upon it, you can bet that a love affair begins, and complications ensue. Cross the bridge into the grounds of Azuridge Estate Hotel in Priddis, Alberta, Canada and you'll find a magical place where romance can bloom any time of the year with no complications at all.
Azuridge Estate Hotel – A Diamond in the Rangeland
Azuridge Estate Hotel was once the home of a successful Calgary serial entrepreneur. The thirteen-room property, set on thirteen acres of pristine rolling foothills overlooking the Rockies, is now owned by a husband and wife, both geologists. No surprise then that the theme of this boutique hotel is gemstones. Enormous geodes dot the common areas, and gem-themed artwork abounds. Flourish, the LIV Well Spa at Azuridge follows suit. Elite Clefs d'Or concierge and butler service are available around the clock, and a limousine can facilitate the drive to and from Calgary, a half-hour away, upon request.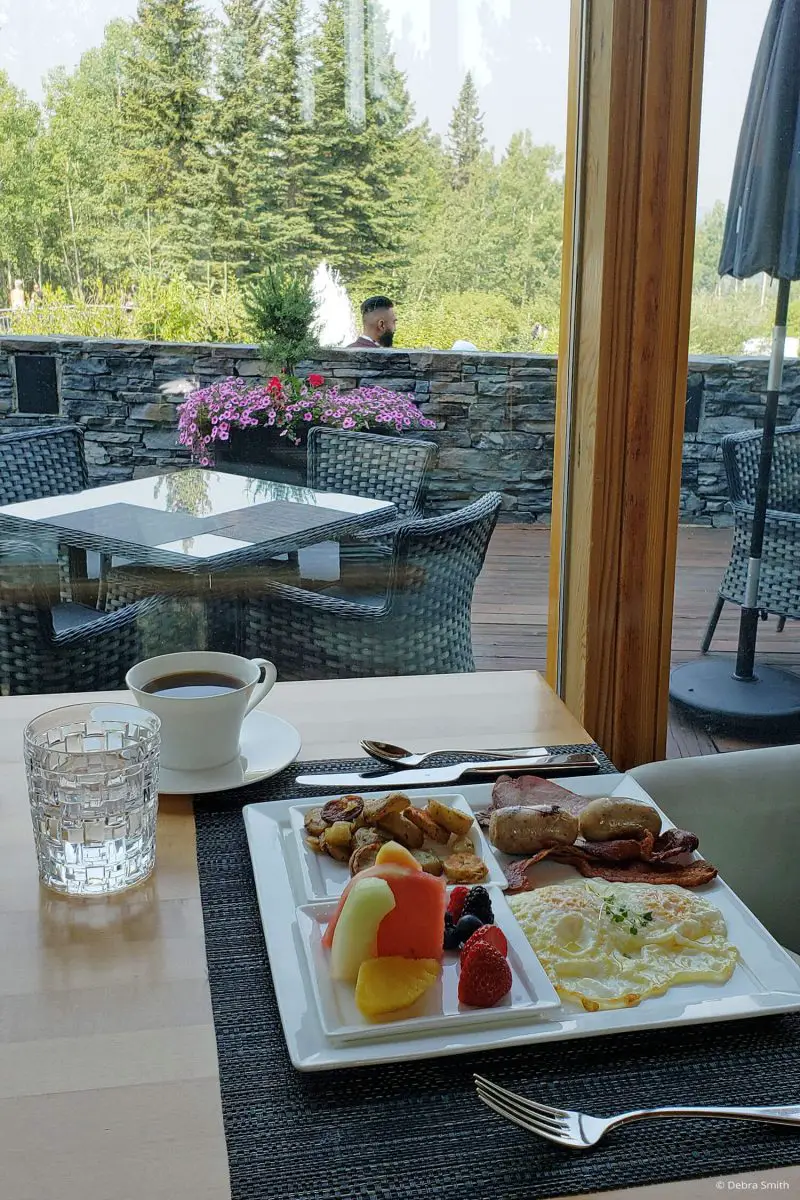 Rundle rock and massive timber beams combine with expansive windows to create multi-level open concept spaces. A mezzanine overlooks the two-storey kitchen in Sapphire Hall that makes delicious plates for the Opal dining room. Award-winning Executive Chef Yoshi Chubachi oversees the Asian and French-influenced menu, and there's a deep wine list. When the weather is fine, al fresco dining with a view of the fountain, the mountains and the fishpond is a delight.
Sparkling Surroundings
Azuridge Estate comprises two wings surrounding a courtyard with a lookout tower and a waterfall feature. The Topaz Bar has its own tower, set a little apart from the suites. The Onyx (spiritual inspiration, awareness) and Jasper (determination, honesty) are decorated in jewel tones of rose and navy. Each has a combination tub and shower and granite countertops in the bath. Robes and slippers are found in every room level. Toiletries are by Treatment.
Families will appreciate the ground-level Malachite (relaxing) and Chalcedony (peaceful), where ladders lead to lofts for the kids. There's a choice of a pop-up tent and sleeping bags or a twin bed, plus a king bed for the parents.
We stayed in The Pearl suite (uniting mind and heart). The huge cherrywood armoire had more than enough room for everything we brought. There was a tidy living area with a sofa and chair, a balcony overlooking the green hills, a separate Jacuzzi, and a generous walk-in shower.
Premium suites add a spacious living area, sofa bed, wet bar, powder room and garden doors to a secluded private patio. Bathrooms offer a clawfoot tub or Jacuzzi and wood-clad ceilings. The Signature Suite (Rhodochrosite – opens the heart) is perfect for a honeymoon with a walk-in dressing room big enough for the most lavish wedding ensemble.
At Azuridge, We Head for the Hill
On the hill behind the lookout tower, you'll find Flourish, the LIV Well Spa at Azuridge. Run by the indomitable Sean Liv, it's a gem-stocked haven of relaxation, spiritual wellness, and mental well-being. She wouldn't have it any other way. After a personal journey that included meditation, yoga, exercise, and healthy eating, she is ready to motivate you to be the best you can be, whether that's through relaxation, a yoga class, or a walk in the woods outside the spa. Gemstone therapy can be added to a range of treatments, from massages to facials and the stones come home with you to keep the energy alive.
The spa is dominated by a massive green fluorite crystal, the stone of connection and healing, and guests often see deer and the occasional fox through the wall of windows. It's beautiful in winter when the fir trees outside are heavy with newly fallen snow. There are two treatment rooms, and reservations are recommended.
Walking in a Winter Wonderland
Azuridge Estate Hotel is the perfect place to add some gem-infused magic to your life in every season. Walking trails lead to hidden sculptures and more fabulous views outside the spa. The concierge can provide E-bikes in the summer and snowshoes in the winter. Priddis Greens Golf and Country Club makes their adjacent golf course available to guests who bring their cross-country skis.
Alberta's famous Cowboy Trail 5 minutes from Azuridge Estate Hotel
Get a leisurely start and drive to Jane's Café in Priddis, five minutes from Azuridge Estate Hotel. Things don't get hopping in this tiny hamlet until the livestock's been fed, so roll in at around 10 am for an outstanding breakfast. Be prepared to see a lot of cowboy hats.
After leaving Priddis, turn south on Highway 22. You're now on the part of Alberta's famous Cowboy Trail that extends from north of Edmonton to the US Border, about 400 km (248 miles). As you drive past fields of wheat and canola, dotted with cows and alpacas, watch for the signs for the Leighton Art Centre. The 80 acres surrounding the former home of artists A.C. and Barbara Leighton is one of the prettiest landscapes in Alberta. The centre hosts visiting artists, has rotating exhibits, and an extensive collection of local art for sale.
Follow the Cowboy Trail further south to the Millarville Farmers Market if it's Saturday. It's held at the racetrack from 9 am to 2 pm and features over 150 vendors selling local produce and artisanal handicrafts. Don't miss the delicious homemade pies and stay for the races, a fun, casual affair.
During the week, head straight for Marv's Classic Soda Shop, a staple in Black Diamond. This combination antique emporium, candy store and diner boast an original soda fountain and a player piano that Marv plays when the spirit moves him. Their burgers and shakes are outstanding.
Total drive time one way without stops on this route is 52 minutes.
Author Debra Smith was a guest of Azuridge Estate Hotel and Flourish LIV Well Spa. As always, her opinions are her own.   
While in Alberta, check out these articles: