It's crowded today on Carlisle Bay Beach in Barbados. With three cruise ships in port, that's to be expected, especially since it's a beautiful sunny day today.  Then again, most days are beautiful and sunny when you are on vacation in the Caribbean.
We don't mind the crowds today because the price for our beach adventure is budget-friendly, and there are a lot of amenities available at Carlisle Bay.
All beaches in the Caribbean Island of Barbados are public beaches, so as long as you come prepared with your own beach blanket and don't require a chair or umbrella, then you are free to use any of the area's public restrooms or showers along the shore.
Read more about Barbados in this article: Holidays in Barbados – Island Charm
PRO TRAVEL TIP: Be warned there is no shade by way of trees, so you'll have to rent a chair and umbrella from one of the many vendors if you absolutely need shade.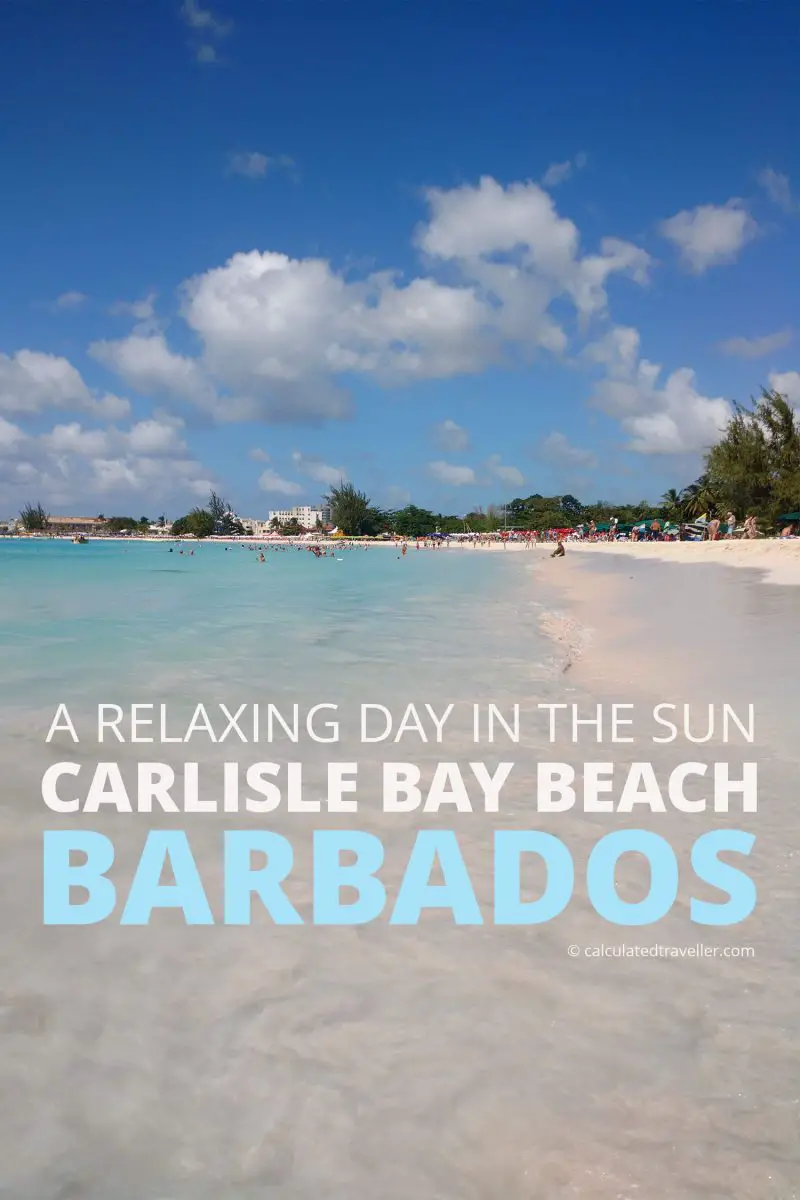 How to get to Carlisle Bay Beach from the cruise port in Bridgetown
Leave your cruise ship and pass through the cruise terminal.
Follow the green dots on the floor through the shops and make your way towards the taxi stand.
Taxi rates are pre-set, so there is no need to negotiate and no need to worry. I highly recommend that you bring exact change. We paid $5 US per person each way.
The taxi will drop you off at Harbor Lights Beach Club / Carlisle Bay Beach Club
Walk through the club directly to the beach and the beautiful ocean water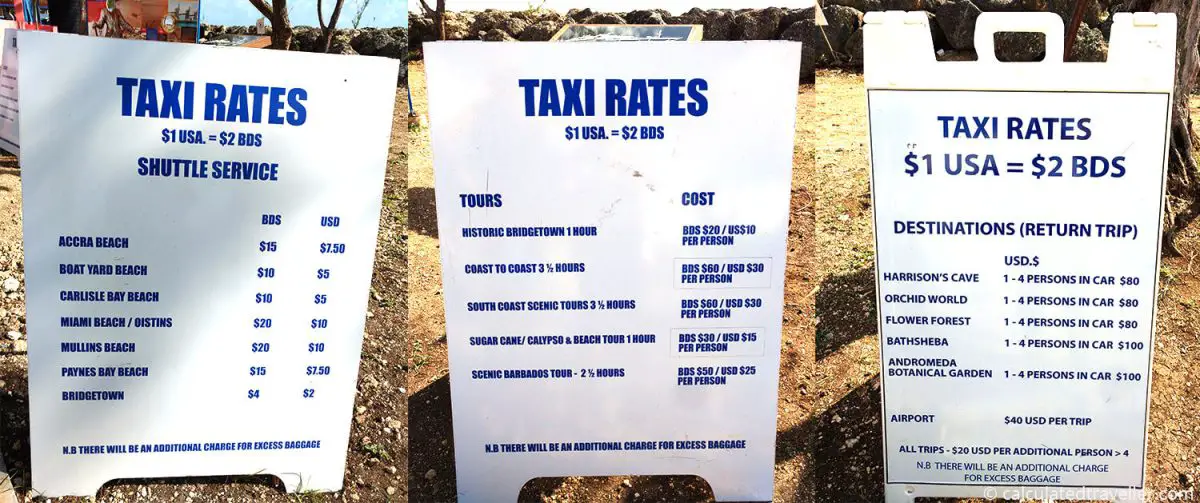 At the time of our visit, a lounge chair, umbrella, unlimited Wi-Fi, and use of the Harbour Lights Beach Clubs rest room facilities cost $10 US per person.
Don't worry. You have other options to spend the day on Carlisle Bay Beach if you wish to shop around.
PRO TRAVEL TIP: We typically do not stay at the nearest location along the beach. It's usually crowded because most travellers won't want to venture too far from the taxi drop-off/pick-up location. My thoughts? if you plan on spending most of the day here, why not take a stroll further along the shoreline, explore the area a bit, and see what else is available. It's a quick walk back if you don't find anything else that suits you better.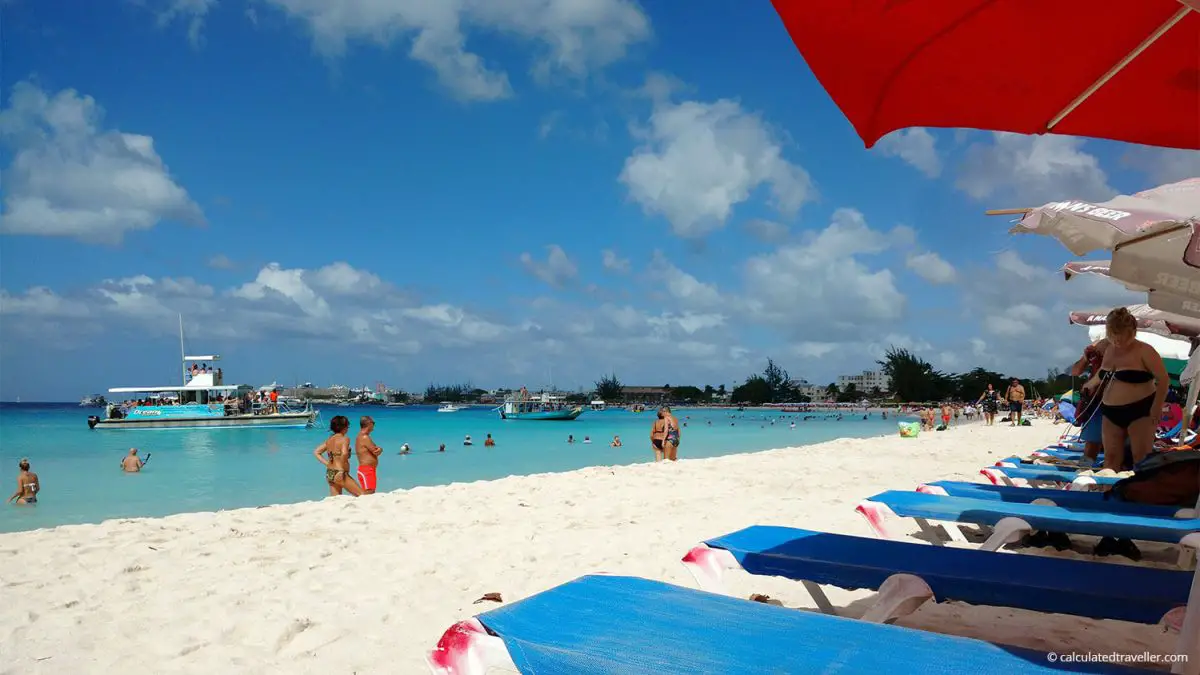 It's a Beach Day at Carlisle Bay Barbados
Leave the Harbour Lights Beach Club and keep walking ahead directly onto the beach. Once you are on the sand and away from the club, you will get plenty of offers from enterprising vendors.
We walked to the very end of the beach and settled on two chairs, with a shared umbrella and unlimited access to Wi-Fi for $15 US total.  It's a savings of $5US from those closest to the beach entrance and not as busy, but of course, we were at the other end of the beach, a bit of a distance away from the beach club.
PRO TRAVEL TIP: There is a lifeguard on duty in the yellow guardhouse as well as restrooms with showers.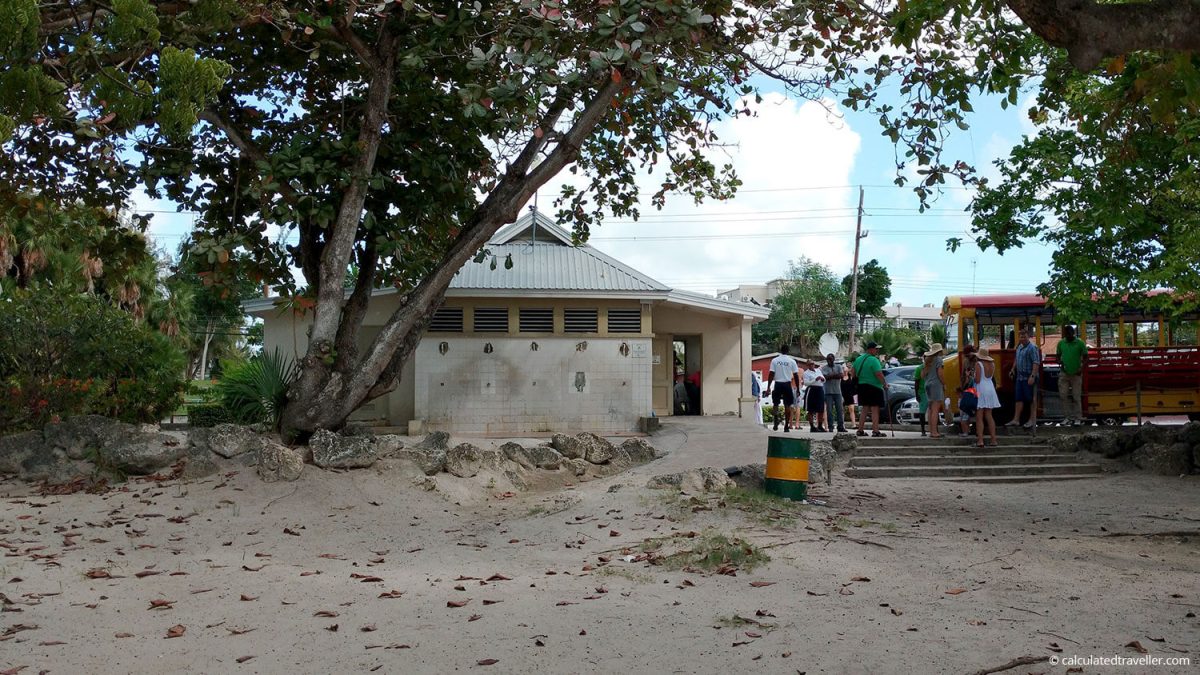 We were told that across the street, there were a few good restaurants with burgers and fish and chips for under $10 US; however, we did not try any of them.
Snorkeling Shipwrecks, Turtles, and Tropical Fish at Carlisle Beach, Barbados
Boat tours and water sports are also available, where they will take you out snorkelling to see the marine life, tropical fish, and sea turtles. We heard prices ranging from between $15 to $25US for a sightseeing tour that lasted one hour, including snorkelling equipment as well as some rum punch beverages.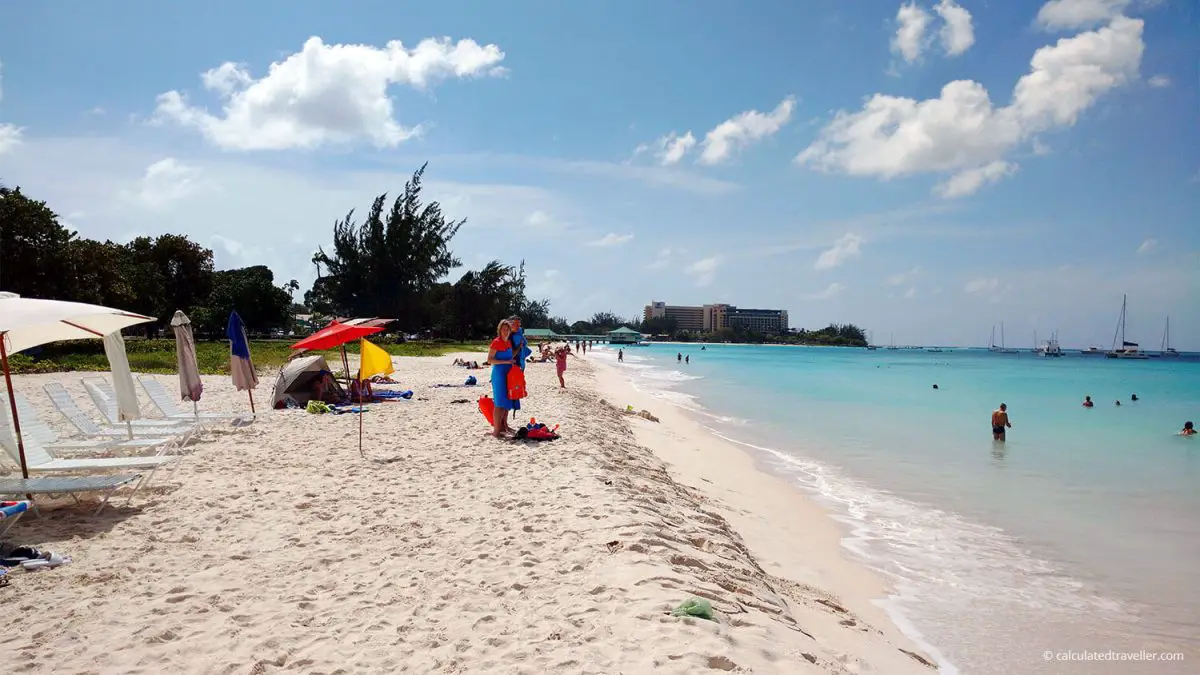 We also saw vendors offering $20 US for a lounge chair and umbrella rental that included a turtle tour package. It pays to negotiate and shop around.
Looking for local beer? I saw signs advertising buckets of 5 beers for $15 US. The sand on Carlisle Bay beach is incredibly soft, rivalling that of Half Moon Cay Bahamas – Holland America Cruise Lines's private island.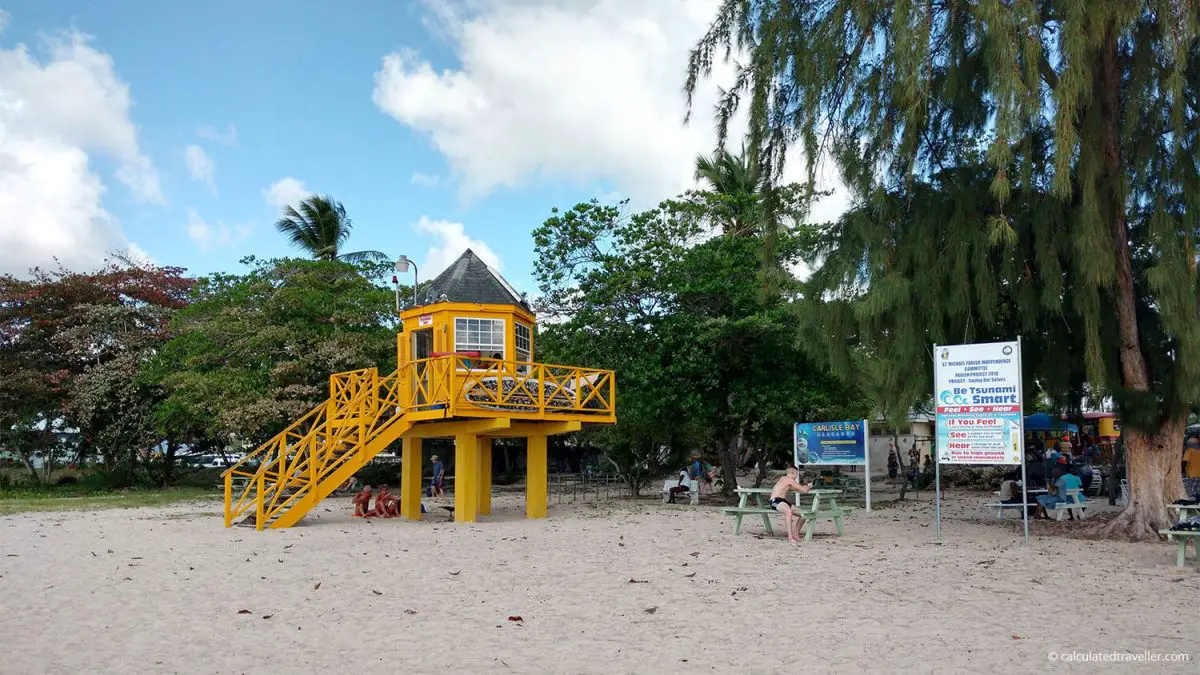 The turquoise water is shallow, but be careful because the waves can get a bit high since this is on the Atlantic side of the ocean.
There is also a fabulous ocean breeze. We very comfortably spent our entire day lounging in this very spot since we were enjoying our visit so much.
It's no surprise that if you do book a ship excursion such as the island tour, catamaran cruise, or turtle snorkel tour experience that Carlisle Bay Beach is one of the tours stops. It's no wonder that Carlisle Bay Beach appears regularly online as one of the best beaches in Barbados.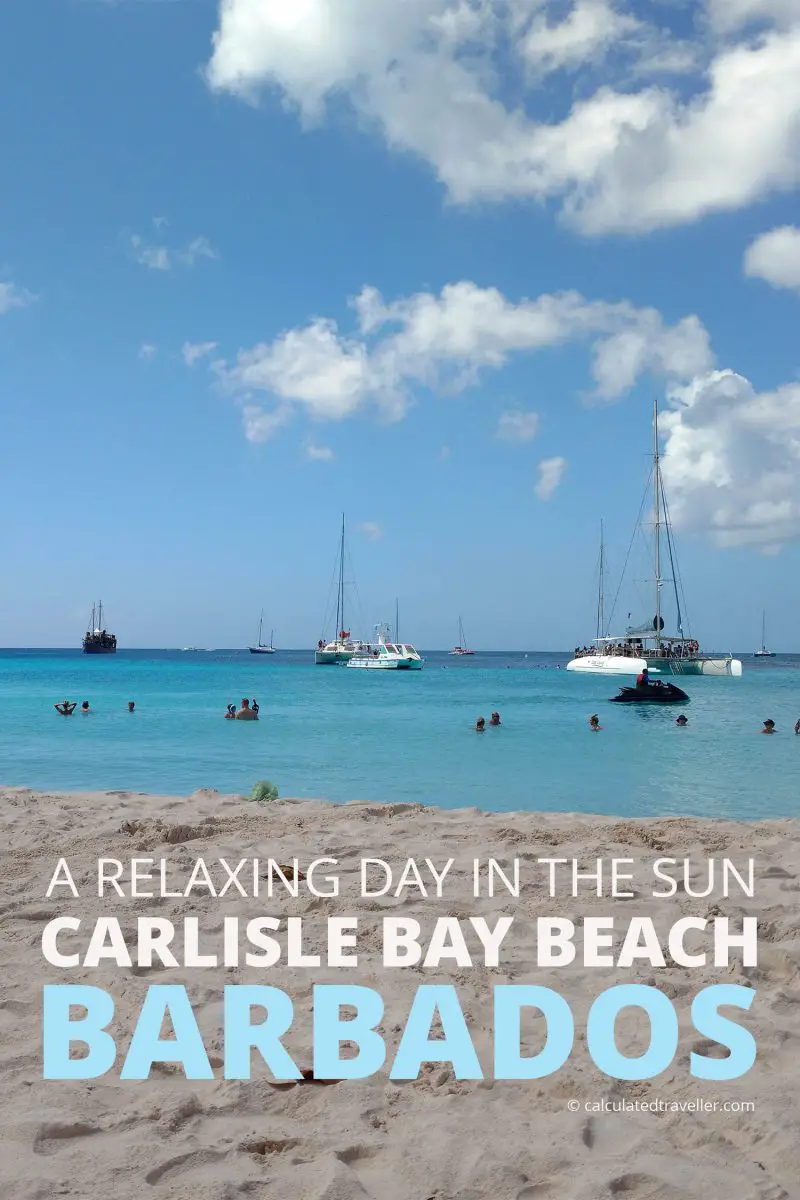 There were quite a few people snorkelling in the water, but when I was standing in the water along the shoreline, I didn't see a single fish. So, I do think that if snorkelling is what you fancy that you need to go much deeper out into the water or take one of those boat tours.
We hope you found this travel guide to Carlisle Bay Beach, Barbados, helpful.