This article may contain affiliate links. This means that clicking on or purchasing products we recommend through a link may help us earn a small commission, which helps keep this site running. Thank you for your support!
With five suites all named after and decorated in different colours, Chroma Tessera Hotel in Rome Italy, about 5 minutes walk from Termini Station, is a great home base when exploring the city centre.
We booked through Priceline and knew our reservation was prepaid and guaranteed, but we felt even more secure after we received a confirmation email directly from the hotel itself with information, instructions, and directions.
Chroma Tessera is not an ordinary hotel for those accustomed to North American hotels. It is essentially one single apartment taking up half of the third floor of a building with hotel suites branching out from what is essentially a very long hallway. From what I could tell the other tenants of the building are offices, private homes or hotels with similar setups; 2 units to each floor.
Exterior Door
There isn't a large sign outside denoting that it's a hotel like you would see in North America so you really need to look for the little sign next to the door.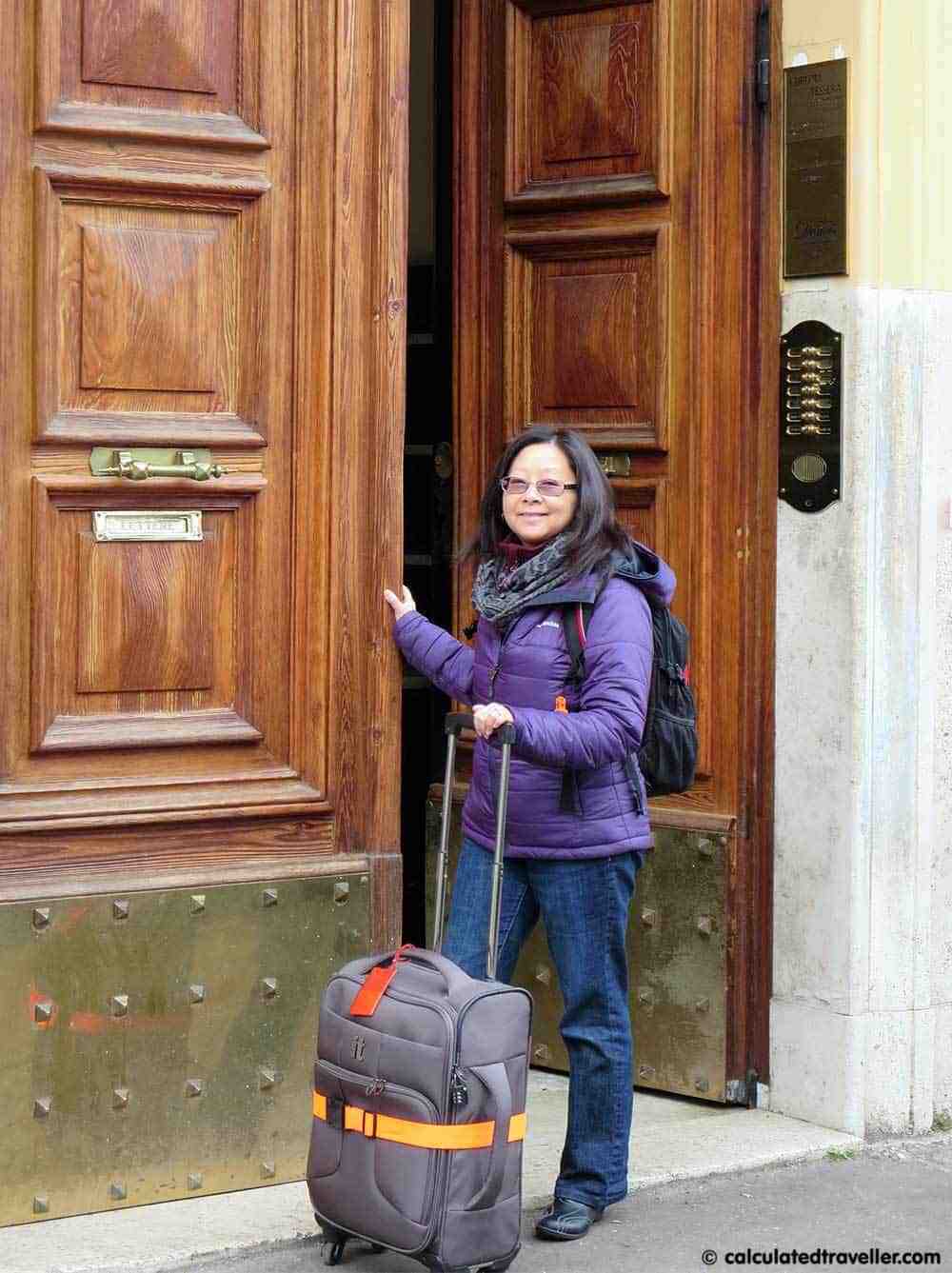 Ground Floor Entry
The hotel is on the 3rd floor of the building. There are a series of stairs leading up to a charming European elevator that fit two people with luggage, but it was very tight.
(Curious about my luggage? I write about it here: One Bag Carry-on Only Challenge – Update)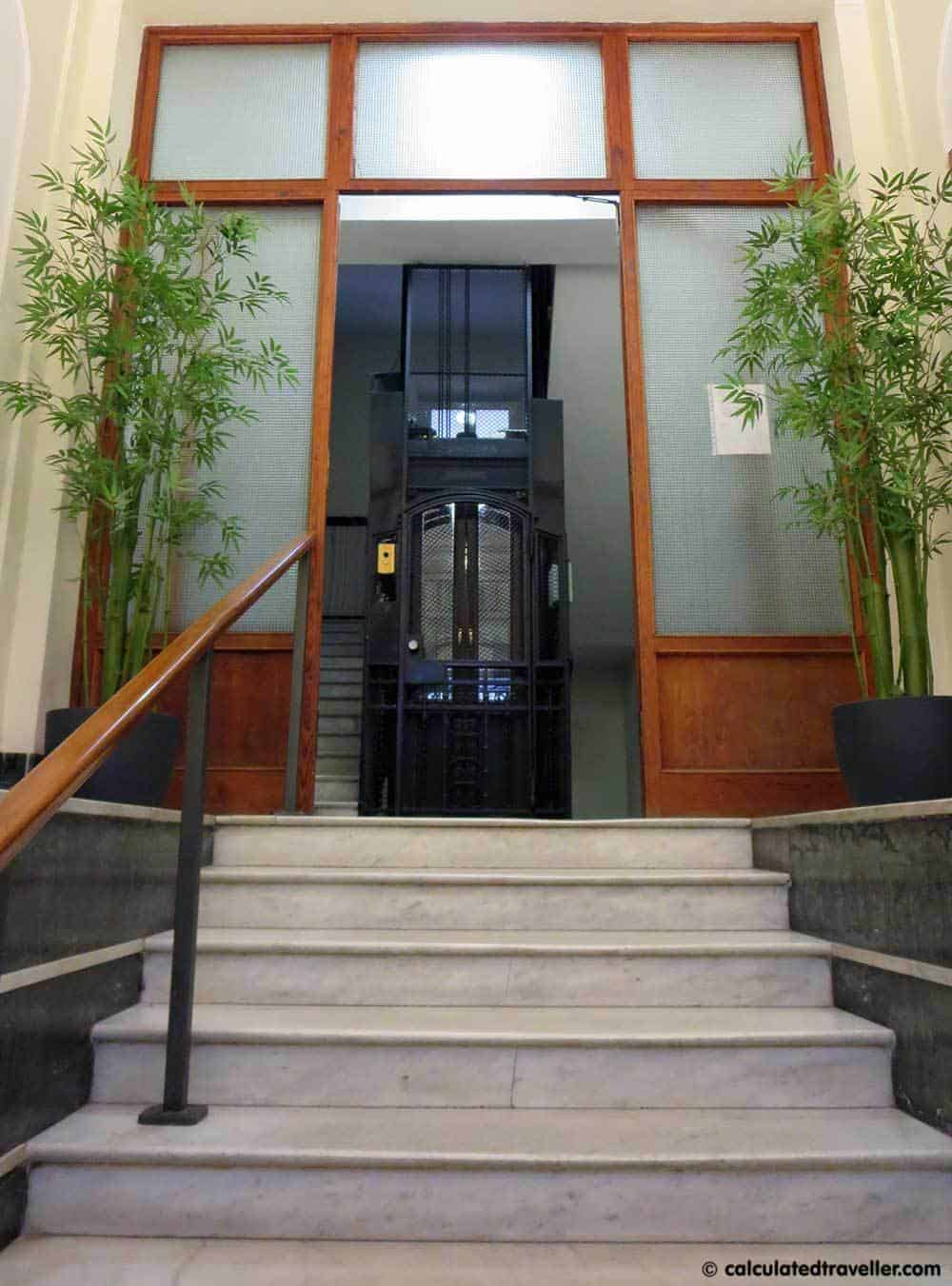 Chroma Tessera Hotel Lobby/Hallway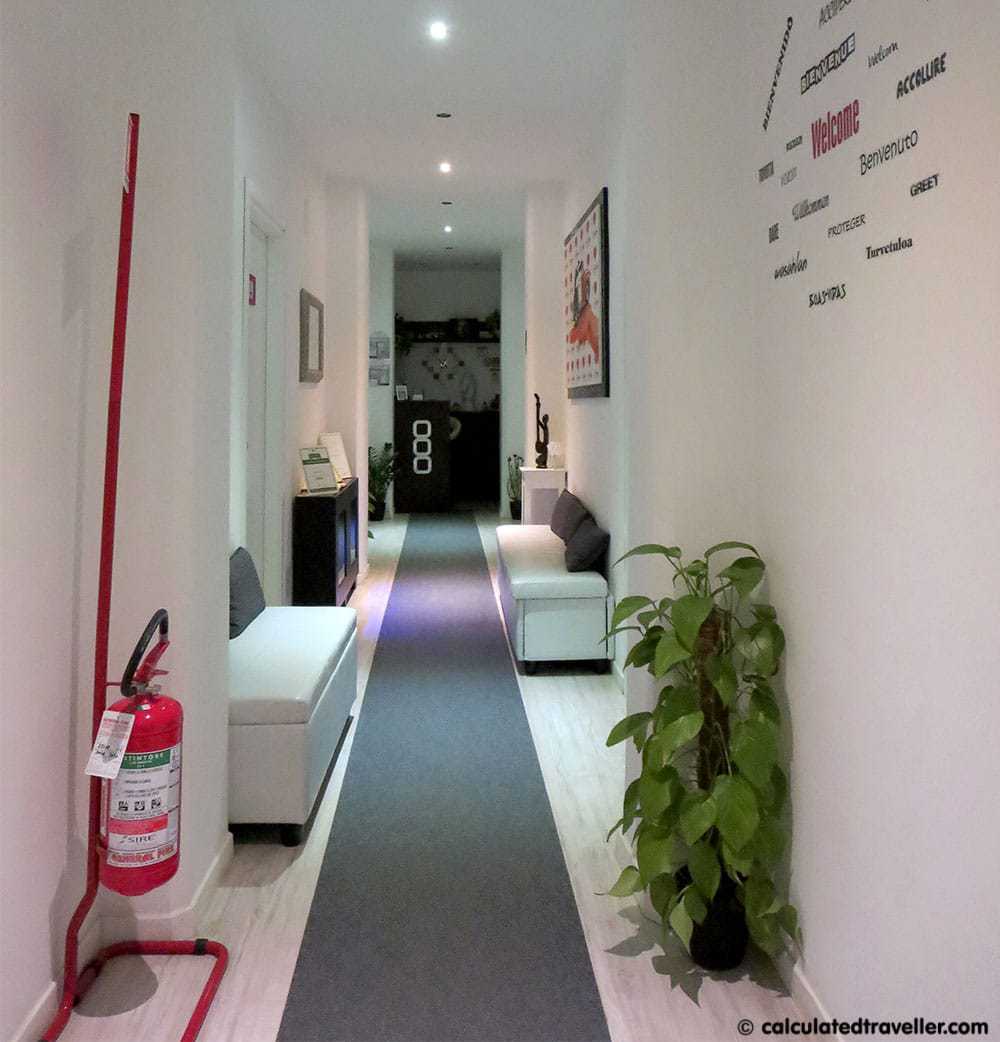 The building itself is across the street from military offices and because of this location, the area seemed very safe, but in the evening and weekends, the road was relatively devoid of street traffic.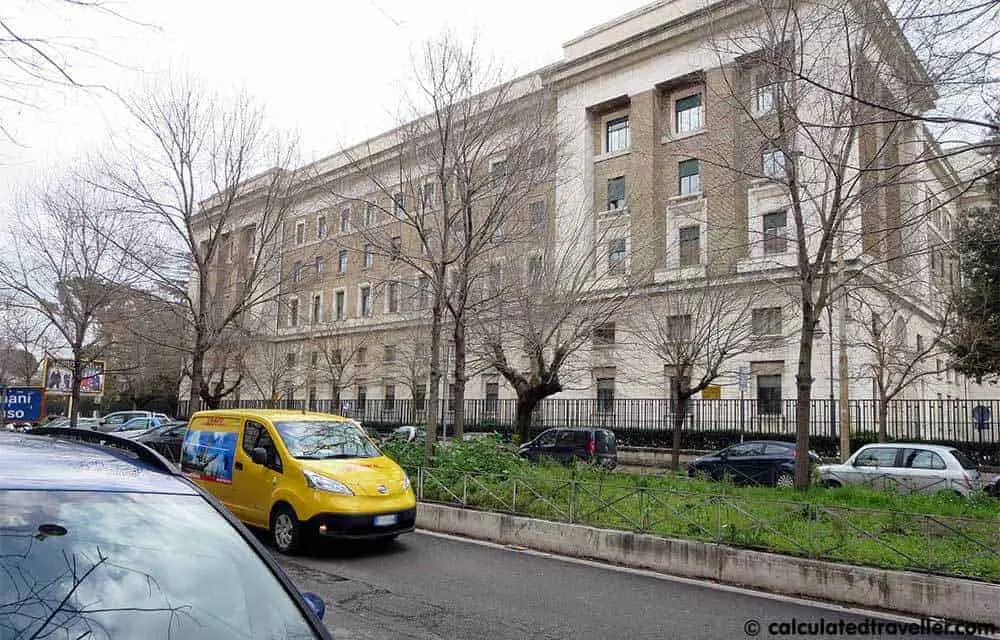 What's the "Chroma" in Chroma Tessera Hotel?
Chroma Tessera is part of Chroma Italy Hotels with approx 11 hotels throughout Rome – each hotel has the same artsy, colourful decor.
According to their website "This uniqueness is mainly due to the intersection between two words: "art" and "welcome. The crucial point of impact is the play of light and colour that acts as the masters in all respects within the structure, giving the measure of an extreme modernity, and spreading at the same time an enjoyable feeling of warmth and welcome. Altogether, these elements give us the actual idea of spending nights dream!"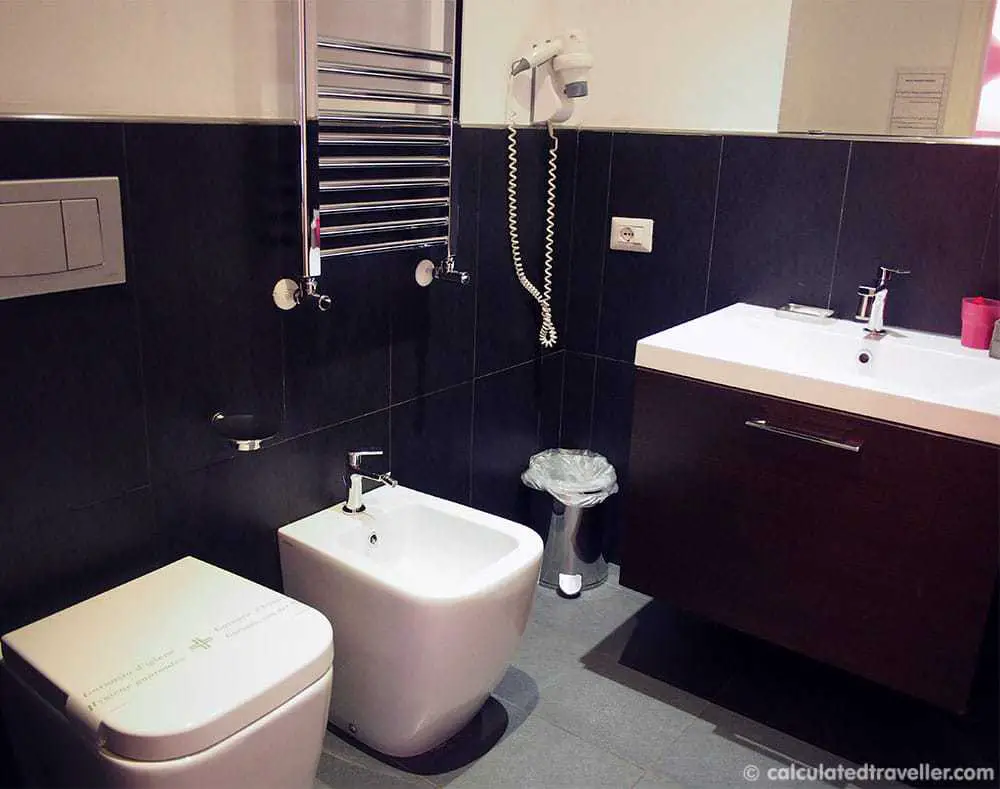 The bathroom has some very different "mood" lighting in the shower area with lights in the ceiling that transition from one colour to the other rotating through the entire spectrum of the rainbow.
The faucet of the sink has a similar light that turns on when you activate the faucet.
We stayed in the Rosé "Marilyn Monroe" pink room.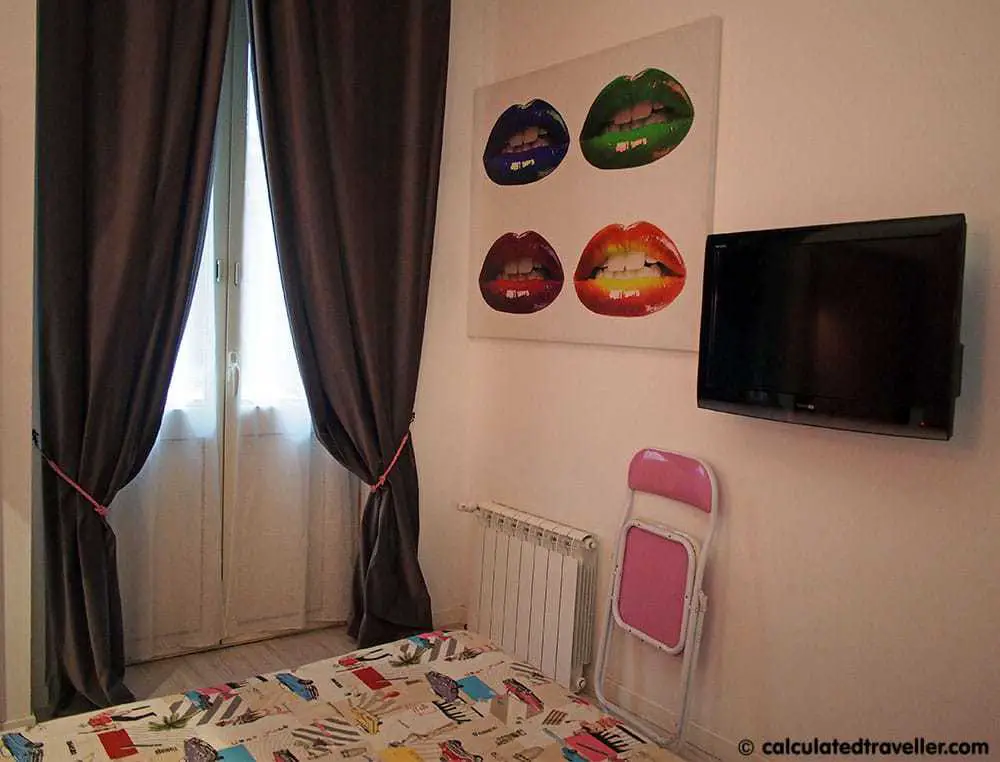 Amenities included
King size bed, desk, tea, sugar, kettle, mini bar fridge, closet, safe, heated towel bar, bidet, rain shower head in the shower, flat screen TV, free (very strong) WiFi.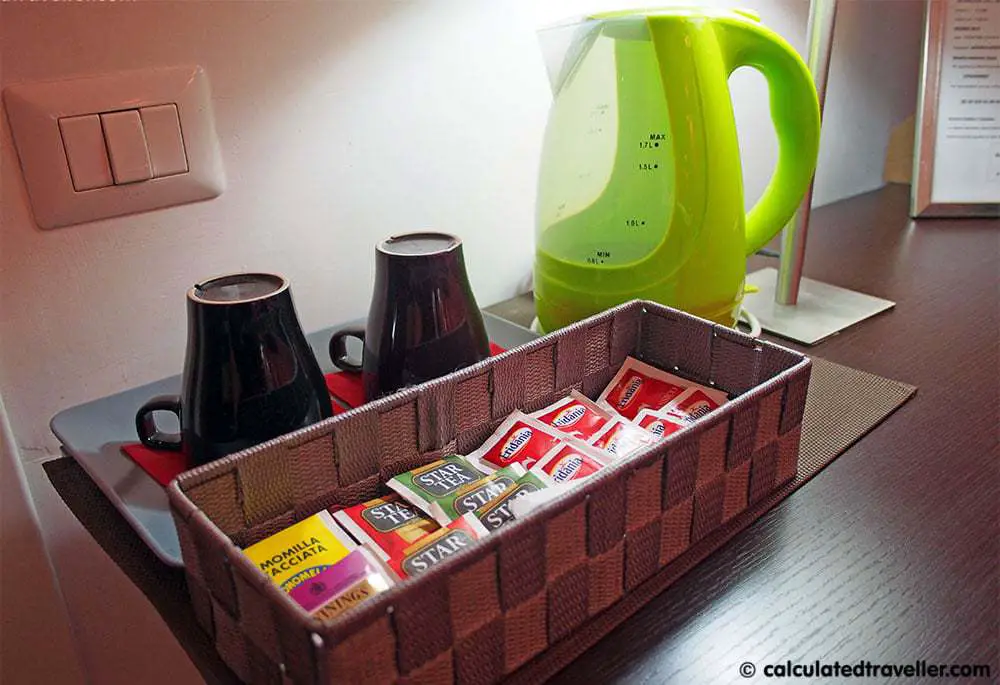 We enjoyed our stay and the view from our Romeo and Juliet balcony at Chroma Tessera, but things weren't all perfect.
The walls are quite thin (which is quite common in Europe) with the "right" neighbours staying in the other rooms of the hotel we slept like babies and had zero complaints. But with the "wrong" person sleeping next door, you'll wish you had better ear plugs. We were blessed with perfect neighbours 3 out of the 4-nights.
The hotel is not staffed 24 hours. We were given 3 keys on check-in; the building key, apartment/hotel key and our room key. So your safety and security are dependent on your fellow travellers to shut and lock the door to the apartment. For people checking in after staff business hours – guests would buzz up repeatedly only to get no response as there is no staff available. Thankfully this never happened after 11 pm during our stay, so it didn't disrupt our sleep.
Note:
Notify the hotel of your anticipated arrival time as the hotel is not staffed 24 hours a day.
The owners that work on site on the weekend speak very little English. Lovely, the woman who works during the week speaks English well and is as lovely as her name.
There is an extra Government Tax of 4€ / person / night that is payable directly to the hotel.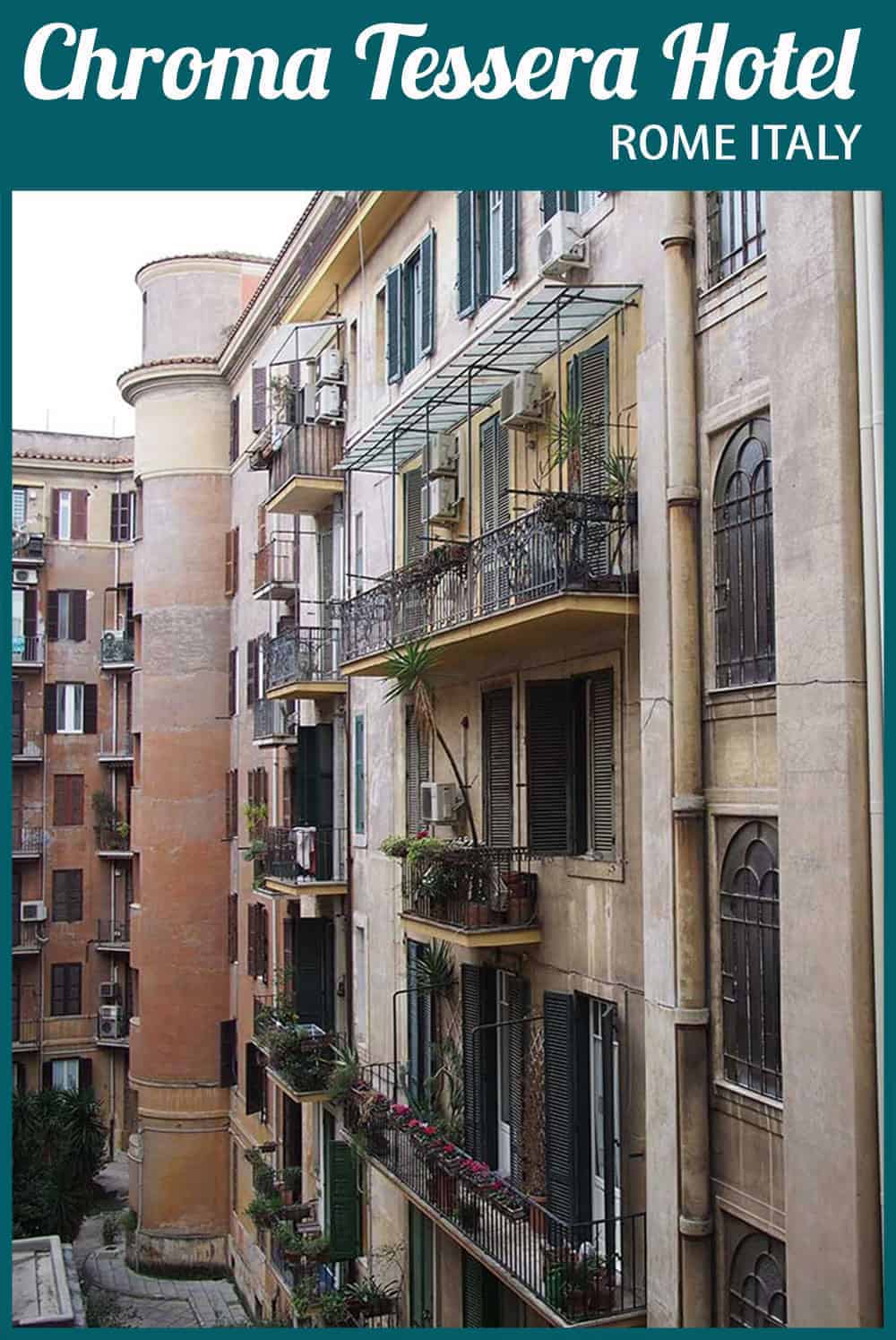 We paid 188 € for four nights. The Chroma Tessera Hotel was a real bargain of a deal compared to other prices we found online, and we would definitely stay here again the next time we are in Rome.
Chroma Tessera
Viale dell'Università, 25, 00185 Roma, Italy
While in Rome:
– A Cooking Class in Rome – Walks of Italy – Review
– My (Almost) Private Tour of the Vatican with Walks of Italy