In this article, we discuss the Tesalate Beach Towel made from an exclusive polyamide microfibre fabric that is entirely sand-free.
Lugging a waterlogged, sandy towel back to your car after spending a leisurely day in the fun and sun at your favourite beach is a total drag.
We've all had to endlessly brush sand off of our clothes, bodies and out of our cars.
We all know that feeling. It's itchy, sticky, uncomfortable and a nuisance.
A solution to this warm-weather annoyance is the sand-free Tesalate Beach Towel. The Tesalate is the original versatile beach towel you'll need for home, exercise, travel and everyday use. It's also an excellent gift to give for newlyweds, birthdays, or holidays.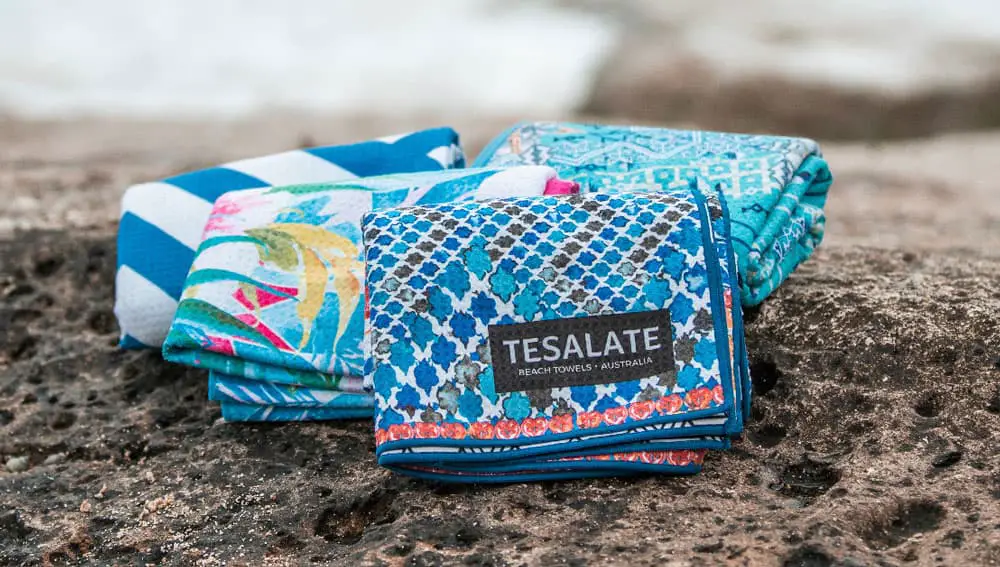 What is a Tesalate Towel?
The Tesalate Beach Towel, according to its Australian founders, is considered the world's best beach towel, and with good reason. Made from an exclusive Absorblite™ fabric, the patented, 80% polyester and 20% polyamide microfiber fabric has a smooth feel that makes it completely sand-free.

Developed out of necessity, the Tesalate Towel solved a problem that many avid beach-goers face – the need to stay sand-free. After spending a day on the beach, the last thing you want to do is carry around a sandy, wet towel back to your car or home! Sand doesn't stick to the lightweight, absorbent Tesalate Towel which makes packing up after a day out in the sun and surf, easy and stress-free.
The Tesalate Towel has been a popular choice for savvy travellers the world over. The world's best beach towel has grown from its roots in the local Bondi Beach market of Australia to having been sold to beach-goers in over 70 countries including the United States and Canada.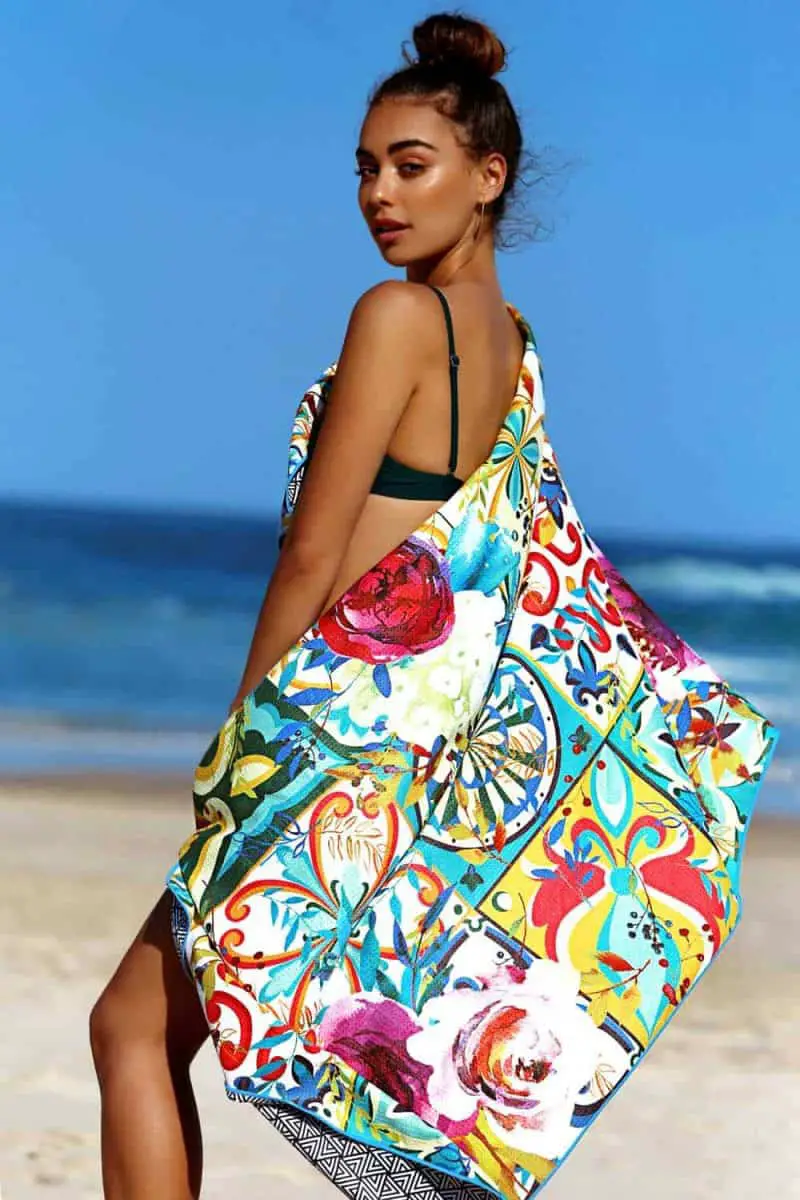 Towel Designs Show Off your Personality
We all know that mild panic that sets in when you can't see your spot on the sand from the water. An hour of playing in the surf and waves can easily carry you off down the shoreline. The vast array of colours and decorative patterns make it easy to spot your belongings on a crowded beach.
In an array of colours and designs with whimsical names such as "Between Two Palms" and "Into the Wild", you are sure to find a pattern to show off your unique personality.
The colour and pattern I chose is called "Tidal" and looks like water (it's the design in the middle of the image below). I wanted something that would be unisex in case husband Ray wanted to borrow it but honestly, I was more drawn to the Bohemian pattern which reminded me of the colourful mosaic tiles found in Turkey. This being said I'm still very happy with the pretty shades of blue and white of this beach towel.
The reverse side of all the towel designs is a black and white geometric pattern. So, in hindsight, I could have ordered something flashy and Ray could have just flipped it over!
What Sizes do the Sand Free Beach Towels Come In?
Tesalate towels are available in two sizes; Single and Towel for Two. They are super absorbent with the ability to hold the equivalent of 2 litres of water. The towel also includes a nylon carrying bag to ensure everything in your beach bag remains dry.
Single size towel is perfect for yoga and lounging by the pool – 160cm x 80cm (63 x 31 inches)
Double Towel for Two works great on the beach or for picnicking in the park – 160cm x 160cm (63 x 63 inches)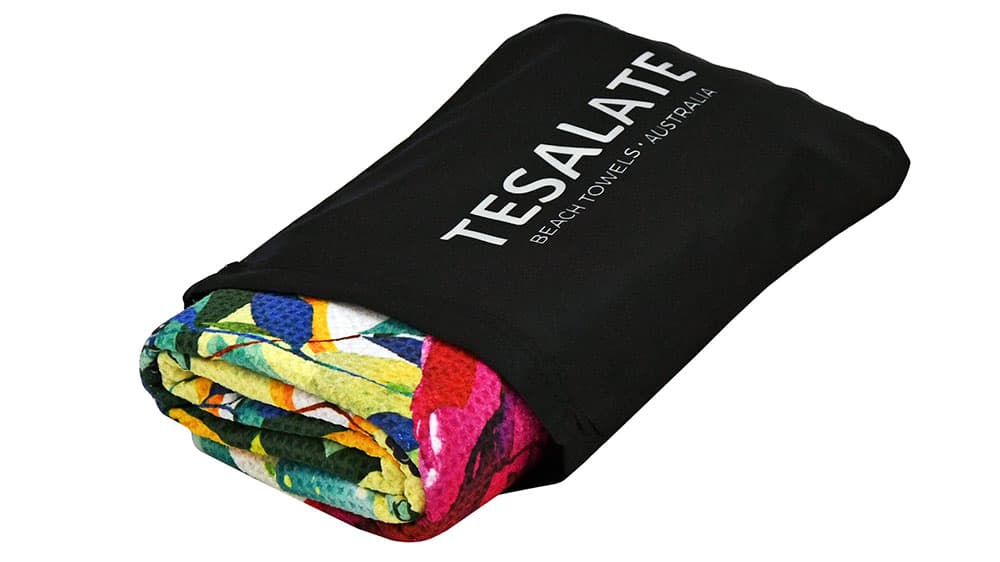 Why Travel with this Quick-Dry Towel?
The Single size, lightweight (approx 500 grams) and the compact Tesalate Towel is ideal for travel.
Use it for the beach, pool or even as a yoga mat or picnic blanket. Its versatility makes it perfect for stashing in your carry-on to use as an extra layer in-flight when temperatures fluctuate on the plane. Since it is "quick dry", meaning it dries in half the time of a regular cotton beach towel, the Tesalate Towel will have you ready for your next travel adventure in no time at all.
What are Tesalate towels made of
Made from an exclusive Absorblite™ fabric, the patented, 80% polyester and 20% polyamide microfiber fabric has a smooth feel. This unique fabric is what makes the beach towel completely sand-free.
How to wash Tesalate Towels
The Tesalate travel towel is machine washable and comes with a lifetime guarantee.
Where to buy Tesalate Towels?
You can purchase the travel beach towel direct on their website at tesalate.com. They include free shipping as well as a no-hassle return policy which also includes free returns or exchanges.
Quick Tip: Be aware there are lots of imitation towels on Amazon that look similar to the Tesalate Beach Towel. Ensure you are purchasing the real deal!
Tesalate Towels are a reversible sand-free option that deserves a place on your travel essentials packing list. The Tesalate Towel is a smart investment you'll reach for time and time again.
We hope you enjoyed this Tesalate Beach Towel review. Let us know if you've tried this product we'd love to hear you thought about it.
Check out some of our favourite beach destinations on Calculated Traveller:
I was provided with a Tesalalte Beach Towel for review purposes. I did not receive financial compensation for this review. Calculated Traveller maintains full editorial control of all content published on this site.