My recent stay in Atlanta was just too fantastic to cover in one post, so I had to write another. This article is all about the best of the rest. It includes my recommendations on where to eat, things to do, and unique experiences in Atlanta, Georgia. If you're looking for advice on the best attractions, check out my other article, Things to See and Do in Atlanta, Georgia, in 5 days.
Where to Eat in Atlanta, Georgia
We can't talk about Atlanta without mentioning the food. The culinary experiences here are as diverse as they are delicious. And Atlanta isn't afraid of a little fusion. There are restaurants that specialize in everything from international fare to backyard BBQ. Here are a few restaurants that I won't soon forget.
Fox Bros Bar-B-Q
If you're craving authentic Southern BBQ, stop in at Fox Bros Bar-B-Q. This is the real-deal Texas-style BBQ. Although known for its succulent brisket, Fox Bros' menu has all the options you'd expect at a Southern BBQ, including wings, pulled pork, mac and cheese, and more. I can personally vouch for the ribs and smoked chicken. Delicious!
Every table is outfitted with BBQ sauces and hot sauce. Don't be afraid to use them. We dipped into some authentic Frito pie, which came in the actual Fritos bag. My born-and-raised-in-Texas travelling companion assured me this was a Southern staple. It was new for me and it was good. I also tried deep-fried pickles. If you like pickles, you'll love them deep-fried.
The atmosphere at Fox Bros Bar-B-Q was warm, rustic, and casual. Servings are ample, so bring your appetite.
Twisted Soul Cookhouse and Pours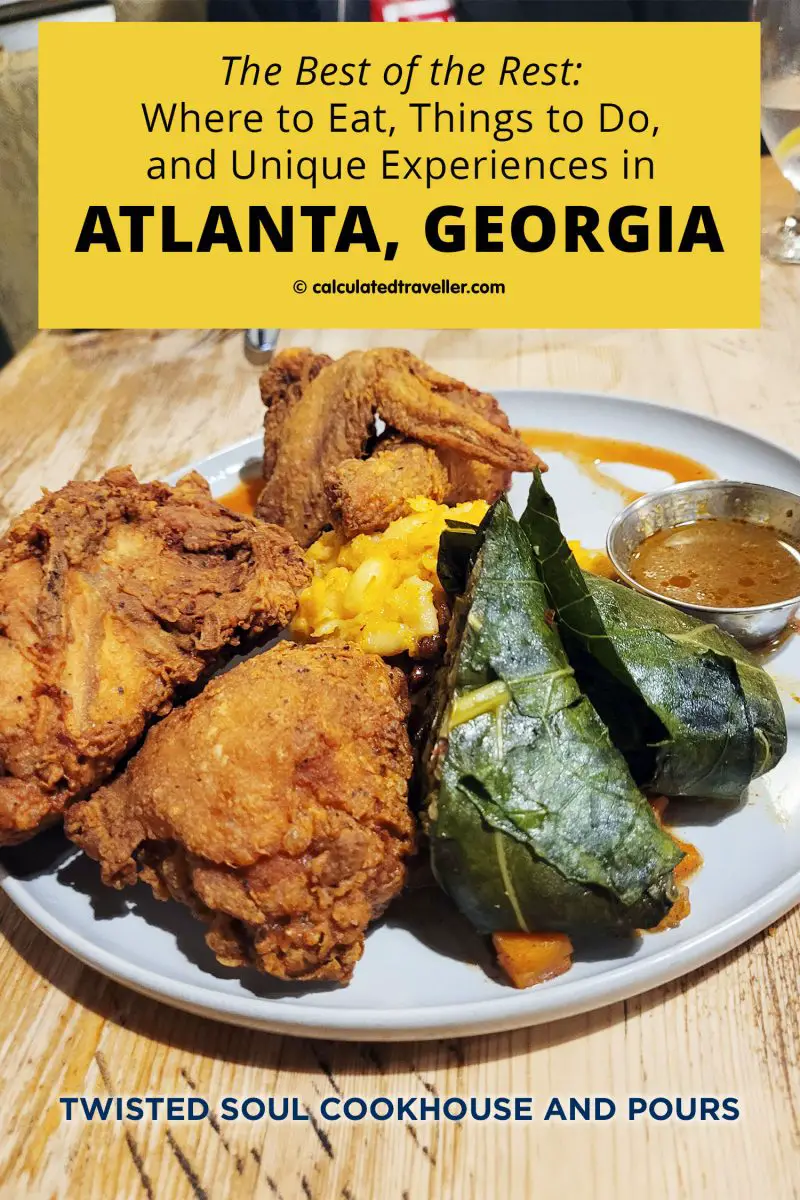 We took it up a notch on our second night in Atlanta when we dined at Twisted Soul Cookhouse and Pours. At this award-winning restaurant, Chef Deborah VanTrece intersects Southern cooking with international flavours. You will be delighted with the menu's eclectic yet familiar food options. 
Our night started on the right note with the breadbasket service, which comprised Sweet Potato Biscuits, and Southern-style Cornbread with Honey Butter that was to die for. We also made quick work of the Apricot Cilantro Chilli Salmon Rolls with Paprika Miso Aioli.
Being from the Caribbean, I had to try the Hoisin Glazed Oxtails with Vegetable Basmati Rice and Garlic Ginger Bok Choy for my entrée. It was everything I hoped it would be. The oxtail was soft and succulent and satisfied the island girl in me. But the Southern Marinated Fried Chicken is the restaurant's claim to fame and was a favourite around the table. Twisted Soul Cookhouse is a wonderful spot to celebrate good friends and good food.
Six-Feet-Under Pub & Fish House
If you visit historic Oakland Cemetery, make a pit-stop for some classic down-home cooking at Six-Feet-Under, located across the street from the cemetery, hence the name.
This unassuming pub house is far from ordinary. Menu items like shrimp and grits, gator bites, snow crab boil, and blackened catfish make this a standout restaurant and the optimal setting to try some Southern staples. 
If you've never tried fried green tomatoes, I highly recommend them here. A little tangy, a little sweet, a lot delicious. I could eat a plateful. But I had to save room for my combo taco platter—grilled catfish, blackened shrimp, and fried chicken with salsa verde. The perfect afternoon fare.
South City Kitchen
For our last night, we dined at the upscale South City Kitchen, where contemporary southern cooking is always on the menu. 
After my evening at the Twisted Soul Cookhouse, I didn't think it was possible to fall in love with another cornbread dish. But the corn muffins and biscuits with whipped butter at South City Kitchen proved you can have more than one love.
For my dinner, I opted for the Springer Mountain Farms Fried Chicken with collard greens and mashed potatoes. I couldn't leave the South without trying some fried chicken, and I'm glad I saved it for the last night; it was worth it.
But my Southern companions agreed, hands down, that the shrimp and grits here were as good as it gets. I was lucky to snag a sample from a friend, and yes, it's everything they say it is.
Things to Do in Atlanta, Georgia
A great way to get familiar with any city is to take a tour. In Atlanta, you can have your pick. There are walking tours, bus tours, filming locations tours, food tours, and so much more. Here's a few tours that I highly recommend.
Car Tours, Food Tours, and Walking Tours in Atlanta, Georgia
Car tour
If you want to see more of downtown Atlanta but with a historical twist, book a spot on one of ATL-Cruzers electric car tours.  
You'll cruise down some of Atlanta's most famous streets, like Auburn Avenue and Peachtree Street, and pass by buildings and structures that have become synonymous with Atlanta. You'll be awed by the beauty and preservation of some of Atlanta's oldest and most unique houses. Our driver, Mira, was a wealth of knowledge on Atlanta's historical, cultural and social past.
The electric cars are comfortable and spacious and run all year round, rain or shine. This tour is sure to please every traveller.  
Food tour
Feeling hungry? Head to Ponce City Market for a food tour with Food Tours Atlanta. On this tour, you'll eat delicious food samples, explore the Ponce City Market site, and learn about the history of the building. It's hard to believe that Ponce City Market once served as a retail and warehouse distribution center for Sears. This sprawling building now houses a food market, a variety of retail stores, residential apartments, office spaces and more.
Ponce, as it's often called, is located along the BeltLine in the Old Fourth Ward district, only a few minutes from downtown Atlanta.
Foodies will delight in all the food choices at the market. On this tour, you'll be treated to some of the best restaurants in Ponce, including some James Beard Award-winning ones. My personal favourite was Botiwalla, serving mouth-watering Indian food. 
By the end of the tour, you'll be wondering how to fit in the dessert samples. But I think you'll find a way.
Walking tour
Personally, I love a walking tour. And the Unexpected Atlanta MLK Jr. History Tour was top-notch. Joy, our tour guide for this 2.5-hour, 2-mile walk, led us through the King Historic District Tour to learn how "Atlanta changed the world."
On this walk, we visited Martin Luther King, Jr.'s birthplace, the King Center, Ebenezer Baptist Church, and many more historical sites. We learned details of King's story that will surprise, educate, and enlighten you. 
There was so much to love about this tour; it's hard to pinpoint one thing. But if I had to choose, it would be the visit to the King Center. At the center, authentic, not replica, Martin Luther King, Jr. memorabilia is on display, including his Nobel Peace Prize. Also, top of my list is the King Center eternal flame and the reflecting pool where King and his wife, Coretta, lay entombed.
Unique Experiences in Atlanta, Georgia
Illuminarium Atlanta
Illuminarium Atlanta has various immersive exhibits that showcase the most awe-inspiring technological advancements. We were there to experience the popular O'KEEFE After Dark show.
Comfortable plush seating, mellow music, and a relaxed atmosphere set the stage as Georgia O'Keefe's most beloved paintings of flowers and landscapes danced before our eyes. This one-of-a-kind experience was relaxing, entrancing, and awe-inspiring. 
Historic Oakland Cemetery
Touring cemeteries isn't for everyone, but if you enjoy the serene surroundings only a cemetery can provide, you won't want to miss Historic Oakland Cemetery. 
This beautiful cemetery is renowned for its gardens, architecture and landscape, with many sections that have changed and developed over the years. 
The cemetery is also home to some of Atlanta's most beloved personalities, including famed Gone with the Wind writer Margaret Mitchell, singer Kenny Rogers, golf legend Bobby Jones, and Maynard Jackson, Atlanta's first African-American Mayor.
Atlanta BeltLine
Once a former railway line, the Atlanta Beltline has grown to become Atlanta's pride and joy. These 22 acres of outdoor space loop around the city and include walkways, parks, and trails. And all around it, thriving businesses and residences have developed. 
The belt line is busy; expect to see many people enjoying this great outdoor space. Watch for e-bikes, scooters, joggers, and cyclists. But also keep your eye out for the murals, street art, pop-up performances and more that are as integral to the BeltLline as the people. A part of Atlanta's local history everyone should see.
Travel Wisely in Atlanta, Georgia
Wondering where to stay? Downtown Atlanta is ideal, especially if you want to visit top attractions such as the Georgia Aquarium, The World of Coca-Cola, the National Center for Civil and Human Rights, and more. 
We stayed at the charming Glenn Hotel on Marietta St. It was the perfect home base for our five adventure-filled days in Atlanta. 
After a long, busy day of touring the city, I couldn't wait to return to my comfortable, modern, and spacious room. And if you want to cap off your night with a drink and admire the Atlanta skyline, you don't have to look far. The Sky Lounge bar, on the hotel's rooftop, provides a breathtaking, panoramic view of the city. 
And my final tip? Don't forget to purchase Atlanta CityPASS® tickets so you can make the most of your visit.
Atlanta CityPASS® Includes:
Georgia Aquarium
World of Coca-Cola
Zoo Atlanta

Plus your choice of admission to 2 of the following attractions:
Fernbank Museum of Natural History
Chick-fil-A College Football Hall of Fame
National Center for Civil and Human Rights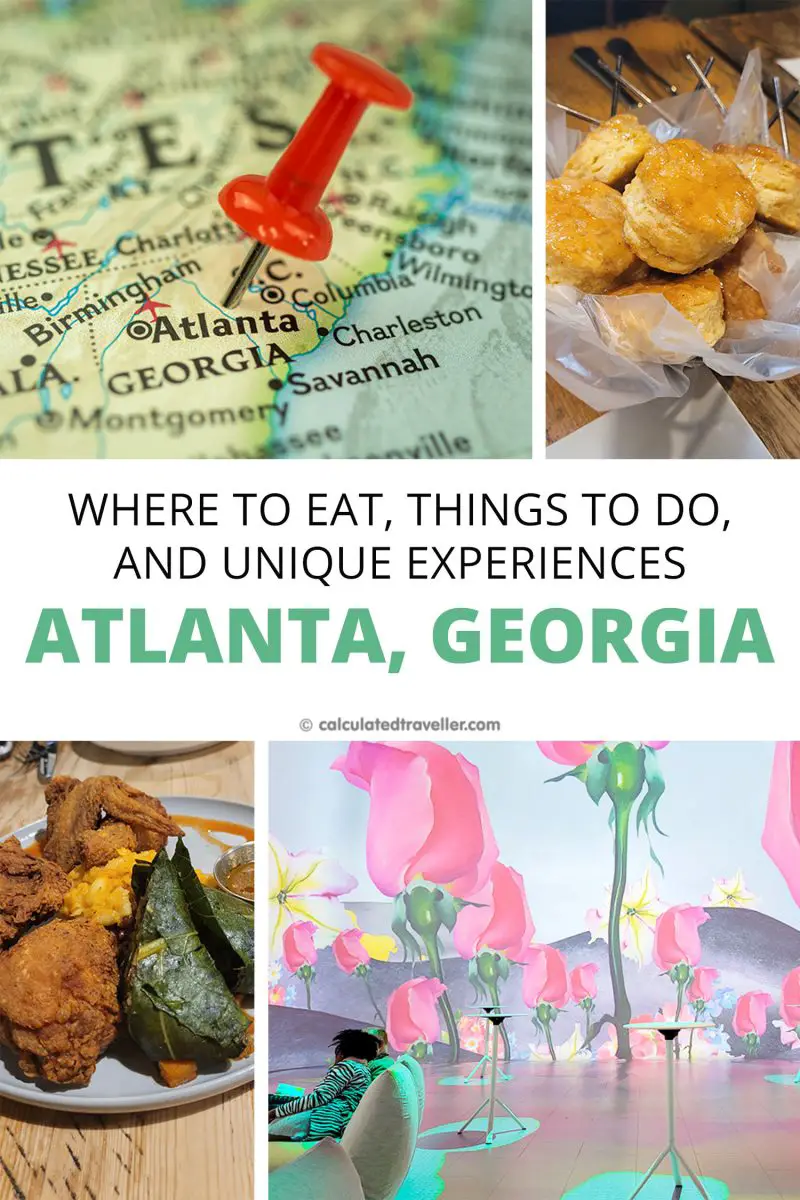 There you have it. The best of my Atlanta recommendations in two posts. If Atlanta, Georgia, wasn't on your list of must-see places, consider adding it now. It truly has so much to offer. Whether you're a solo traveller, have the family in tow, or want a fun getaway with friends, Atlanta is always the right choice.
Travel assistance provided by CityPASS® and Discover Atlanta. All opinions are entirely my own.