I've been to many barbecue restaurants before, but I've never been to one like Cooper's Old Time Pit Bar-B-Que in Fort Worth Texas.
It's not your average barbecue joint. It's a famous Zagat rated barbecue joint, and it's been serving patrons since 1953. At 26,000 square feet including an outdoor patio, it's located at the historic Stockyards and across the street from the world's largest honky-tonk, Billy Bob's Texas.
Marvin and Zagat Reviewed
The first sign that this was going to be an interesting experience was on the drive over to the restaurant. Our driver Marvin, a happy Southern man in an elegant black suit, red tie, matching pocket square and smashing fedora, knew his way around Dallas / Fort Worth and seemed to know a lot about good eats based on all his recommendations.
When asked if the barbecue was any good Marvin replied:
"Shiiiiiiiiiieeeet, It's so good you'll wanna slap your mama!
We instantly burst out laughing — that's a response I definitely was not expecting!
I assume he meant this as a good thing, not a bad thing!
Second sign (literally) that Cooper's Old Time Pit Bar-B-Que was going to be different from anything I've ever experienced was this sign on first entering the door.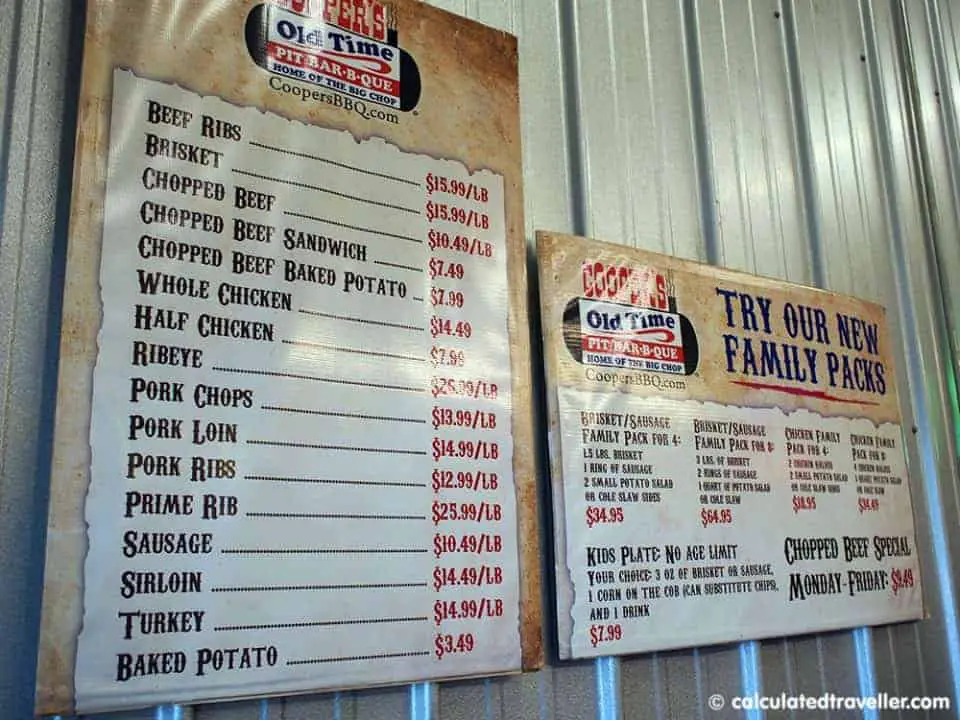 Barbecue By the Pound?
I've never paid for my cooked barbecue by the pound before.
My first thoughts were that I'd have to do the math. But I threw caution to the wind and decided to just go with it (not too calculated for this calculated traveller I know). Was this a smart move? Read on…
The Heavenly Pit
If you know barbecue, you've heard the term "pit" before. According to the dictionary, a barbecue pit is "a trench in which wood is burned to make a bed of hot coals over which meat is barbecued".
There wasn't an actual pit, but there was a warming oven — a very unassuming warming oven that looked just like a huge chest freezer.
Once we approached and the server opened the lid it was as if the heavens had opened up!
Barbecue heaven now lay before me, and a choir of angels started to sing!
Beef ribs, pork ribs, sausage, turkey, chicken, prime rib, brisket, pulled pork….my mind was reeling, my mouth was watering, and I just stared bug-eyed…
A cafeteria tray with waxed paper was pulled out as the server waited for my order. The person next in line nudged me and brought me back to the present.
I stammered and stuttered as I ordered an inch of this, a piece of this and a slice of that.
The entire image of the price per pound sign completely erased from my mind.
I was in barbecue pit paradise with not a care in the world.
With my tray full, I rolled it along to the other stations; salads, sides, desserts and then continued to the "weighing station".
I reluctantly loosened my iron grip on my tray and handed it to the staff to weigh its contents (AKA "my precious").
It was returned to me all wrapped in butcher paper with price stickers.
Yikes!
We proceeded to get our drinks, and pay and went to sit on one of the picnic benches to unwrap my barbecue present and dig in.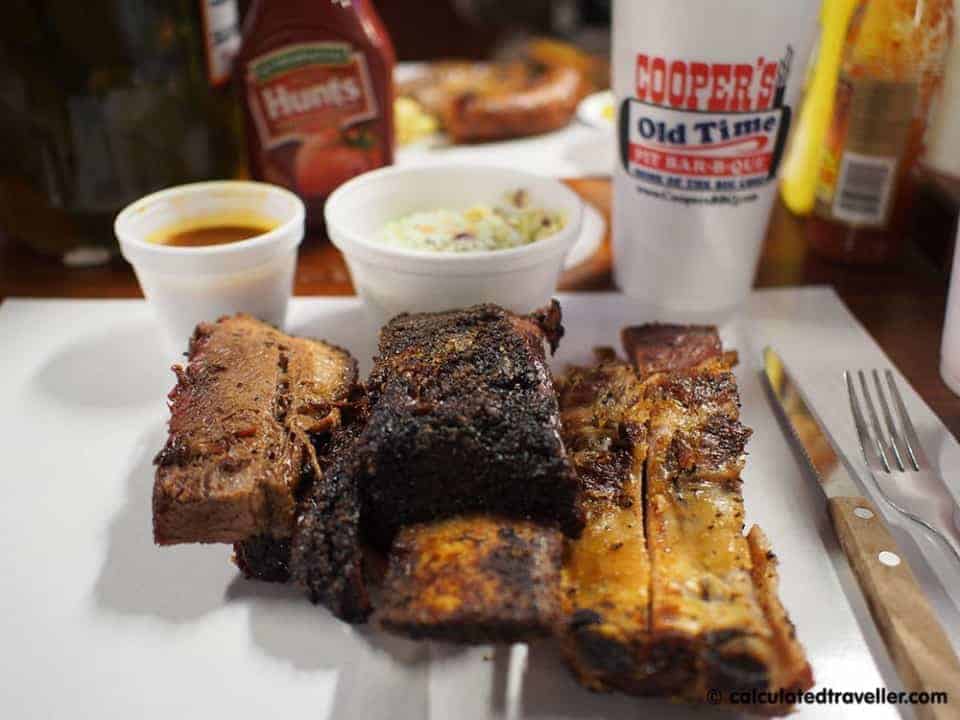 The pork ribs were a disappointment to me as I found them dry.
The beef rib was excellent — tender, full of flavour — I'll absolutely order this again.
The beef brisket was outstanding — tender, full of flavour, and the bark was fabulous with a beautiful smoke ring but a bit salty for my taste.
The sausage I stole from a friend's tray (not in the photograph) was excellent — smokey, full of flavour, nicely spiced, very meaty and not fatty… I wish I had ordered my own.
Was it worth the price per pound?
Hells ya! I'd go back in an instant, show some restraint and just order the beef rib or brisket and save room for some pecan cobbler.
BUT, I won't be slapping my mama – that just sounds mean….
Tips:
Watch your budget. Resistance is futile I know but your bill sure adds up quickly.
Check the Cooper's website for daily specials
Pickles, sauce and bread are free.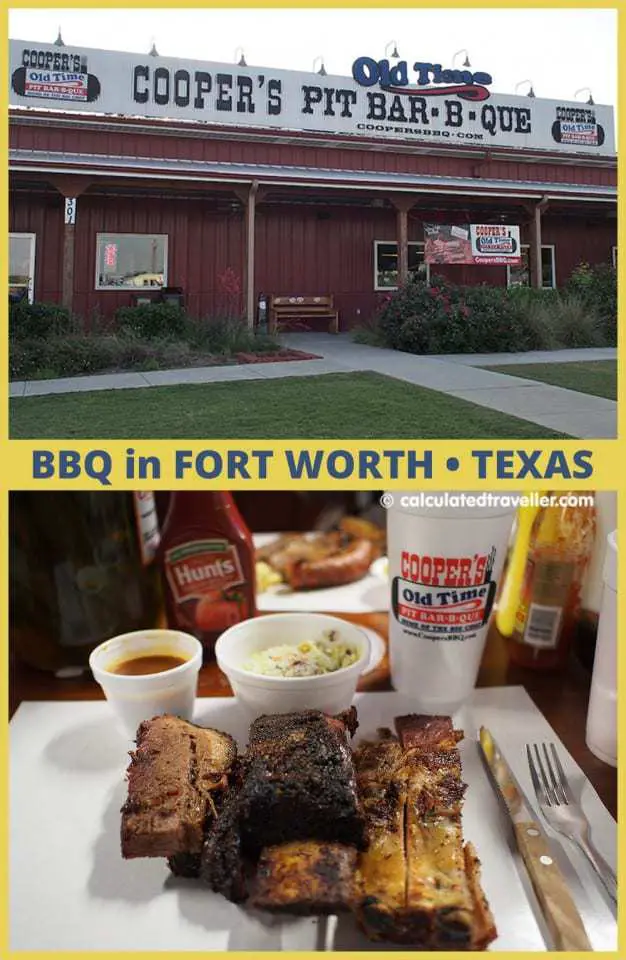 Cooper's Old Time Pit Bar-B-Que
301 Stockyards Blvd, Fort Worth, Texas, 76164
Sunday through Thursday: 11:00am – 8:30pm
Friday & Saturday: 11:00am – 9:30pm
 
Travel assistance was provided by Texas Tourism. This had no bearing on my review of this item. As always, all my opinions are my own.
 
Have you been to Cooper's Old Time Pit Bar-B-Que before? What's your favourite thing on the menu?
For more Fort Worth articles, read:
– Fort Worth Water Gardens, Fort Worth Texas
– Search Art and Architecture of the Kimbell Art Museum Fort Worth Tx
– Review: Sheraton Fort Worth Hotel and Spa Texas