If you've never been on a cruise before, the pure act of taking a cruise holiday is a first-time experience, but the "firsts" don't stop once you board the ship!
The new experiences keep on coming if you let them.
Apprehensive about taking a cruise? Check out our article with 19 Reasons Why You Shouldn't Cruise (but we hope you will)
Try Some New Foods
Have you ever been to a restaurant and see something "different" on the menu that you want to try but aren't sure if you will like it or not? Sometimes, you don't want to take the chance and have to pay money for something that you didn't like or eat.
On a cruise ship take that opportunity to try something new. With all-inclusive dining, you can take the chance on that new dish and if you don't like it – no harm – just order something else.

Also, if you really do love something order a second order. Many first time cruisers are shy and bashful but your waiter won't mind and will encourage it. Same holds true if you can't decide between the fish or the chicken – order both and share the extra plate with your table mates.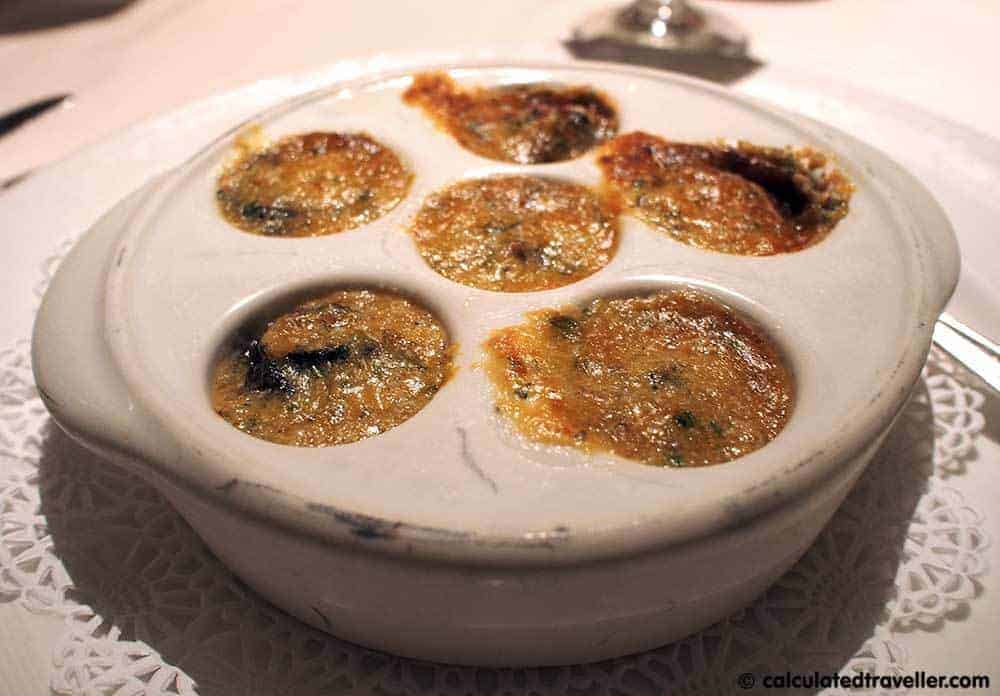 I've tried many dishes for the first time on cruise ships, some dishes I liked and some I didn't like:
Escargot – love them
Caviar – not so much
Oysters Rockefeller – love it
Raw oysters on the half shell – gross
You get the picture. Give your taste buds something new to try for the first time.
A cruise holiday is also an excellent opportunity to introduce new foods and cultures to your kids. Trying something new can be part of the adventure for kids when you make a game out of it.
Looking for some cruise ship food photos? Check out these articles:
– 5 Days 5 Dinners – Caribbean Princess Dining Review
– 7 Divine Dinners. An MSC Divina Food Review & Photo Essay
– Cruise Ship Dining on Holland America Line Nieuw Statendam
– MSC Meraviglia Dining Cruise Ship Photo Essay

Teach an Old Sea Dog Some New Sea Tricks
Days at sea are the perfect time to learn something new for the first time especially if you've had enough of the Caribbean sun up on deck. Most people are surprised to hear that I go on vacation and learn something and the bonus was that my classes were free!
Fruit and vegetable carving, towel folding, napkin folding, etiquette classes are a little "old school", but after all these years I can still fold a napkin into a hat!
Art Auctions happen on every cruise and not only do you get to taste some free champagne and watch people bid on some of the pieces of art, but you also gain information on the history of art, paint techniques and printing processes. Many years ago on board one of my first Princess Cruises sailings, I was lucky enough to win a free painting!
I've also (attempted) ballroom dancing, country line dancing, and cooking. I've even seen photography, computer, Italian, French and Spanish language classes onboard cruise ships.
The list goes on and on, and after trying something new on a cruise ship, you may just get hooked and wish to master those skills and sign up for more lessons when you get home.
Get Entertained for the First-Time
Ever been to the Opera?
Or the Blue Man Group?
How about a Beatles Tribute Band?
Or an Ice Skating Show?
It's funny, but when I'm at home, I rarely go to theatrical performances. The reason being is that they are usually expensive especially when you add in the extra cost of the pre-show dinner! We save all our "entertainment" funds for our cruise holiday where these performances are all included in the nightly entertainment, and the bonus is that hubby doesn't complain at the price (or the subject matter).
Seeing the Opera for the first time while at sea onboard MSC Cruise Lines is an amazing memory that I will never forget. But, to think that my first opera performance ever was La Traviata – that's the icing on the cake!
Try Something New while Getting Physical
Strap on those skates and go ice-skating! For Canadians this is old news but have you done it on a cruise ship? For those that live in hot climates, now's your chance to try it for the first time!
Ever tried rock climbing? Yup you can do that on Royal Caribbean
Zumba, Yoga, Spinning, Pilates, Tai Chi, Meditation. There are fitness classes galore with no annual gym membership fee required.
As you can see, a cruise holiday can be so much more than just sailing the high seas. It can be an incredible eye-opening learning experience and a fabulous way to travel the world. So, get out there and get some "firsts" under your belt on a cruise and in no time, you'll be returning for seconds and thirds…

Once you start cruising, it will be hard to stop. We've sailed on Norwegian Cruise Line, Princess Cruises, MSC Cruises, Royal Caribbean Cruiseline, and Holland America Cruises to name but a few.

What "firsts" did you experience on your maiden voyage aboard a cruise ship? Comment below…
Check out the Cruise section of our website for more cruise tips, cabin reviews, port suggestions, and shore excursion articles.
– You've booked a cruise – Now What?
– MSC Meraviglia Dining Cruise Ship Photo Essay