Dining on the Caribbean Princess is just like dining on any other Princess Cruise Ship — the cuisine is consistently well presented and mouth-wateringly delicious.
I've sailed on about 12 Princess cruises and there are certain things that I've come to love and expect — perennial favourites that the Princess Cruises dining room always does SO well. Delicious dishes such as prime rib, lamb shank and lamb curry (served in the buffet no less!), soufflés and their signature Princess Dream Mousse.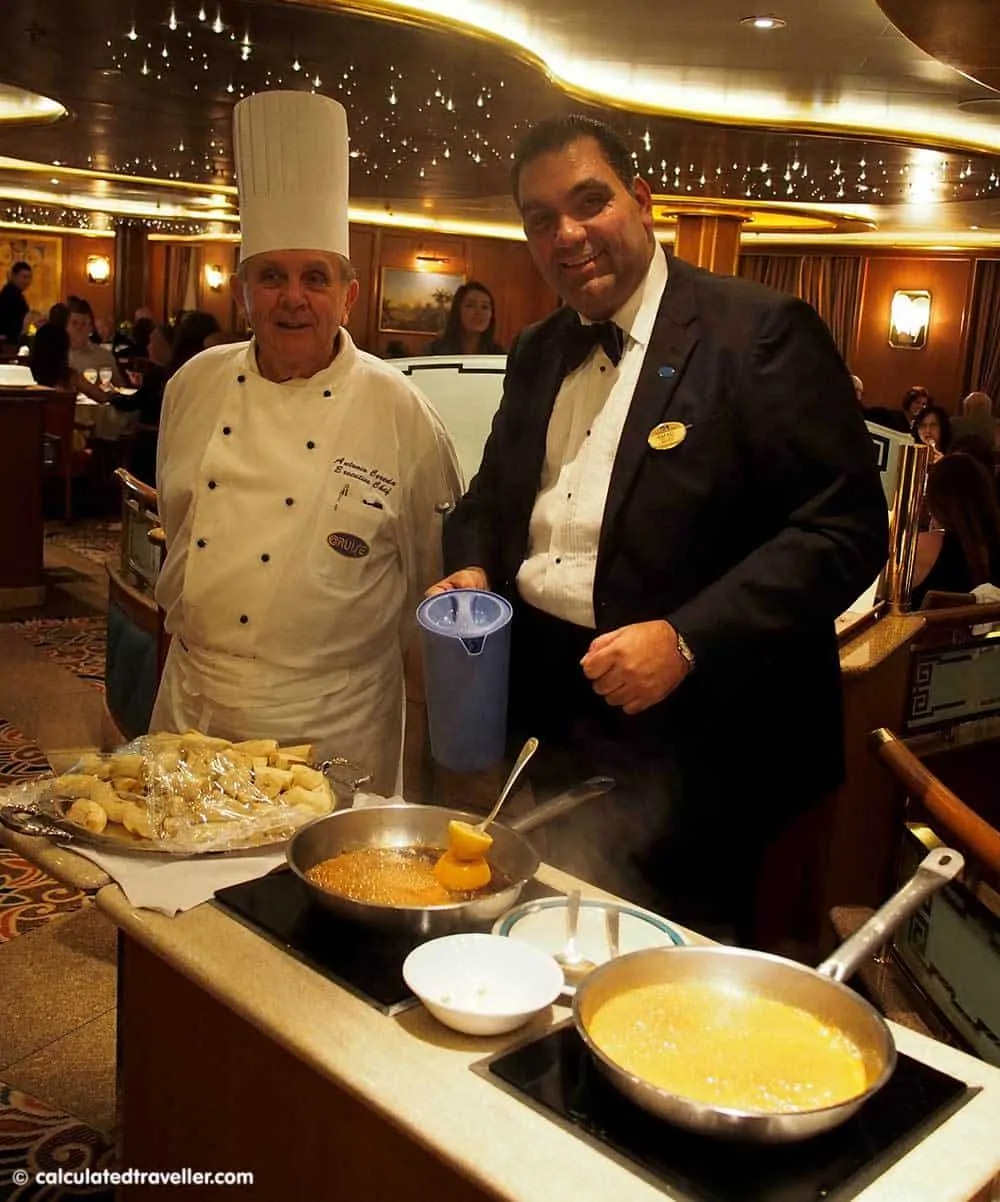 When you think about the fact that kitchen is preparing 3,000+ dinners a night, it's amazing that they perform as well as they do.
We were a group of 8 friends on this trip (with a 27-year history of laughter), so there was no bashfulness as we sat around the dining table. We ordered multiple appetisers, entreés, and desserts each. So, suffice it to say – there were a lot of dishes, and hence a lot of photos to share with you. I did get a chance to taste all of them and truly all are delicious… hence the reason we often cruise with Princess. Food is necessary, but great tasting food is essential.
Note: all these photos are from the Palm Dining Room.

Caribbean Princess Dining Day 1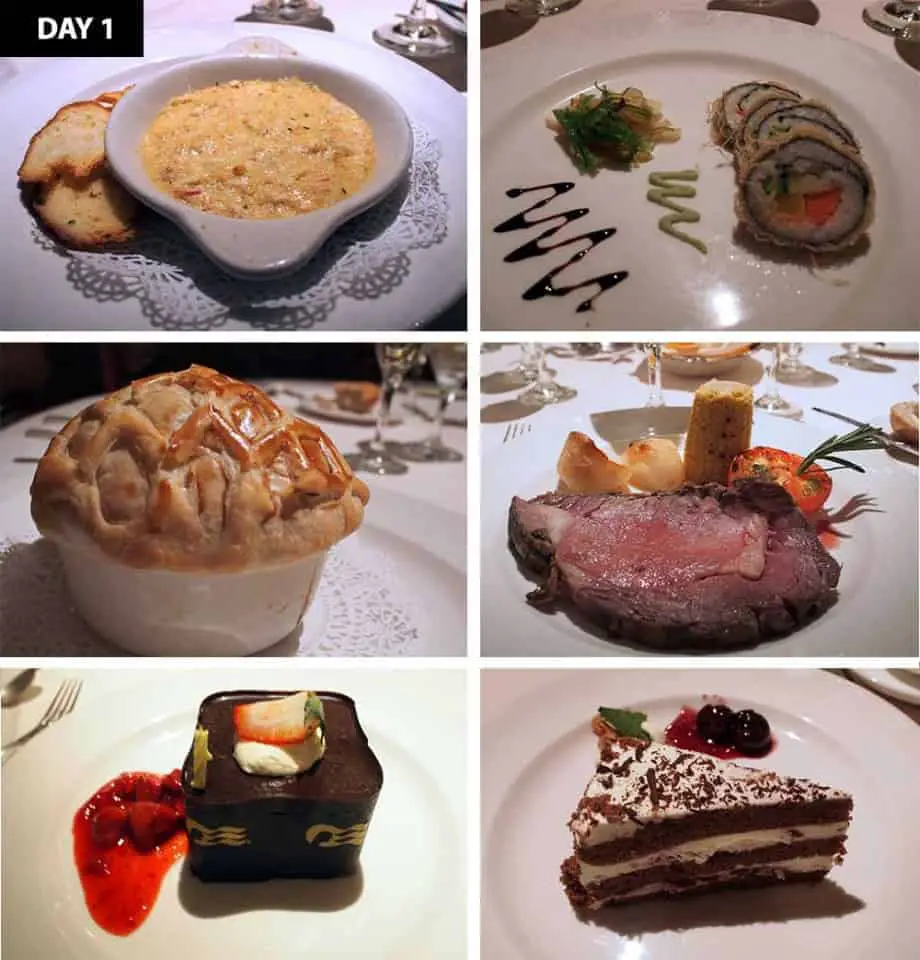 Warm Crab & Artichoke Dip with Baguette Chips seasoned with old bay spice and Dijon mustard
Deep Fried Sushi with Bacardi Wasabi Emulsion and Kimchi
Cajun-Spiced Crawfish Crockpot (black mussels, bay scallops, shrimp and tomatoes baked in puff pastry, creole rice)
Slow-Roasted Corn-Fed Prime Rib with Natural Rosemary Jus and Horseradish Cream
Princess Celebration Cake — served when you have notified staff of a celebration
Black Forest Cake with Sour Cherries and Kirschwasser
Caribbean Princess Dining Day 2 – Breakfast
Smoked Salmon
Eggs Benedict
Caribbean Princess Dining Day 2
Dry-Cured Parma Ham with sweet cantaloupe melon
Surf & Turf (beef filet mignon and jumbo shrimp with jus reduction, béarnaise sauce, string beans, gratinated fennel and château potatoes)
Seared Diver Scallops in Three Citrus Nage (freshly squeezed lemon, lime & orange juice reduced with white wine and bound with butter, warm vegetable juliennes and red bliss potatoes)
Skillet-Fried Orange Rough with Tomato & Caper Dressing on potato, green bean Bermuda onion and black olive hash
Beer-Braised Beef Pot Roast served with German-style red cabbage and creamy whipped potatoes
French Vanilla Bean Crème Brulée sugar cane cruise, lemon madeleines
Chocolate Lovers Delight (dark chocolate truffle mousse, tiny gateaux opera velvet, chocolate brownie)
Caribbean Princess Dining Day 3
Honey and Rum Roasted Big Island Pineapple (strawberry-coconut relish with candied ginger chili flakes and citrus zest
Rosemary Rubbed Roast Leg of Lamb with Mint Jelly
Red Wine Braised Beef Short Ribs hearty vegetables and whipped potatoes
Pan-Fried Filet of Rockfish served over creamy potato and leak ragout, truffle oil
Meringue Pavlova with Custard Cream and Seasonal Fruit and Sumer Berry Sauce
Sugar-Free Mango Cheesecake
Caribbean Princess Dining Day 4
Pork Sparerib Marinated with Oyster Sauce over fried noodles, sticky rice croquette
Grilled Salmon with Herb and Lemon Compound Butter, Vegetables of the day and Parsley Potatoes
Grilled Seafood Skewer with Mango and Lime Salsa (combination of salmon, red snapper, shrimp, and sea scallops with bok choy and jasmine rice)
Slow-Braised Pork Belly with Oriental Sauce (soy-hoisin, five spice and citrus reduction served with green beans sliced shallots and smoky bacon)
Macadamia & Panko Crusted Mahi Mahi with Crab Bisque served with sautéed shiitake mushrooms, sweet red bell peppers and toasted sesame seeds
Warm Passion Fruit Soufflé with vanilla custard
Traditional New York Cheesecake with macerated strawberries
Caribbean Princess Dining Day 5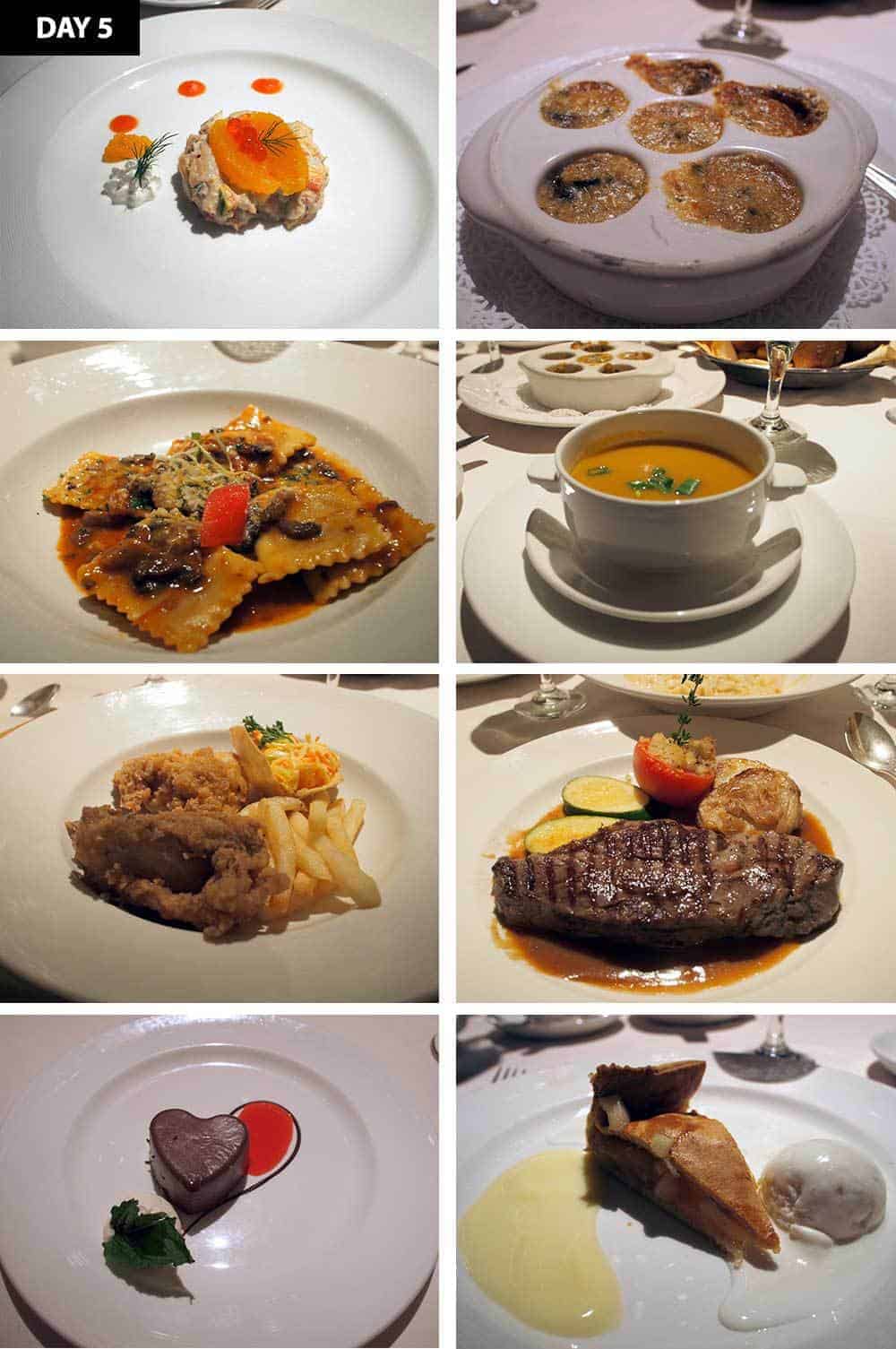 Tian of Crab, Scallop and Shrimp (poached seafood layers with duo of caviar and papaya dressing)
Escargot Bourguignon with glazed shallots, parsley and garlic butter
Ravioli di Vitello in Salsa di Funghi Porchini (veal ravioli in creamy porcini mushroom sauce)
Lobster Bisque with Cognac Cream sweet potatoes, scallions and tomato
Crispy Southern Skillet Fried Chicken with Cole Slaw and French Fries
Grilled New York Cut Strip Steak with Green Peppercorn Sauce tomato provencale, sautéed zucchini and lyonnaise potatoes
Princess Love Boat Dream (rich chocolate mousse on brownie)
Deep Dish Apple Pie with Vanilla Sauce
And a behind the scenes look at the Caribbean Princess kitchen…

Princess Cruises is one of the cruise lines that offers a cooking demonstration and tour of the kitchen. If you fancy yourself a chef, take this opportunity to buy a copy of the Princess Cruise Cookbook. You may just be able to get the Chef to autograph it for you!
Read our ship review: Princess Cruises — A Caribbean Princess Review
Have you sailed on the Caribbean Princess before? We'd love to hear what you thought about it…
For more cruise ship dining reviews check out:
– Cruise Ship Specialty Dining – Caribbean Princess Crown Grill
– MSC Divina Cruise Ship Dining Review – An Update