Say the word "cruise", and I don't think of the islands, I immediately think of what I ate!
Food always brings back memories for me – the taste, the smell, the styling of the plate, the company with whom I dined. This obsession with food probably explains why I always take so many photos of my meals (yes I'm one of THOSE people).
I thought I'd share just what hubby and I ate as we sailed through the Caribbean on a 7-day sailing aboard the MSC Divina cruise ship. Just a note but I didn't photograph everything I ate! These are just the highlights.
NOTE: This post is from 2014. I sailed on MSC Divina again on Dec 19, 2015, and have written an updated MSC Divina food review. But as a word of caution things have changed dramatically in my opinion.
Read: MSC Divina Cruise Ship Dining Review – An Update

MSC Divina Day 1

Angus Beef Steak (Black Angus top sirloin grilled to order, with Béarnaise or green peppercorn sauce, baked potato and grilled tomato)
Herbed Rack of Lamb (served with oven-roasted red bliss potato wedges, tomatoes, bell peppers and zucchini sautéed with olive oil)
MSC Divina Day 2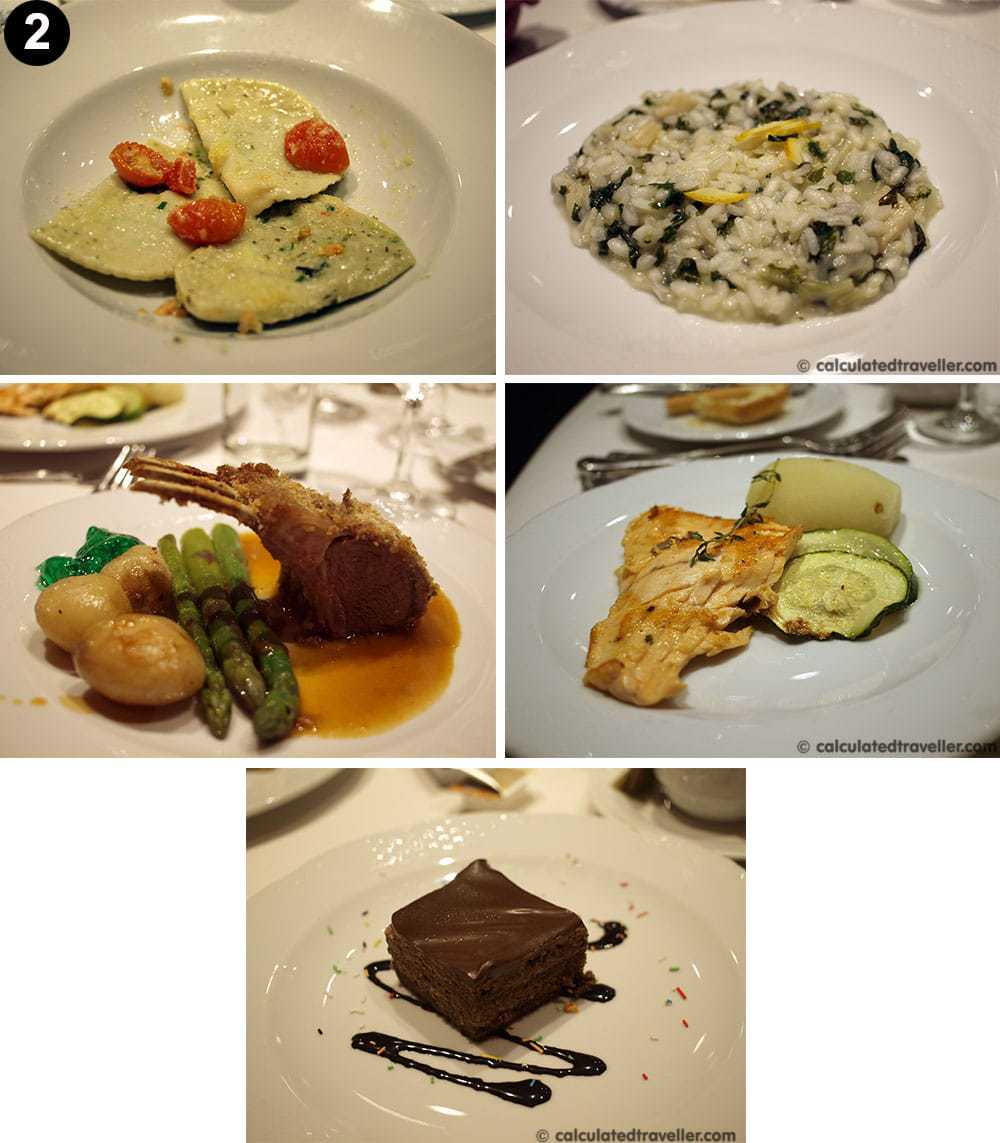 Ravioli di Zucca (stuffed with pumpkin, candied fruit and amaretti sautéed in brown butter, sage and Parmesan) I'm not going to lie, everyone at the table had 2 servings)
Risotto ai Porcini (Arborio rice creamed with Parmesan cheese and flavoured with truffle oil)
Herbed Rack of Lamb (with potatoes and broiled asparagus)
Broiled Atlantic Salmon Filet (with boiled potato and zucchini)
MSC Divina Day 3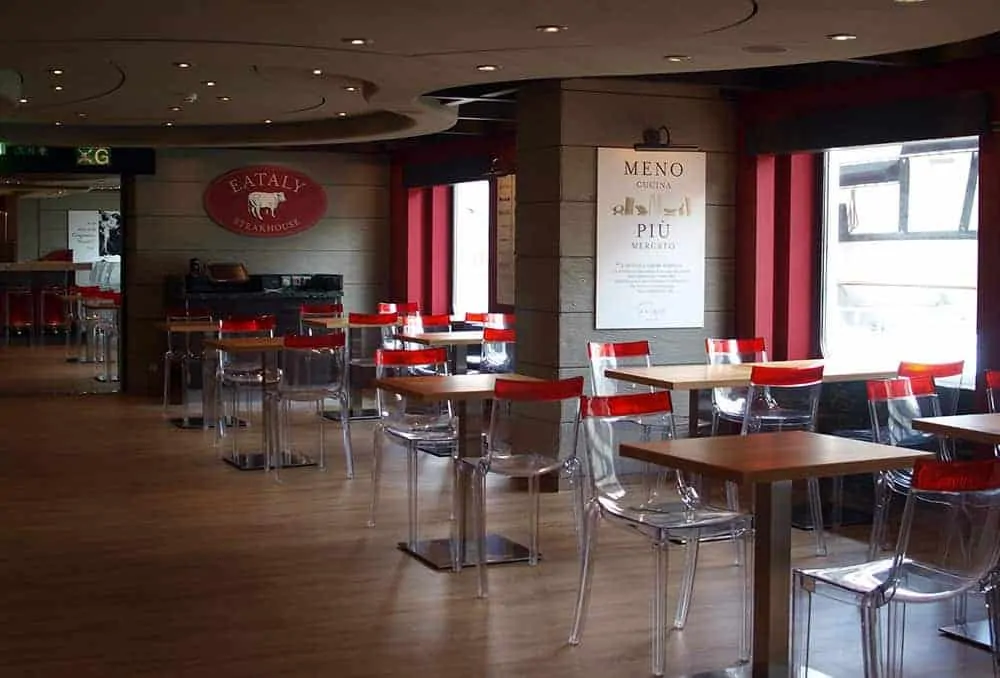 Eataly Steakhouse Specialty Restaurant
There are a few speciality dining areas on the ship. One of the popular MSC Divina restaurants is Eataly, created by the famous chefs Mario Batali, Lidia Bastianich and Joe Bastianich. Eataly is an Italian speciality supermarket and restaurant all in one. Similar in concept to the restaurant on land of the same name with locations in Italy, Japan, Dubai, Istanbul, Chicago and New York.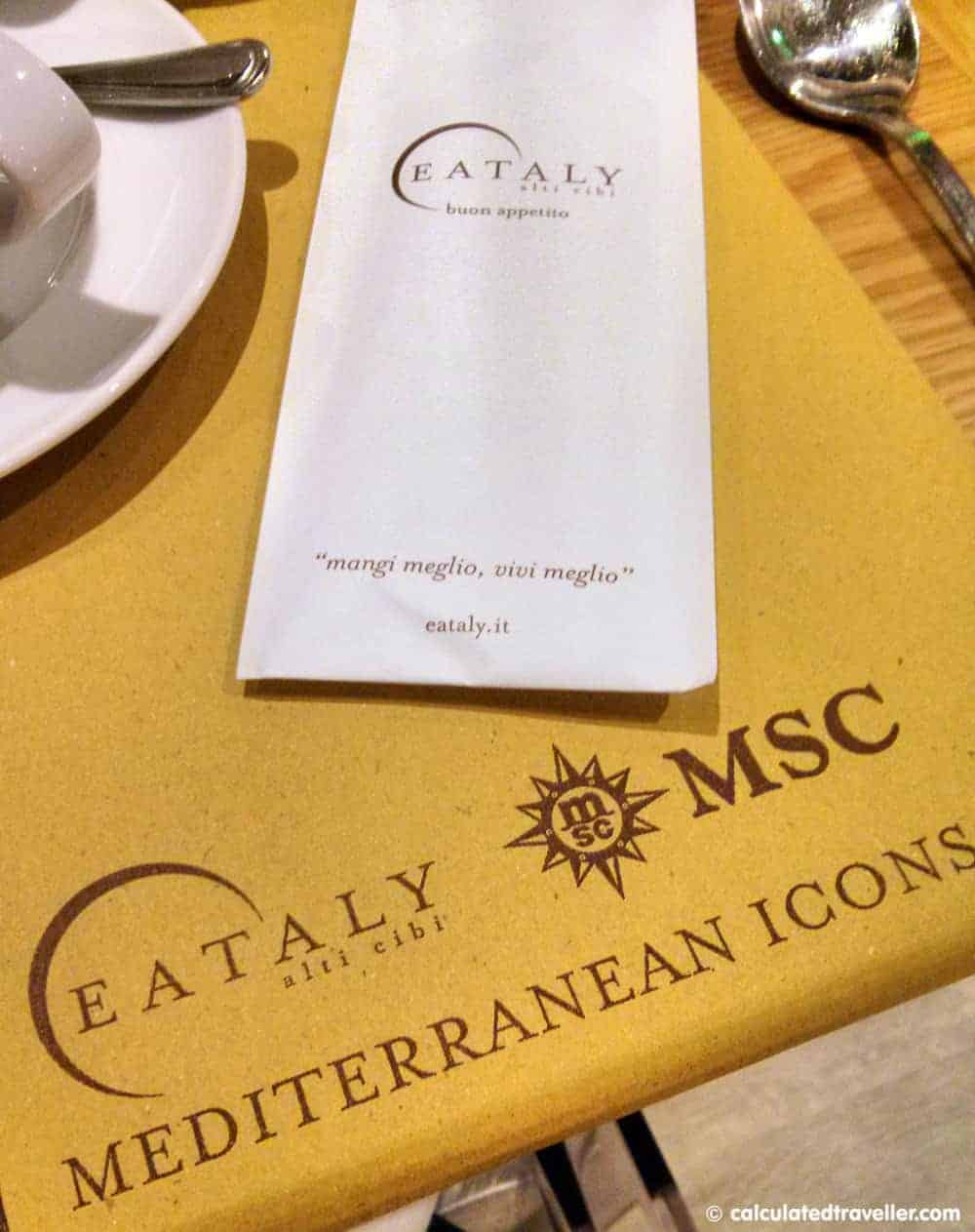 The atmosphere was relaxed and quite nice, with wood table tops covered in paper and clear acrylic chairs (which I found to be stylish but rickety and uncomfortable). The service was attentive yet relaxed, and not rushed, and we quite enjoyed our time dining and chatting with new friends, fellow blogger Holly of The Culture Tripper and her husband, Brian.
As expected the food is presented beautifully, I especially liked how the bread was served in little paper bags, but I was a bit surprised that the restaurant was à la carte as usually speciality restaurants on cruise ships are prix fix.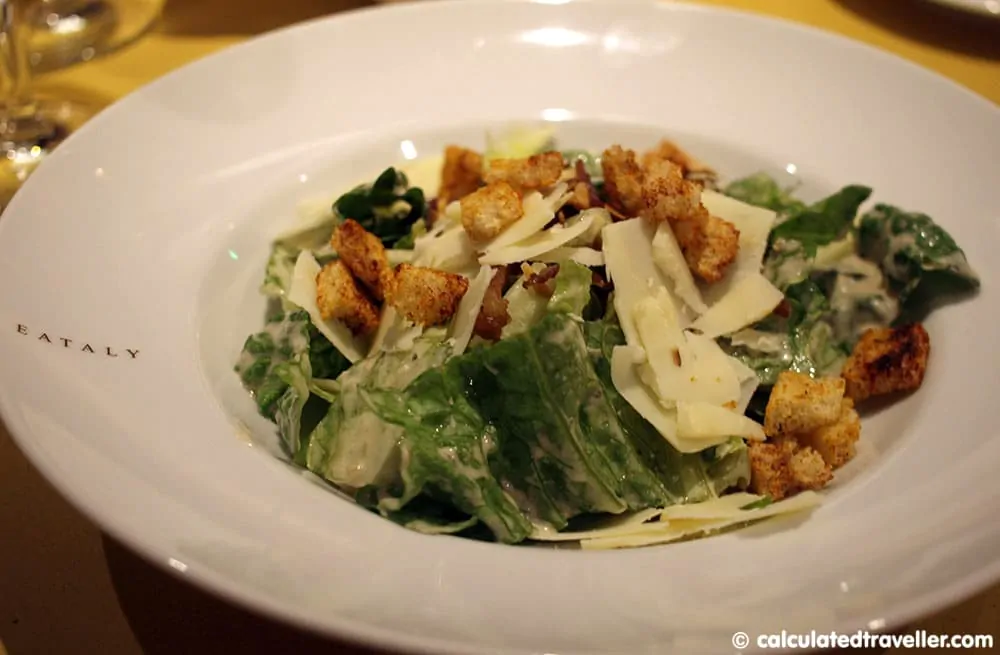 We dined on the following:
Caesar Salad ($8)
Rack of Lamb ($15)
8.5 ounce Sirloin Steak ($25)
Vegetable Side dishes ($3 each)
Bombolone (similar to a donut but filled with pastry cream)
Tip: As side dishes are separate don't do as we did and both order potatoes. The portion is large and you'd be better off ordering different items.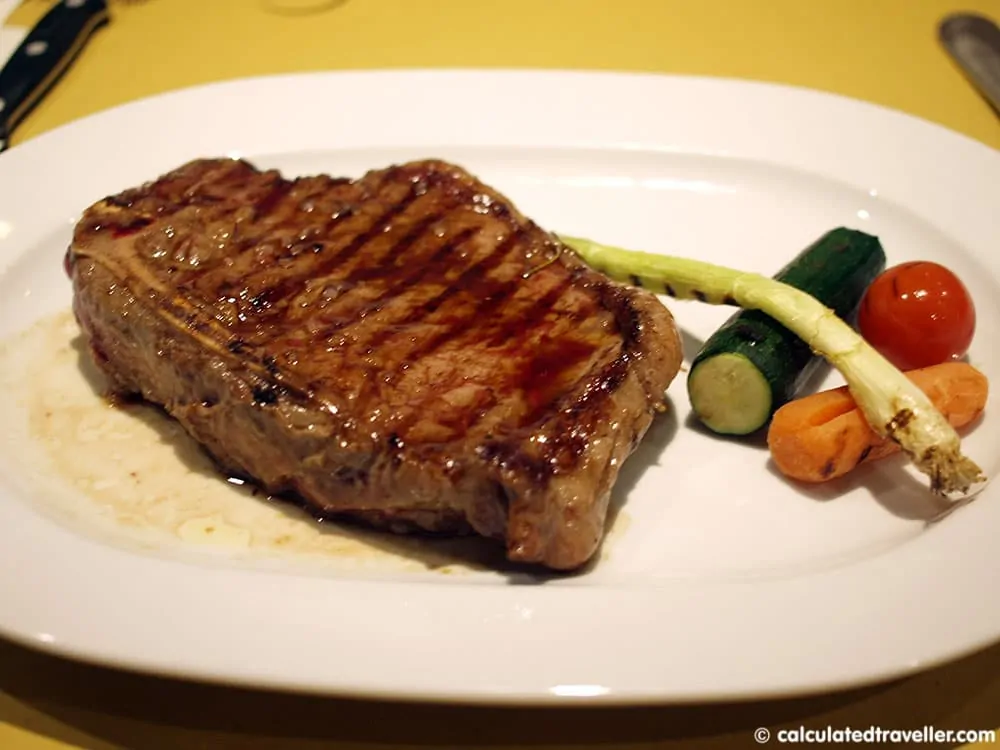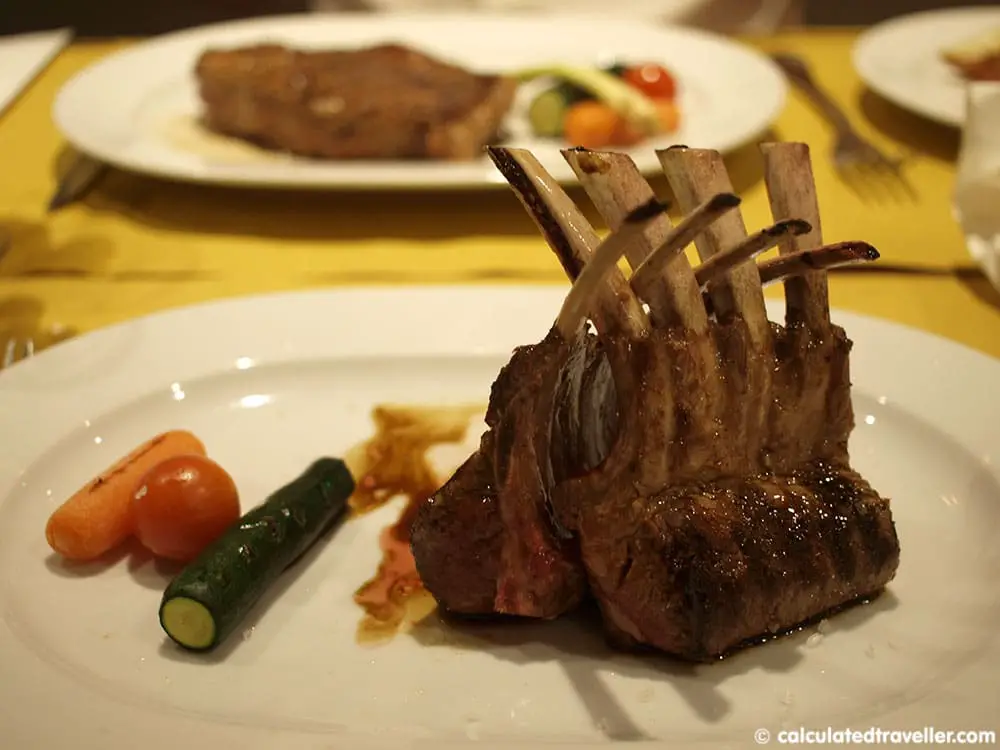 The food was excellent; the Caesar was crisp, fresh and perfectly dressed, the steak and lamb were both perfectly cooked as requested and the Bombolone….well, let me just say that I could have eaten a few of these babies – they were that good! Light, fluffy, not overly sweet – quite heavenly.
MSC Divina Day 4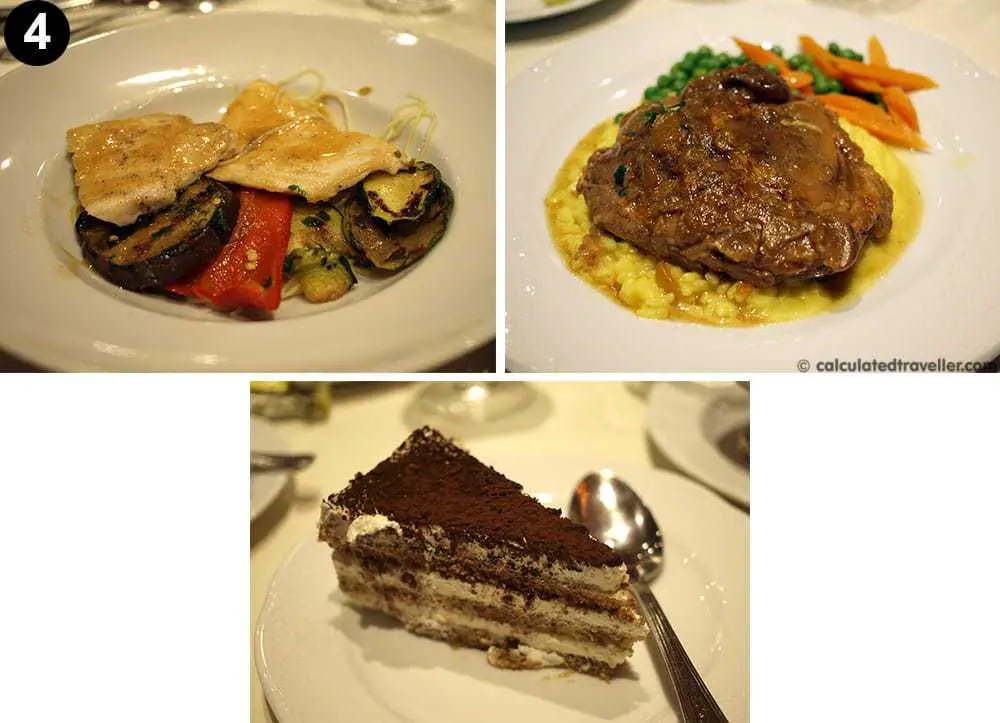 Piccatine di Pollo al Marsala (chicken escalopes flavoured with Marsala wine, served with buttered angel hair pasta and grilled vegetables)
Ossobuco alla Milanese in Gremolata (braised veal shank with saffron risotto and buttered carrots and peas)
Tiramisù (ladyfingers soaked in coffee, layered with Mascarpone cream and sprinkled with bitter cocoa powder)
MSC Divina Day 5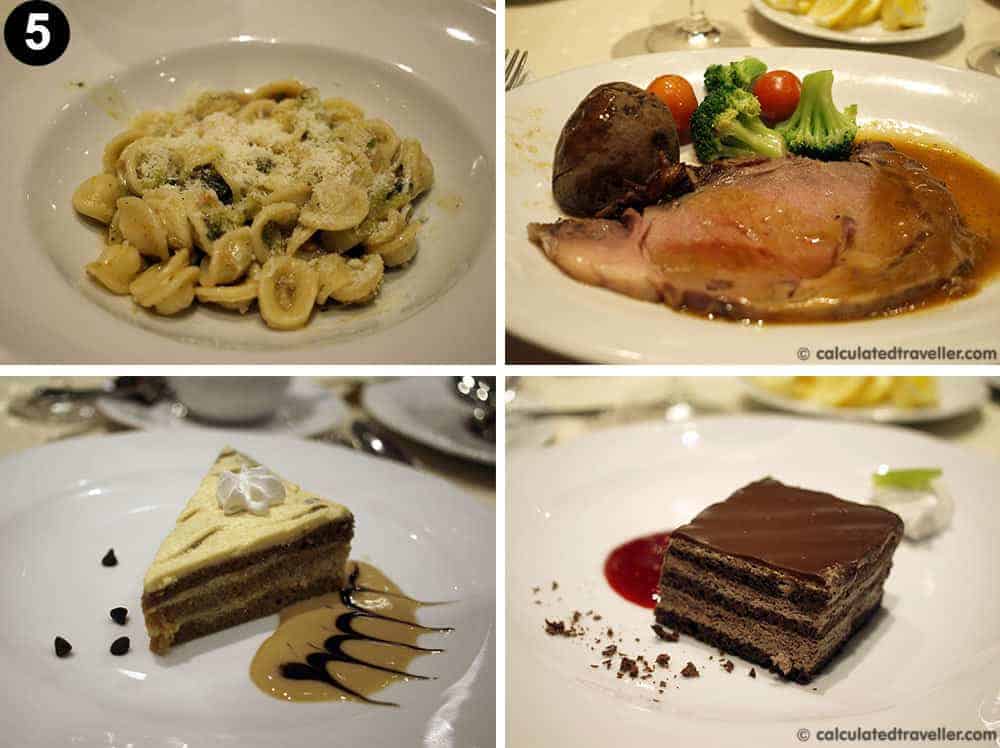 Tagliatelle al Ragù di Porcini (in Porcini mushroom and veal sauce flavoured with Chianti wine)
Costata di Manzo alla Mediterranea (oven-roasted prime rib marinated in thyme, with baked potato, broccoli and confit cherry tomato)
(sorry I didn't get the name of these 2 desserts)
MSC Divina Day 6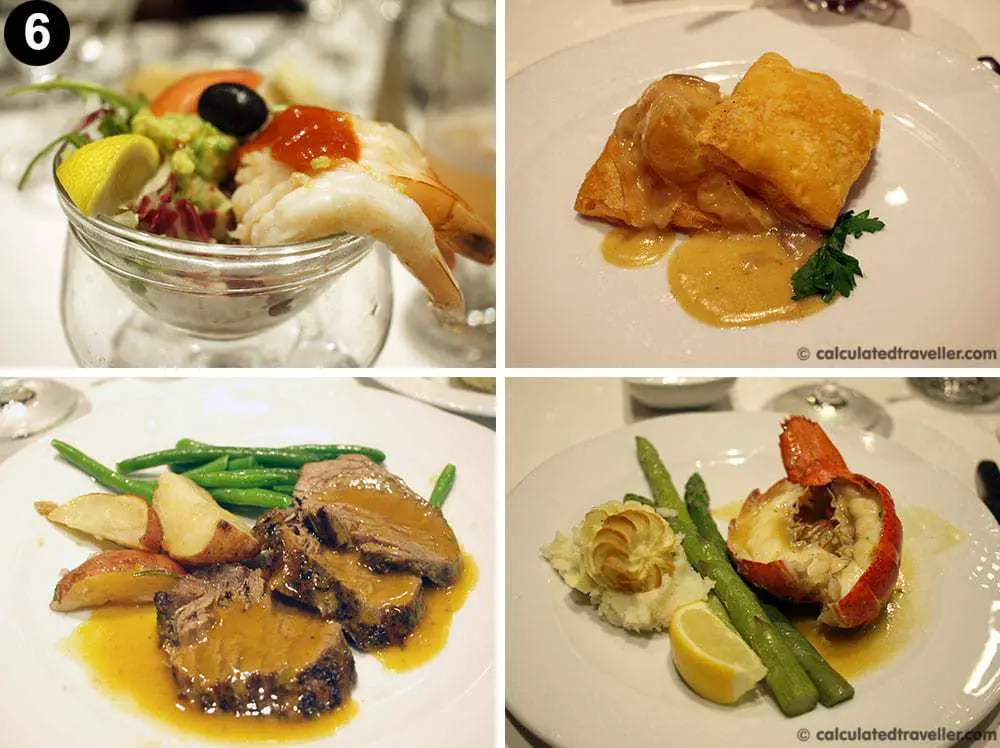 Shrimp and Avocado Salad (with American Sauce)
Porcini Mushroom sautéed with Garlic and Parsley (served with crispy puff pastry)
Filet of Beef (served with truffled Port wine sauce, sautéed string beans and roasted red bliss potatoes
Broiled Atlantic Lobster Tail (with Duchesse potatoes, grilled asparagus, melted butter and lemon)
MSC Divina Day 7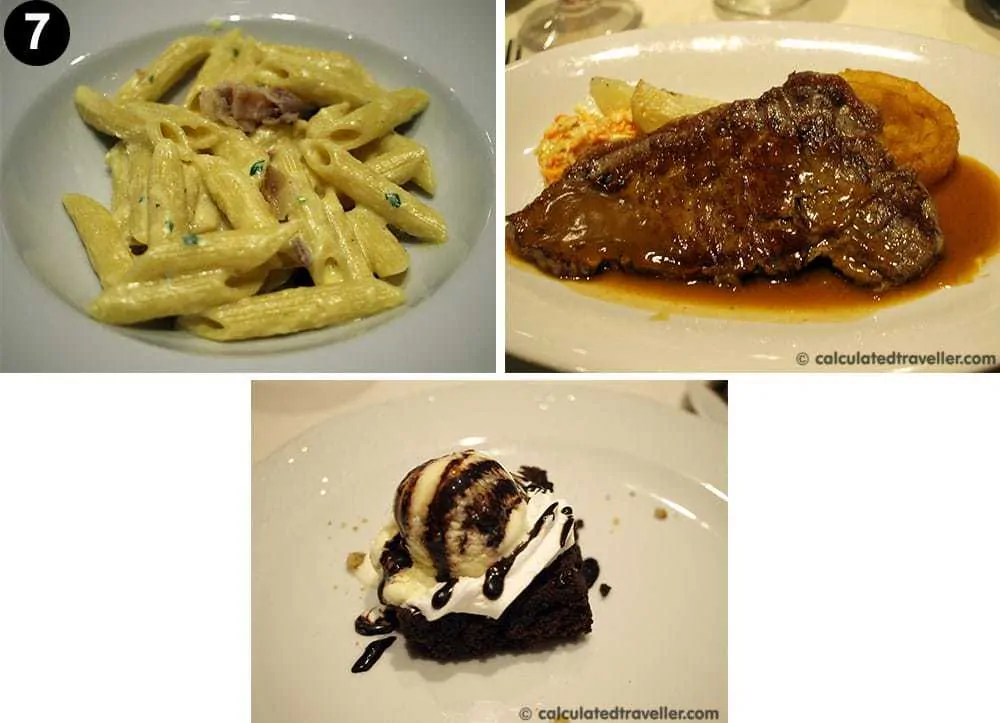 Penne alla Carbonara (in a creamy egg sauce with parsley and crispy bacon)
Grilled Beef Striploin Steak (with oven-roasted herb potatoes, fried onion rings and coleslaw)
Torta Caprese (Italian-style chocolate brownie with vanilla ice cream)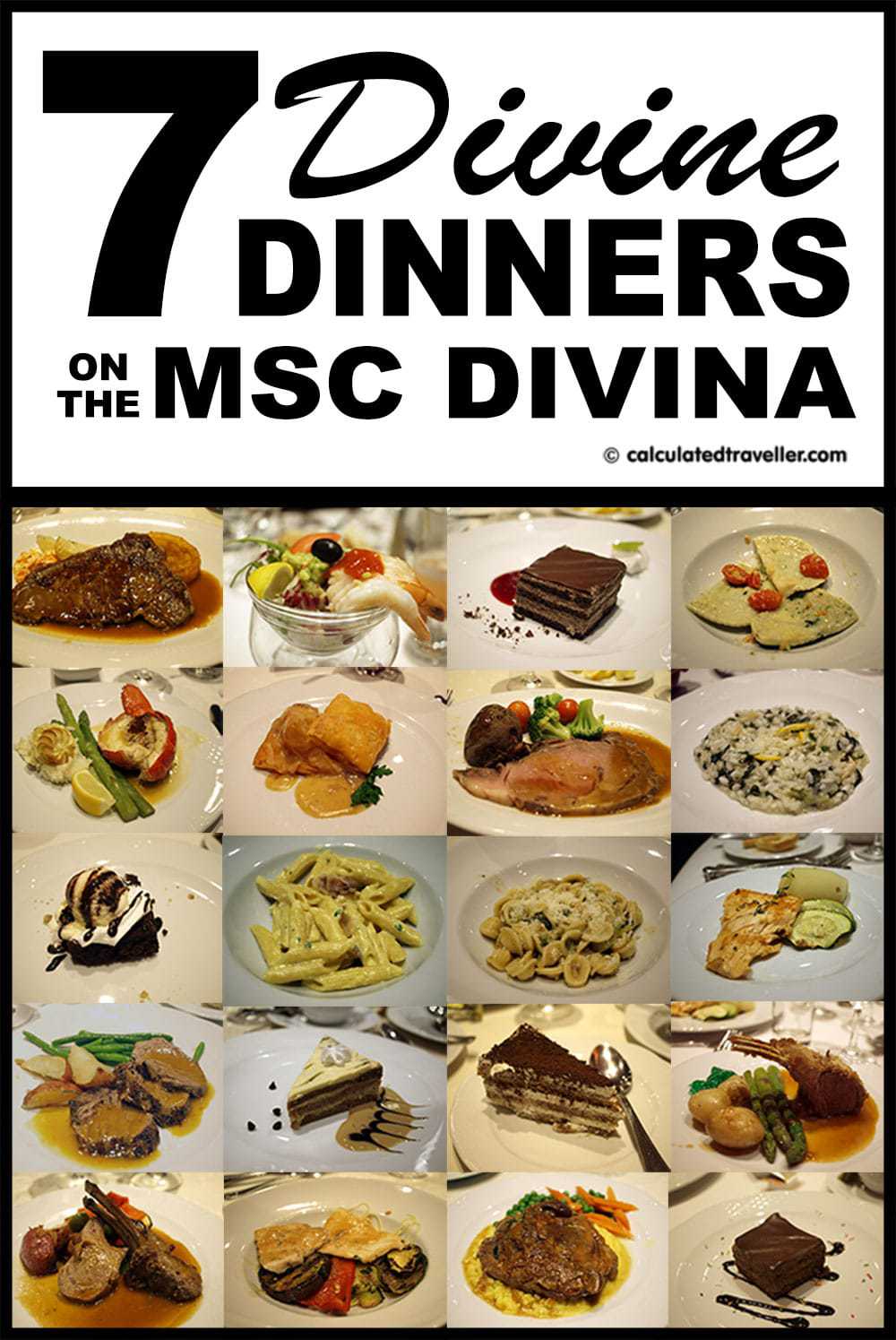 Hope you enjoyed this MSC Divina food review and photo essay as much as I enjoyed eating and photographing the dishes…
For other cruise food reviews check out these articles:
– Cruise Ship Specialty Dining – Caribbean Princess Crown Grill
– 5 Days 5 Dinners — Caribbean Princess Dining Review