iPad cases come in all shapes, sizes, colours and designs and I'm always on that elusive hunt for the perfect one that will suit my travel needs. It's like the children's story of "Goldilocks and the Three Bears" — porridge too hot, porridge too cold, porridge too runny, porridge too lumpy…but in my story, it's an iPad case instead of porridge.
I've been a fan of STM Bags for a while now (see my other reviews on the STM Impulse Laptop Backpack, and the STM Grip MacBook Air Case).
So when they contacted me inviting me to try out their new Dux Ultra Protective Case for iPad, I was excited to see what they had come up with.
Once Upon a Time…
I've had a few cases in the past for my iPad and have always looked at versions with lots of protection versus sleek designs and appearance. Hey, an iPad is one of those things that you take EVERYWHERE and there is a high chance that something this portable is going to get into trouble plus, it's not cheap – so you got to look after it no matter where you are travelling to.
What I look for in an iPad case:
Protection from drops and spills
Not necessarily waterproof but at least splash-proof
Auto on and off when you open / close the cover (because I'm lazy)
Able to stand steadily without bending or flopping when watching movies
Lightweight
Able to stand at a comfortable height for typing
iPad case too hot, iPad case too cold…
When I first bought my iPad I wanted a "Smart Cover". A colourful, sleek, magnetic cover that looked so modern and enticing in all those advertisements. But, when I saw one in person my first thought was that it was only good for protecting the front from scratches and I didn't think that it was going to protect my expensive new iPad if I should accidentally drop it. Also, just how does that cover stay put if magnets are the only things keeping it on? The shopping continued…
The first case I actually purchased was one with a rotating cover that would allow it to stand either vertically or horizontally and at different heights. It was great but then after a while, it stopped standing and would collapse.
Next, I tried a waterproof cover with a ziplock type gussets for the beach/patio / or next to the pool. I wanted it to be sand and waterproof but the clear plastic front would stick and cling to the glass of the iPad and made it difficult to see through, not to mention the glare of the plastic. Plus, I never tested it but I suspect it wasn't as watertight as it said it was because one day I noticed condensation inside.
Then, I bought a plain cover where you slide the iPad inside, but the fit was horrible and the iPad would shift and move out of the middle of the window. I had to be careful with this one too because there was no padding to the case – all it did was protect it from dust and scratches.
Each case had their purpose, each case had their flaws, and each case I grew tired of and had to move onto the next.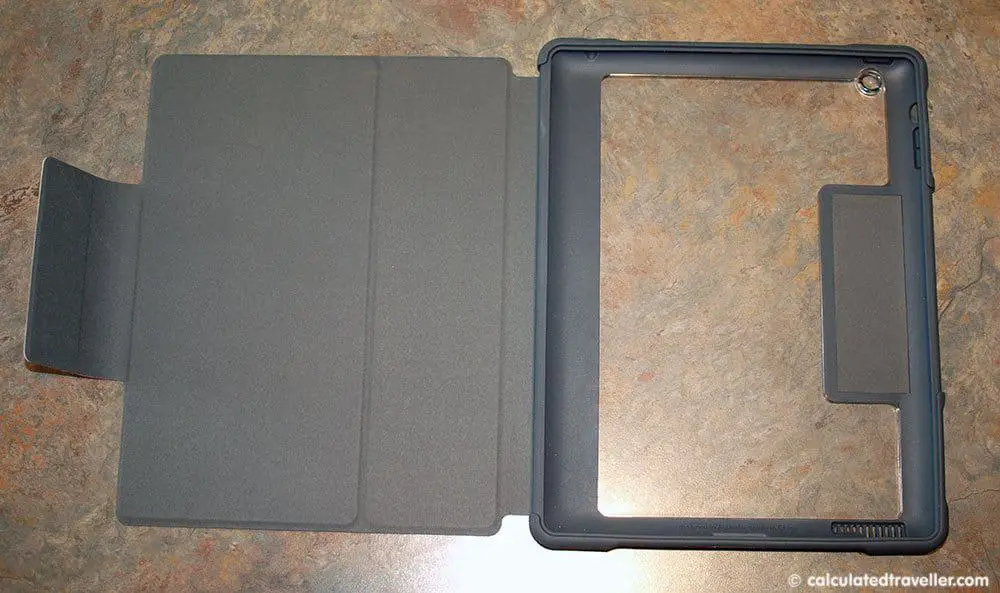 Pros of the dux for iPad Case
According to the website "Super protective polycarbonate and rubberized TPU bracket for even the most accident-prone among us. Survives extreme drop test at 6.6 feet or 200 cm. Tested to meet or exceed US Dept. of Defense Standard 810F/G protocols"
All edges / side / back / buttons are protected
Customizable. Back of the case is transparent so you can insert a photo
Little bumper feet on the back so the case isn't sitting directly on the table surface
The cover is water-resistant and is inset into the edge of the frame for a nice clean finish
When folded for typing it's at a very comfortable angle compared to the other cases I've used
Soft interior lining (non-scratch)
Auto on and off when you open / close the cover
Subtle tone on tone STM logo
Bonus RewardTag™ – STM Bags provides a complimentary RewardTag™ with every dux Case. Once you register and activate the code number you are entered to win free STM gear plus more importantly should you lose your item, the RewardTag™ website will have all your information so that the finder can easily return it and collect whatever reward you are offering.

Cons of the dux for iPad Case
The case is a really tight, perfect fit and I found it difficult to put on and off. So I don't think I'll be changing my photo in the back of the case too often
It could just be me but I found the magnetic flap/stand takes a bit to get used to when trying to find the sweet spot to get it to stand properly
The on/off button takes some getting used to because when you push it, it doesn't feel like you've done anything, which makes you want to push it harder
It's a little heavy and adds weight due to all the protective features of the case – according to the website weight is 0.73 lbs / 0.33 kg
Only available in 3 colours: black, blue and red – so if you want hot pink you are out of luck
This falls under the "don't try this at home folks" category…here is a very convincing video of the drop test where they drop an iPad 26 times. (yikes)

So, how's the porridge Goldilocks? (AKA my verdict)
The case is super protective. I love that I can switch up the photo in the back to showcase my logo or my photos of my latest adventure and it really meets all my needs and more except for one factor — the weight.
So the hunt for the perfect porridge, ahem iPad case, will continue but for now, the Dux for iPad is the best one I've had yet.
I received the STM Bags Dux Ultra Protective Case for iPad from STM Bags for review purposes. This had no bearing on my review of this item. As always, all my opinions are my own.
 
What do you look for in an iPad case?