It's not on Impulse – it's Intentional!
I'm on a quest to travel by air with only one carry-on piece of luggage. You can read about my reasons in the article Carry-On Luggage – My journey to en-LIGHT-enment.
Yes, it's a challenge but do it once, and you'll wonder why you never did it before.
One way to cheat the system is to use a laptop backpack as your personal item. I still bring a small purse for use when I reach my destination but en route; I just use the entire bag as a wallet and stick it in the laptop backpack.
Here's the thing – you've got to have a backpack that isn't too big that it's larger than your real carry-on – it has to pass as your personal item but, it has to be big enough to hold a lot of stuff including your laptop.
Also, your laptop needs to be readily available for when you go through security at the airport – you don't want to hold up the line as you struggle to get your laptop out and then back into the backpack.
The folks over at STM Bags sent me over one of their Impulse Laptop Backpacks to try out.
Features of the STM Bags Impulse Laptop Backpack that I Love
If you are a follower of the blog then you'll already know that I'm a fan of their products. (I already own the laptop sleeve grip, and their dux iPAD Case so check out the links for those reviews.) One thing that I'm positive about is the quality and the workmanship based on those 3 items I already own.
Fabric is 200D water-resistant polyester
20 litre capacity
weighs 2.2 lb/ 1 kg
Reflective for night-time safety
Easy access pocket at the bottom perfect to stash your 3-1-1 bag
1 Front pocket holds easy access items like your cellphone, pen, key chain, business card slots
Water bottle pocket
Zippered side pocket for an umbrella
2 main compartments
1 of the main compartments has a Padded laptop section and a separate lined iPad/e-reader pocket (we often travel with both)
Adjustable elasticized stabilizing strap
Padded back and shoulder straps with mesh to keep you back and shoulders cool
Personal favourite is the strap at the back that goes over the handle of your rolling carry-on. It isn't loose or floppy and it holds the backpack firmly on the top without sliding off.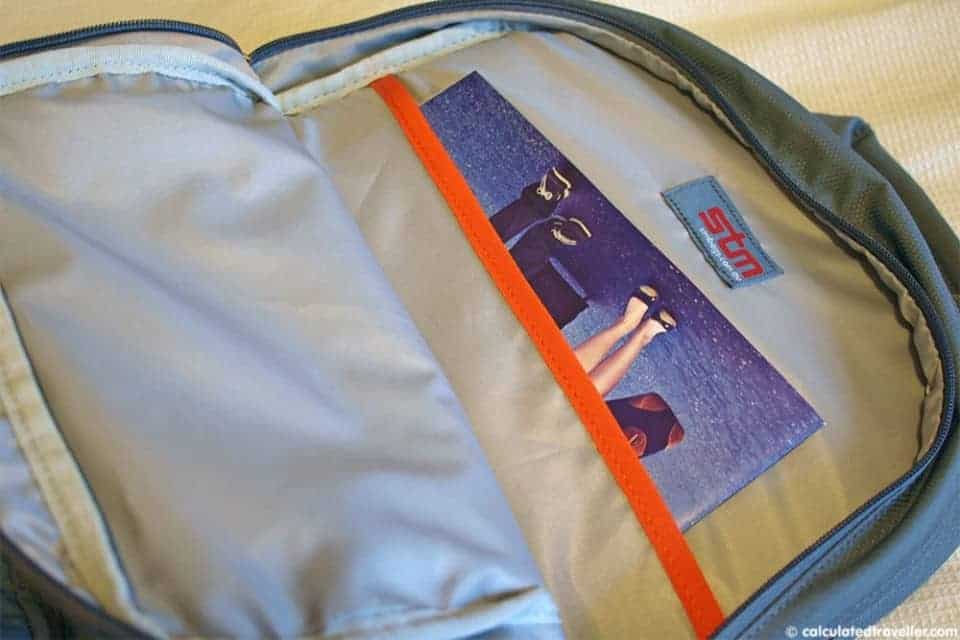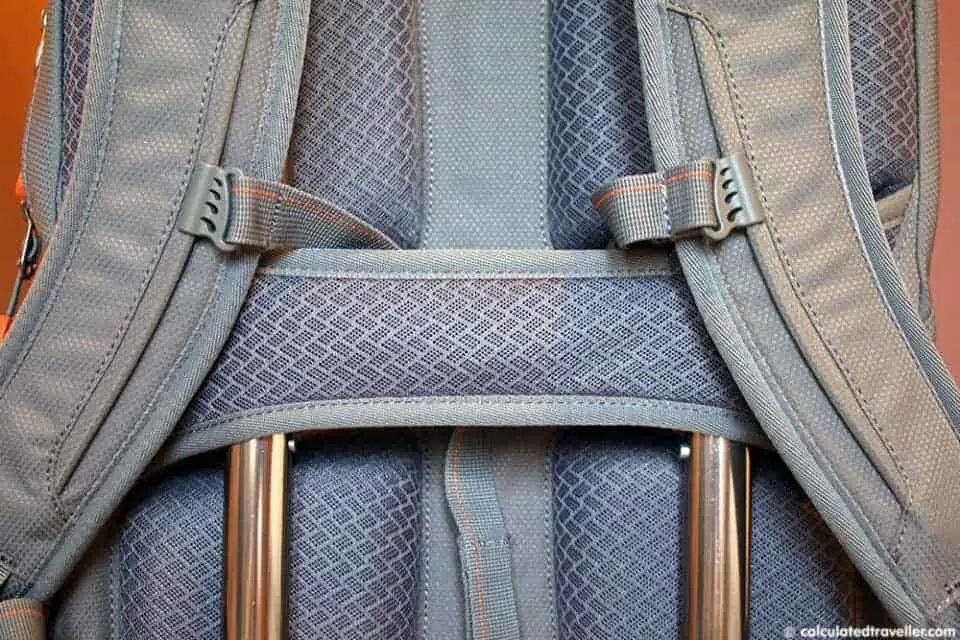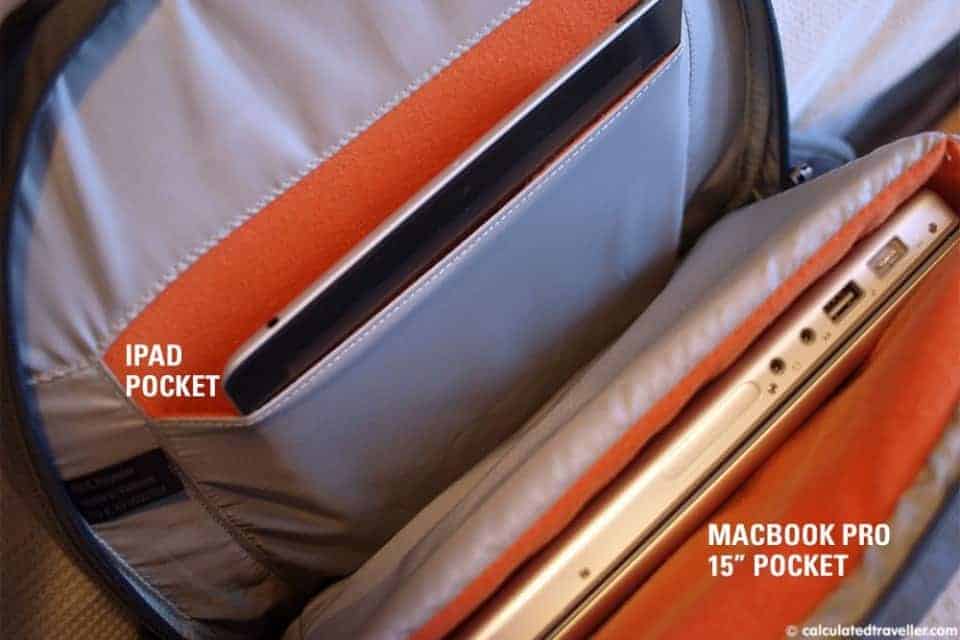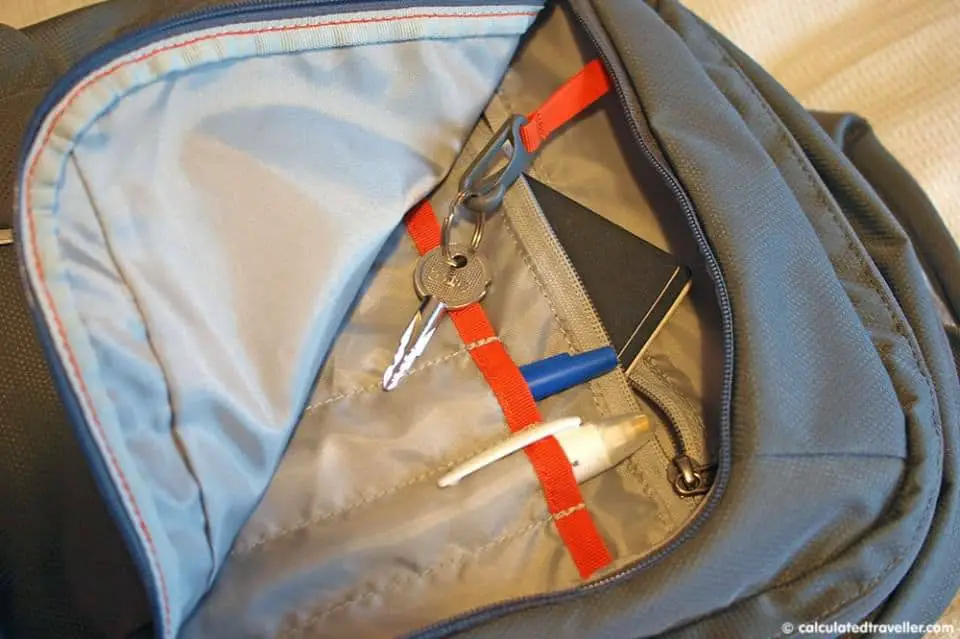 What I don't love
Back is really stiff – which is a good thing to protect the laptop inside but it's a bit too board-like. I'm hoping that over time it will soften up or that I will get used to it.
I haven't been caught in a downpour yet but water-resistant isn't waterproof and the addition of a totally waterproof pull-over cover would make sense for a bag of this quality and price point.
Check out the STM Bags Impulse Laptop Backpack on their site as well as their other products. You won't be disappointed.

For another recent review – check out Carpe Travel's article A search for THE best laptop backpack for tech gear.
The STM Bags Impulse Laptop Backpack was provided to me for review purposes. This had no bearing on my review of this item. As always, all my opinions are my own.