The first time I heard of the "micro-hotel concept" was from the hotel owner at the "Inn at the Forks," a hotel I was staying at in Winnipeg. We got into a conversation about hotel trends, and the idea of micro hotels seems to be the next new thing.
Essentially, a micro hotel tries to maximise on space without losing out on luxury and comfort. The idea sounded very intriguing.
Since one of the hotels I was referred to was citizenM and they had just built their first North American hotel in New York City last month, how could I resist checking it out on my trip to the Big Apple?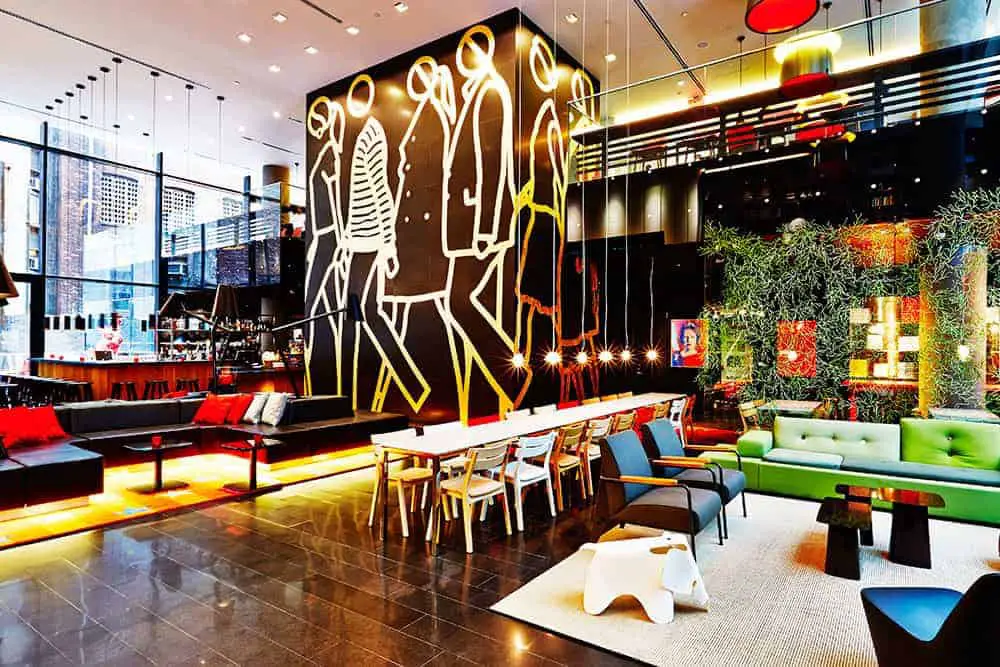 Eclectic Art Welcomes You
Entering the hotel lobby, you feel as if you've just entered the family room of an eccentric multimillionaire art collector. I was totally impressed!
The hotel's modern red and black interior highlight the walls covered in knickknacks and crazy sculptures like robots and mounted horse heads. The lobby is "happening", and people are hanging out on couches in a well-designed lounge.
Unlike traditional hotels, there is no front desk, but rather a self-check-in area with multiple kiosks. The staff was fantastic and quick to take my luggage as I was early to check in. When I returned to the hotel in the evening around 9 pm, the entire hotel's atmosphere changed. The bar was crowded, people were spread out all over the lounge, and the place was packed.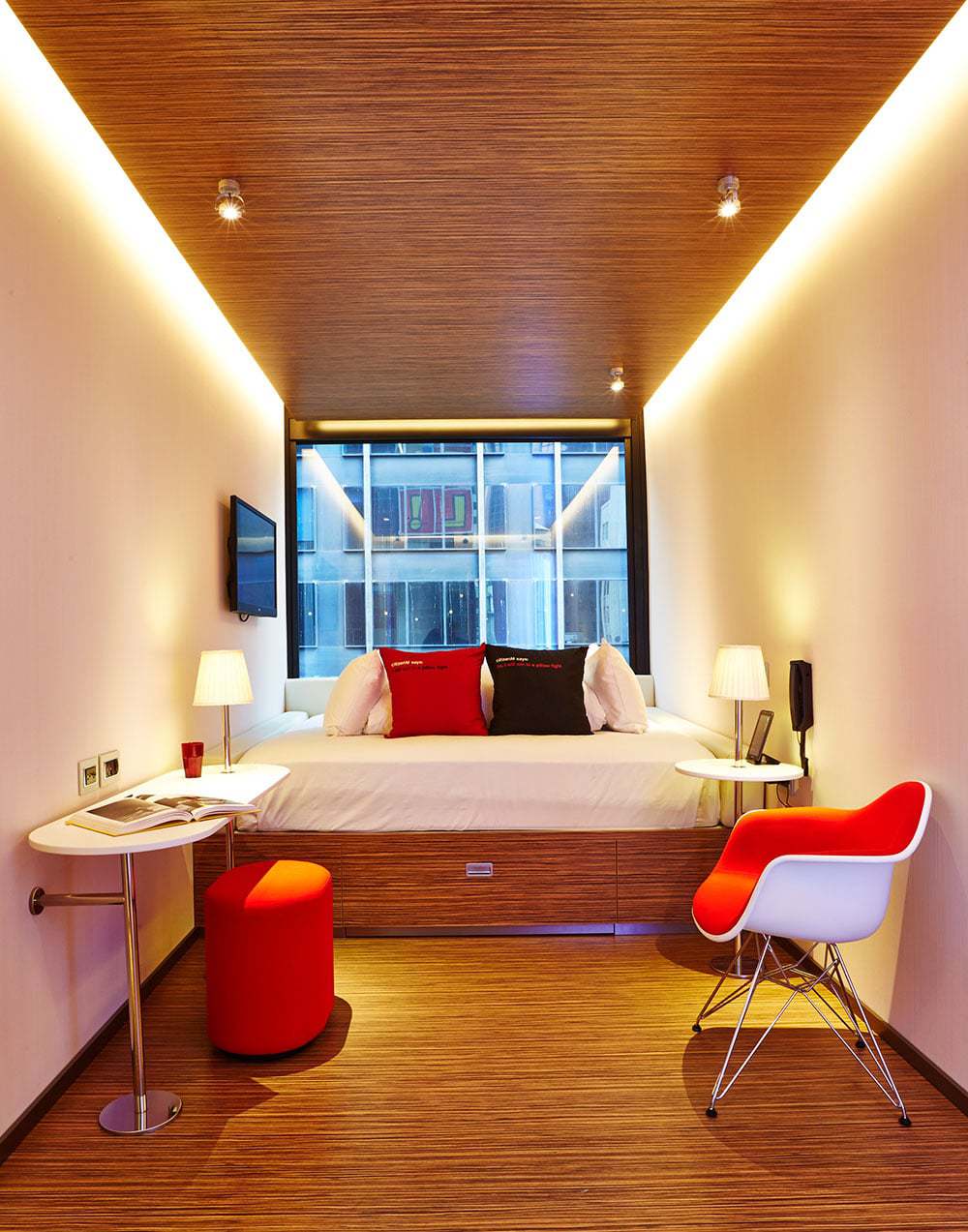 citizenM – A Room with a Great View
To be honest, I had no idea what to expect of my accommodations. I got to my room, and when the door opened, I was a little shocked. The best way to describe the concept is a cross between a Japanese capsule hotel and a room from the future.
The interior of the room is entirely white with pops of colour, and the washroom and shower are in a closet-like compartment. The largest feature of the room is a king-sized bed right in front of the window and giving a great view of Times Square.
Each room has a "mood pad"; a small tablet that you use to control the TV, lights, temperature and even curtains. There is a cool feature that makes the lights dim in different hues of a multitude of colours, depending on your mood. All the key TV channels are available – even adult entertainment programs, which is a custom feature for their European clientele.
As I left my room to explore the hotel, I discovered a state-of-the-art gym that overlooks the city skyline and a roof-top bar. Though the bar was not open, I ran into one of the hotel staff, a lovely French woman who, with her beauty and charm, could only be named "Gigi." She did a fantastic job explaining the history and origins of the hotel to me.
Originating in the Netherlands, citizenM was created by a Dutch fashion mogul who was tired of his past hotel experiences. He wanted to create a great experience but without any of the fuss. With a minimalist approach to the guest rooms and staff strategically placed, he managed to keep the guest experience simple yet elegant. There are no bellhops to tip, and even though your room only comes with a bar of soap and towels, extras like shaving kits or toothbrushes are available to anyone who asks, free of charge.
What struck me most about my conversation with Gigi was the fact that the company had flown the entire 38-person New York City staff to the Netherlands for training. Since they are expecting many of their customers from Europe to stay in this American location, they wanted to make sure everyone had a European context to work within.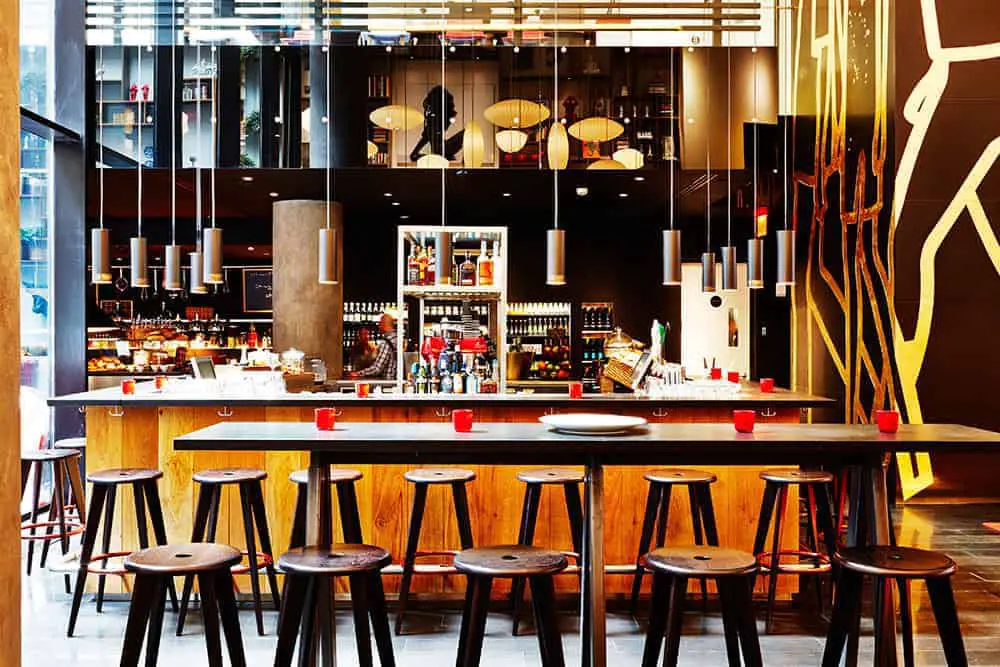 citizenM Lobby Bar
After my insightful conversation with Gigi, I headed down to the lobby bar. Since Times Square does not have many high-quality drinking establishments, the hotel bar was bustling on a Friday night. I found a stool at the bar and watched as the bartenders expertly made drinks and chatted with customers. Now having a couple of drinks on an empty stomach may not have been the best idea, but from what I remember – the drinks were delicious! I had an "East Side Fizz," a gin-based cocktail perfect for a warm summer day, and "Sazerac," a bourbon-based drink popular in New Orleans.
Despite my tipsy rambling, the fantastic bartender kept me company, told me funny stories, and indulged me in listening to some of my adventures. The right atmosphere you want at a local bar.
Though this was a sponsored stay, I have to admit I loved the hotel and its concept. They had managed to balance eccentricity and comfort. All the basics one needs in a hotel are available; friendly staff, a canteen to grab a bite to eat, a well-run bar and comfortable room is all there – and to perfection. The novelty of the place is so enjoyable that I met a couple of strangers in the elevator who could not resist telling me how much they liked their rooms with funny slogans, like do not disturb signs that say " Don't come in. There's someone naked in here." printed on them. With rates ranging from $230- 300+ a night you can't go wrong either. I might just have to book a trip to Paris now, to see how their newest hotel in the Charles de Gaulle airport stands up to its American cousin. Oh, and I may make some time for the Eiffel Tower, too!
Photo credit: citizenM New York City
citizenM New York Times Square Hotel
218 W 50th St, New York, NY 10019, USA
To read more reviews for citizenM New York City check out Trip Advisor.
Here's a great post by Hannah for a girls weekend getaway in NYC.
The author was a guest of the hotel and received no financial compensation, all opinions are entirely that of the author.
Have you stayed in any great Micro Hotels? Let us know in the comments below so we can check them out.
Looking for other things to do in New York City?
Check these out:
– I Bet You've Never Heard of These Buildings in New York City
– 5 Must-See Works of Art at the Metropolitan Museum, NYC