With warm apricot flavoured Turkish tea and sweet Turkish delight in hand the gentle, welcoming shopkeeper guides me around the Grand Bazaar Spice Shop.
I'm not a special VIP getting an exclusive tour; I'm just an ordinary shopper and being offered tea while you shop is very common in friendly Istanbul. Spend any time in any one of the many shops in Istanbul Turkey, and you'll receive the same hospitality.
The smells of the shop are intoxicating, and my eyes are wide open, my head spins as I look at all the colourful teas, candies and herbs around me. I'm putty in the shopkeeper's hands as I'm plied with the offer of pistachio and rose flavoured sweets and bend to submission as I make my purchase of boxes of Turkish Delights.
Grand Bazaar and Spice Market in Istanbul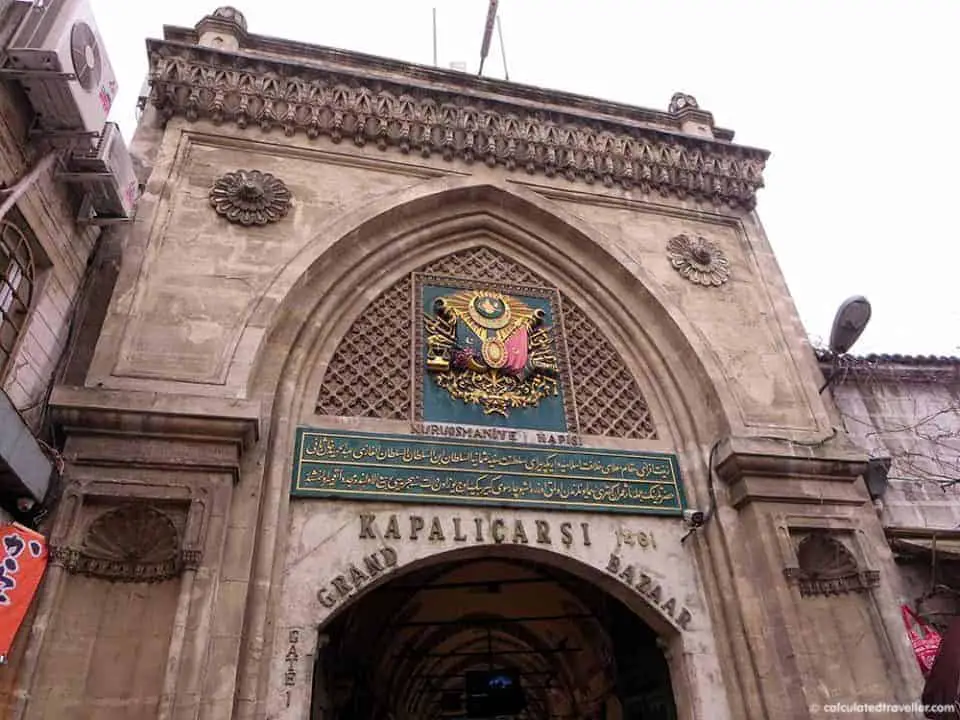 Shoes, clothes, linen, jewels and housewares — you name it, and you can find it in the famous Grand Bazaar Shopping Center. One of the oldest covered bazaars and largest markets in the world, this famous Turkish landmark covers 61 streets with over 4,000 shops.
Grand Bazaar History
Wondering how old is the Grand Bazaar in Istanbul? Well, according to the date on the wall of the main entrance, the Grand Bazaar of Istanbul was founded in 1461! It's so old and such a confusing maze of streets that attempting to use the Grand Bazaar Istanbul Map proved a challenge in itself.
Grand Bazaar Istanbul Hours
The market is open six days a week and is closed on Sunday.
PRO TRAVEL TIP: If you plan on shopping, make sure you bargain — it's to be expected, but of course, be polite about it!
Here are some quotes from some friends of their first experiences as well as some views and images taken one afternoon spent inside the hectic maze of streets where shopkeepers and shoppers, both locals and tourists, mingle easily while drinking Turkish coffee within the Grand Bazaar covered market.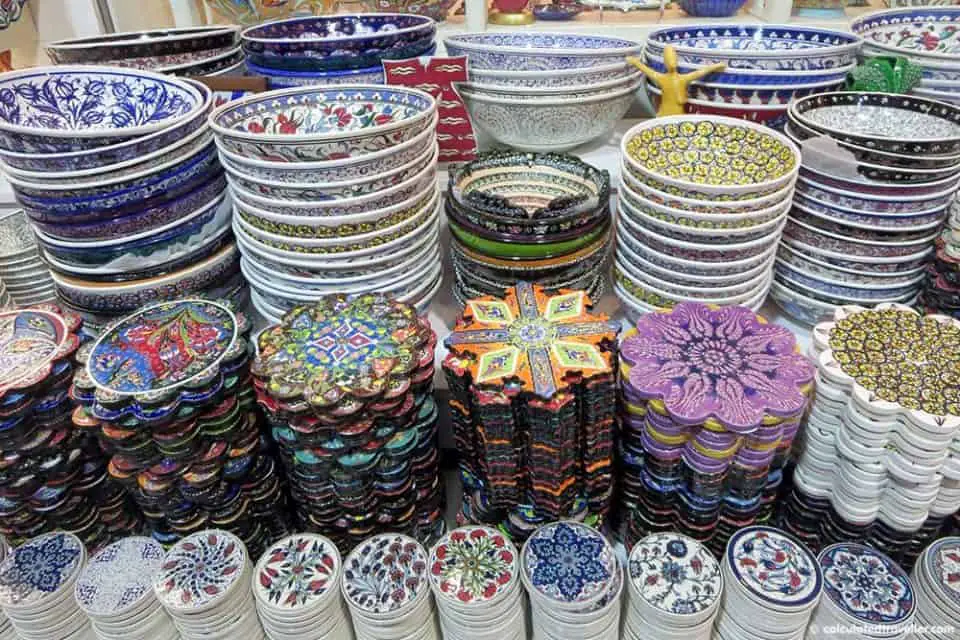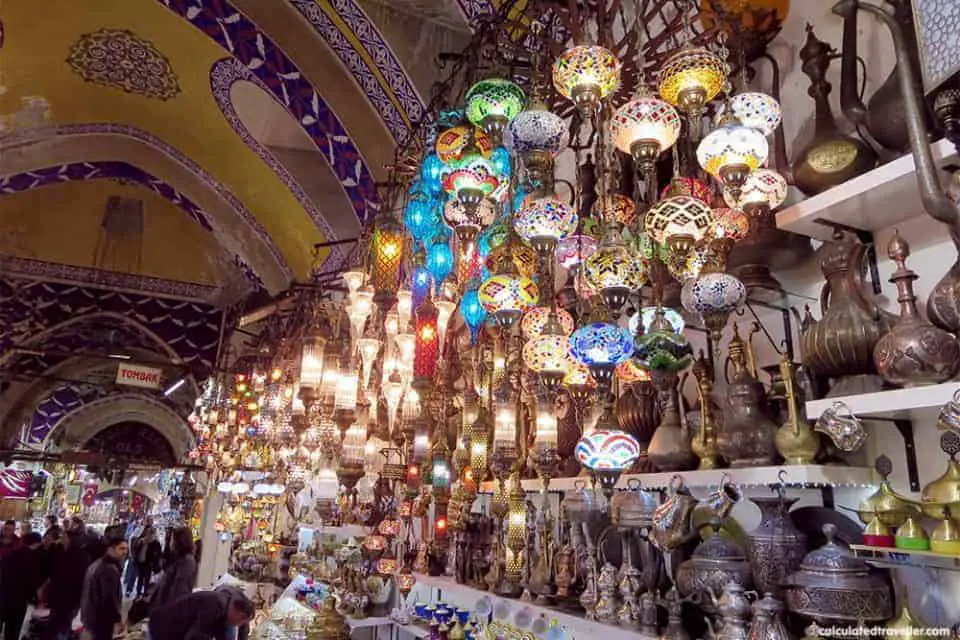 "When I first stepped foot inside the Grand Bazaar in Istanbul, my senses were assaulted by a wide variety of new smells, sights, and sounds. It was an incredible, life-changing experience. I didn't care for the touristy kitsch that now dominates the historic market, but that didn't curb my experience. The arched ceilings, crowds, and an unlikely run-in with a master silversmith made for an unforgettable trip." — Daniel Kwan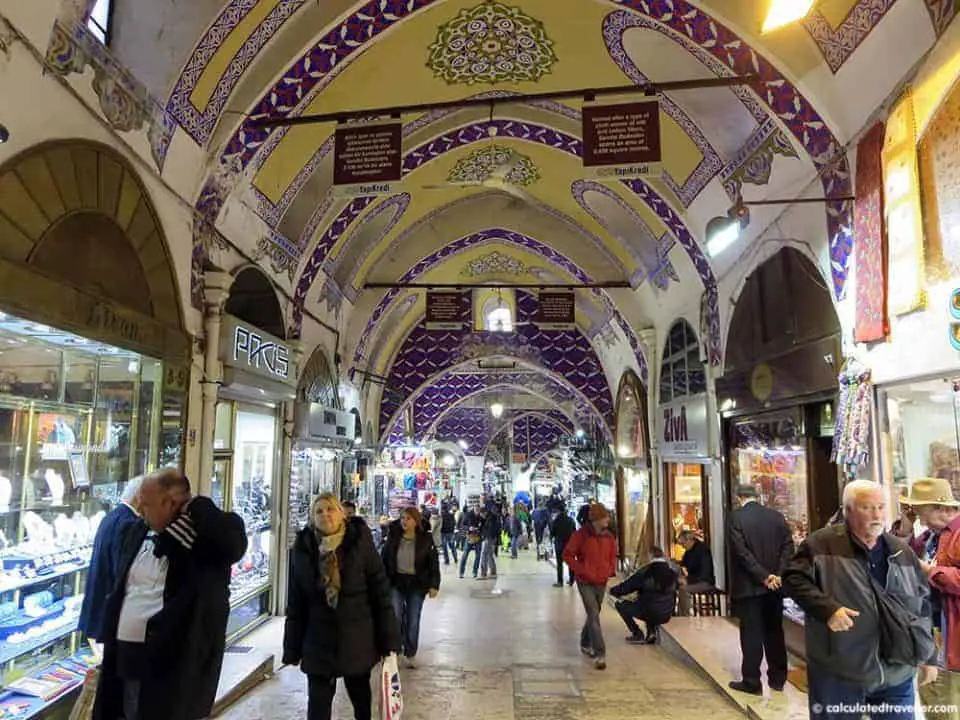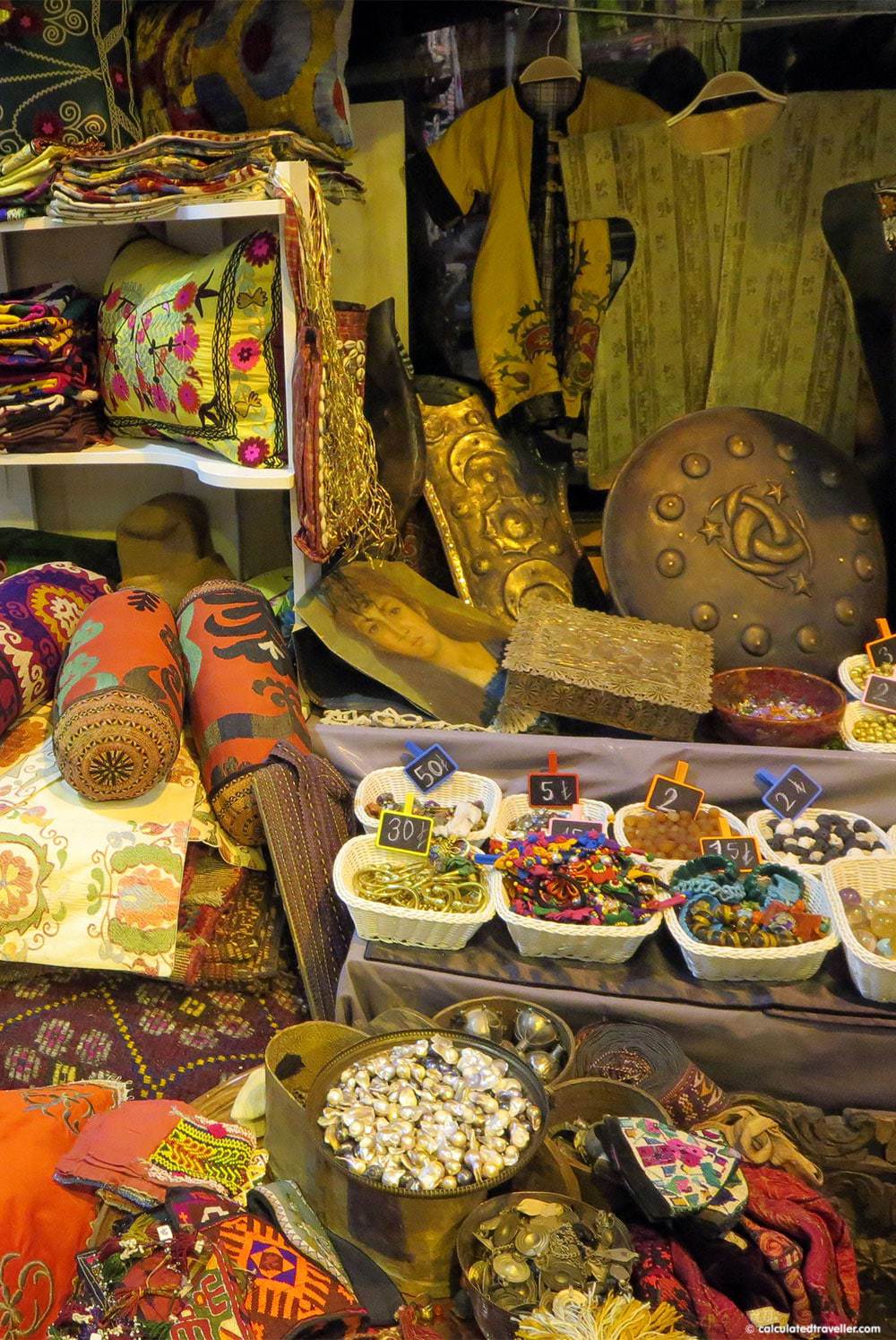 "I'm a big fan of wandering off the main path whatever I am. In the Grand Bazaar, that means giving the carpet salesmen a wide berth and discovering the cafe with the.best.Turkish.coffee.ever. Over at the Spice Bazaar, I found the same atmosphere, the same goods at a fraction of the price with a fraction of the crowds in the streets beside the market." — Jo Kernaghan, Frugal First Class Travel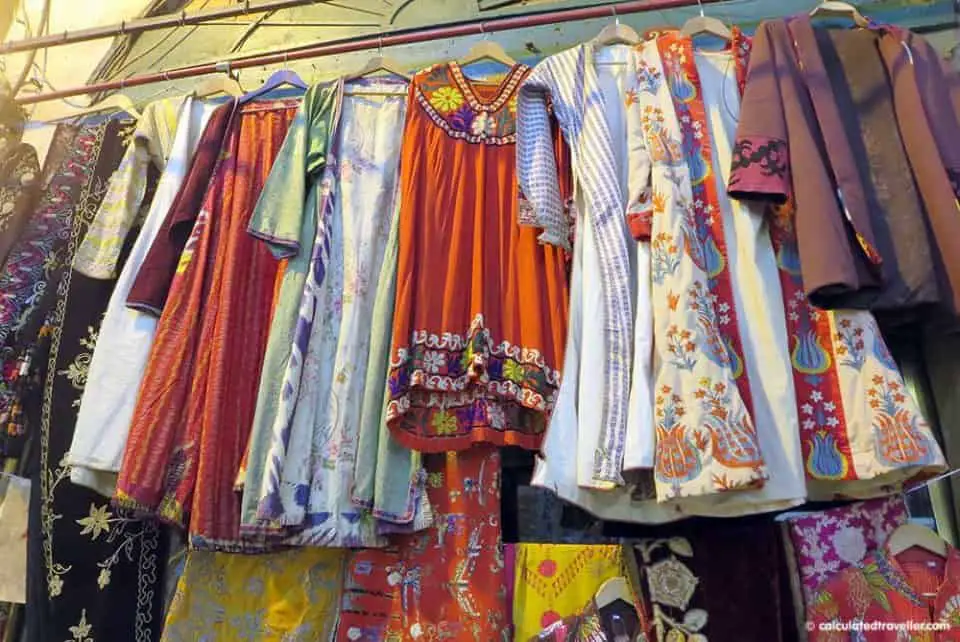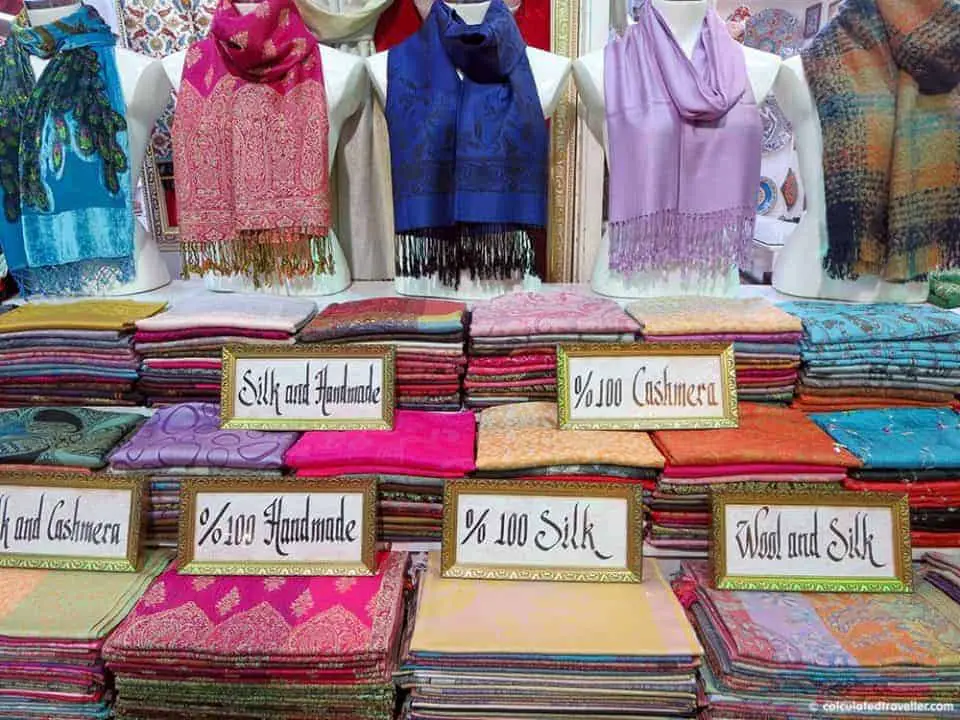 "Much too much – that was my first impression of Istanbul's Spice Market. Visiting towards the end of a brief 12-hour layover (the bulk of that time spent stuffed in a substandard bus tour), I was desperate to see something on my own. I was tired, sore, hungry, and grumpy – but I still headed to the Spice Market. With my pack on my back, I felt like a bull in a china shop, ridiculously bulky and conspicuous. Did I mention I was hungry? No wonder I found it overwhelming!

I've since been back on two other occasions and my impressions have done a complete turnaround. And my last visit was my favourite by far. I finally plucked up the courage to make some purchases, to do the dance with the merchants showing off their fine apricots, peppercorn blends, and perfume oils. Now I wouldn't dream of going to the city without scheduling a stop." — Vanessa Chiasson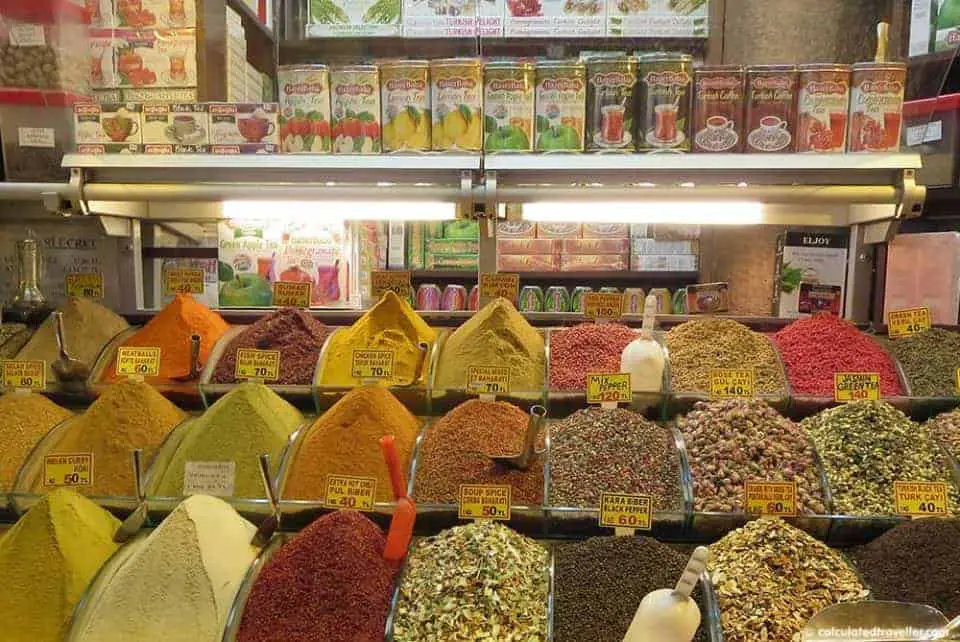 "The spice market was everything we expected–a sensory experience like no other. It draws you in with fragrant, colourful, raucous chatter. I still dream of a sweet earthy spice mixture brought home from there that I used in muffins and cookies." — Melinda Crow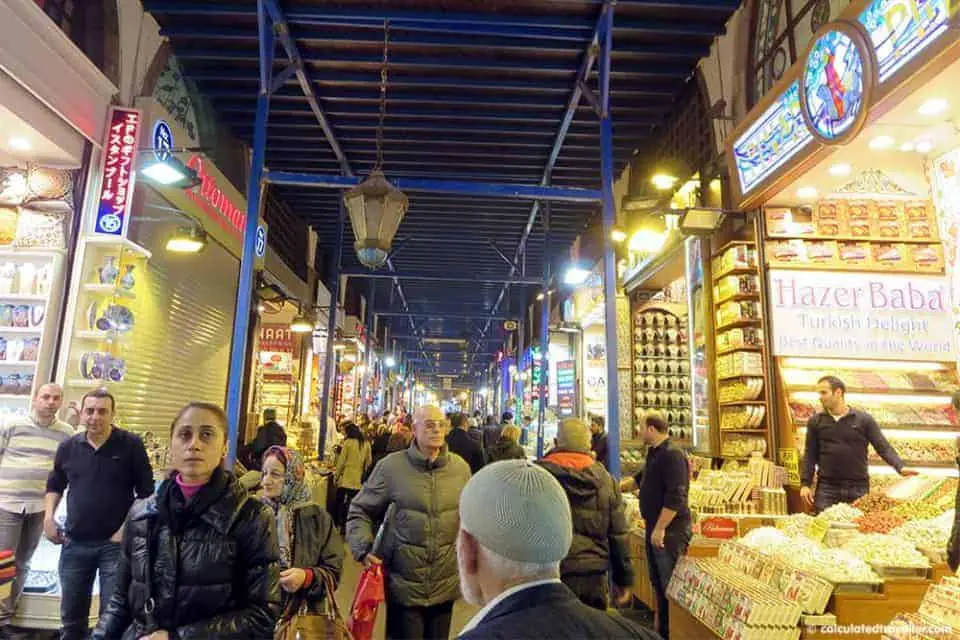 "I loved the colors, textures and flavors of the Spice Market – all of my senses were awakened and confirmed I was in Istanbul." — Suzanne Wolko, PhilaTravelGirl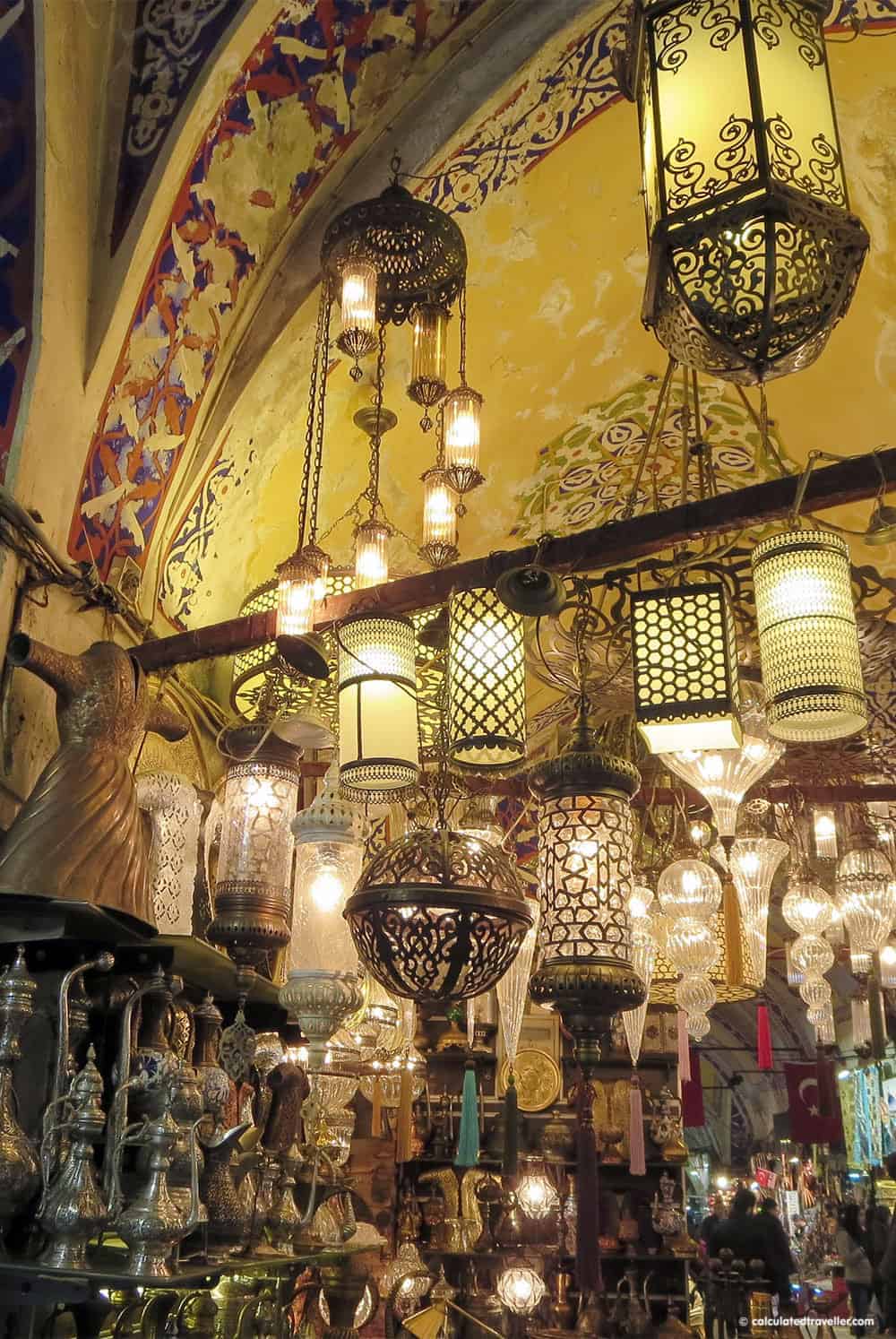 I don't think that one single visit to the Grand Bazaar and Spice Market in Istanbul is enough because the multitude of shops is so overwhelming, but I can say that one single visit to this famous Ottoman shopping mecca is enough time to fall madly in love with the friendly people, delicious aroma and glorious sights.
Continue the journey with a foodie adventure while in Istanbul! Read our article:
– Eating Istanbul Turkey on an Istanbul Food Tour
– Why not check out this list of  5 Tasty Things to Eat in Turkey