Calculated travel is more than beautiful scenery and exotic locations; it's also about the practical logistics – getting to your destination safe and sound without any hiccups along the way. Travel security and flexibility are the keys to success in this regard. Being able to change plans or simply having a backup plan should things go awry.
Travel Security – Locks
Many suitcases have built-in locks, and these are easy and convenient, but it's good to have a few extra locks available just in case.
Another reason to carry around an extra lock is in case you purchase too many souvenirs that you need to buy an extra bag.
I have one particular suitcase by Burton that I love and often use on driving trips. It has a clamshell design with multiple compartments and is pretty convenient except for the location of the external zippers. The main compartment is simple as it has double zippers – lock the two zipper pulls together, and you are all set.
The problem lies in the front compartment. There are only one zipper pull and no lock down to hook a lock onto, and it's a bit far from the main compartment so you can't lock it down to the other locks. Poor design? Perhaps, but easily solved with the right lock.
I've always used standard metal locks, and I thought I'd try out some flexible steel cable locks to see how they work.
Lewis N. Clark Travel Sentry® Piston Key Lock
Small and Lightweight Zinc alloy construction (weight 2.0 oz)
Braided, flexible steel 1-inch long cable threads easily through zipper pulls
Includes: two keys
6.5in x 0.5in x 0.5in

What I like about this Lewis N. Clark Travel Sentry® Piston Key Lock is the cable – it is flexible and has a bit of length to it to allow you to secure things at a farther distance. It's also very lightweight yet sturdy, reliable and is TSA compliant, meaning that you can open it using an official TSA bypass key.
The one thing I don't like about this lock is the key. I understand the purpose of the key as it's designed that way to keep the lock small, compact and sleek but lose the key, and you are in a bit of trouble if you aren't near the backup key! Other than this one small issue, I think this is a great product and perfect for use on your backpack or as an extra lock.
Lewis N. Clark Retractable Cable Lock
Lightweight Thermoplastic rubber with durable ABS housing (weight 2.0 oz)
Resettable 3-dial combination
Retractable 30in braided steel cable

What I loved about this Lewis N. Clark Retractable Cable Lock is the flexible 30 inch braided stainless steel wire. It makes it ideal should you need to secure your suitcase or secure a group of bags together to a pole or bench in a busy train station. It also solves my lock situation on my Burton bag in that I can string the cable through all 3-zipper pulls and lock them all together.
It is easy to set/reset the combination and is very easy to lock/unlock and retract the cable.
The only issue with this lock is that it isn't a Travel Sentry® lock – which means that there is no TSA bypass option making it not an ideal lock if you check your luggage when flying. PLUS, forget the combination while it's locked and I think you are in trouble because you can only reset the numbered sequence while it's unlocked.
Colours beige or black
Zippered pocket with three inner compartments
Two belt loops for use with brown or black belts
5in x 7in
Blocks 13.56MHz frequencies — the standard for most credit cards and passports

The Lewis N. Clark RFID-Blocking Hidden Travel Wallet is made of a soft, lightweight, anti-moisture, shrink, odour and mildew resistant nylon fabric. The key feature being that it is equipped with an RFID-blocking lining to prevent unauthorised scans of your credit cards and passport.
How this works is you place your credit cards, passport inside one of the three inside pockets, zip it up and then feed your belt through either the brown or black loop (depending on what colour blends in best with your clothing) and tuck the entire wallet inside your pants.
You can wear it on the side of your hip, against your thigh, or wherever it feels most comfortable. I think it's best worn in the back so that you can sit on it without it getting folded up in your lap.
Ideally, you shouldn't put too much inside it and aim to keep it as thin as possible because you are wearing it on the inside of your clothing and it can get bulky/lumpy.
Also, you aren't going to be using this for your passport at the airport because you don't want to be fishing around inside your pants to hand your passport to Customs. (embarrassing)
I feel the best use for this hidden travel wallet is after you've arrived at your destination for your credit cards and ID when you are out touring.
Calculated Traveller Ray used it on the plane and throughout Asia and loved it.
For the ladies, another use I found for this wallet is I feed my bra through the loop and wear it on either my side, front or back under my shirt.
Flexible indeed.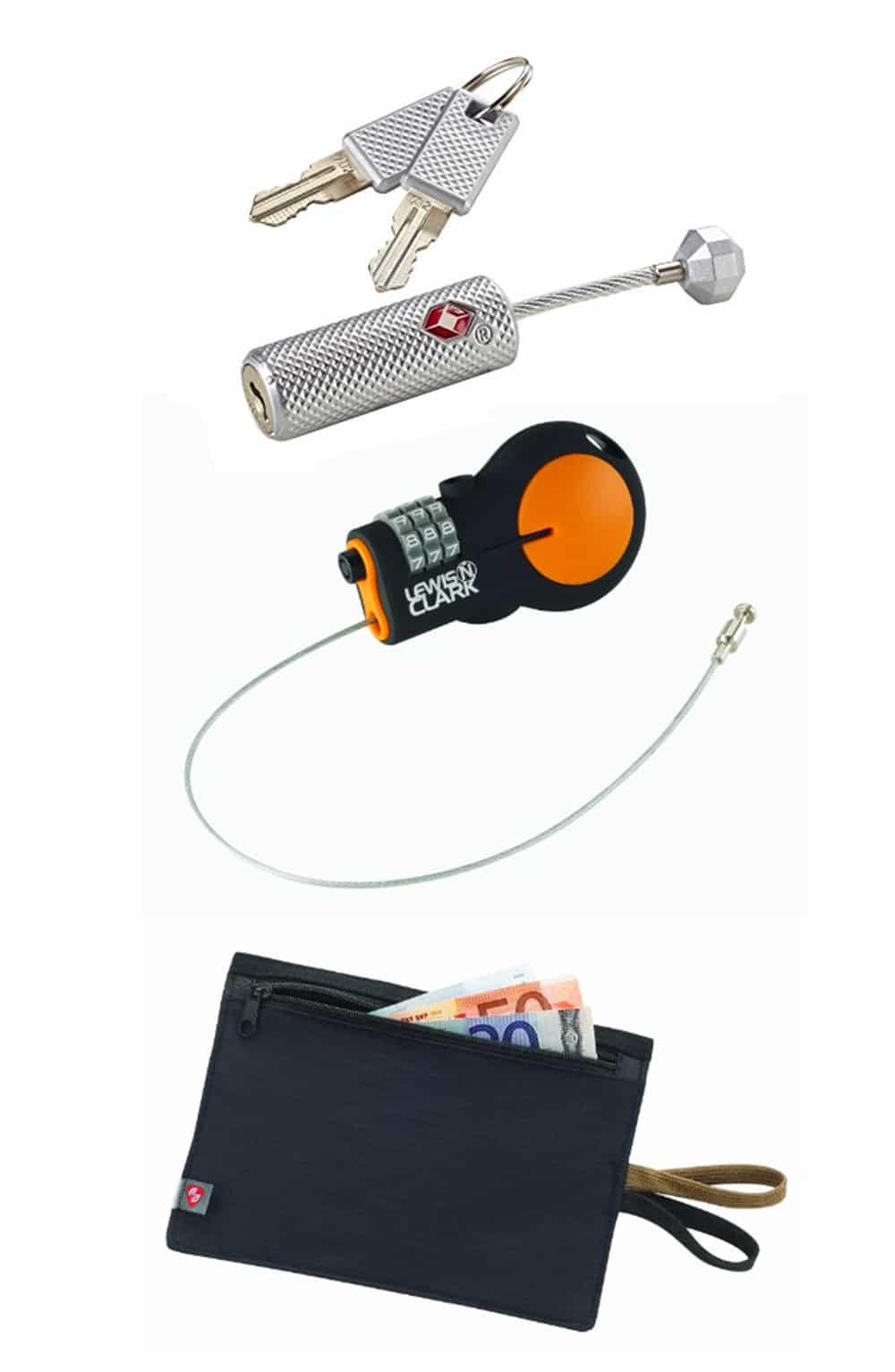 Wishing you a safe, secure and flexible trip!
For more Lewis N. Clark product reviews, see these other articles:
– Lewis N. Clark Travel Bags Review
– Lewis N Clark Travel Gear Review
I received a sample product for testing purposes from Lewis N. Clark. I was not financially compensated for this review. All opinions are entirely my own.
 
Have you used any of these products before? I'd love to hear what you thought of them.