When travelling to Denver, Colorado, be prepared to fall in love. Denver boasts a breathtaking view of the Rocky Mountains and appeals to both city lovers and outdoor adventurers. With a bustling city centre filled with unique shops, world-class restaurants and tons of culture, this thriving metropolis has a little something for everyone.
Whether you are in town seeking adventure or here for a business conference as I was, you need a comfortable place to rest, relax and recharge. The Grand Hyatt Denver is a fabulous choice – centrally located to everything Denver has to offer. It gives travellers a comfortable stay while visiting the Mile High City and provides a taste of Denver's history. The lobby of the hotel was once home to one of Denver's first newspapers.
Our Room Suite 2313 at the Grand Hyatt Hotel in Denver Colorado
Our room at the Grand Hyatt Hotel, Suite 2313, was soothing and warmly decorated with dark wood furnishings and flooring, neutral walls and leather chairs. The two-queen bed city view room boasted almost 400 square feet of living space and filled with everything a business or holiday traveller would need.
Our particular city view room faced a parking garage, but I could see peaks of the various buildings downtown. When stepping through the entryway of your suite, you are greeted by not only the large size and contemporary decor, but all the amenities the room has to offer – a dedicated workspace, safe, iron, coffee maker with Tazo coffee and tea and a bar size fridge.
When it was time to kick up our feet, we were pleased that our bed was very comfortable and topped with luxury bedding and plush pillows. The room was surprisingly quiet and restful despite being located in the city. Oher special touches in our suite at the Grand Hyatt Denver included motion-activated lights along the floor of the bathroom, under the nightstand and inside the closet. A perfect "little extra" so as not to disturb your sleeping companion and no need to stumble around in the unfamiliar darkness.
Grand Hyatt Hotel "Missing Must-Haves" at the Ready
Don't worry if you forget anything because the Grand Hyatt Denver provides a fabulous list of 32 "Missing Must-Haves" of complimentary items that you can request to make your stay more comfortable.
I appreciated being able to request a kettle and tea bag set for my room because no matter what anyone tells you, running water through a coffee maker for tea tastes horrible. It also makes it much easier to make yourself a bowl of instant oatmeal for a healthy on-the-run breakfast! Other items on the list include toothbrush/toothpaste, hairspray, mouthwash, slippers, and deodorant.
There is also a list of 13 items that you can borrow or buy including curling iron/flat iron, set of free weights, humidifier and yoga mat.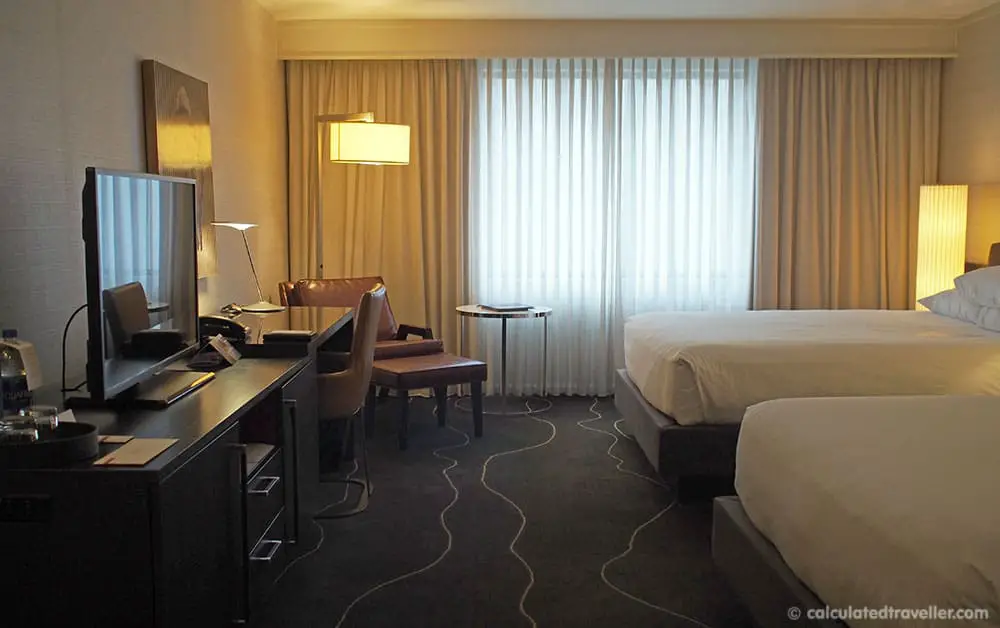 I also appreciated the many electrical outlets throughout the room – I counted eight throughout the suite and four inside the bathroom.
Another resounding yes in my book are the four towel hooks in the bathroom. All too often a hotel encourages being eco-friendly and the reusing of towels yet they don't give you enough hooks to hang your towel to dry.
Concerning security, as a female traveller, I appreciated the fact that my room key card will only allow me access to my floor and no other level when using the elevator.
Despite the vast list of amenities available to you at the Grand Hyatt, I did notice a few things were lacking. I love a good bath especially when travelling and carry Epsom salts with me to help ease my tired muscles. Having a bathtub in the room was fabulous but filling it up was difficult as the shower kept automatically coming on. I had to hold the little shower toggle switch to fill the bathtub.
The heating and air conditioning system is whisper quiet but the thermostat had no instructions, and it took me a long 30 minutes to figure out how to get it to work. Once I did figure it out, I loved the weather feature because you know how a Calculated Traveller likes to travel smart!
Onsite Amenities at the Grand Hyatt Denver
The rooms aren't the only thing impressive about this hotel. The Grand Hyatt Denver also features Starbucks, a business centre, 24-hour fitness centre, pool, and a rooftop running track and tennis court with sweeping views of this beautiful city.
Although downtown Denver has a plethora of dining choices such as the newly opened Denver Milk Market Food Hall, the Grand Hyatt offers a few convenient in-house culinary options. The Fireside Bar in the lobby is a great place to indulge in a few drinks before dinner. If you are in need of a quick bite before heading out on your next adventure, the Market at Courier features grab and go sandwiches, salads, snacks and beverages. For a sit-down meal, Courier restaurant serves breakfast, lunch and dinner.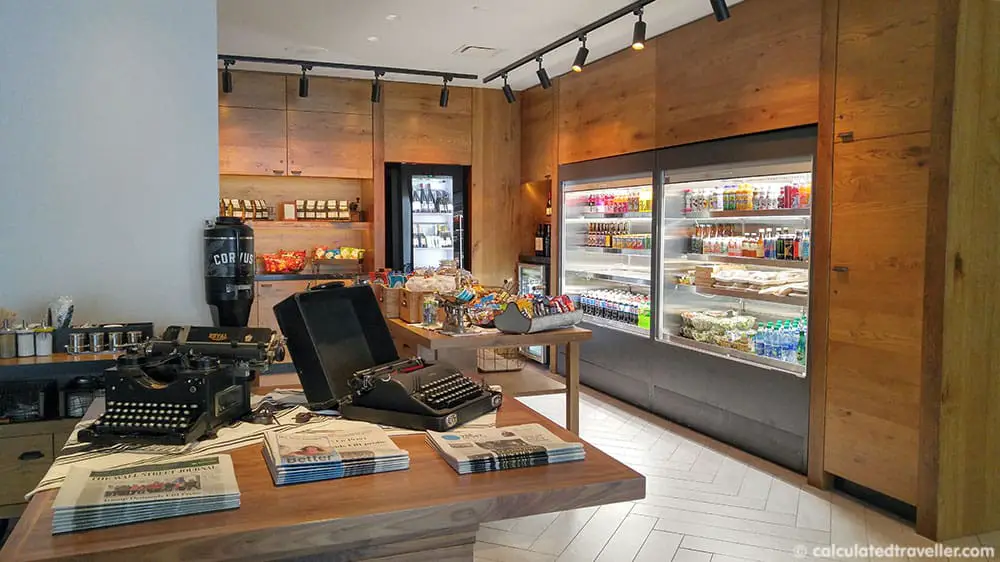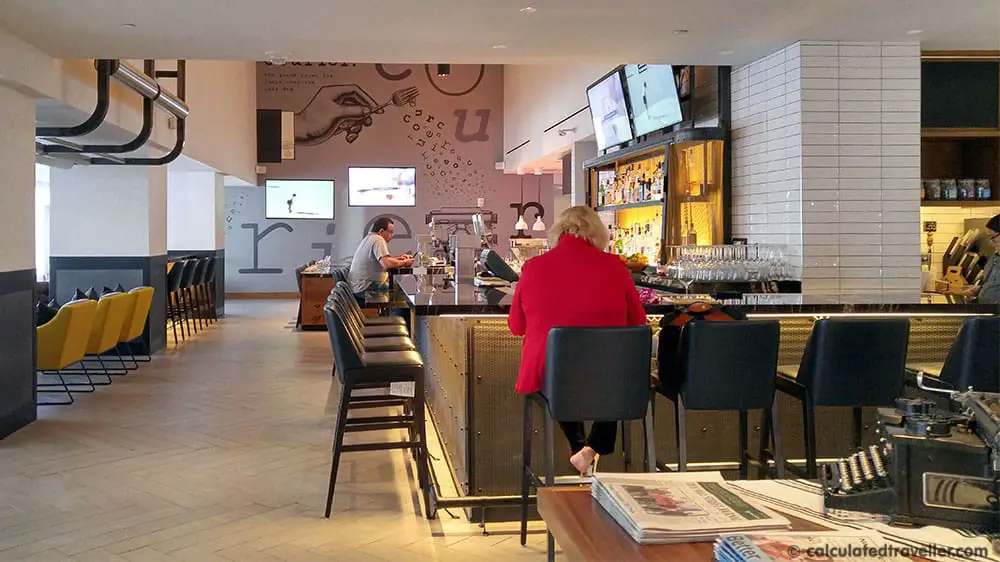 Perhaps one of the essential features of the hotel is its convenient location. The Grand Hyatt Denver is only a few blocks from the Denver Convention Centre and the 16th Street Mall. From there you can take advantage of the free public bus that will transport you pretty much anywhere you need to go downtown.
Check out these great tours for Denver:
There is so much to see and do in Denver and the city is a special treat for those who love public art/street art.
With all of the amenities, convenience and comfort the Grand Hyatt Denver Downtown had to offer, we thoroughly enjoyed our stay and recommend it for the business or pleasure traveller.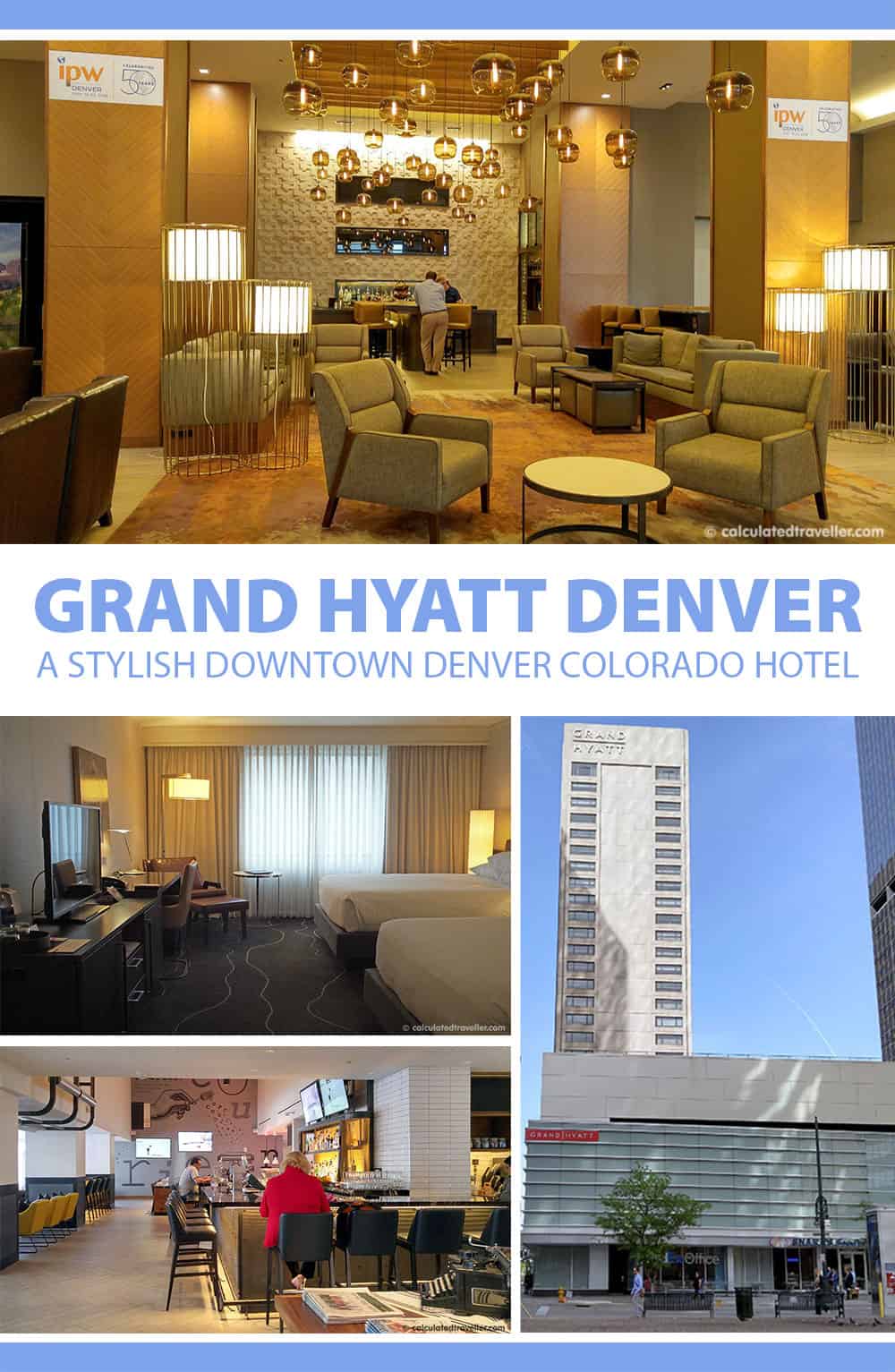 Grand Hyatt Hotel Denver Colorado
1750 Welton St, Denver, CO 80202, USA
Read More Reviews on TripAdvisor.
Travel assistance provided by the U.S. Travel Corporation and Brand USA. The opinions expressed in this article are entirely my own.
For other hotel reviews, check out our Accommodation review archives.