Rarely do I ever eat at the same restaurant twice on the same day but I did just that when I dined at Braceros Mexican Grill and Bar in Amarillo Texas.
Actually, I almost missed my chance to eat here at all when we arrived at the Mexican eatery on Amarillo's historic Route 66 two nights prior — a Saturday night. The street was hopping, and the entire corner of the road in front of the restaurant was packed full of locals and their motorcycles. Harleys everywhere, a packed patio and lineups out the door.
We didn't even go to the door to ask how long the wait was. We just turned around vowing to return if we had the chance before we left the city.
Our chance came on Monday when we decided to attempt a visit for lunch, and our perseverance paid off.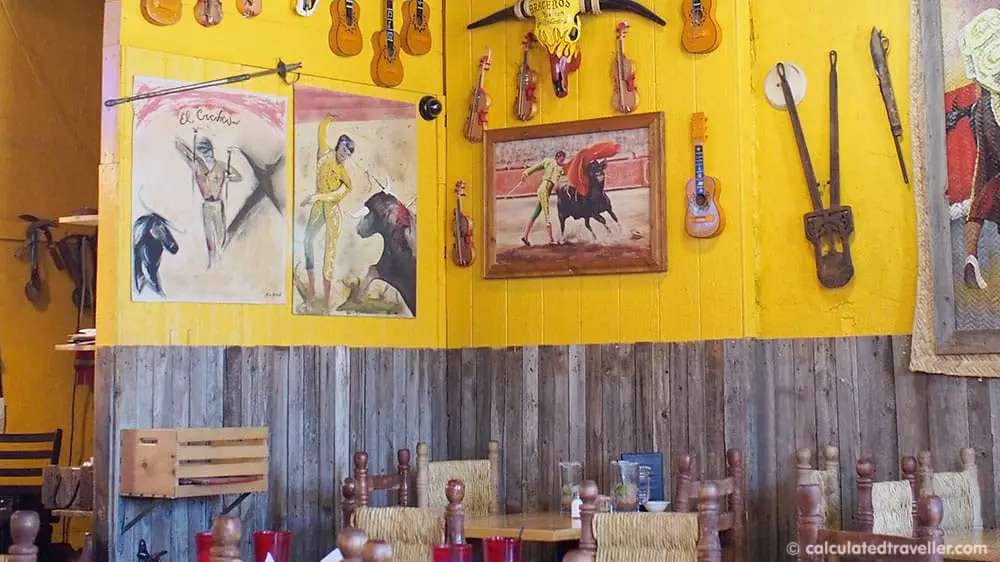 Braceros Mexican Grill and Bar in Amarillo Texas
With a simple outdoor rustic patio right on Route 66 and Texas temperatures much higher than our Canadian bodies prefer, we opted to dine indoors and take advantage of the air conditioner.
The decor inside is genuinely Mexican. Dried strings of chilis hanging everywhere, bright colours, woven seagrass chairs, worn wooden tables, and charming rustic art on the walls.
Look around the room, and you'll see locals, and tourists alike sitting side by side.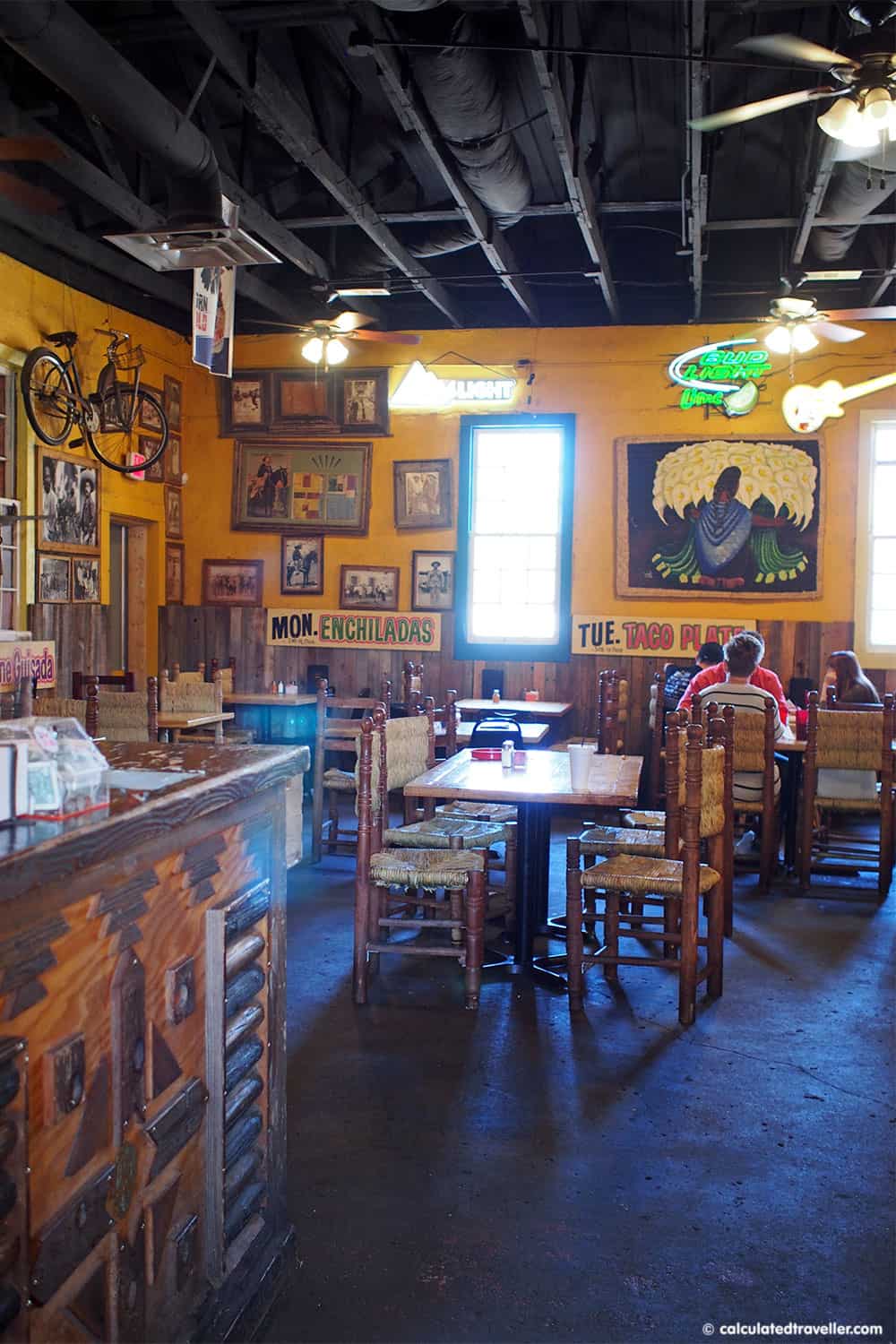 Tex Mex Good Eats at Braceros Mexican Grill and Bar
Being Canadian we aren't that accustomed to eating Mexican cuisine. So we found ourselves taking a long time to order having to re-read the various selections over and over. Everything sounded delicious, but we needed help. Thankfully the servers are happy to make some suggestions and recommendations.
The menu features classic Mexican cuisine, and we dined on the following: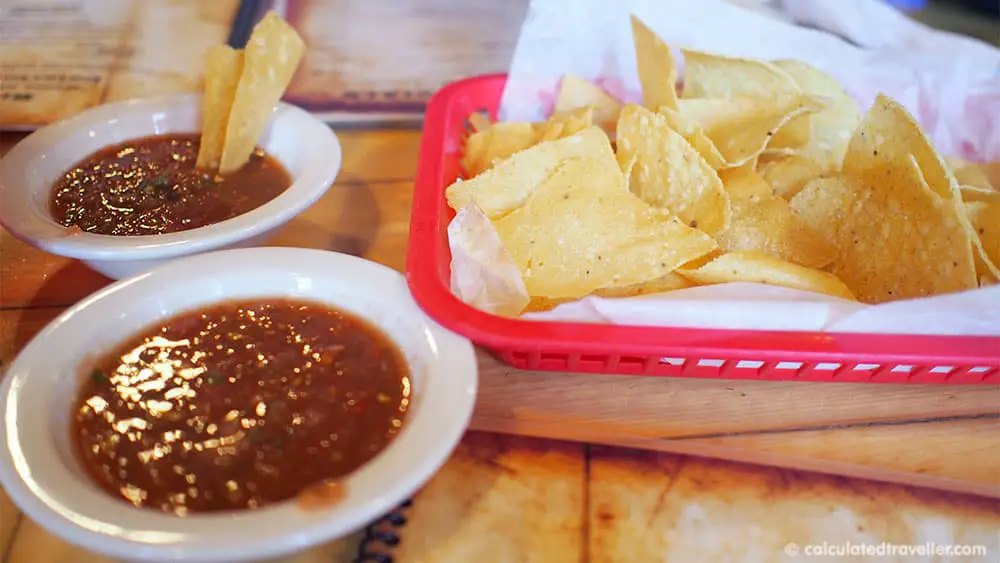 Chips and Salsa
– Fresh made chips and salsa are complimentary, and I love that the fresh homemade salsa comes in individual bowls — double-dipping encouraged!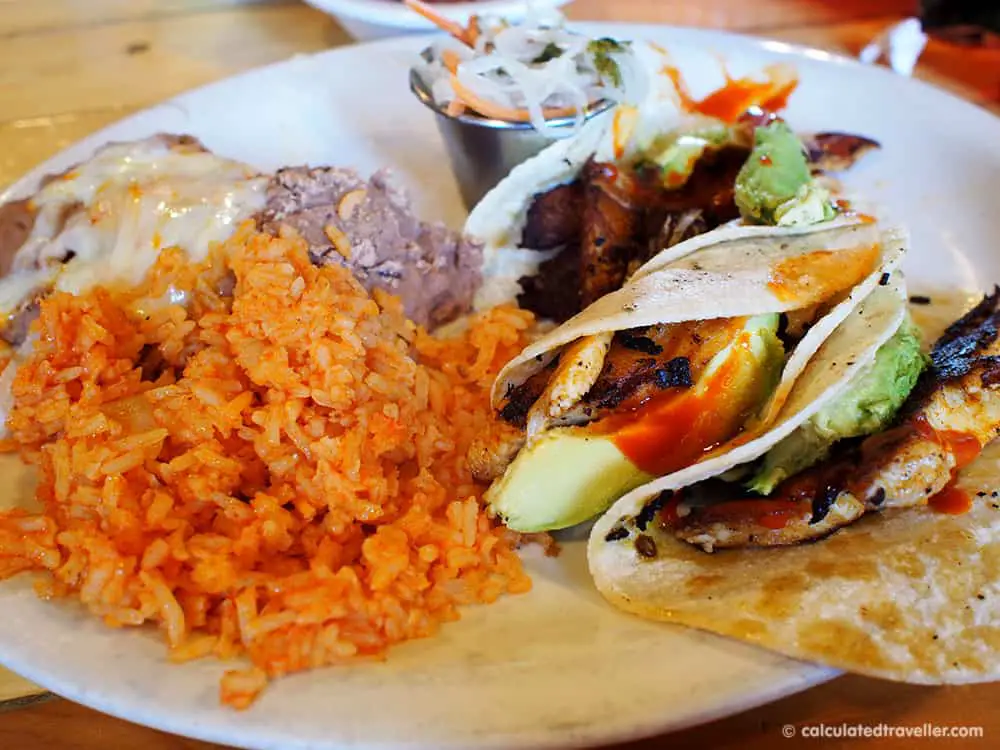 Grilled Fish Tacos served with refried beans and Arroz mexicano
– I'm not sure if the tortillas (choice of flour or corn) were homemade or nor but I wouldn't be surprised if they were. The fish was tender, moist and perfectly grilled with a nice crisp char on the exterior. There Is a swift kick courtesy of the hot sauce which is paired perfectly with the rich ripe creamy and fresh avocado.
Margarita
– Note that this comes straight from a premixed bottle, but the price is right. (sorry for not having a photo – we drank it down too soon)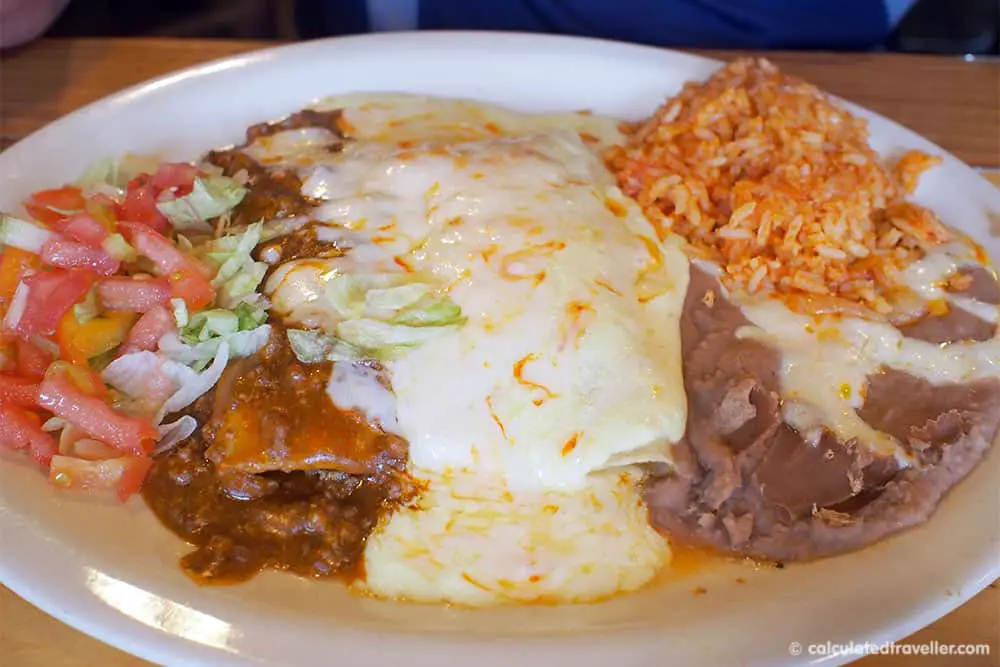 Enchilada
– Our server suggested that we order one chicken and one beef with the corresponding sauces served with refried beans, salad, and Arroz Mexicano. It was crazy delicious and husband Ray still talks about how good his meal was as I see the twinkle in his eye as he remembers the taste.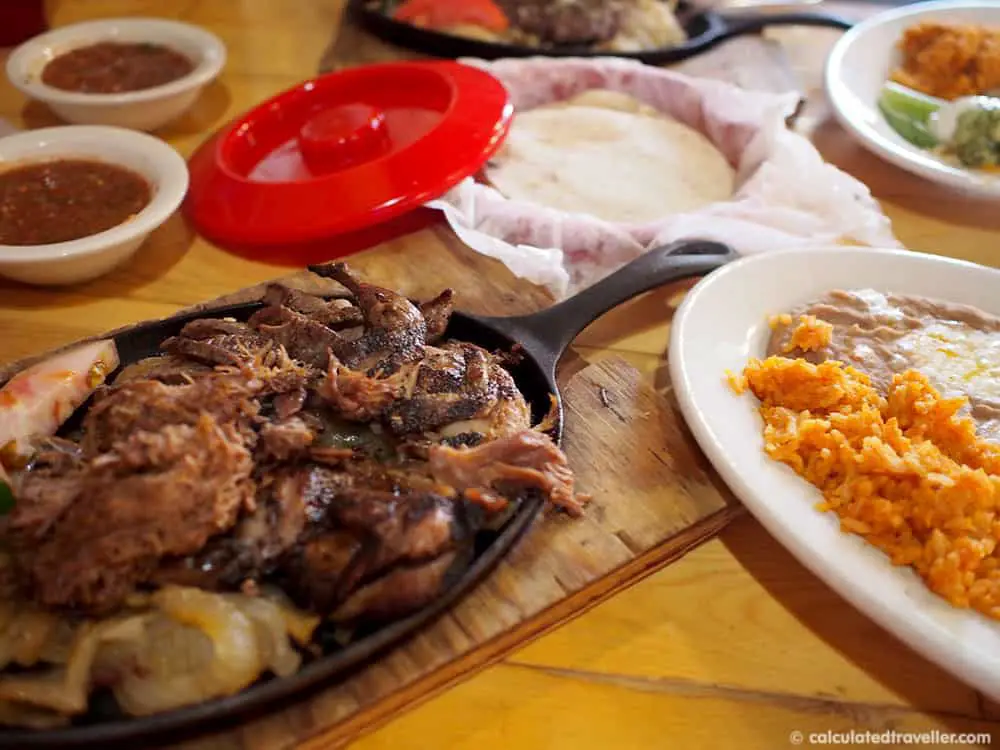 Fajita Trio for one
Choice of 3 items: beef, quail, cabrito, pork, lamb, chicken, shrimp or adobado
– Not your normal chicken or beef for me (although you can order this if you wish) — I had to go all out, and since I had the option to order from a long list of proteins, I opted for grilled quail, lamb, and cabrito (goat).
The grilled quail was lip-smackingly good! Next visit I'll order the grilled quail individually as a side dish.
Note that the quail is not boneless. So you might decide as I did to eat the quail on its own and opt to wrap the lamb and goat in the tortillas. Full of flavour and not gamey tasting at all, I loved the unique taste of all the meat. My meal was filling so, I took the leftovers to go and ate them cold the next day (don't judge me!)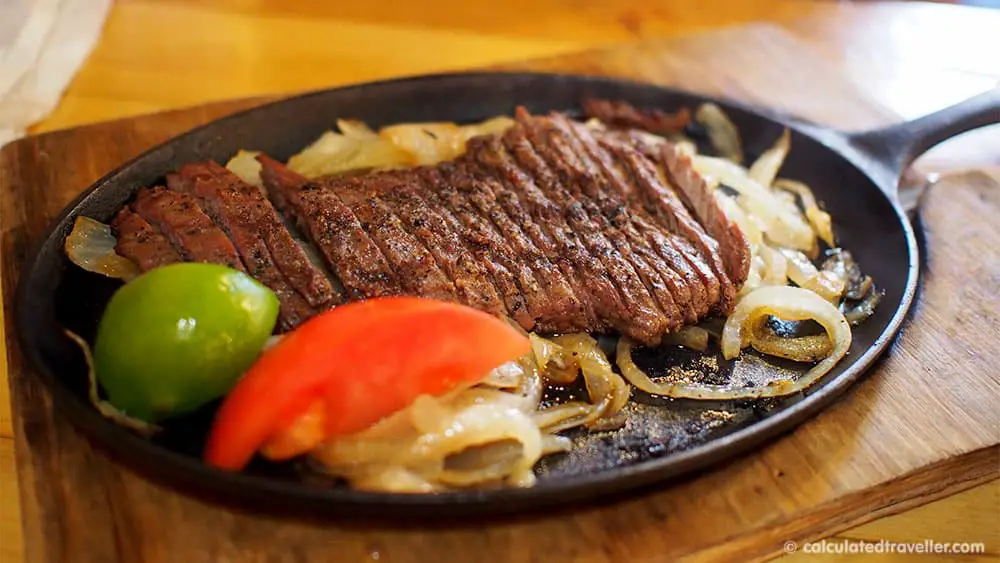 Beef Fajita for one
Ray ordered the beef fajita and was expecting thin slices of beef not an entire steak. This was super tasty, and he cleaned the plate and then, of course, started nibbling off of my plate.
As previously mentioned, we ate here twice — for lunch and returning later in the evening for dinner. During dinner we enjoyed the pleasure of listening to the live Spanish music courtesy of a lone guitarist/vocalist. With live music on Monday, Wednesday, and Thursday only; the performance honestly added to our experience and enjoyment of our time at Braceros Mexican Grill and Bar.
Note: If dining here for lunch – take advantage of the special lunch menu as the value for money is incredible.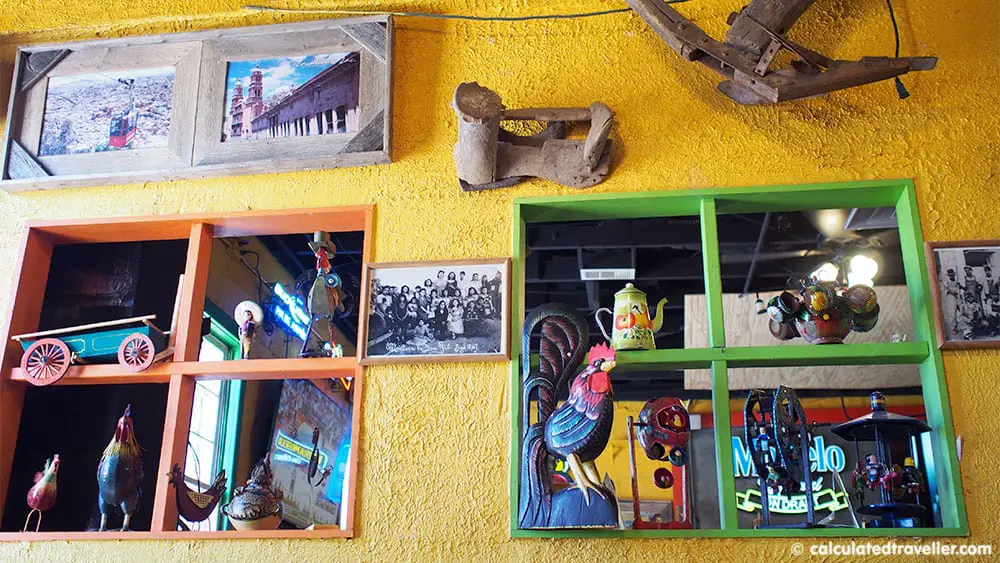 I'm going to dare to say it, but my meal at Braceros might be the best meal I've had in a very long time and indeed the best meal I ate during my time in Amarillo Texas.
Jot this restaurant down on your list of places to eat at — Braceros Mexican Grill and Bar on Historic Route 66 in Amarillo Texas.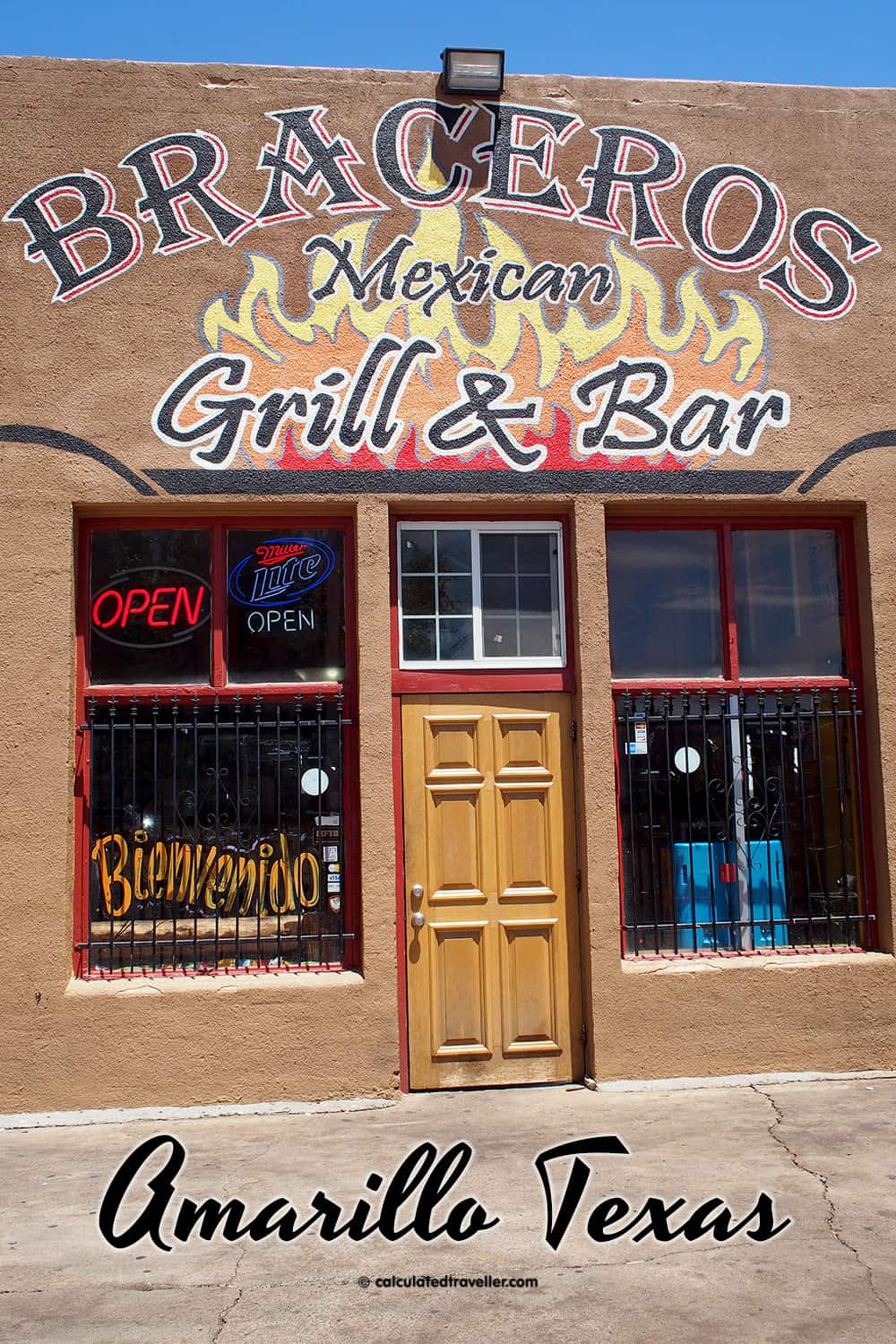 Braceros Mexican Grill and Bar
2822 SW 6th Ave, Amarillo, Texas
Note: Be aware that there are other restaurants in Amarillo Texas with similar names so ensure that you visit the Braceros on Route 66.
While visiting Amarillo we stayed at the Country Inn and Suites on the west side of town :
Read our review Texan Charm at The Country Inn and Suites by Radisson Amarillo Texas
Have you ever eaten at the same restaurant twice in one day because the food was irresistible? I'd love to hear about the fabulous meal in the comments below.
For related articles:
– Travelling around Texas? Read other articles about the Lone Star State.
– Craving beef in a big way? Read our review of The Big Texan Steak Ranch and Brew in Amarillo Texas
– More adventures in food on Calculated Traveller.