The Heard Museum in Phoenix Arizona has an extensive collection of American Indian cultural art and sculpture and is a great place to visit if you want to know more about the various regional native tribes of the Americas.
Founded by Dwight B. Heard and Maie Bartlett Heard in 1929 to house and share their growing personal collection of artefacts and fine art. What started as 11 small rooms built around a courtyard on a portion of their property next to their home; after three building expansions, the Heard Museum has now grown to 130,000 square feet, 12 exhibition galleries, a library and archive, education centre, shop and bookstore, café, meeting space and auditorium. There are approximately 40,000 pieces in the collection (not all of it on display).
Traditional and Contemporary / Past, Present and Future
There is a quote on the wall as you enter the museum that says:
"From this work our life is brought forth."
One of the first exhibits you see is this very colourful glass and clay sculptural installation called "Art Fence" created by Tony Jojoba (Isleta Artist) and Rosemary Lonewolf (Santa Clara). "inspired by an ocotillo fence (it) combines tradition and the contemporary to represent borders and the idea of living in two worlds."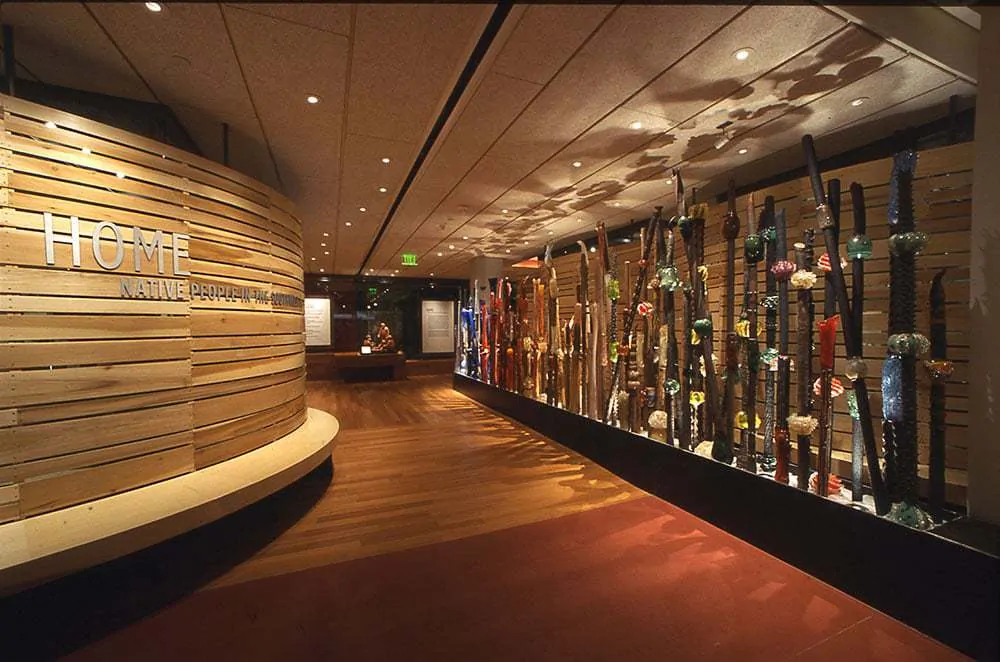 You see this theme quite a bit at the Heard Museum if you look for it, but isn't that always the case in cultures with a long rich history. Trying to keep up our traditions and culture while moving towards the future…"living in two worlds"
If you look for it indeed! I had to have a chuckle when we were shown the Harry Potter bowl on display tucked among the traditional pottery. Created using traditional techniques but with a modern contemporary theme and I would suspect a hit with the kids that come to visit the museum.
Heard Museum – part history museum, part sculpture garden, part contemporary art gallery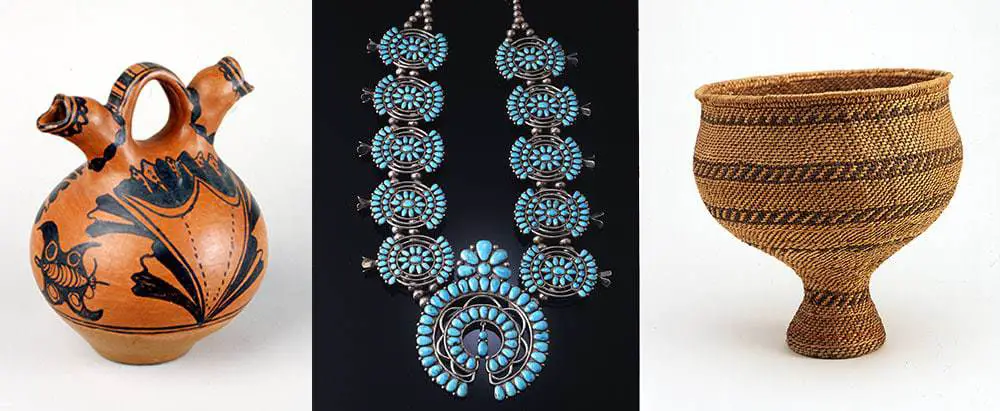 (left) San Ildefonso Wedding Vase, 1890-1920,Fred Harvey Fine Arts Collection, Heard Museum Collection.
(centre) Zuni Necklace, early 1940s, Fred Harvey Fine Arts Collection, Heard Museum Collection.
(right) Mamie Mahone, Hualapai Twined basket, 1930s, Fred Harvey Fine Arts Collection, Heard Museum Collection.
Baskets, beadwork, fine art, jewellery, pottery and textiles. There is so much to see and so much to understand that I highly recommend taking one of the many tours included with admission. Only after hearing the in-depth stories of the objects on display can you fully understand the messages and meaning behind the symbols, and subject.
The Hopi Katsina doll exhibit is a must see.
Katsina dolls are spirit messengers of the universe and carved from the root of the cottonwood tree. They are teaching tools given to young girls and are believed to control the weather, daily activities, cure illness, and even children who are misbehaving. (wink)
Showcasing 500 Katsina dolls in one room – the Heard Museum houses one of the largest and rarest collections in the world. There are rows upon rows of dolls, and they are displayed so that you can see the same symbolic figure as it was created through the ages, dating from as far back as the 1800s to the present. The early examples on display are flat, carved by hand and aren't as intricate as the later models carved using motorised tools.


 
Not only is there history at the Heard Museum but there are also fine examples of art and sculpture on display by American Indian Artists.

 
Statue from within the centre courtyard. Unfortunately, I didn't capture the name of the artist or the name of the work of art. But it is simply gorgeous next to the gate and plaster walls.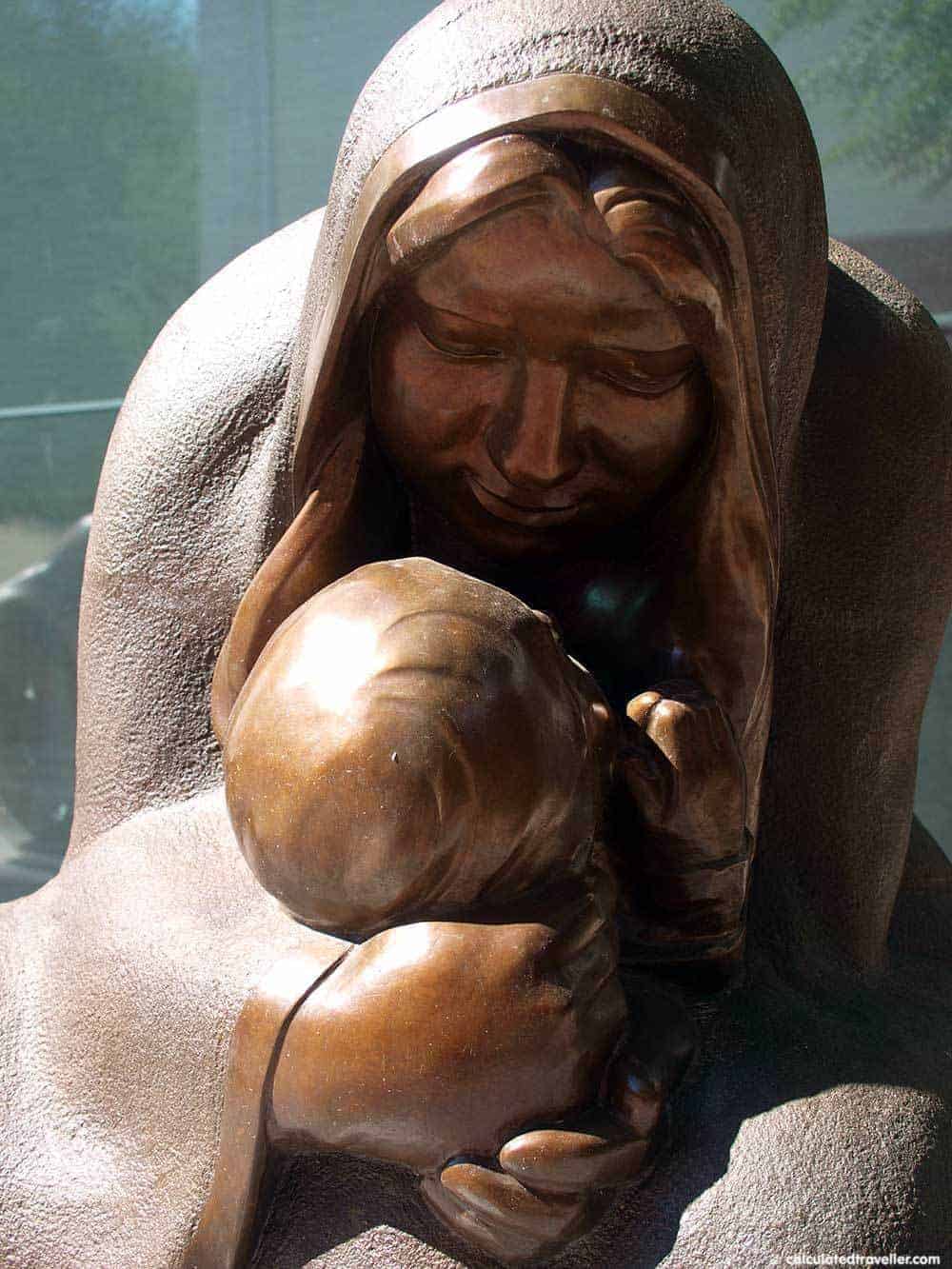 I love that at the base of this sculpture the plaque says "Embraced in those loving arms"
First Prayer, c 1996 Bronze, A/P by Retha Walden Gambaro, b. 1917 Creek Collection of Via Gambaro Studio Inc.

 
The plaque reads "This great bounty provided by mother earth existed solely on this continent until approximately 1492."
Harvest, c 1997 Bronze, A/P by Retha Walden Gambaro, b. 1917 Creek Collection of Via Gambaro Studio Inc.
 
The architecture also lives in two worlds. Although traditional on the exterior, the interior of the museum is quite modern with bleached wood exhibit separators and bold contrasting colours. At times you forget that you are in a Spanish Colonial building until you get a peak of the outdoors and the courtyards. The architecture is so charming – the courtyards, fountains and well-manicured gardens – once on the expansive grounds it's easy to see why people host special events, meetings, and weddings here.

 
I am grateful to have had the opportunity to tour this museum and for a moment been able to explore the distinctive traditions of each regional tribe, the colourful native culture and understand the adversities which the native people had to endure.
Check the website at heard.org for a list of the many cultural events they have to offer. There is also a second smaller site – Heard Museum North Scottsdale.
Heard Museum Downtown Phoenix
2301 N. Central Avenue, Phoenix, Arizona 85004
Free parking is available
Photo credit: Artfence, pottery, jewellery, basketry and Katsina dolls images are courtesy of heard.org.
Note: Thank you to Heard Museum and Scottsdale Convention and Visitors Bureau for complimentary admission in exchange for this review. The opinions expressed, positive and/or negative, are entirely that of the author and are not a reflection of the compensation received.