In the bathroom, I lay in the deep soaker tub of our suite at Riad Dar Les Cigognes in Marrakesh Morocco and gaze up at the vaulted ceiling. The light dances and twinkles in a pattern over my head in an intricate design of light and colour courtesy of the punched tin light fixture. It's magical as I soak the aches of my busy day away.
Complete with flickering candles, sweet smelling bath salts, luxurious shampoos, conditioners, body gels, lotions and soft fluffy towels, bathrobes and slippers —- it's like I'm in a private little spa-for-one right inside my suite!
Hotel Dar Les Cigognes, of course, has its own hammam spa on site (by request) where they will bathe, scrub, brush, and massage you into complete relaxation. Your skin soft and supple; you will sleep that night like a child born fresh and new.
I soak, and linger in the warm bath a world away from my hectic morning and think about the distance it took for me to reach this perfect moment in Marrakesh.
Riad Dar Les Cigognes, Sanssouci Collection
Lost in the maze of the hot streets of Marrakech filled with cars, people, horses, and the smell of pungent spices and crowds of people in the medina we search until we spy an ornamental door hidden within the terracotta stucco wall with a sign that reads Dar Les Cigognes. The flag and sign are plain as day now as I look back, but in our travel frenzy after our long flight, it was nowhere to be found.
We knock on the door apprehensive as it appears locked and soon a smiling face greets us with a warm welcome and says "Madam Chong? we've been waiting for your arrival…"
Relieved that we've arrived at the right place I nod and reply "Oui Madam" as we are escorted inside to a secret haven away from the streets of Marrakech.
Inside the courtyard of the beautiful riad, I'm instantly struck by how cool and quiet it is. The noise of the cars and motorcycles out on the street are silent now, and all that we hear are the chirps of the little birds that flutter around the Riad.
Hayat, the manager of Riad Dar Les Cigognes and our home for three nights, invites us to sit on the sofa in the serene courtyard. Moments later a server arrives with a welcome tray of cookies and ceremoniously pours us piping hot cups of fresh mint tea sweetened with honey — the silver teapot held up high in the air as the sweet brown liquid makes its long delicious journey into the little glasses. We sigh as we begin to relax and take in the tranquillity.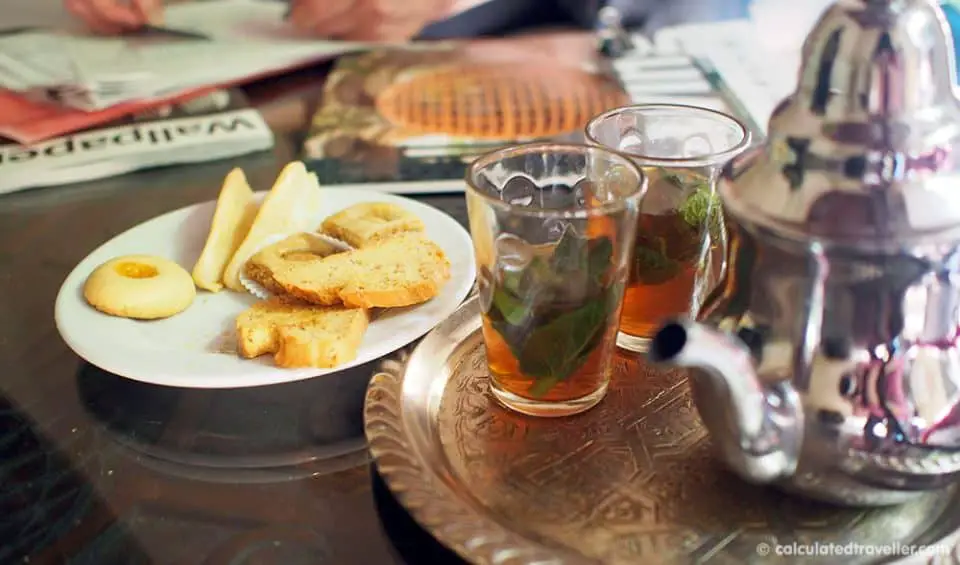 The check-in process is a civilised affair and is almost an afterthought. It feels more like a visit for tea with a new friend as the three of us discuss our journey to this special place and our plans for exploration and discovery while we are here. Hayat brings out maps and expertly guides us on what the most famous sights are, what to do should we lose our way, how to ask for directions, and shares tips on what to buy and where to buy; complete with negotiation tips to get the best price.  All this before we've filled out any paperwork!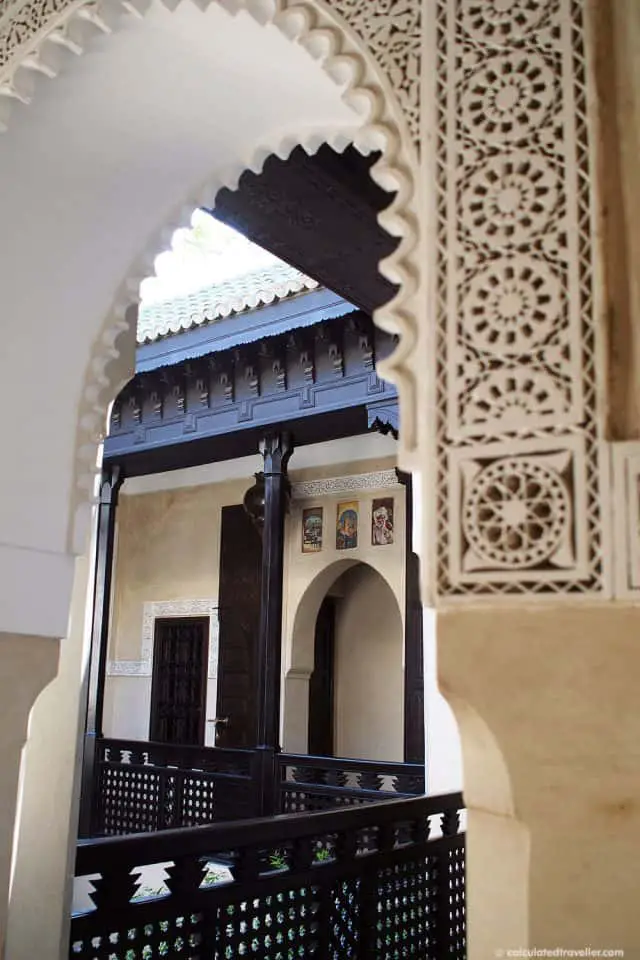 The Riad is a maze of stairs and halls as Hayat takes us to our suite. We joke with our new friend that if we get lost, we will shout out her name over the balcony railing. She laughs with a twinkle in her eye and a little wink and quickly replies that she'll come running to rescue us wherever we may be.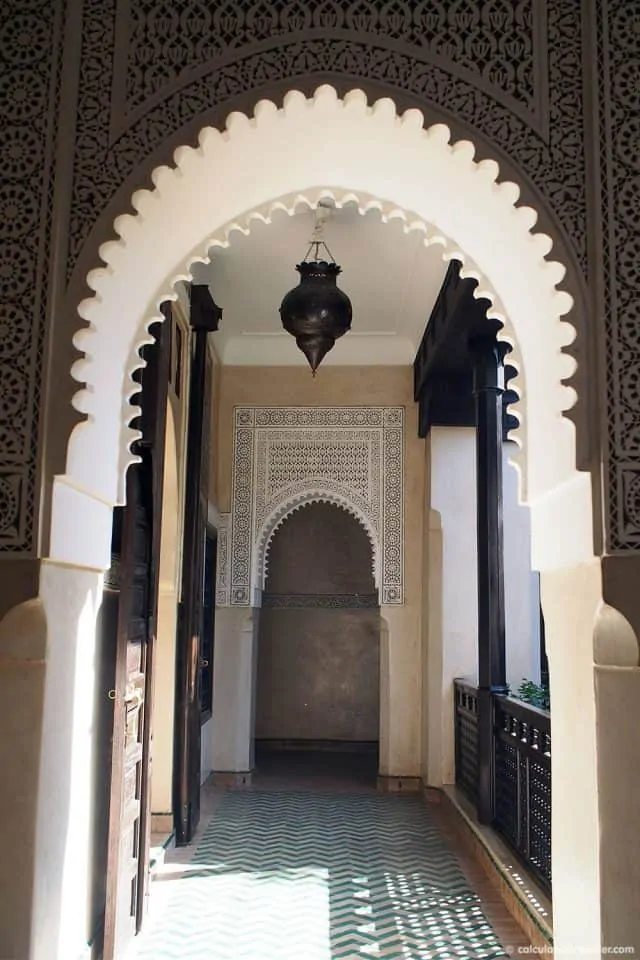 The boutique hotel has 11 rooms at Riad Dar Les Cigognes and when we enter our suite we see our bed covered in rose petals — a vase of roses sits on the table, along with a bowl of fruit and a litre of cold water. The ceiling is covered in decoratively painted wood as are the doors to the closets. Inside the cabinets; one with shelves and one for hanging our clothes is a small security safe.
Facing the gates of the Royal Palace and one of the few riads accessible by car due to its location on the street, the century-old riad was once the home of a wealthy merchant. Renovated by celebrity French architect Charles Boccara, Dar Les Cigognes showcases Moroccan style, charm and fashion with traditional Moorish art and décor.
Hayat leaves us as we busily unpack and get settled into our wonderful room — the daily afternoon tea service, served formally in the courtyard from 2:30 to 5:30 PM, is about to begin and we don't want to miss a single thing!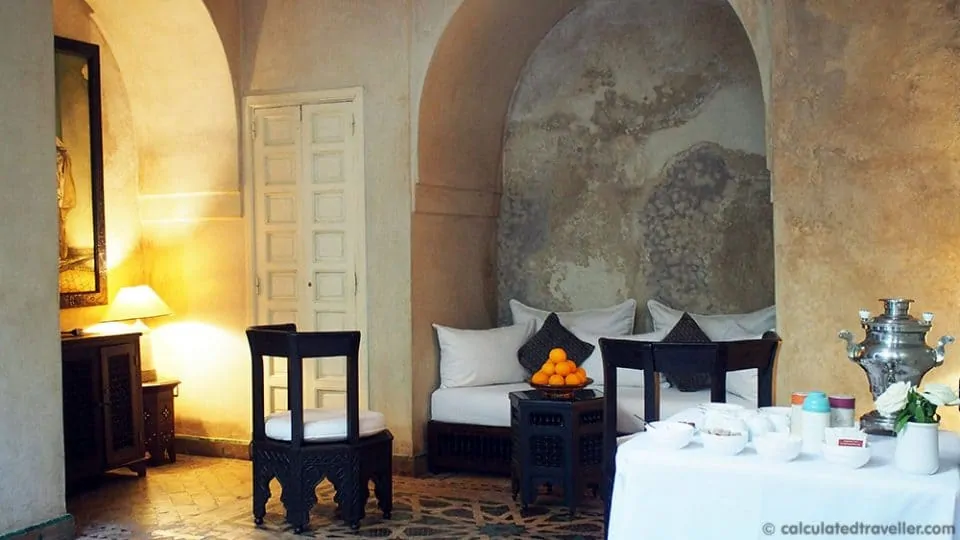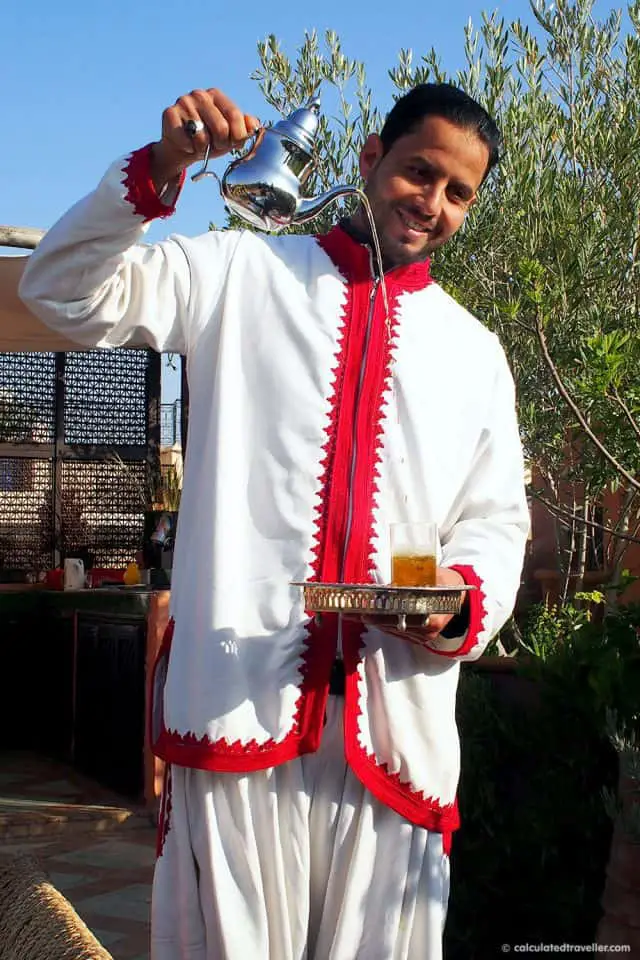 ---
Oh, to be a swallow in Morocco!
In the morning I awake without the alarm as the light from the sunrise shining through the wood lattice shutters plays with the shadows, the weightless paper snowflakes fluttering on the duvet cover.
I once again hear the sweet chirping of the birds that live in the trees of the courtyard. I've learned that these swallows are local to Morocco and nowhere else — smart birds these swallows.
We hurry and dress — not that we are late, breakfast is available from 7:30 to 10:30 am, but because we don't want to sleep through a single moment of this dream.
We climb up, up, up the stairs to the rooftop terrace and are immediately greeted by the staff.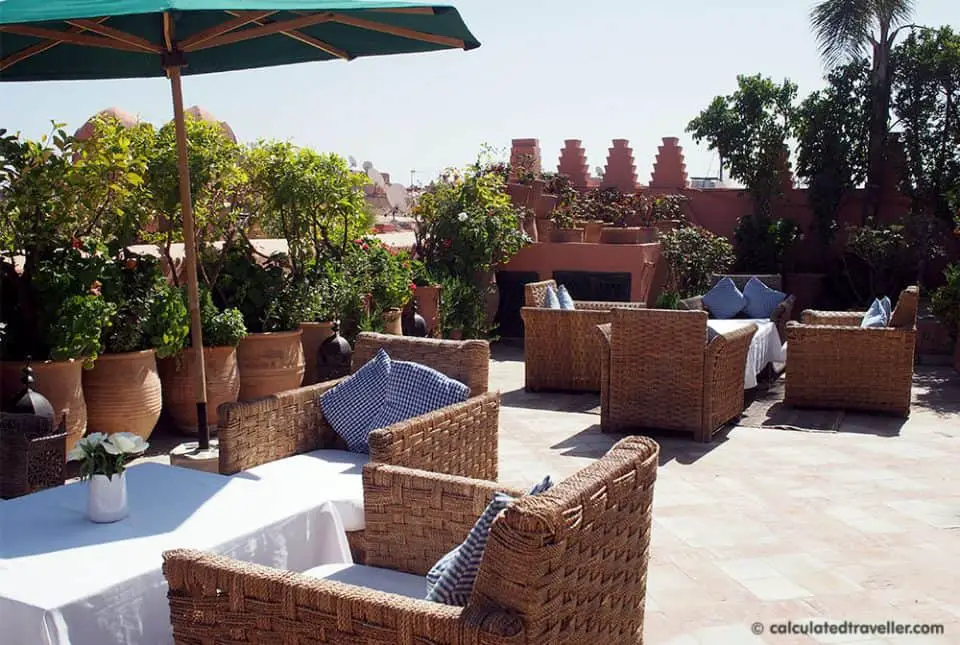 Breakfast is available in the restaurant on the ground floor, or up on the rooftop terrace and with views such as this, it's an easy decision as to where we prefer to dine.
The table looks beautiful, and we sit in the sun:
– Fresh squeezed orange juice
– An assortment of fresh warm pastries, bread
– Homemade Jams
– Honey from the Atlas Mountains
– Choice of eggs (boiled, fried, omelette)
– Thick homemade yoghurt
– Fresh fruit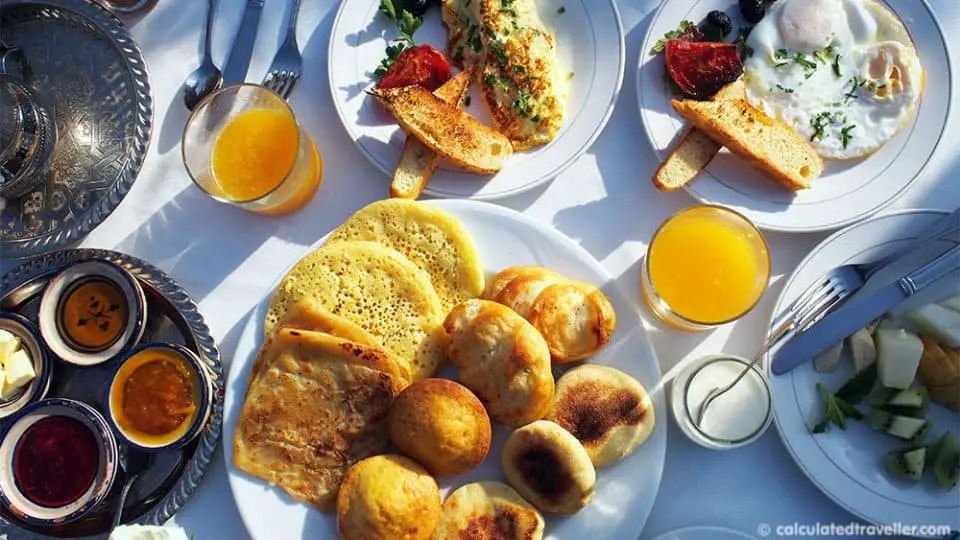 The food is incredible, and I highly recommend you spend some time in their onsite cooking school. (Stay tuned for a future article about our Dar Les Cigognes Cooking Class experience.)
Linger, take your time and enjoy the scrumptious breakfast before you. If you are fortunate as we are Mimi the cat might join you for a wee little purr and you may hear the distant call to prayer throughout Marrakesh.
The roof terrace is also the perfect place to enjoy the sun or attempt some work with umbrellas for shade, free Wifi, and peace from the busy city.
---
Night falls, and we return to our charming riad escaping the noise and hustle of Jemaa el Fna Medina.
With bags of treasures and trinkets in hand, our bellies full of Moroccan delicacies, and our eyes tired from the sights of Marrakech we knock on the secret door to our haven and climb the stairs to our luxury suite and return to tranquillity.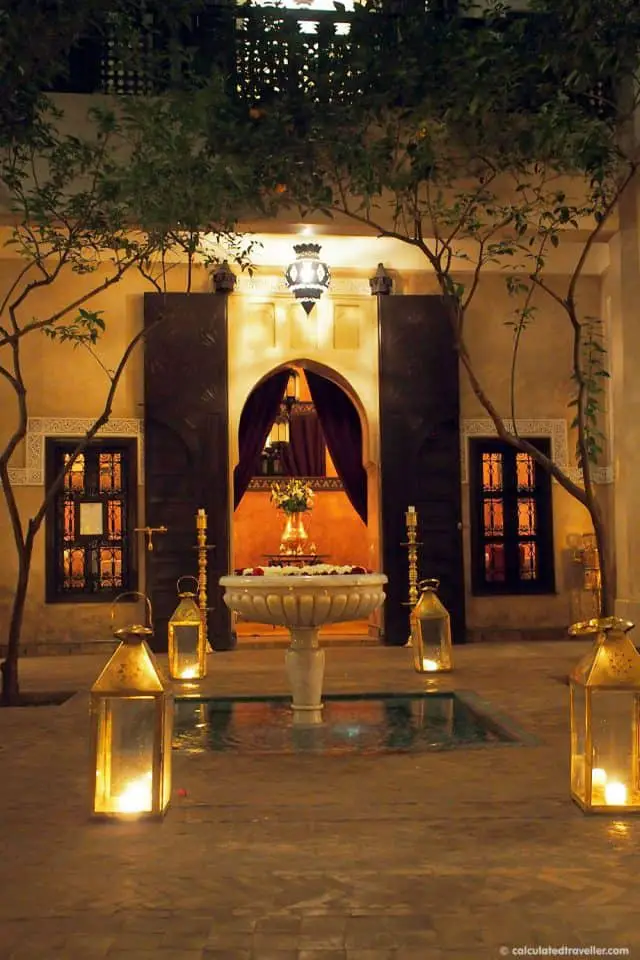 Each evening of our stay, we return to our room to find a special treat and a poem sitting on our bedside table.
I sleep under the down comforter, my feet warm courtesy of the hot water bottle lovingly tucked by my feet and dream of Marrakesh, the swallows in the courtyard, and a return visit to Riad Dar Les Cigognes.
---
Pampered throughout our entire 3-night stay by the friendly staff, we prepare to leave for an adventure in the desert. Hayat waits for us at the door, gives us big hugs and kisses on both cheeks, and whispers into my ear "Don't ever change."
I give her a big smile in return, and as we step over the threshold of the door to leave, in my mind, I wish her and Riad Dar Les Cigognes the very same thing.
---
Read more reviews of the hotel here.
Check out other articles in the Middle East on Calculated Traveller.
Travel assistance provided by Riad Dar Les Cigognes who did not review this article before publication. All opinions are entirely my own.
For tours in Marrakesh: