This article may contain affiliate links. This means that clicking on or purchasing products we recommend through a link may help us earn a small commission, which helps keep this site running. Thank you for your support!
No trip to Hong Kong is complete without a trip by tram up to see the view from Victoria Peak and the harbour down below….everyone has done it and bought the t-shirt in one of the many night markets to prove it. The views are breathtaking…even through the city smog.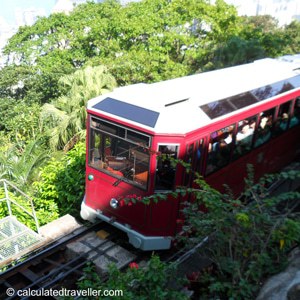 There are a couple of ways of getting up to Victoria Peak. You can bus it or take the historic Peak Tram, which has been in operation since 1888. The Tram ride by itself is an adventure – as it clickity clack goes along the track, you can feel the cool breeze through the windows and feel the excitement of the fellow riders. At its steepest point you are at a 27-degree incline – so hold on tight.
The entire time we were riding up the peak, we thought of our parents and how they must have felt when they were doing this exact trip 60 years ago. The tram ride hasn't changed much over the years, although I'm sure there are more safety features (and tourists) involved in the process now.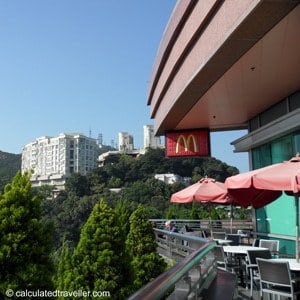 While you are at it grab a bite and perhaps do some shopping
Once you get to the top of Victoria Peak there is more to see than just the gorgeous view. There are restaurants, shops, walking trails, a historical gallery and a wax museum (complete with Bruce Lee).
Imagine my surprise when I came upon this….yes that's a McDonald's restaurant with the most incredible view of the Hong Kong Harbour. Sit and have a coke and a smile….or if you are like us – you've packed your own picnic of Chinese barbeque pork buns and sweet egg tarts for dessert.
Looking for more information about Hong Kong – check out this great list of Hong Kong travel resources by Nomadic Notes.
Have you got a favourite memory you'd like to share? Contact Calculated Traveller…we'd love to have you contribute.