Cell phone, tablet, e-reader, fitness tracker, mp3 player. How many electronic devices do you need to keep charged when you are out and about and how many chargers do you pack in your bag?
It's a problem that we all struggle with from time-to-time when touring the world with one charger. It's tough to decide which device gets charged before the other; it's like having to decide which of your children gets to quench their thirst first with that lone carton of juice.
At home, we love our iClever 6-Port USB Travel Wall Charger. It charges six different devices simultaneously, and it regulates the charge depending on the power needs of each item. iClever calls this "smart technology".
For flying carry-on only, we needed something smaller, compact and with more than one input.
iClever knows how much we like playing with the latest tech toys and they kindly sent us 2 items to test and review.
The iClever BoostCube Travel Wall Charger
and
iClever BoostStrip Portable Power Strip
Travel-friendly iClever BoostCube IC-WB21 Dual USB Wall Charger
Input: AC 100-240V 50/60HZ 0.6A(max)
USB output: Smart ID Port 2*USB 5V/2.4A
Size: 56 x 47.5x28mm / 2.2×1.87 x 1.1 inch
Weight: 70g / 2.47oz
It comes with a great warranty which makes this worry-free and it has global voltage compatibility since the charger is meant to be transported everywhere you go.
24 Hour Response time
30 day money back guarantee
18 month replacement warranty
Lifetime support guarantee
PLUS register the product online and get an extra year of warranty

This super cute dual USB charger does the trick, and we are thrilled with it. It's just a bit bigger than my regular single outlet for my LG phone, and it's smaller than the single outlet charger from my tablet!
The electrical plug prongs fold up flat making it very travel-friendly.
I know that it only has two USB inputs but two is better than one when size and weight matter and it's budget-friendly too!
iClever BoostStrip IC-8S01 Desktop Power Strip / USB / Surge Protector All-in-One
Meet our new road trip/cruise ship all-in-one extension cord with USB inputs and power!
Fellow cruise ship fans rejoice because the BoostStrip is going to save you the next time you are sailing the seas, and you want to charge something or use an electrical device.
You see, cruise cabins are tight on available space and there are never enough power outlets in the room. I've only ever seen two electrical outlets in the makeup area and one electrical outlet in the bathroom. It's always a race to see who gets to plug into the outlet first! Either that or you have to unplug item 1, plug in item 2, then unplug item 2, and plug back in item 1 – whew!
With this 1.5-meter long extension cord, you get two 3-prong AC inputs and four USB inputs in one compact unit. Plus it has the same smart charging technology that I mentioned earlier where it knows how much juice to output to each device based on its needs — giving you a maximum 2.4A output per port.
**Cruisers: Safety first! Only charge your electronic devices when you are inside the room.
Input: AC 100-240V / 10A 50-60HZ
Rated Power: 1000W
USB output: Smart ID Port 4*USB 5V/4.8A (each 2.4A Max)
Power Cable: approx. 1.5 meters
Size: 10.5 x 4.5 x 5.1 cm / 4.25 x 1.5 x 2 inch
Weight: 358 g / 12.6 oz
A few things to note about the Desktop Power Strip:
On/off switch also acts as a circuit breaker
It's a compact unit, but it's a bit heavy to lug around if you are flying carry-on only and pride yourself on being a light packer.
The cord is not detachable.
It comes with the same great warranty as the Dual USB Wall Charger.
iClever Smart (clever) Travel Chargers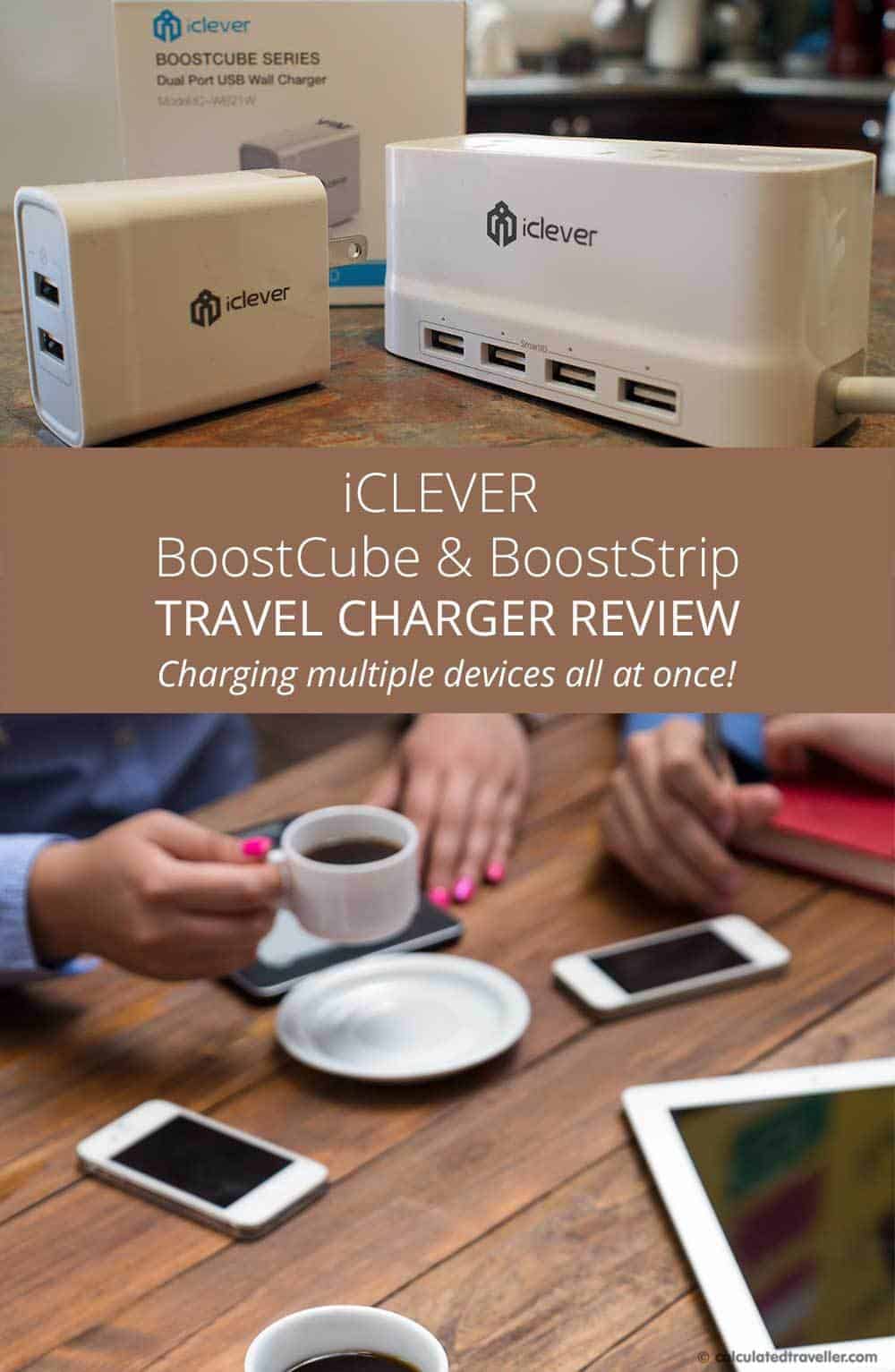 We are pleased with iClever products in general and find their quality products are well-made and last.
Read these other Calculated Traveller iClever product reviews:
– iClever IC-BTS02 Bluetooth Wireless Speaker Review
– iClever Portable Foldable Bluetooth Keyboard Review
The author was provided with a sample for review purposes. No other compensation was received. All opinions are entirely that of the author.