A portable compact speaker you can travel anywhere with sharing your music wherever and whenever you wish is a must for any music lover.
In the past we've been using the iHome Crystal Tunes Portable Speaker but recently we had the opportunity to test out the iClever IC-BTS02 Bluetooth Wireless Speaker and here's what we thought.
iClever IC-BTS02 Bluetooth Wireless Speaker
My first impressions when I received the speaker were that it was probably just another average sounding compact Bluetooth speaker that I can bring to the park or beach for the afternoon.
Also, I've been seeing it on sale for under $30 lately, so there was no point having high expectations about the sound quality.
Well, after a few weeks of use, I was surprisingly impressed with this little speaker.
The speaker comes in a rather plain-looking blue cardboard box with small print that identifies the speaker as the iClever IC-BTS02. The back of the box has a list of the technical specifications.
The box contains the speaker, a 3.5mm aux cable, micro-USB to USB cable and the manual.
The "WOW" factor finally introduces itself when you take the speaker out of the clear bag. The speaker looks beautiful!! Its elegant and sophisticated cube-like shape along with its glossy metallic mirror-like finish immediately catches your eyes.
The designer took a cube shaped speaker and put a slimming baby-blue "beltline" at the mid-point to create some sex appeal. This is definitely not your average looking compact speaker for under $30!
iClever IC-BTS02 Bluetooth Wireless Speaker Specifications
Bluetooth compatible V4.0
5 Watt RMS power
Full range 45 mm speaker
500 mAH Li-polymer battery for 8-10 hours of playback
Size is 64.5(L) x 64.5(W) x 70.1(H) mm or (2.5 X 2.5 X 2.7 inches)
Weight is 261 grams or (9 ounces)
The speaker is well constructed and placed into a sturdy metallic housing with an aesthetically pleasing smoke grey colour and baby blue accent lines. The front side has a Bluetooth/Hands free Phone button, microphone and a blue light to show Bluetooth connection with another device.
The back has the micro-USB port, 3.5 mm input and a red light to indicate charging.
At the bottom, there are buttons for volume and track selection control, along with a sliding on/off switch. All standard items found on most compact Bluetooth speakers.
Bluetooth pairing was easy and worked well with my Lenovo tablet and smart phone. I did not experience any connection issues within a 25 feet range. The Bluetooth V4.0 claimed to use lower power consumption for extended battery life.
iClever IC-BTS02 Bluetooth Wireless Speaker in Action
The iClever IC-BTS02's sound quality was very good with impressive clear and loud music without any noticeable distortion at high levels.
This speaker may not satisfy some audiophile's need for hi-fi sound because of the speaker's limited size and its inability to produce thumping bass notes. Its niche is to easily fill an average room with clear/crisp sounds along moderate bass levels while in a leisurely listening environment.
I didn't use the hands-free phone connect feature but was glad to know it's there if needed. Also, there was no detectable change in sound quality when connected with either Bluetooth or the aux connection.
Over the test period, I averaged 8-9 hours of music time at moderate volumes and needed about 2.5 hrs to fully recharge the speaker with a 1.8 amp adapter. The recharge time may vary depending on your adapter's amperage.
Pros:
Elegant and Stylish Design
Very good volume and sound clarity
Long battery time
Excellent value for less than $30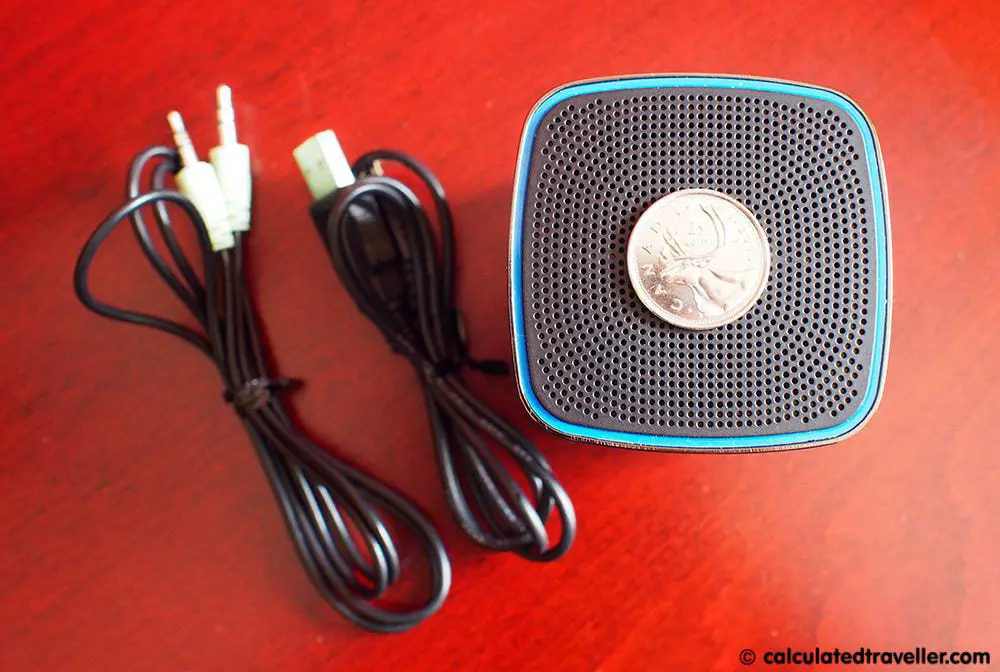 Cons:
Sound / Track and power controls are placed on the bottom of the speaker making them inconvenient to access
Glossy metallic finish easily shows fingerprints and dirt
Final Thoughts
Overall, the iClever IC-BTS02 Bluetooth Wireless Speaker is artfully designed, well priced and sounded great for a compact speaker. Now, my major dilemma is that this speaker is so elegantly sculptured and finished that I don't want any scratches or dirt on it.
In my opinion it's too "nice" for a suitcase or backpack where it could get scratched and dirty. It's place is to look pretty while playing beautiful music while sitting on my desk getting attentive looks from others as they walk by.
Ahem, settle down everyone… this one's mine.


Hisgadget Inc. provided the iClever IC-BTS02 Bluetooth Wireless Speaker for testing purposes. This had no bearing on my review of this item. As always, all my opinions are my own.